What to Wear for Mountain Biking?
When thinking about what to wear for Mountain Biking, we have a ton of options. You realistically can wear whatever you want but if you're looking to be comfortable, the right cloths and gear go a long way. Today's options are endless with tons of products and different brands. We have the ability to pick exactly what kind of item we want down to the color.
A lot of the choices depend on the kind of riding you will be doing. Protection is our overall goal, right? Riding through a pricker bush will make you think twice about what to wear wear when mountain biking. Also, taking a dive will change your mind on the type of helmet you should be using. The right cloths and gear help make mountain biking safer while protecting you.
Mountain Bike Clothing
Here is the list from top down to consider for what to wear for mountain biking. Depending on how fancy you want to get this should take care of the basics.
Long Sleeve Jersey
Padded Shorts
Mountain Bike Socks
Mountain Biking Shoes
Long Sleeve Jersey
First item is a long sleeve Jersey. The jersey really comes in handy when riding through brush or wooded areas. The reason a long sleeve works better is because your arms are always exposed when riding through trails. The jersey helps avoid branches and thorny plants from scraping or puncturing your skin.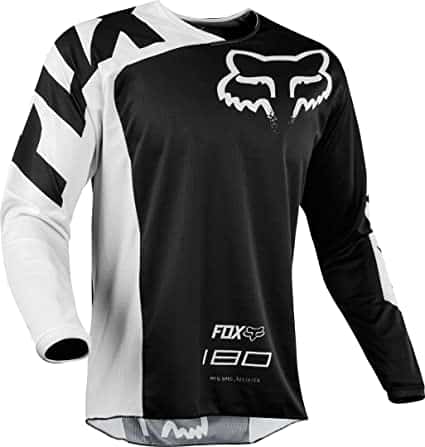 Padded Shorts
Padded shorts are next because of the comfort they offer. Not only do they make stylish shorts these days, the shorts are extremely comfortable. Mountain bike seats aren't always the most comfortable and these padded shorts really help add cushion to comfort your bottom.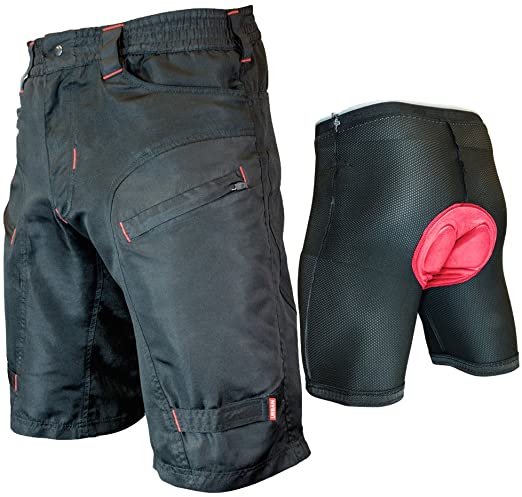 Mountain Bike Socks
Socks can go a long way especially when riding in wet conditions. Mountain bike socks are made of synthetic materials like Nylon or merino wool. These help wicking away moisture. Long Mountain biking socks also aid in protection against poison ivy and scrapes from brush.
Mountain Bike Shoes
Last piece of mountain bike clothing are mountain bike shoes. You might get hung up on going flat bottoms or clipless. Both are fine to use and offer benefits when mountain biking. The reason these shoes help is because of the traction and control they give you.
Flat bottom shoes offer superb grip that helps you avoid slipping off your pedals. They are also firmer than regular shoes to help spread weight over the pedal. Flat shoes offer good stability and give you better protection for your feet.
Clipless shoes are also a great choice because of the pedal power they give you. These shoes can make a huge difference with your riding and especially hill climbing. These types of shoes eliminate slipping off your pedals but you have to get use to them to feel comfortable.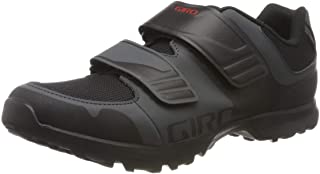 Mountain Bike Safety Gear
Mountain biking is a lot of fun but we have to make sure we are protected with the right gear. Here is a list of the essential safety gear we need when mountain biking.
Helmet
Gloves
Knee & Elbow pads
Hydration Packs
First Aid Kit
Eye Protection
Helmet
Helmets are a must with Mountain Biking. This is the single most important piece of equipment when riding. The type of helmet will depend on what riding style you're doing. Options range from open face for XC to closed face when riding downhill style.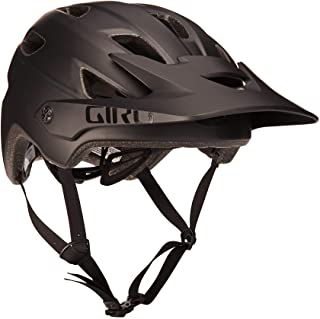 Gloves
Gloves are under safety because of the protection it ads to your grip. Not wearing gloves will lead to blisters and an unsecure grip on your handlebars. Gloves protect one of the most vital tools to controlling your bike. Full finger gloves are the way to go for full protection. Look for a quality glove with the goal of comfort in mind.
Knee and Elbow Pads
Knee and elbow pads are optional depending on the type of riding you're doing. For XC they aren't necessary but could be used in trail riding depending on how aggressive you plan to ride.
When it comes to Enduro and Downhill your going to want pads. There is no reason to risk injuries when the odds of falling are elevated.
Hydration
Hydration Packs are part of safety gear because of the risks from dehydration. Dehydration can lead to impairment, and on a mountain bike will lead to instability or injury.
Staying hydrated is part of the sport and these packs also lend a hand with holding tool kits and energy bars. Depending on the size of the pack, tubes and a small CO2 pump can be other great items to add in the pack.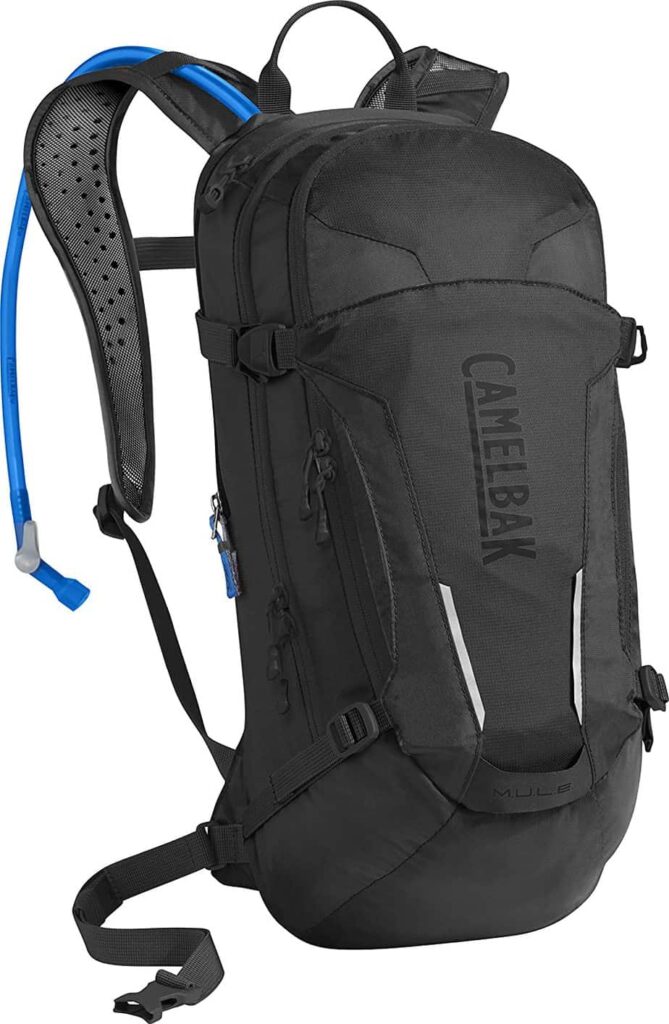 First Aid Kits
First aid kits are bonuses to have when you're deep into riding trails. Nothing is more annoying than a blister you don't have a band aid for or an injury you can cover. It's better to have it and not need it than need it and not have it, right?
Eye Protection
Glasses work great with protecting your eyes from bugs or debris. While riding through certain trails you're bound to catch a few objects to the face. One second of closing your eyes could take you off your line into a tree.
Goggles are also used with a lot of riding. Mostly Enduro and Downhill riders use these for full face and eye protection.
What To Wear For Each Mountain Bike Style
Each mountain bike style requires some different equipment. XC is a lot different than downhill and will require less protective gear.
Cross Country (XC)
With cross country you will be riding more open areas and focusing less on downhill terrain and more on uphill. If you're riding this style go for a open faced helmet with better ventilation.
XC requires more hill climbing and endurance. You want cloths that are breathable to help keep your body cool. XC riders often wear jerseys similar to road cycling that are more form fitting.
Clipless shoes are the way to go with XC most of the time. The ability to stay connected to your pedal and give you the extra pedal power can't be beat.
Trail Riding
Trail riding will get more aggressive then XC and require a better coverage helmet. Ventilation will be nice but look for something that covers around your head with more protection.
Trail riders need more cover then cross country because of the terrain and sometimes narrow single tracks you will be riding on. This is where loose jersey's and long socks come into play protecting you from scrapes.
Either clipless or flat shoes can be used depending on personal preference.
Enduro/All Mountain
This riding gets intense and requires downhill sections that are timed. A full face helmet is necessary but using one with a detachable chin can help to remove during uphill sections.
Enduro will be similar to trail with the added protection of pads. Because this type of race times the downhill section, imagine how intense the scene can be.
Shoes will be based on preference and there will always be debates on this subject.
Downhill/Freeride
When it comes to downhill riding you need a full face helmet. The speed and force requires maximum protection.
Downhill riding is the most intense and usually done at Ski Mountains that bring bikers up by the lifts. Full gear is necessary with not only pads but some wear full chest protectors.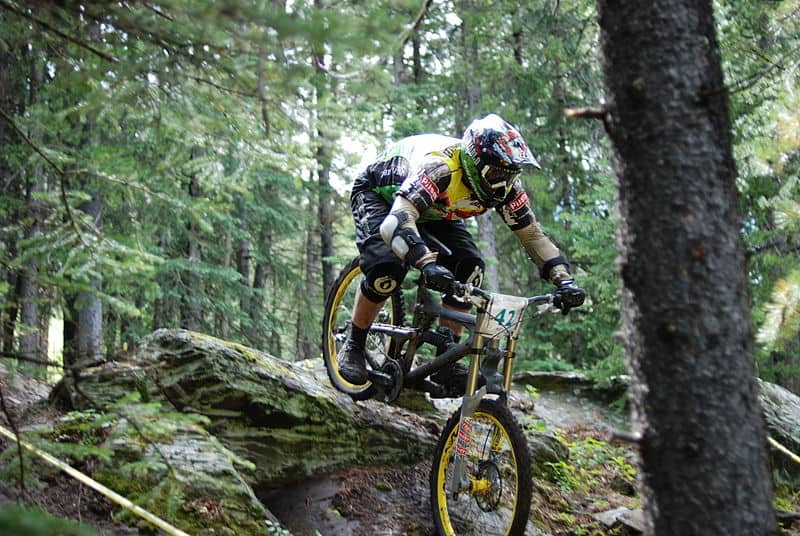 Weather Dependent Cloths
Why not ride in the snow? Mountain bikers have the ability to ride all year around. All you need is the right equipment and cloths. With fat bikes you can plan on riding all winter on snow or all summer on sand. You can still get some trail riding days over the winter but will need the right gear to wear. So, what do we wear for mountain biking in the winter.
Waterproof Jacket
Waterproof pants
Winter Mountain Bike shoes or boots
Waterproof Jacket
Having a good waterproof jacket will be perfect for cold days. You want one that gives you enough room to wear insulation layers underneath. Mountain bike jackets designed for this work perfect.
Waterproof Pants
Find the same type of protection with your pants. Something waterproof with enough room for your insulation layers.
Winter Mountain Bike Shoes or Boots
Next up is a good pair of winter riding shoes or boots. Mountain biking shoes have insulation to resist the cold weather and protect your feet. They are designed to withhold the cold but will be stiffer then a normal mountain bike shoe.
With the right clothing set up, nothing will stop you from riding. Rain, snow or shine. Plan your rides and plan your gear so you are always prepared.
Conclusion
The most important part of mountain biking is safety. What to wear for mountain biking and the right clothing will help you in many situations. Not only will they protect you but with today's options you will look like a rock star. Take advantage of the great products available and put them to the test.
After safety comes having fun. Everyone's goal with mountain biking is to have fun and enjoy being in nature. The benefits of mountain biking make this one of the greatest hobbies to start. Take advantage of this and get out there with this in mind!
Below is a Pinterest friendly photo… so you can pin it to your Mountain Bike Board!