Handlebars for mountain bikes are built differently from regular bike bars. But the best handlebars might not be that easy to find.
A lot goes into making a good handlebar. The right look, the correct geometry, and the perfect material choice. With the appropriate handlebar, it'll be like soaring through the clouds.
But how do you find the right handlebar for your MTB? It's not easy, which is why we compiled a list of the 6 best handlebars for your mountain bike to consider.
Top 6 Handlebars for Mountain Bikes
When it comes to handlebars for mountain bikes, you can spend an endless amount of time trying to find the right one. In this article we have found these 6 to be the most popular and fit the needs of most riders for performance handlebars to budget.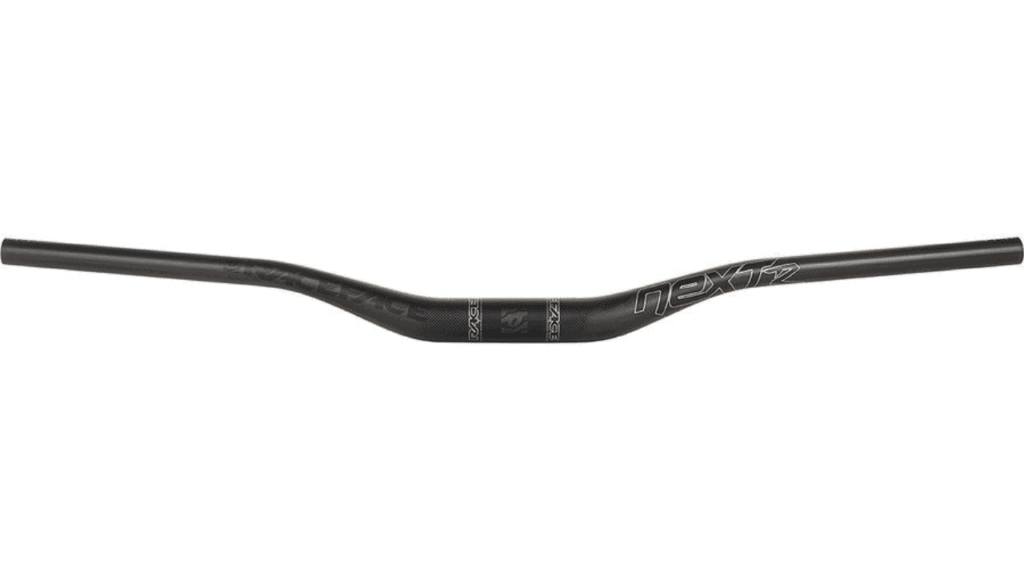 Race Face's Next R is one of the lightest and widest carbon handlebars we've ever seen. It weighs a mere 215 grams, cutting down on riding weight. The bar itself is 800 mm wide, giving you the highest level of control over your steering. However, you may feel that your hands rest just on edge.
To achieve said weight, the Next Ruses unidirectional densely packed carbon fiber. This is what allows the Next R to be designed so thin yet be strong and durable.
Additionally, since the stem clamp and control zones are most prone to fractures, they've been reinforced. Indeed, the Race Face Next R is one of the best MTB handlebars. While officially made for cross-country trails, it's safe to say they can survive a bit more aggression.
It has a back sweep of 8 degrees and an upsweep of 5 degrees as a handlebar made primarily for downhill use. The sweep does land your body in a more neutral position, but it's more suited for downhill trails.
Pros:
Extremely lightweight.
Resilient and durable.
Can use for cross-country.
Little to no breakage.
Comfortable riding position.
Cons:
The width could be shorter.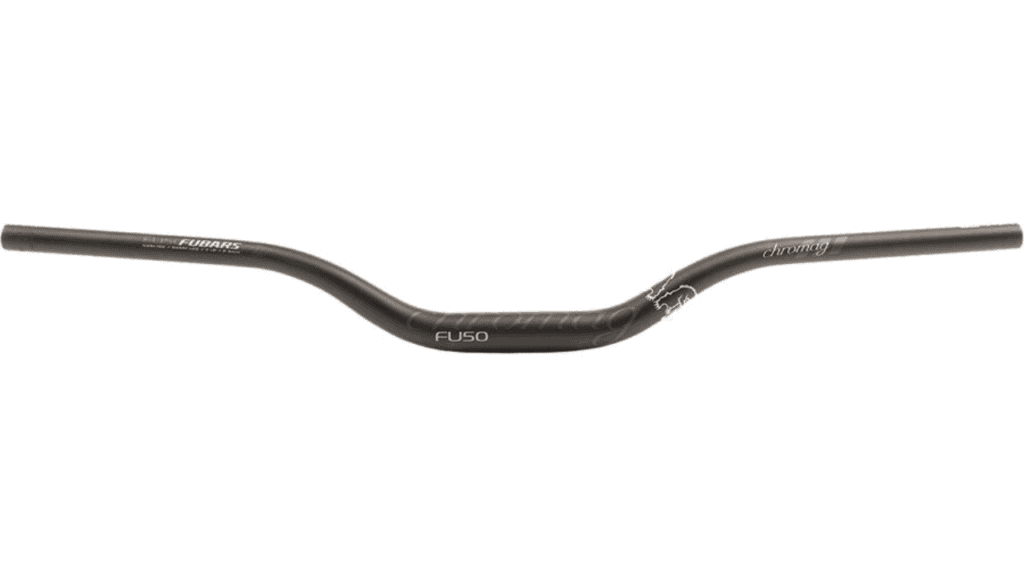 Need a set of handlebars to conquer the jump park? Try the Chromag FU50. These bars are made from lightweight aluminum for every jump park enthusiast.
Much like the carbon fiber bars, Chromag's aluminum bar is exceptionally lightweight. You won't even feel that it's there. In addition, the 7000 series aluminum has been reinforced at critical points to protect it from general wear and tear.
But that's not all.
The Chromag has an upsweep of 50 mm, which keeps your torso at just the optimal height for going downhill. Uphill ventures are a bit trickier, but it's nothing you can't master.
As for the general feel of the bars, they don't feel too uncomfortable. Of course, you might find your hands sitting on the edge of the bars, thanks to the 800 mm width. But overall, the design is perfect for jump parks.
Furthermore, since it's made from aluminum, it is a bit heavier than it would've been made from carbon fiber. To be more precise, it weighs 345 grams.
Pros:
Strong and resistant to strain.
Perfect for jump parks.
Easy to control going downhill.
Comfortable riding grip.
It is slightly optimized for uphill ventures.
Cons: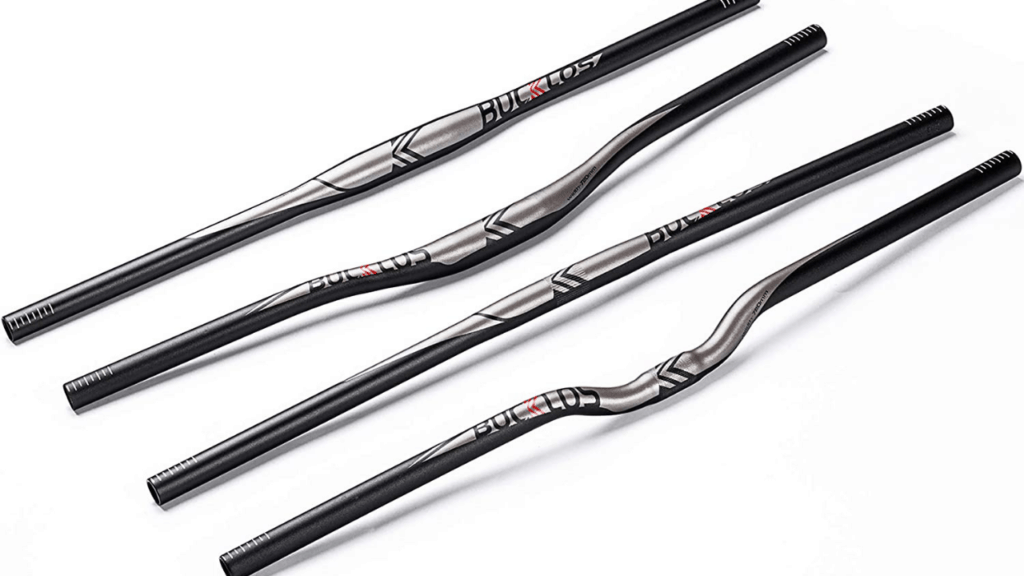 The aluminum BUCKLOS handlebar is available as both a flat and a riser bar. It's available in lengths of 660 mm, 720 mm, and 780 mm. The number of choices you get is entirely satisfactory. Everyone has different preferences on the road. So, you know you can find a BUCKLOS made just for you.
If you decide to go for the flat version, you'll love the superior handling when going uphill. Your body rests at just the right angle and height to keep you from falling backward.
But one of our most favorite parts about owning a BUCKLOS is the super easy installation. You need to tighten and untighten a few screws, and you're good to go.
Being aluminum, they're quite light and easy to handle, though they could be made lighter. Plus, they're not prone to corrosion and water damage like steel is.
Another design aspect worth mentioning is the no-joint design. It has many benefits, such as a more streamlined look and less corrosion.
Pros:
Wide range of choices.
Great for uphill and downhill ventures.
Quick and easy installation.
Not prone to corrosion.
No joint design.
Cons: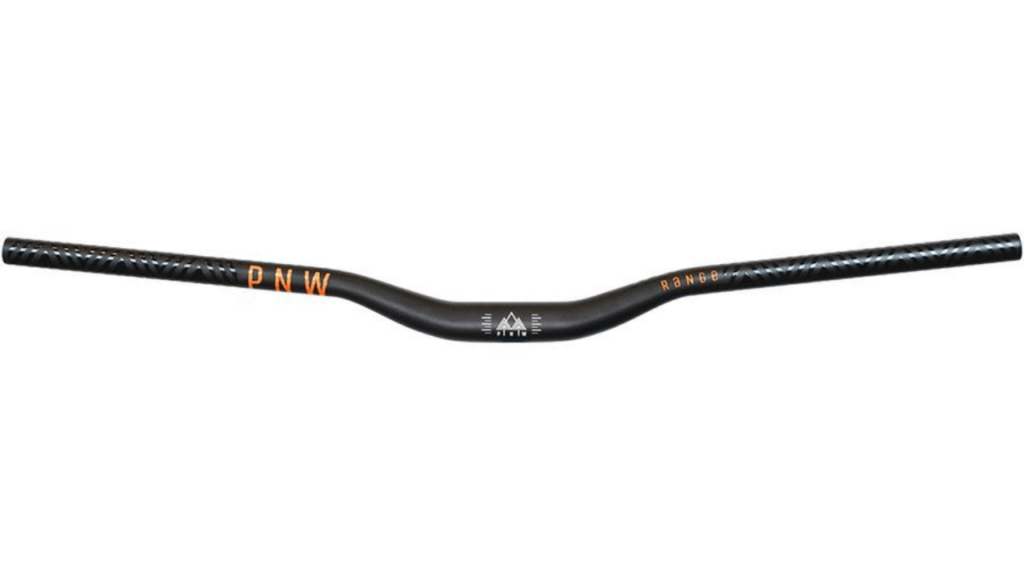 Tired of having to lean on your mountain bike? Try the PNW Components Range Handlebar. With a dynamic backsweep of 10 degrees and a short upsweep of 5 degrees, these bars put you in just the right place. You're neither leaning too far in front nor too far back.
While it may not seem like that, this positioning maximizes the control you have over your bike. And it lets you pedal faster and further.
Aside from that, the chassis is made from aluminum, a lightweight material that isn't subject to corrosion. But unlike other aluminum handlebars for mountain bikes, these are durable. The critical strain points have been reinforced to prevent them from breaking. So, you can ride as aggressively as you want.
As riser handlebars, these are perfect for climbing up and down hills and on flat land. However, currently, the range is only available in one size. Now, the size is pretty optimal as it maximizes the durability of the bars. But variety is always better.
Pros:
Gives you more control.
Better for uphill climbs.
Lightweight and durable.
Not prone to strain.
More neutral position.
Cons:
Only available in one size.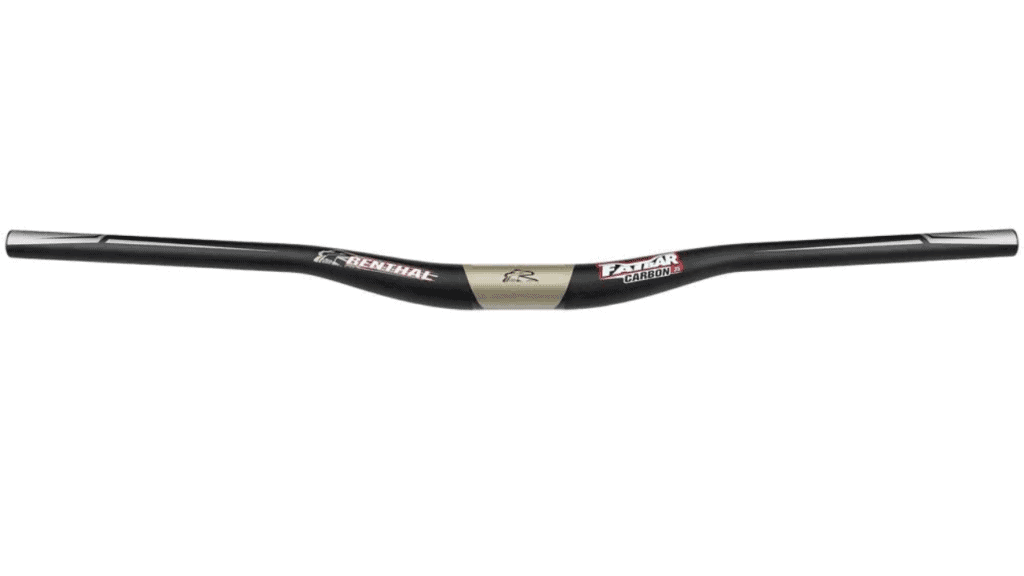 Another carbon fiber handlebar but with a lower sweep, the Renthal Fatbar is the latest addition to the Renthal lineup. It has an upsweep of 5 degrees and a back sweep of 7 degrees, a standard handlebar sweep. As a result, your position on the bike stays mostly neutral, with a slightly forward lean for downhill climbing.
What's best about the Renthal Fatbar is that it comes with a few options of rises. You can get it in 10mm, 20mm, 30mm, and 40mm rises, perfect for most applications.
Since it's from unidirectional carbon fiber, it not only weighs less than other bars but is more durable too. In addition, the carbon fiber is densely compact to keep it from coming apart.
Along with that, the diameter is 35mm, which is standard. It's a perfect size for making the bars stiff. However, the bars can often end up being too stiff.
Pros:
Best for downhill climbing.
Various rise size options.
Strong and durable carbon fiber.
Extremely lightweight.
Good for uphill climbs too.
Coons:
Handling may be too stiff.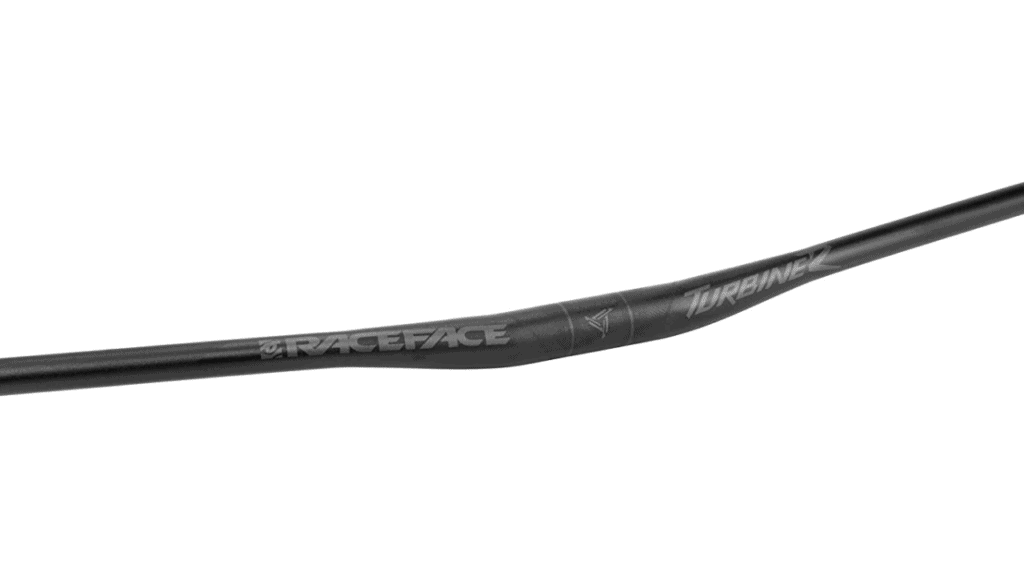 This cold-drawn handlebar has an upsweep of 5 degrees and a back sweep of 10 degrees as an aluminum riser.
The bold choice of sweep lifts you when going downhill. This helps you stay grounded and keeps you from losing your balance. And since it's aluminum, it hardly weighs 300 grams.
And that's not all. The RaceFace Turbine R has three rise options: 10mm, 20mm, and 35mm. So, you get to decide how rough your ride feels.
Speaking of rough, the RaceFace Turbine R uses a standard 35 mm diameter. Although designed to last longer, it's not the most comfortable. Moreover, your hands will get tired of using it.
To add to that, RaceFace is only available in one neutral black color. So, there's a limited choice with respect to style.
However, these are still the best mountain bike handlebars for those who ride extra rough and need a better grip on the road.
Pros:
An aggressive sweep keeps you grounded.
Variety of rising options.
Suitable for those who ride rough.
Strong and durable.
Quite lightweight.
Cons:
How to Choose Mountain Bike Handlebars
Here's all you need to know on how to choose mountain bike handlebars. Remember that comfort and your style of riding will determine what are the best handlebars for mountain bikes.
Material
The first thing you should consider is the material. MTB handlebars are typically made from steel, aluminum, or carbon fiber. Steel is relatively cheap, but it's also quite heavy. Plus, it may be prone to rust and other forms of corrosion.
Aluminum, on the other hand, is lightweight and the material of choice for many mountain bikers. But if you want even lighter handlebars, carbon fiber is the way to go. It doesn't come for cheap, though.
You must understand that, as you decrease the weight of the bars, you compromise on durability. Steel is the most durable, followed by aluminum, and then finally carbon fiber. Unfortunately, carbon fiber is the weakest and tends to scratch faster than aluminum.
Rise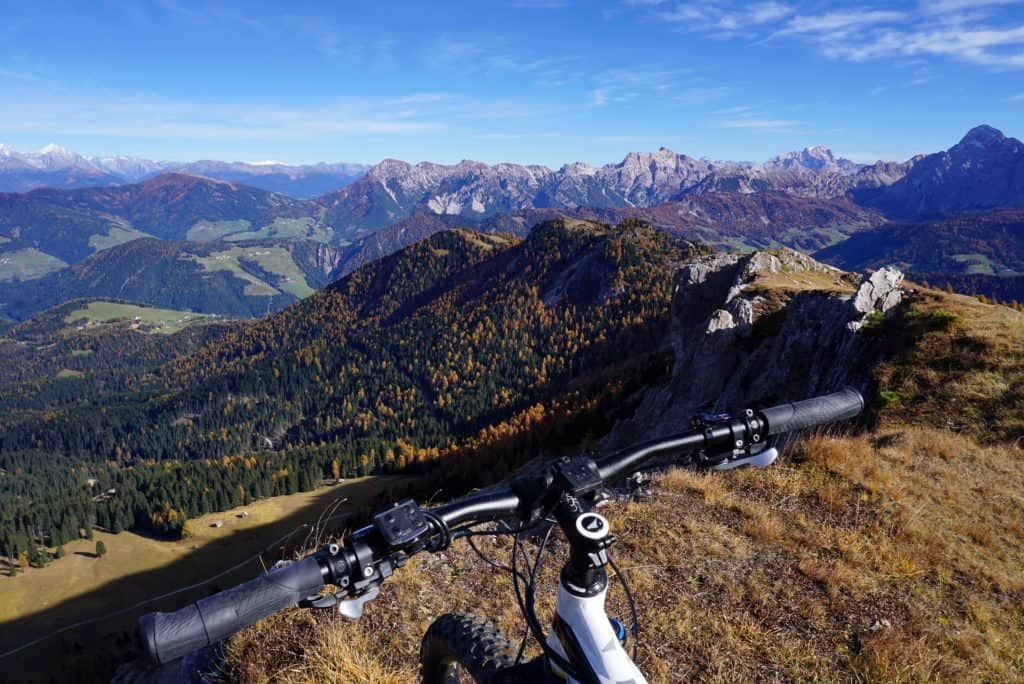 Rise is the vertical distance measured from the center of the handlebar to the very end. In other words, it's how "tall" the bars are. The higher rise is generally preferred for steeper terrain. However, most people prefer little to no rise. Rises can range from 0 mm up to 40mm.
Sweep
Sweep defines the shape of the bar. There are two kinds of sweeps: upsweep and back sweep.
Upsweep is how high the bar rises from the clamping surface. It's often confused with rising. But the rise is how high the bar rises from the very center of the bar. A typical upsweep for an MTB is 5 degrees. More upsweep means you sit further back on your seat.
Backsweep is how far back the bars are swept. Typical backsweep ranges are 7 to 10 degrees for MTBs. But 8 degrees is the most common choice.
Only you can decide what works best for you. Try out a few bars of differing sweeps and see which one fits best with you.
Diameter
Lastly, consider the diameter of the bar. Most people opt for the 35 mm version. 35 mm handlebars are quite standard for their stiffness. They're considered to be the strongest ones. But they often feel too stiff and can cause pain and stress in the hands.
The 31.8 mm clamp choice, however, is preferred for people with weaker hands. Some believe that these bars are weaker than their 35 mm counterparts. But many other factors come into play here.
Conclusion
Handlebars for mountain bikes may seem simple. But only a true mountain biker knows what makes a good handlebar.
If you're looking for the best MTB handlebar, look no further than the Race Face Next R handlebar. It's a durable piece of equipment with a laid-back sweep that's perfect for the average mountain biker. Plus, the joints have been reinforced to prevent stress and breakage.
You might not be happy with the handlebar width. But it gives you some extra space to rest your hands on.
Regardless, whether you like the Race Face or not, you'll only know the right handlebar when you lay your hands on it.
Below is a Pinterest friendly photo… so you can pin it to your Mountain Bike Board!