In search of mountain bikes for a heavy rider? Mountain biking is a fun activity for anyone to shed pounds and get back in shape. Many people are interested in MTBing, but they are also concerned about the weight limit of these bikes.
However, you will be glad to know that there are many MTBs available for heavy riders. But which one to go for?
We will list down the 5 best mountain bikes for heavy riders and will review them in detail.
What is the Best Mountain Bike for Big Guys?
Finding the right mountain bike for heavy riders will take some research and riding a few different types of bikes. At the end of the day, your budget will determine what type of bike you will get. Fat tire bikes are great and also have high max weight ratings.
As a heavy rider, you'd love the Mongoose Dolomite. This fat bike features 4-inch wide knobby tires to take the bumps from the trailers that you ride. You can accelerate the speed with its 7-speed shifter.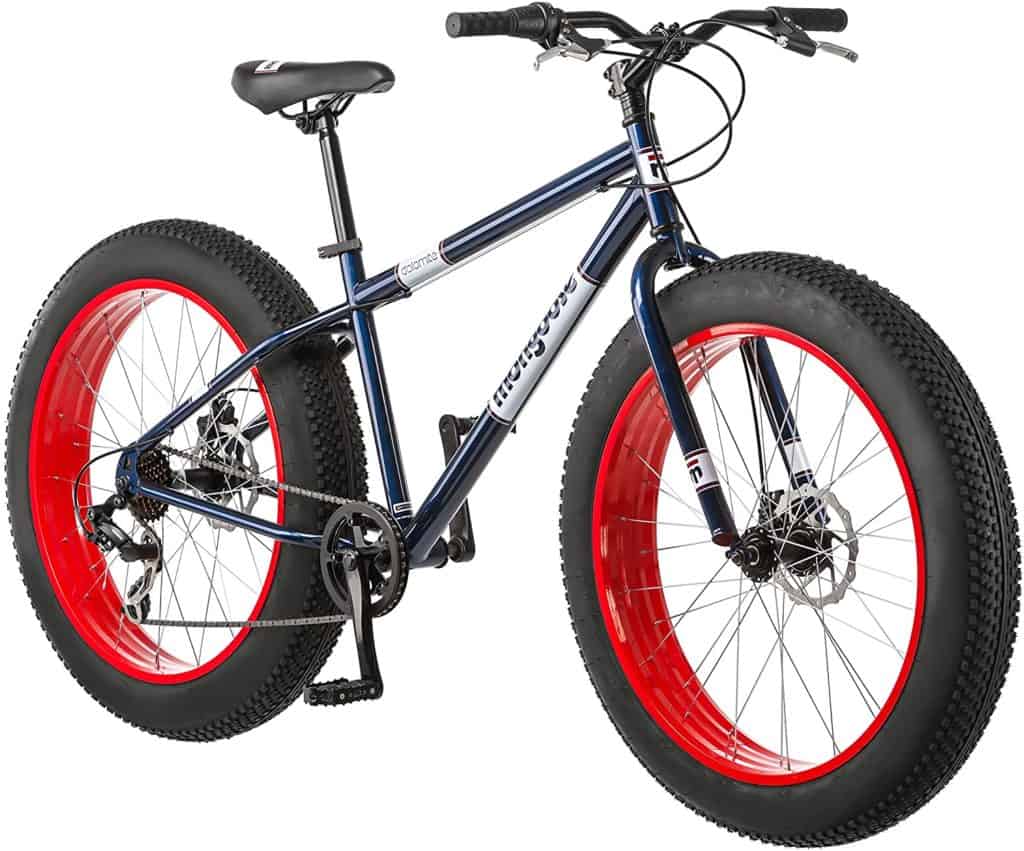 It comes with a max weight capacity of 385 pounds and is suitable for riders who are 5 feet 5 inches to 6 feet tall. In addition, it has a robust construction thanks to its stainless-steel frame.
This bike comes with a rigid frame but has fat tires that will absorb the bumps for you and make your riding experience much more comfortable.
Despite having a steel frame, the bike stays on the lighter side, so you can conveniently maneuver it during your ride through tougher terrain. In addition, gear shifting is quick and precise with the rear derailleur, and you will not have to make adjustments again and again.
Dolomite features quality disc brakes to equip the bike with excellent stopping power. No matter what speed you are zipping at, the bike will come to a halt as soon as you press the brake lever.
You might notice that this bike doesn't feature a wide handlebar. This is the only downside of this bike. However, you can go for a different handlebar if you have a hard time handling your bike.
Pros
Wide tires that can take harder bumps.
Features threadless headset.
Robust steel frame for durability.
7-speed shifter with the rear derailleur.
Quality disc brakes.
Cons
The bike features a narrower handle.
The Schwinn S29 mountain bikes for big guys come with large 29-inch tires and has a weight capacity of over 300 pounds.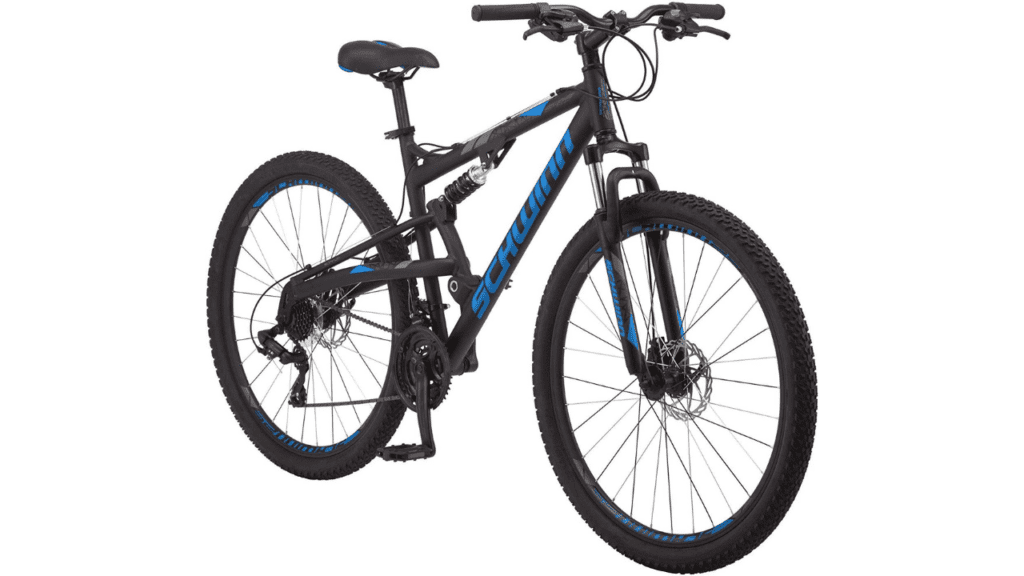 Some riders weigh over 300 pounds, and they feel comfortable riding off-road with this bike. As it comes with larger wheels, therefore, taller people will not have trouble riding this bike.
The bike is slightly on the heavier side due to its robust construction. Hence, you will not be able to perform any stunts on it. But if you like to roll on various trails, this is a good option to go for.
You might not be able to lock out its suspension, and feel it to be a bit bouncy. For that, you will have to stay on the trails that are not too technical.
It comes with those powerful mechanical disc brakes to provide you with exceptional stopping power whenever you need it. Plus, it features dual suspension, which will keep your overall riding experience nice and comfortable.
Thanks to the aluminum frame, this bike remains on the lightweight side and very easy to control. Moreover, it comes with a 7-speed shifter, and you can control the speeds according to your needs with precision.
Besides that, this bike boasts 2.1-inch tires, and they have knobs on them for better surface grips and impact absorption.
If you are a free rider, you will notice that it tends to deteriorate pretty quickly, and you will have to make a lot of adjustments and repairs on it. Nevertheless, it is among the top mountain bikes for heavy riders on the market.
Pros
Weight capacity of over 300 pounds.
Suitable for taller riders.
Mechanical disc brakes for maximum stopping power.
There is a 7-speed shifter for fast and precise shifting.
29-inch wheels for better surface performance.
Cons
Not the best option for frequent riders.
The Gravity FSX 1.0 is a dual-suspension mountain bike that features powerful disc brakes and aluminum frames. Available in different sizes and colors, this bike comes with a max weight capacity of over 300 pounds.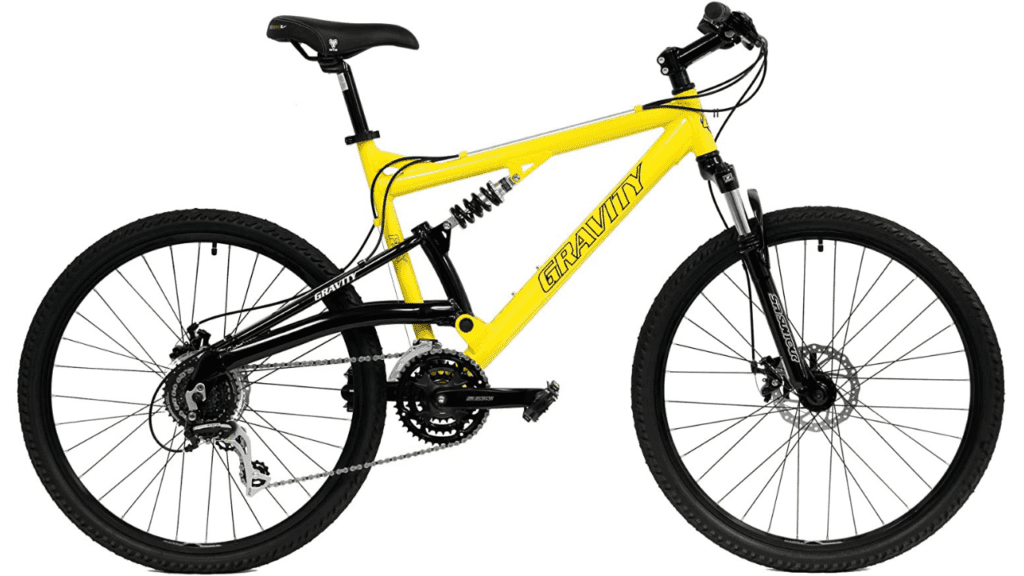 It is among the top mountain bikes for heavy riders if you are looking for an entry-level bike that doesn't put too much pressure on your pocket. Both ends of this bike have disc brakes to ensure better-stopping power and total control over your ride.
The bike comes with a 24-speed shifter, so it is built for speed. But you can ride it on smoother trails and on slightly tougher ones too. With more gears, the bike can handle a range of different trails pretty comfortably.
Another best feature of this bike is that it comes 80 percent assembled. Therefore, you will not have to spend too much time in the assembly process. Your purchase will come with all the instructions that you will need to get the job done.
You can assemble these MTBs for heavy riders in a couple of hours. However, if you do not have prior experience, better go for professional assistance.
But you will have to keep in mind that this bike is not designed for rough terrains. It can handle smoother trails and even roads pretty well. However, it will deteriorate pretty fast if you take it out on rough terrains too frequently.
Pros
Available in four different colors.
Comes with a dual suspension system.
Features a lightweight and durable aluminum frame.
An excellent entry-level bike with a 24-speed shifter.
Adjustable seaport height.
Cons
Not the best option for technical terrains.
You might have to go for a professional assembly.
This mountain bike with over 300 lbs capacity is the top choice for riding on gravel. It comes with front suspension, and you will be able to prevent your hands from getting tired while riding.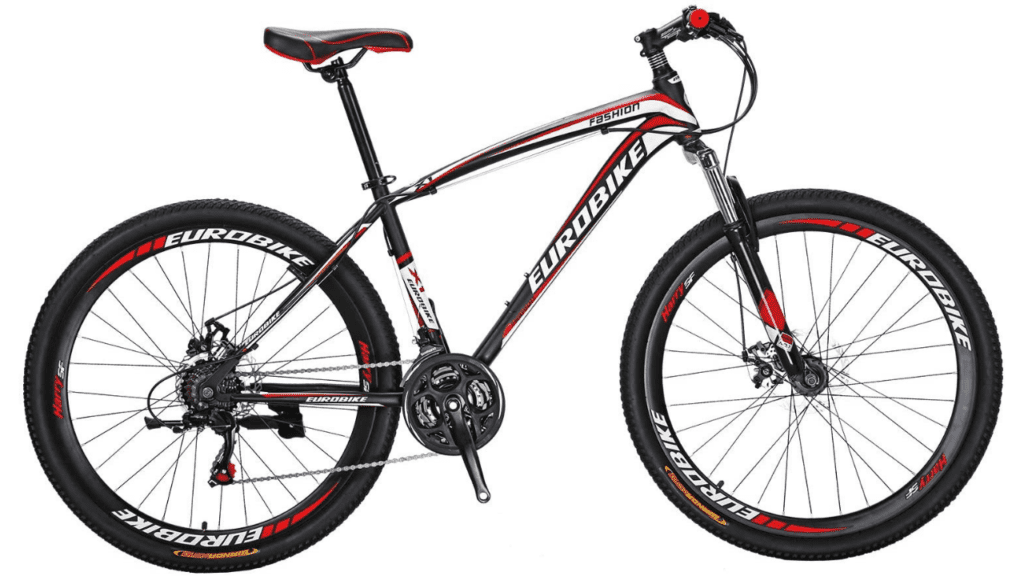 You can even use this bike on slightly steeper terrains if you want. This bike is all about speed and comes with a 21-speed shifter that works flawlessly and fast. This bike is pretty easy to assemble, and you will not have to spend long hours patching it all up before your first ride.
The steel frame is pretty durable, and it can handle plenty of pressure as you take your bike for a ride frequently. As this bike is all about speed, you will need a powerful set of brakes.
Furthermore, this bike does come with a set of disc brakes that will equip the bike with enough stopping force to bring you to a halt as soon as you press the lever, no matter how fast you are going. Gear shifting is extremely sensitive and accurate.
The bike features front and rear derailleurs, and you can control the speeds with high accuracy. In addition to that, the front suspension fork will keep your hands and arms well-relaxed during the ride by absorbing all those bumps.
Moreover, you will be in control of your ride with this fork and powerful brakes even at higher speeds and a bit more technical terrain.
Besides that, your purchase will include all the tools it will need to assemble this bike fully. Even with a bit of DIY experience, you can get the job done within a couple of hours.
Pros
Front suspension for better control.
Excellent stopping power with mechanical disc brakes.
Precise gear shifting with Shimano shifter.
Quick assembly with all tools included in the package.
Steel frame with aluminum rims keeps the bike on a lighter side.
Cons
The brakes need regular adjustment.
It is among the top mountain bikes for heavy riders as it comes with a total weight capacity of over 330 lbs and features 24-speed shifters that work with high precision. This bike is available in different sizes and colors. It comes with front suspensions that are highly responsive and will keep the load off your hands and arms.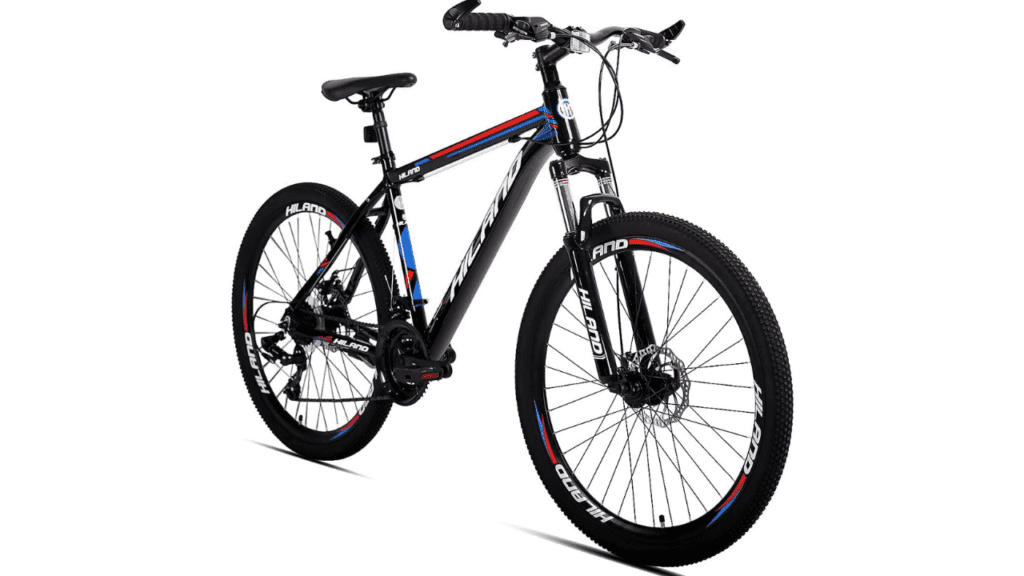 There is a 24-speed shifter on this bike, and it ensures that you can shift the gears with accuracy and speed. You will not have to readjust your gear time and time again.
This bike boasts a lightweight aluminum frame. Therefore, maneuvering and controlling your bike will be pretty simple. Besides that, you can zip along at higher speeds through technical terrains without any errors.
Apart from that, this bike comes 85 percent assembled, and it will not take more than an hour to get it to ride. Remember that you do not install that front suspension backward, or it will significantly reduce the bike's overall performance.
It is available in three different sizes. The smaller size is ideal for riders who range from 5 feet or 5 feet and 8 inches in height. The medium size is suitable for riders that range from 5 feet 7 inches to 6 feet one inch. And the large size is designed for riders taller than 6 feet.
A wide handlebar allows you to control and maneuver the bike effortlessly, especially at higher speeds.
Pros
Quality mechanical disc brakes.
Wider handlebar for better control.
Three different sizes and four different colors are available.
Weight capacity of over 330 lbs.
Lightweight aluminum frames make the bike easy to maneuver.
Cons
Its seat is not comfortable for long rides.
FAQs
Is there a weight limit on mountain bikes?
In most cases, mountain bikes do come with a weight limit that averages 300 lbs. This weight limit is at an average speed of 10 miles an hour on smooth terrain. You should not put too much load on your mountain bike, or it will underperform or may even break.
Can a big guy ride a mountain bike?
Yes, big guys can ride mountain bikes. Mountain bikes are the best bikes that big guys can ride. These bikes come with fatter, knobby tires and are built to take some severe toll.
You can use this bike to shed some weight off. You can either go for an aluminum frame or a steel frame. Carbon frame MTBs are also available, but they are far more expensive than their steel and aluminum counterparts.
Conclusion
One of the best mountain bikes for heavy riders is the Mongoose Dolomite. It features 4-inch wide wheels that can take bumps from the surface very well. Apart from that, this bike comes with a robust steel frame construction, and there is a 7-speed shifter on it.
The maximum weight capacity of the bike is 385 lbs. But you cannot use it for riding at swift speeds. Instead, you can ride it to shed off a few extra pounds and get back in shape while enjoying the outdoors.
Below is a Pinterest friendly photo… so you can pin it to your Mountain Bike Board!