Mountain biking is one of the best ways to improve fitness and to explore the wilderness, especially when you have access to good mountain bike and trails. The best mountain bike phone holders are additional sets of accessories that make it possible for you to look at your mobile device. There are many reasons you might need to look at your mobile device like navigation.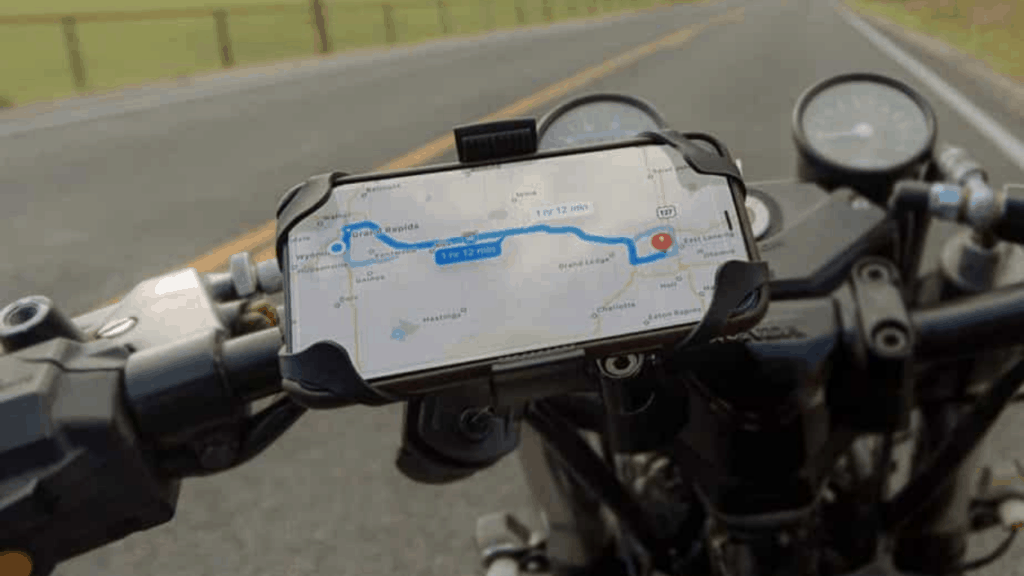 Mountain bike phone holders need to be durable. Since you will be taking them on tough terrains and you will be encountering jumps, you need something durable that does not buckle under pressure. This is where we come in and the goal of this article is to reveal the best mountain bike phone holders to help you get value for your money while riding.
Best Mountain Bike Phone Holders Compared
Best Mountain Bike Phone Holders On The Market
Before we dive into some of the intricate features, we must look at the best mountain bike phone holders. We have selected a couple of the best options and phone holders for mountain bikes can give you access to your device. The mountain bike phone mounts will ensure that you can track your stats and use the mobile GPS navigation or trail apps.
Top Pick: Roam Universal Premium Bike Phone Mount
Stability and durability are some of the most important things to consider for these phone mounts. The Roam Universal Premium Bike Phone Mount is lightweight and has been tested in the field. The unit can hold almost every mobile device, which means that it is a universal mountain bike phone holder and holds your I-phone and Androids.
To set up the unit, it has two different mounting points. The mounting points are very easy for someone to set up from the comfort of their home. Unfortunately, it might not have the best durability when it comes to plastic construction. However, if you don't fall with the unit, it should not take any real damage.
Pros:
Stable setup
Universal for all phones
Filed-tested and reliable
Affordable
Cons:
The plastic mounting lacks durability
Best Durable Phone Mount: Lamicall Motorcycle Handlebar Cell Phone Clamp
The Lamicall Motorcycle Handlebar Cell Phone Clamp is one of the most unique options on the market today. The construction of the unit is made from hardened plastic and stainless steel. It can hold devices that range 4.7-inches to 6.8-inches, with a width of around 15mm. This should be enough to accommodate most mobile devices.
One of the main features is that it is easy to set up. However, once you have the unit mounted, it should be effective for making adjustments. You can make these adjustments by just using one hand. Once your mobile device has been attached, the benefit of the materials also means that the phone holder will be shockproof.
Pros:
Shockproof
One-handed setup
Durable stainless steel setup
Multiple adjustable features
Cons:
Best Heavy-Duty Phone Mount: CAL.CAR Metal Bike & Motorcycle Phone Mount
We often avoid choosing the heavier options due to the weight that they add to the bike. However, the CAL.CAR Metal Bike & Motorcycle Phone Mount is one of the best options if you want a durable phone holder. The unit is constructed from metal. However, silicone is integrated to ensure that you have some form of shock resistance.
Much like some of the others, the phone mount is easy to set up and it accommodates a variety of mobile devices. The quality of the phone holder will ensure that your phone does not get damaged. Additionally, it gives you direct access to your mobile device. You don't need to stop when accessing your device
Pros:
Shockproof
Easy to set up
Offers full access
Weather-resistant
Cons:
Best Looking Phone Mount: Quad Lock Out Front Bike Mount
The Quad Lock Out Front Bike Mount is one of the most unique options and it does not have a specific frame that you need to slide your phone into. When riding your high-end mountain bike, you want something that will keep the mountain bike looking great. Once you connect your mobile device to this holder, it should spice up the mountain bike.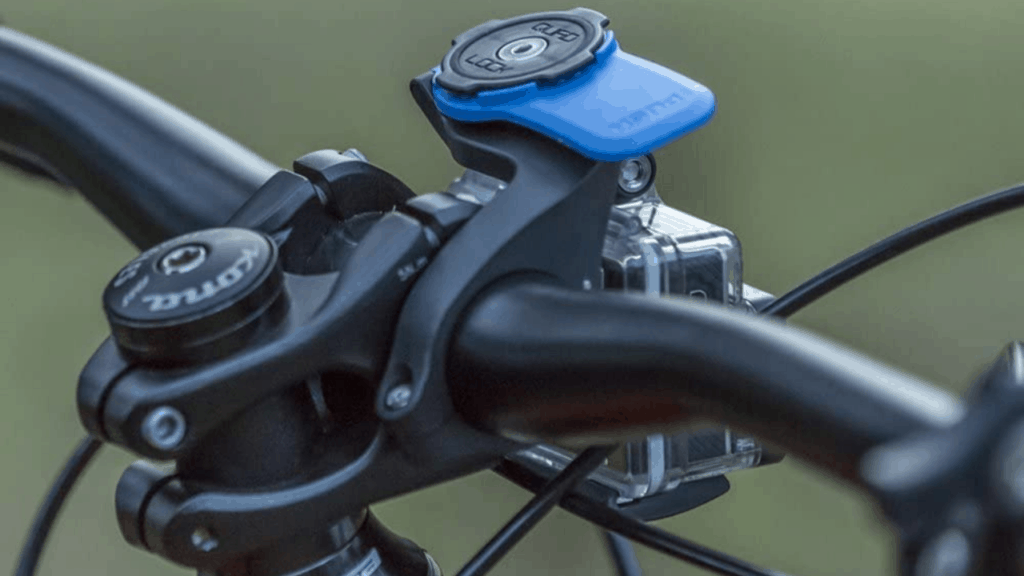 The setup is dedicated to standard mountain bike handlebars. If you have a custom mountain bike, it might not always fit. However, it is compatible with most mobile devices. In terms of the downsides, your phone will get damaged more easily when you fall. We would recommend it to more advanced mountain bike riders.
Pros:
Sleek design
Fits most mobile devices
Durable construction
Minimizes drag on the bike
Cons:
Best Universal Bike Mount: Cyclepartner Universal Phone Mount
When looking for a bike mount, the universal bike mounts might be the best. The Cyclepartner Universal Phone Mount is one of the very best options on the market today and it is designed to give you value for your money. It has a sleek design and the design enables you to mount the unit and set it up with different bikes.
Silicone is used for unit construction, which makes it one of the lightest options on the market today. Aside from the construction, the unit mounts to almost every bike. However, it is slightly more expensive. One of the reasons we have included the unit is the fact that it can fit almost every device and it should remain stable.
Pros:
Universal for all bike
Durable construction
Sleek design
Offers good stability
Cons:
Best Adjustable Phone Holder: VUP Bike Phone Mount
If you are heavily focused on your trail, you might not want to leave the handlebars or stop to adjust your phone. However, the Vup Bike Phone Mount is set up to give you more versatility. You should be able to adjust and turn it into different shapes that are easier to utilize. In terms of fit, mobile devices with a height of 4.5-6.7 inches should easily fit.
Additional rubber has been added and the additional rubber will ensure even more durability. It is not shockproof, but we have found that it is compatible with numerous mountain bikes. The compatibility is great for those that have budget mountain bikes or if you are looking to run with even more accessories on the bike.
Pros:
Compatible with all bike
Affordable
Easy to mount
Fits most screens
Cons:
Best Open Phone Mount: Mongoora Bike & Motorcycle Phone Mount
You don't want to have a bulky phone mount if you are trying to reduce the weight on your bike. The Mongoora Bike & Motorcycle Phone Mount is one of the sleek mountain bike phone holders and it features elastic bands that mold to the durable materials that should help to keep the phone on the mount.
It is very easy to set up and you don't need any specific additions when you are in the process of setting it up. The phone holder is universal and holds almost every phone. The elastic band should stretch to accommodate larger phones. Additionally, it is versatile and should allow you to remove the phone when needed in a hurry.
Pros:
Durable construction
Reinforced elastic design
Adjustable
Accommodates all phones
Inexpensive
Cons:
How To Find The Best Mountain Bike Phone Holders
There are plenty of these items on the market today. However, very few of them are worth buying for your bike. We have selected seven of the top options, but since there are many more, we believe that the buyer's guide will help you to discern the best one from the bad ones. Here are a couple of key features to keep in mind:
Installation
One of the first things to keep in mind is the installation. The handlebars on mountain bikes vary and when you have a good mountain bike, you might need to find a custom phone holder. You must look at the phone holder and some of the specs. The specifications should tell you how compatible the unit is.
Durability
Some of these units are made from flimsy plastic and the plastic might not be durable enough for everyone to use. If you are taking on the toughest trails, you will need excellent stability. Generally, hardened plastic is one of the main materials to be used and it balances out stability with a lighter weight.
Phone Size
With the evolution of new mobile devices, you will find that many of these devices are slightly larger than they should be. Fortunately, the best mountain bike phone holders should accommodate a variety of devices. You must find one that is large enough for your device and ensure that it securely holds the device.
Accessibility
Finally, you might need to access your mobile device and when it is securely protected; you might not be able to use it for navigation. It is important to have the versatility to use the screen or to turn it into landscape mode if needed. There are plenty of great options available, but not all of them offer you accessibility to the device.
Wrap-Up
Finding the best mountain bike phone holder might not be easy for everyone. However, the most important thing is that that you don't focus on the price. There are plenty of very cheap options. However, these cheap options are not always the best. Your mobile device is probably expensive and you need to spend some money to ensure you have a good product that will keep your phone safe.
Below is a Pinterest friendly photo… so you can pin it to your Mountain Bike Board!