Anyone who owns a bike knows one thing; maintenance is essential. And no, we're not just talking about the occasional tire pressure check or chain lubing. Your bike requires a complete maintenance check every few weeks.
So, where should a newbie start? Fortunately, there are a few bike cleaning kits that work wonders. These kits contain everything from brushes and cleaning solutions to even lubes and degreasers.
But what is the best bike cleaner? And how do you pick the right one? Here are our top 6 best mountain bike cleaning kits for newbies and experts.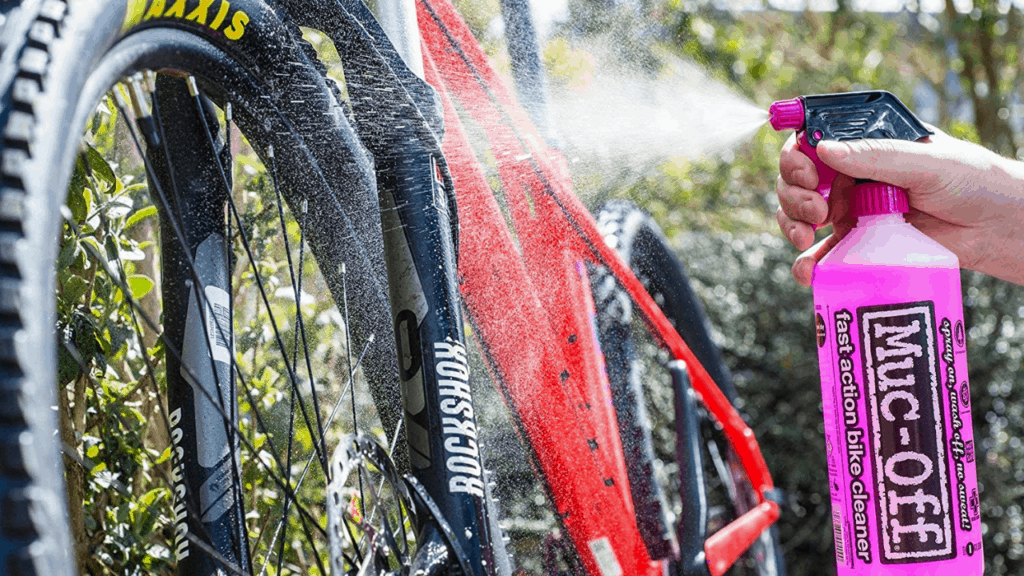 Comparison Table
Best Mountain Bike Cleaning Kits:
When it comes to cleaning kits you will only find some that are the complete package. Others you might have to piece together, which is fine but to have it in one is a bonus. We found the 6 to full our needs when giving our bikes a good wash.
1.    Top Pic: Muc Off Ultimate Bicycle Cleaning Kit
Muc Off is a quite well-known brand among bicycle cleaners, particularly for its durable toolboxes. This Muc Off Ultimate Cleaning Kit is one of the best mountain bike cleaning kits and comes packed with cleaners, brushes, and lubes.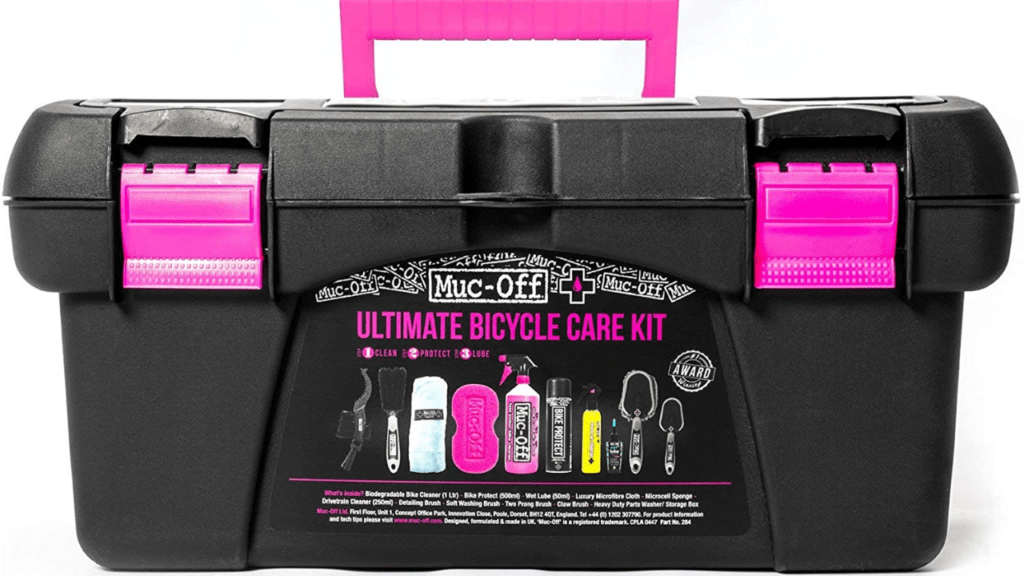 Besides, this is a versatile all-in-one cleaning kit. It includes a Nano Tech Bike Cleaner and a Microcell Sponge that keeps your bike safe from scratches during cleaning. You also get a microfiber cloth for cleaning and drying.  
And if your drivetrain is full of muck and dirt, use the Bio Drivetrain Cleaner to cut straight through it. Once you're done, use the Bike Protect spray to keep the bike safe from dust and sunlight.
And be sure to apply the Bio Wet Lube regularly, so your chain never jams. It includes a wet lube, but a dry lube would have been an excellent addition too.
Pros:
Includes brushes, sponges, and lube.
Comes with a microfiber cleaning cloth.
Bio Drivetrain Cleaner for dissolving gunk.
Packed into a handy toolbox.
100% bio-degradable and recyclable toolbox.
Cons:
2.    Best Combo Kit: Muc Off 8-In-1 Bicycle Cleaning Kit
You might like this 8-in-1 Muc Off cleaning kit. Conveniently packed into a bucket, this kit contains 5 types of brushes, 1 sponge, 1 bike spray, and Muc-Off's special cleaning solution.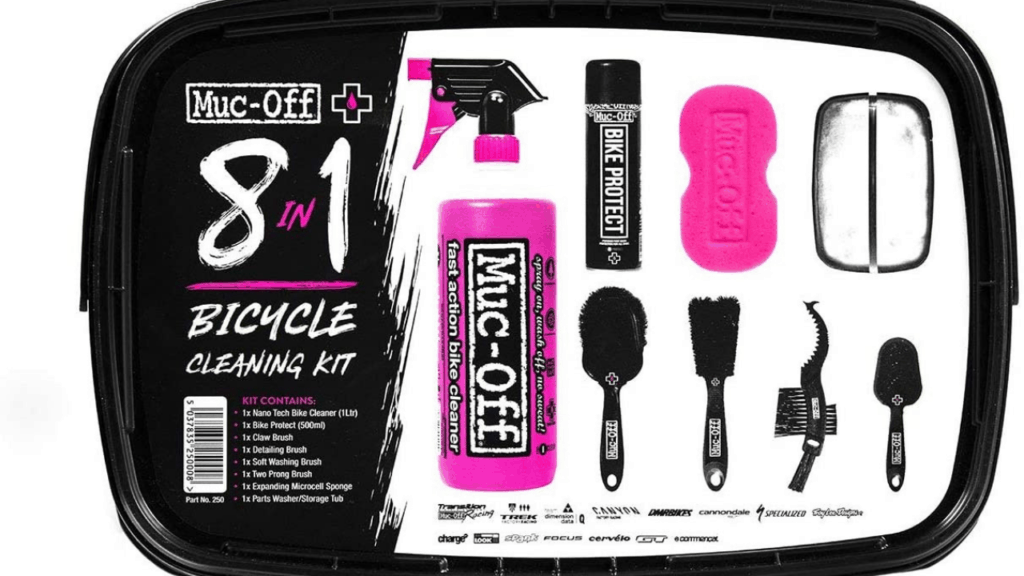 With the Muc-Off, you get a soft washing brush that helps work up to a generous amount of lather. The kit also includes a two-pronged brush that scrubs dust and grime from both sides of your chain. Along with that, you get a detailing brush for those finishing touches that make your bike sparkle and shine.
Aside from that, a particular claw-like instrument is also included in the bucket, which can be used to scrape off the gunk in hard-to-reach places.
Finally, you have the soft microfiber sponge along with the special cleaning solution. It's Muc-Off's official fast action bike cleaner.
Overall, the product choice is great, though a microfiber cloth for drying would've been spectacular.
Pros:
Two-pronged brush for two-sided cleaning.
Special claw for cutting through grime.
Soft microfiber sponge.
Includes Muc-Off's fast action bike cleaner.
Comes with its bucket.
Cons:
No microfiber cloth for drying.
3.    Best Budget Kit: Anndason 8 Pieces Precision Bicycle Cleaning Brush
The Anndason Precision Bicycle Cleaning Brush is a premium 8-piece brush set for cleaning and scrubbing your bike. It features a Professional Bike Chain Cleaner meant for removing grime and dirt stuck in your chain. To clean off more stubborn filth from your chain, the set also includes a Chain Scrubber Brush.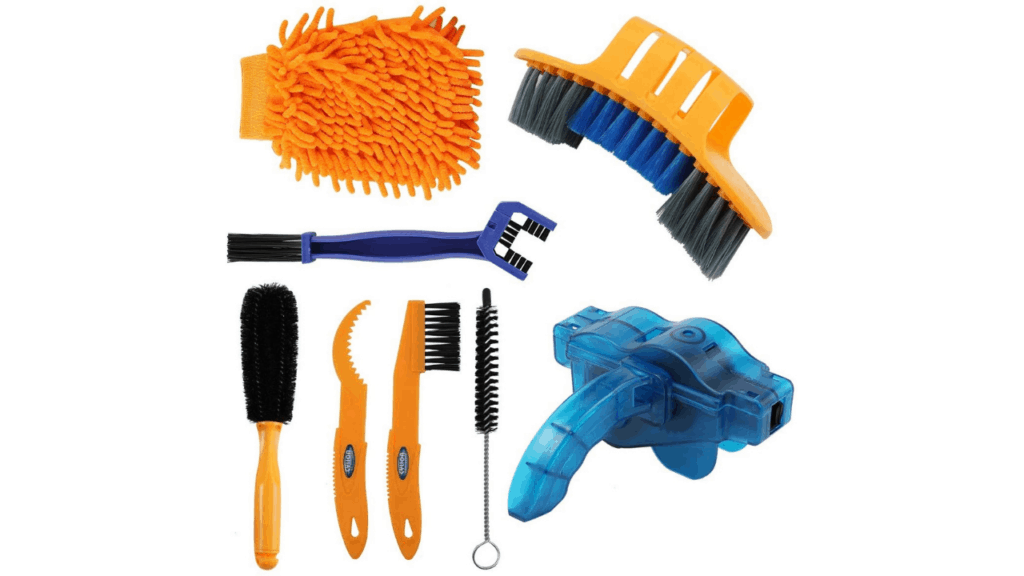 But that's not even the best part. This is perhaps the only bike cleaning kit that comes with a tire scrubber brush. This brush comes in handy when you have to get rid of tougher stains stuck to the tire.
With the kit, you also get a Tapered Detail Brush for finishing round corners and nooks. The kit also includes a proprietary Sprocket Scraper plus Cleaning Brush for cleaning the Sprocket.
This is also one of the very few bicycle cleaning kits that include cleaning mittens. However, these would swap out for microfiber cleaning cloths.
Pros:
Includes chain cleaning brushes.
Comes with a tire scrubber.
Has tools for Sprocket cleaning.
Includes cleaning mittens.
Cons:
No microfiber cleaning cloth.
No toolbox or bucket.
4.    Best Cleaning Solution: Motorex Bike Cleaning Kit
Motorex is a complete bike cleaning toolkit that includes two special cleaning solutions, a dry lube, a sponge, and a cloth.
This kit includes Motorex's signature Easy Clean degreaser. The degreaser helps remove grease and grime from your chain and other crevices. It'll be a great addition to your existing cleaning solutions regime.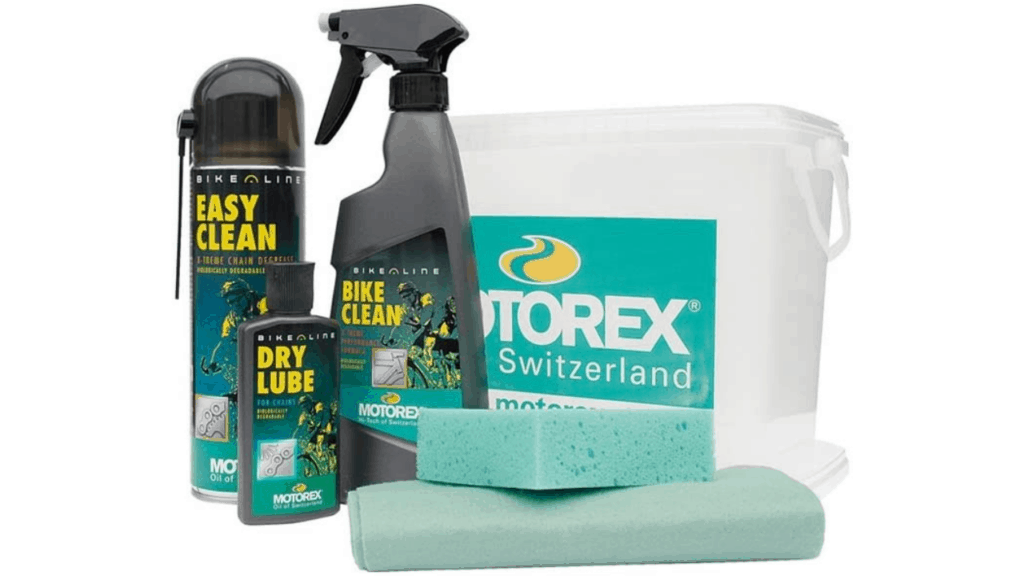 Besides that, you get the Bike Clean formula, a basic cleaning solution for washing the entire bike. It gets rid of most dirt and stains and keeps your bike's frame in top condition. You can use the included sponge to apply it or use any suitable cloth.
To dry your bike, you get a microfiber cloth which can also be used for general polishing. It keeps the frame free from scratches.
And to top that off, you get Motorex's Dry Power Chain Lube to keep things in top shape.
Pros:
Comes with its degreaser.
Includes sponge and microfiber cloth.
Dry lube included.
Help keep the chain in top shape.
Comes in its bucket.
Cons:
5.    Best Cleaning Kit with Lube: Finish Line Pro Care Bucket
The Finish Line Pro Care Bucket V8 is an all-in-one cleaning plus lubing solution for bikers who are always on the go. It features both wet and dry lubes for adventurers and off-roaders, along with a grunge brush and multi-degreaser.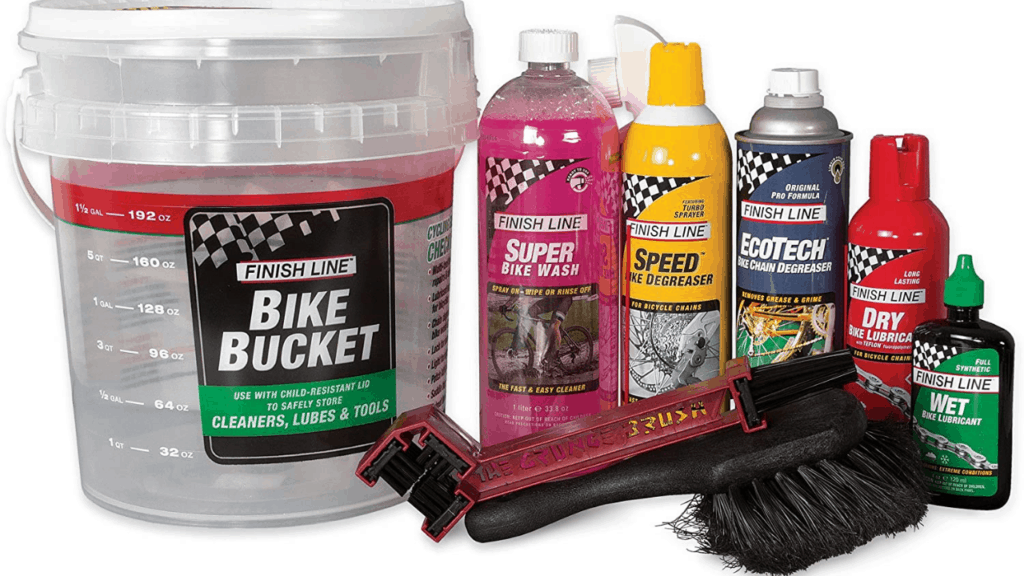 To begin with, the bucket contains a regular bike wash that will help loosen up the dirt stuck to the frame and tires. After that, you can use the multi-degreaser to remove any solid gunk from your chain and other hard-to-reach parts of the bike.
Furthermore, you can make use of the grunge brush to carefully remove any stubborn stains and dirt. And once you're done with all that, you can top it off with either a wet lube or a dry one.
This is a good choice since it includes a cleaning brush and a complete bike maintenance kit. But there are no microfiber cloths or sponges.
Pros:
Comes with both wet and dry lubes.
Includes a multi-degreaser.
Grunge brush included.
Packed into a convenient carrying bucket.
Ships with bike maintenance guide.
Cons:
6.    Best Quality Kit: Park Tool Cg-2.4 Bicycle Cleaning Kit
A simple yet effective cleaning kit, the Park Tool CG-2.4 consists of a chain scrubber, degreaser, and a few cleaning brushes.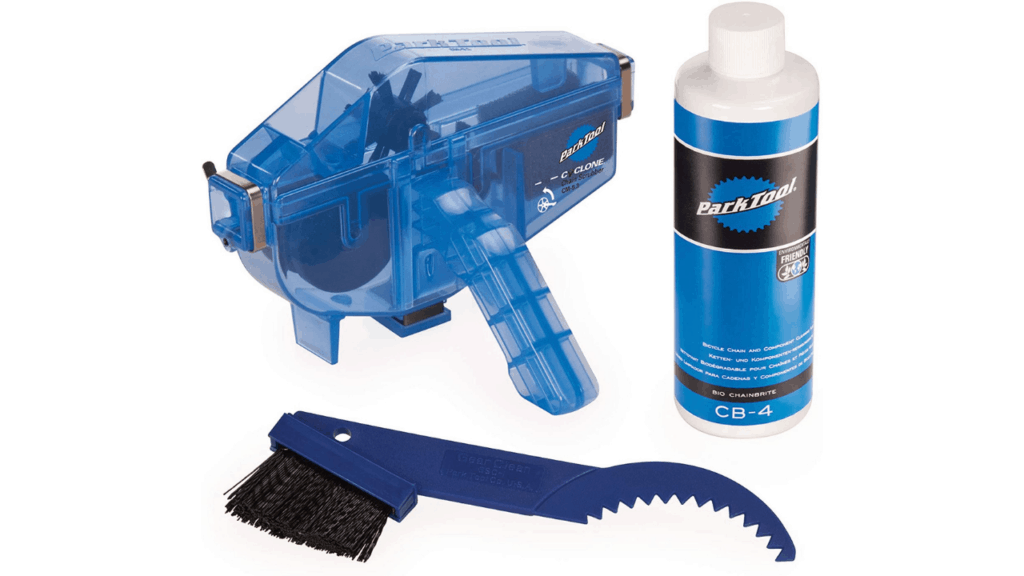 The 4-piece cleaning brush kit is sold separately and features a soft-bristle washing brush for the initial wash. You can then use the sponge-bristle combo brush for deeper scrubbing and the tapered brush for tighter areas. You also get a GSC-1 Gearclean brush for cleaning gears and picking dust and debris off.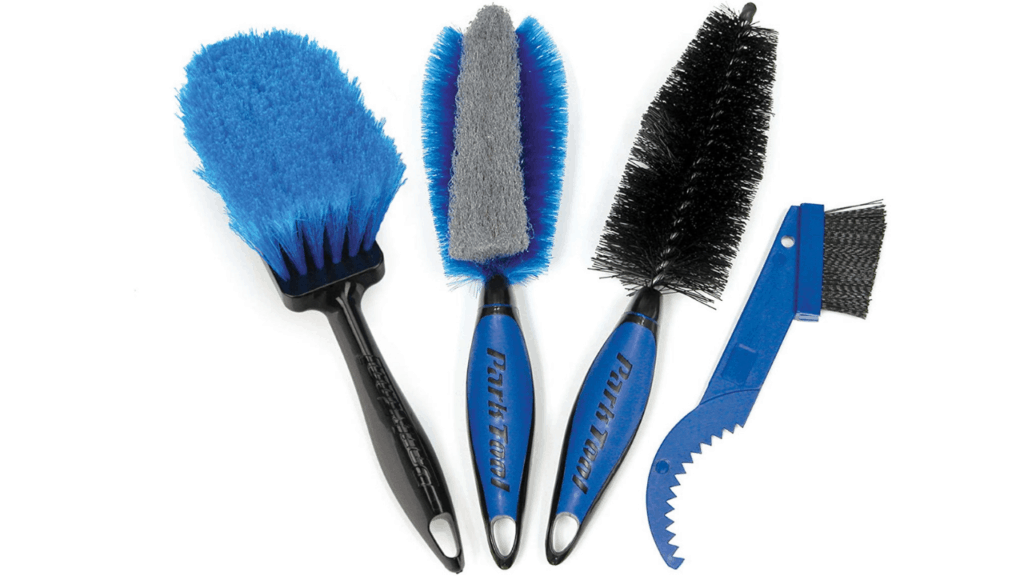 Aside from that, the Park Tool Kit includes a special gear brush that penetrates deep into layers of grime and cleans it off.
A single environmentally-friendly ChainBrite Chain and Component Cleaning Fluid are also included. This is the degreaser that helps loosen up dirt and oil between the crevices of the chain and ensures better drivetrain health.
Overall, the assortment of brushes and simple products makes it an ideal choice for beginners. However, it doesn't include any rags, towels, or microfiber cloths.
Pros:
4-piece cleaning brush kit.
Park Tool's official Gearclean dust picker.
Eco-friendly ChainBrite degreaser.
Can penetrate crevices.
Ideal for beginners.
Cons:
No cleaning or drying cloths.
Buying Guide:
What Can I Use to Clean My Mountain Bike?
If you've decided to clean the whole frame of the bike, you'll need a decent cleaning solution. Luckily, most kitchen detergents work just fine on the bike's frame. You can also use special cleaning solutions that are included in cleaning kits. But in most cases, anything beyond your kitchen detergent may not be necessary.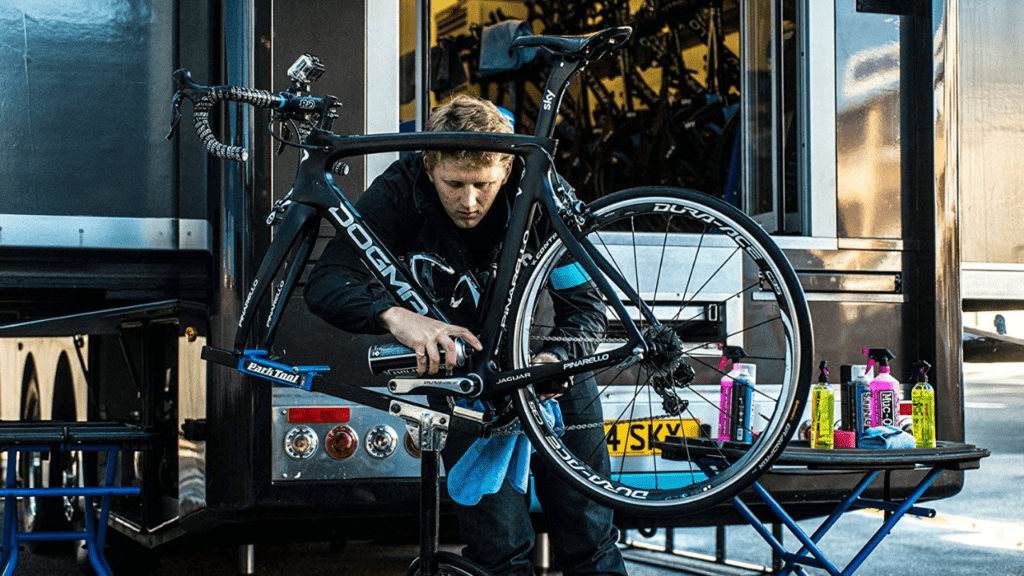 What Type of Brushes Do I Need?
It depends entirely on the spot you have to clean and how dirty it is. You can find brushes in three styles: soft-bristle, hard-bristle, and claw. Soft-bristle brushes are suitable for lathering up soap, while the hard-bristle ones are good for scrubbing. Claw or hook-type "brushes" are better for picking at packed dirt that otherwise won't budge.
What Lube Should I Get?
Some cleaning kits may include lubes. And even if yours doesn't, buying one separately is never a bad idea. You can find two kinds of lubes: wet and dry. The dry kind is preferred by people who do some heavy off-roading and don't want dust to stick to their lube.
Spot Bike Cleansing Kits
There are some general cleaning kits for cleaning the whole bike. You can also find spot cleaning kits. These kits are designed for just one part of the bike, such as the brakes, chain, or tires. They can be as simple as a cleaning solution and a brush to as advanced as lubes and degreasers.
How Often Should I Wash My Mountain Bike?
If your bike tends to get muddy quite often, then yes. Otherwise, cleaning your bike after a few rides will be fine. It should be noted that this is only for bikes that are being used for mountaineering and off-roading.
Other Utensils
Your bike cleaning kit should, at the very least, contain a sponge and a cleaning cloth. The cloth can either be used during cleaning or afterwards for drying. Both the cloth and the sponge can be worked to create lather on the bike's surface. Make sure your bike cleaning kit includes at least a microfiber cleaning cloth.
Conclusion
Mountain bike cleaning kits are top-rated among newbie bikers, mainly due to their convenience and low price. They often include cleaning solutions and lube to kick-start your biking career.
But as you progress, you will soon learn all the intricacies of bike cleaning. A kit won't do justice to your bike's ever-growing maintenance needs.
Regardless of that, we looked at 6 of the best mountain bike cleaning kits. Some were geared towards heavy off-roaders, while others would satisfy a commuter or two. These were the best that we found. However, if there are better choices, we stand corrected.
Below is a Pinterest friendly photo… so you can pin it to your Mountain Bike Board!