Mountain bikes tend to lose a lot of value over time. There is a common view around the industry; if a mountain bike has been used it generally means the bike has gone through plenty of rough patches.
Riding on those uneven trails can take a serious toll on a bike. If you replace the parts with the new ones, the overall blue book of the bike value goes down.
With this ideology, new bikes are always a good investment as compared to old ones. It means as your bike gets old, it's going to depreciate at an alarming rate. Therefore, knowing a blue book value for bikes is indispensable.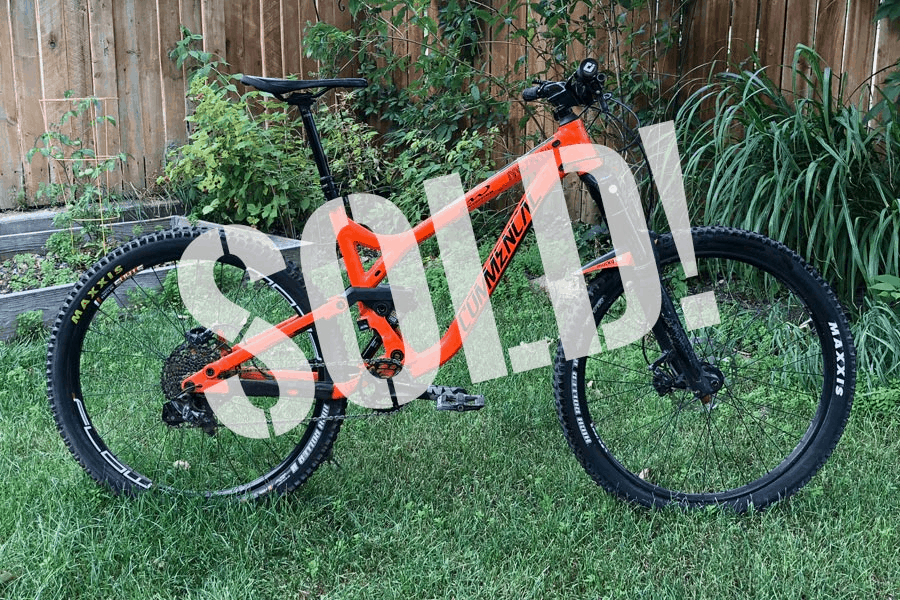 High-End Brands Sell Better, but it Still Hurts
When it comes to a blue book for bikes, high-End brands will have a better resale value as compared to the others. Apart from that, bike manufacturers can also introduce new bike models from time to time. The common trend on a blue book for mountain bikes is that a high-end brand bike will sell around 55% of its original value even if you have only used it for a year or so.
For instance, if you want to sell a new Giant Trance Pro Advanced ($8700) after one year of use, it will only get you around $4700 (which is approx. 55% of its original value). Therefore, you need to think twice when you go for a high end or an expensive bike.
Selling Your Mountain Bike After 1 Year
Selling your bike after one year of use will get you a depreciation of around 55%. The value will be slightly better if you are selling a high-end brand like Giant, Specialized, or Santa Cruz. The depreciation on other brands can be even higher according to the different blue book values for bikes.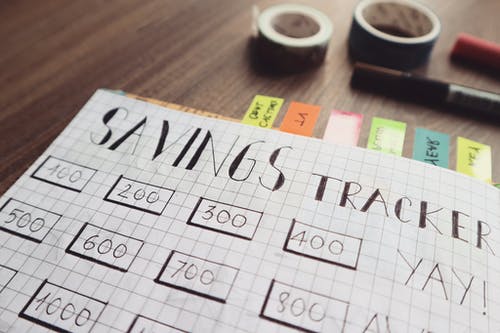 But such a high rate of depreciation is only applicable during the first year. If you sell your bike after the 1st year, the added depreciation for the next year will not be as harsh on its overall value.
The approximately 55% depreciation in the first year from the bicycle blue book will only get another 5% to 7% added depreciation for the 2nd and 3rd year from the original price. So, the bike age value from the first 3 years is;
Within 1 year → 55% of the bike's original value
Inside 2 years → 48% of the bike's original value
Within 3 years → 41% of the bike's original value
So, if you purchase a bike for $6000 the values for the next 3 years will be as follows;
Within 1 year → $3300
Inside 2 years → $2880
Within 3 years → $2460
As you can see the value doesn't trickle down in the same fashion after the first year. So, the heavy depreciation normalizes in the subsequent years.
Additionally, selling a bike that doesn't have a single scratch on it can bring more value as well. In most cases even if you have used it for an entire year if the condition is met, it can go up to around 62% of the original value. So, there are different aspects associated with the overall value of your bike.
Understanding a Bike's Worth
To sell your bike, you need to understand the overall worth of your bike. There are various factors in estimating the overall bike's worth. If you want to know how much your bike costs, you need to use this tool, Bicycle Blue Book.

Various Components of a Blue Book for Bikes
This tool relies heavily on millions of private party transactions and calculates an average. And that average is to calculate the depreciation on your bike. Three different values need to be reported. The MSRP of the bike, the private party value, and of course, the trade-in value.
The private party value is based on three different factors. This value relies heavily on the reported transactions and then there is a real-time algorithm in place.
This algorithm will determine the brand of the bike under question, its age, its retailer discounting, the conditions of its all hardware, and various other factors. These numbers and algorithms accurately reflect market trends. They are also directly influenced by the trade-ins including reseller hurdles and customer benefits.
For example, the Specialized SL4 Tarmac 2017 has an MSRP of $2000. Its private party value will be around $1115 according to the Bicycle Blue Book. Its trade-in value is estimated at $725. The private party value of $1115 comes from the aggregate sales data of bicycles. For instance, in the past 1 year, this bike's price was as high as $1250 and as low as $850.
Marketplace
These factors influence the overall value of your bike significantly. And these numbers come from the marketplace where different buyers and sellers gather to sell and purchase different bikes.
The transactions that go down are reported and these values become a vital part of the average number that goes into the calculation of the blue book for bikes. Trade-in values are also reported to these tools. The trade-ins are the quickest and the safest way to your new bike.
Condition Scale of a Used Mountain Bike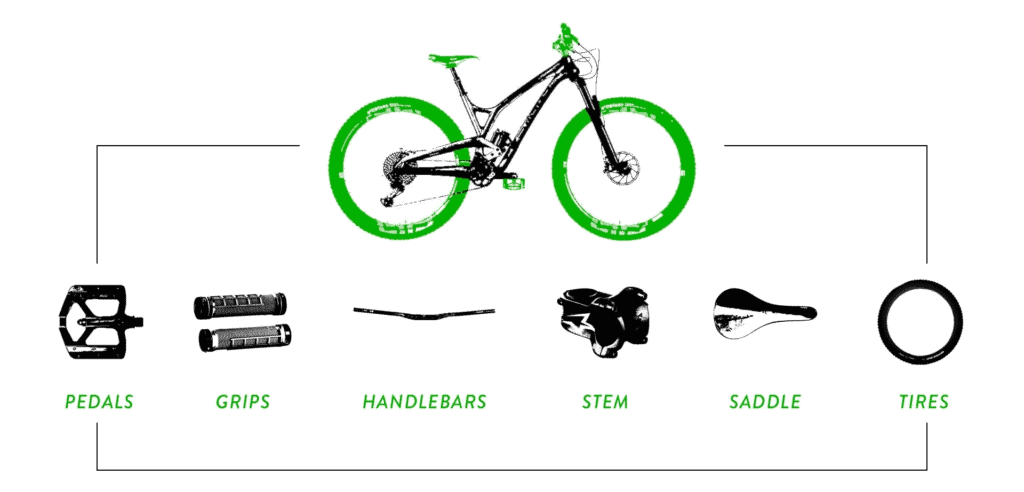 There is a condition scale you can refer to determine the value of your used mountain bike. To begin with, it is nearly impossible to have a mountain bike in mind, unless you haven't used it at all or have used it for a couple of rides.
Mint
This bike condition is practically new and shows minimal wear and tear. It is very rare to find a MTB in mind conditions or with signs of no wear at all. In most cases, the bike will have very low mileage. You won't find any dings, dents, scratches or there is no reconditioning of any type at all.
Excellent
This MTB has been used a few times and there will be some mileage on it as well. But the overall appearance and looks are pretty much new. Neither of the components will have a blemish on them and all of them including saddle, shifters, decafs, handlebars, grips, and tires are in their original state. You don't need any service on any of these components.
Very Good
Such a bike might look good but you will also notice some minor cosmetic blemishes on either its accessories or its components. You won't find any issue with these bikes unless you're a total perfectionist.
Good
This bike would manage to look good but it might have plenty of mileage under its belt. You will need to put in new grips, tires, handlebars, seats, brakes, and other such components on it. But the shifters, shocks, wheels, chainrings, and derailleurs are in good condition.
Fair
Such a mountain bike will have multiple dents and scratches and the bike has seen plenty of actions frequently. There is a high probability that the bike has been dropped and crashed multiple times.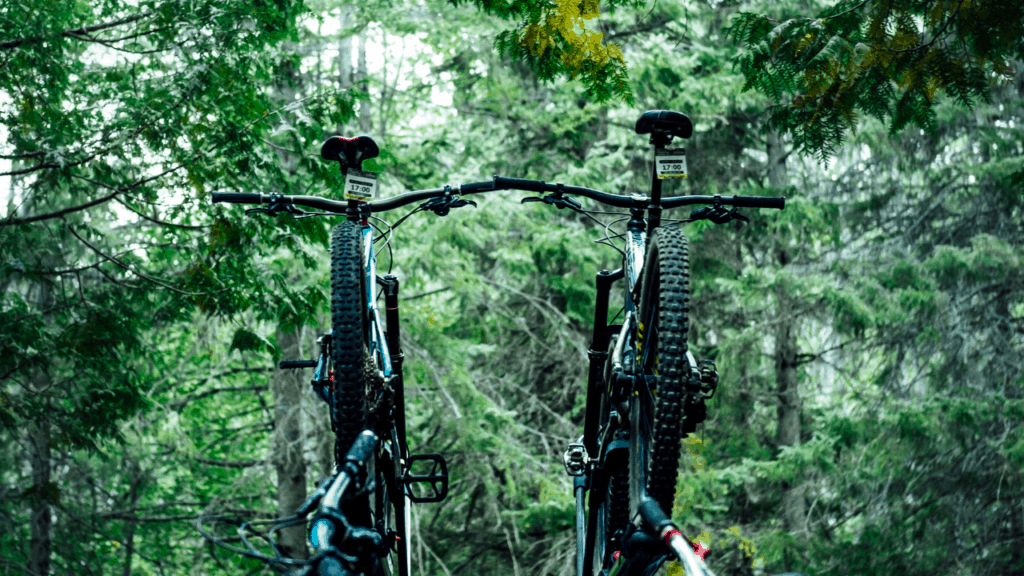 4 Factors That Determine a Mountain Bikes Worth
Various factors can allow a mountain bike to retain its value. These are as follows:
1) Brand
As mentioned above, if you are going to sell a high-end brand bike, it will have a much better value on it as compared to a low-end brand. High-end brands like Giant, Yeti, Specialized, and Santa Cruz have high-quality materials used in the construction of these bikes.
2) Universal Appeal
High-end brands have a universal appeal. Where there is a strong demand present, prices will always go up for such products. Some bikes focus on smaller niches too. Some bikes are like all-roaders or gravel bikes and appeal to a smaller segment of people.
When it comes to used bikes, these niches products have a far more depreciation rate than a regular one. Therefore, you need to keep in mind, you can't always go for a niche bike unless you don't want to sell it in the future.
3) Latest Model
This one is a no-brainer because the latest technology or a product is always the newest on the market. And for that reason, it sells at a higher price. Bike technology has been evolving significantly and can be difficult to track.
Just when you think that your bike has a particular technology that is cutting edge, after a week another model comes and blows away the competition. At the moment, just make sure your bike features a 29-inch wheel, 12-speed drivetrain, and 30mm rims at least boost hub, quality frame, tubeless tires, and thru-axle fork, wheel, and frame to get the best value out of it.
4) Pimped Essentials
You can also go for some pimped essentials to get the most out of your bike. But make sure you keep your bike in stock condition if you are looking to resell it. Customized saddles, cranks, seat posts, might not add to the overall value. But when it's the matter of upgrading suspensions, it can amp up the overall value of the bike.
Final Thoughts
You have to be very careful to understand the value of your bike. Make sure your bike is in top condition and appeals to the most users. Also, confirm if you want to upgrade any component, go for the one that adds to the overall value of the bike. For a higher blue book for bikes, also ensure you go for a high-end brand only.
Below is a Pinterest friendly photo… so you can pin it to your Mountain Bike Board!