Wearing the best mountain bike jerseys not only look stylish but are highly breathable. They also have a great fit and keep you cool. Most people consider these jerseys to be just like any other t-shirts but with a hefty price tag on them.
These jerseys have a specific purpose to serve, and they do so better than what a regular t-shirt does. Mountain bike jerseys will not only make you look good on your bike, but they will also make you highly comfortable while riding it.
This brief guide will present you with some of the best mountain bike jerseys that the market has to offer.
Read on to find everything you need to know when buying a quality mountain bike jersey.
Top 6 Mountain Bike Jerseys of 2021
When it comes to mountain bike jerseys, you'll find tons of options and products to choose from. We've laid out 6 great choices to consider and give you some information on what to look for.
Arsuxeo is available in eight different styles and five different sizes. This shirt comes with a zipper closure and is 100% polyester.
The fabric is entirely moisture-wicking, and it will keep you sweat and odor-free throughout your bike riding session. It is one of the best options for you to wear on a dry and moist day. This shirt comes with three pockets and an additional pocket with a zipper. So, there is plenty of storage available to carry your gear while you ride.
The shirt also features an elastic hem coupled with a gel gripper to ensure that the jersey stays on and grips your body and doesn't move to distract you during your ride.
There is a reflective logo tight on the back, and it will keep you safe when you are riding in the dark. It comes with a longer back hem for additional coverage.
The shirt is pretty lightweight and thin. It means it will dry quickly and remain ultrasoft to wear. It will also keep you safe from the UV rays of the sun.
Pros
Zipper closure.
100% polyester.
Features three pockets and one zipper pocket.
Reflective logo for safety.
Elastic hem with gel gripper to maintain hold.
Cons
Not much stretch in the fabric.
If you are looking for a half sleeve jersey for mountain biking that is more like your regular t-shirt, you need to go for this piece. It is available in various colors and sizes, and you can pick one according to your preferences and liking.
This jersey is 100% polyester and is incredibly soft. This is one of those jerseys that are skin-friendly, and you won't feel irritations with this. The shirt keeps you dry and fresh at all times and is highly breathable. You won't have to deal with any sweat accumulation during your ride.
Its design and printing are all done professionally, so it will not fade away at all. You can wear it for almost any type of outdoor cycling, the only thing that we didn't like about this t-shirt is that it doesn't come with any pockets whatsoever.
Pros
Made of 100% polyester.
Highly breathable and kins friendly.
It will keep you dry and fresh at all times. 
It is available in different colors and sizes.
Cons
It doesn't have any pockets on it.
Here is a much more traditional-looking mountain bike jersey that has an abstract design on it. The full-sleeve jersey is available in multiple designs and styles, and you can pick the right size according to your needs.
If you are in motocross, you can use this jersey for that purpose as well. 100% genuine polyester has been used to make this t-shirt. It comes with a pull-on enclosure. You can conveniently wash it with your hands or with washing machines.
It features highly flexible sleeves so you can stretch your arms without any problems. It has a classic neck design and is quite comfortable to wear. You can use this shirt on almost any type of outdoor activity without any issues.
The fabric is highly breathable and quick-drying, so you won't be dealing with any pools if you sit. The shirt is pretty light and cool, and it completely emphasizes the rider's comfort more than anything else.
Pros
Classic look available in multiple designs.
A top choice for a range of different outdoor activities.
Highly breathable and quick-to-dry fabric.
Features flexible sleeves that allow you to stretch your arms comfortably.
Comes with pull-on enclosures.
Made of 100% polyester.
Cons
A bit short for a large size.
This mountain bike jersey is a long sleeve jersey, but it is loose to fit. If you are not wearing tight jerseys, this is the best option for you to consider. It is available in four different color tones and various sizes.
The shirt is pretty lightweight in design, and you will feel extremely comfortable with it. The sleeves are made of abrasion-resistant material, and it has shoulder panels. So, you won't feel a stretch on your shoulders even if it's sweating hot.
The jersey also features flatlock seams to ensure better comfort and reduced irritation. If you prefer riding downhill, this is probably the best shirt you can wear for this type of riding.
There is a drop-tail back panel that improves the overall coverage when you are riding in different positions. It's a pretty comfortable shirt that you will love wearing when you are on your ride. The materials used in the construction of this shirt are lightweight and airy to make sure you remain cool at all times.
Pros
Quick-drying fabric.
An excellent choice for downhill riding.
Flatlock seams to ensure reduced irritation.
Shoulder panels for comfortable riding.
Four different color tones are available.
Cons
Expensive compared to others.
It's a lightweight mountain bike jersey and is a top choice for warm-weather rides. The shirt is made of moisture-wicking and quick-drying fabric, and it has a relaxed cut to ensure you can comfortably ride it from trial to town.
There is a hidden lens wipe made of microfiber fabric to clear your trail view as well. It's a pretty nice t-shirt that you can also wear casually if you like. The simple design of this shirt makes it a top choice for anyone.
The best part is that you can either wash it with your hands or in a washing machine. It is available in three different colors, and different sizes are available.
Pros
Available in three different colors,
Five different sizes are available.
Nice and comfortable to wear.
It can be worn as a casual shirt.
Can be washed by hand or in a machine.
Simple design that is made of moisture-wicking fabric.
Cons
No Design or Image.
No reflectors are there as well.
6.    Zoic Sarge Mountain Bike Jersey
If you are the one who is the sarge in your group, this mountain bike jersey is the right one for you. It is available in four different sizes as well and is made of 100% polyester. The loose-fitting shirt will make your riding experience pretty comfortable.
It is made of moisture-wicking fabric, and it will keep you dry at all times. The jersey is suitable for trail riding, enduro, and downhill.
You might miss some pockets on it because there are none present on it. You can wear this t-shirt throughout the years, excluding winters. It can be washed in washing machines as well as with hands. And the best part is, its fabric is not going to lose its color.
Pros
Quality polyester,
Moisture-wicking and quick to dry.
Excellent for downhill, trail, and enduro riding.
Can be washed with hands and in a machine.
Loose fit design will keep you comfortable throughout your ride.
Cons
There are no reflectors on it.
The shirt has no pockets as well.
Buying Guide
There are some important features that you need to consider when buying your favorite mountain bike clothes. And in this brief yet cohesive guide, we will highlight all those features for your assistance.
Fit as per Riding Style
You need to go for the right kind of fit according to your riding style. If you prefer to ride on falter surfaces, then you might need a tighter fit. However, you will need a much more relaxed and loose-fitting shirt for enduro, trail, and downhill riding. So, make a choice accordingly.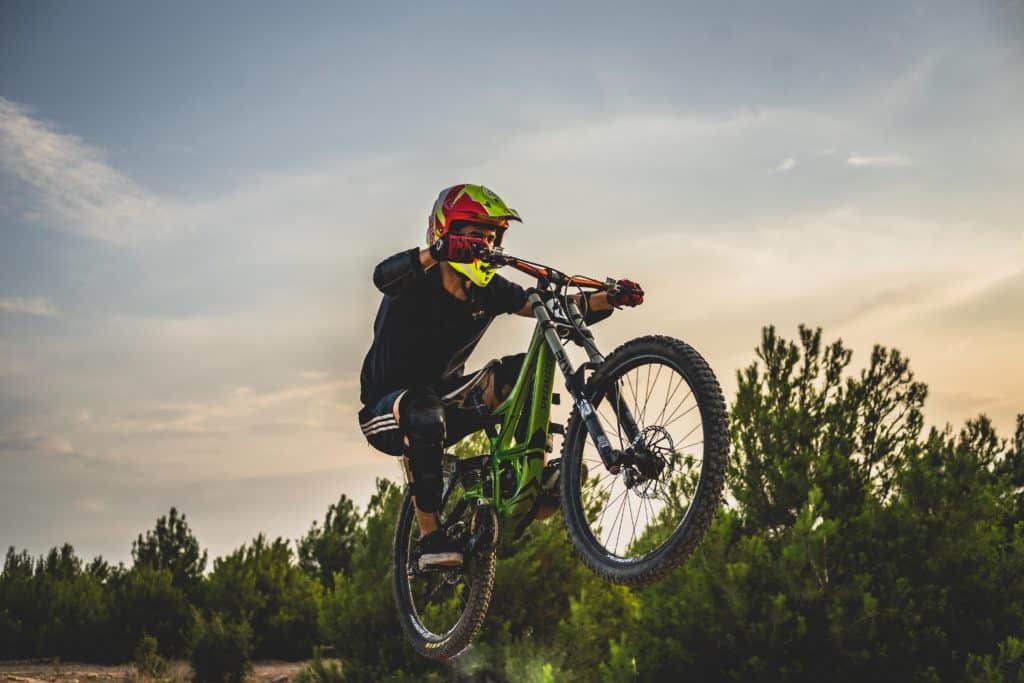 Materials
Different materials are used to make these jerseys, but you need to go for polyester to keep things simple. Polyester is great when it comes to moisture-wicking, and it will keep you dry too. If you are going for special MTB jerseys, you will notice that they have spandex panels. But overall, go for the fabric that is light and fast drying.
Sleeves
There are three sleeves options available; you can go for half, complete, and three-quarter sleeves. But there are raglan sleeves available as well. These sleeves allow you a bit more freedom of movement in the arms and shoulder area. These sleeves start from the collar and go under the armpit. Long sleeve can be great for trail riding to avoid bushes from scraping your arms.
Additional features
There are some additional features that you can choose according to your preferences. For example, you can go for a shirt that has pockets. You can also go for a shirt that comes with a full zipper enclosure. Different colors and styles are there as well. And some of them come with a hem on the backside to give you more freedom of movement. Some riding shirts come with reflectors as well.
Conclusion
Among the best mountain bike jerseys on the market, All of these are great options depending on the riding you are doing. They're made of lightweight polyester and has moisture-wicking properties.
Some have pockets that allow you to place your gear and stuff, and others have a full zipper enclosure for you to wear comfortably. They will enable you to move your body while riding freely. Therefore, these are the best options for all types of mountain bike riding.
Below is a Pinterest friendly photo… so you can pin it to your Mountain Bike Board!