One thing off-roaders can all agree on is how messy the situation can get. Even when you're riding high-speed through a clear track, mud can always find its way on your clothes. And that's where mud guards for mountain bikes come in.
While relatively simple products, mudguards are as crucial as any other component. They add a neat aerodynamic look to your bike.
But which mud guards are the best for mountain bikes off-roading? We take a look at 6 of the best mudguard choices for both heavy and light off-roaders.
Let's go!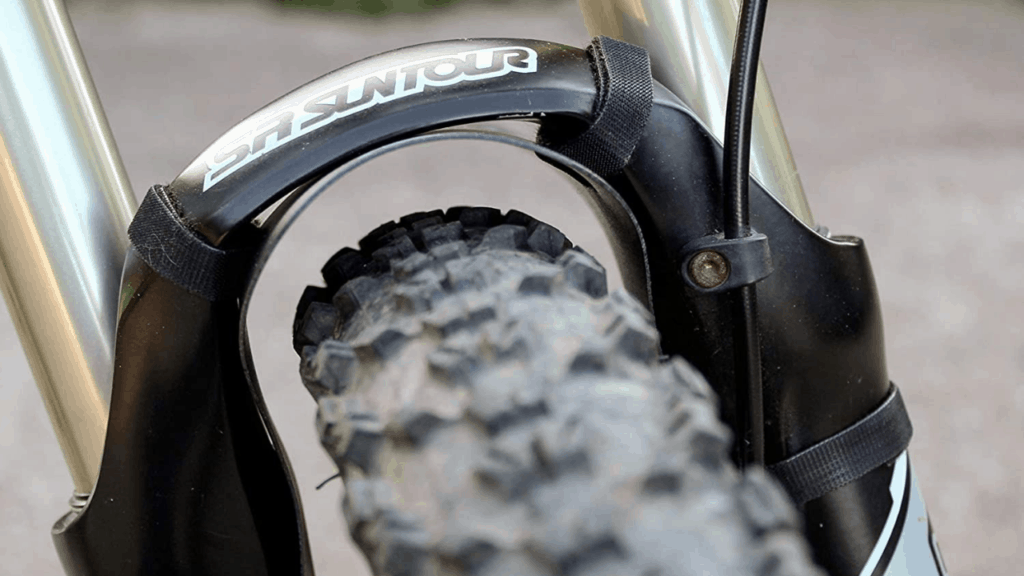 Mountain Bike Mud Guard Comparison Table:
Top 6 Mud Guards for Mountain Bikes Reviewed
You will find tons of different mud guards for mountain bikes on the market and some are very similar. We found these to touch on all the different types and styles. Different ways to connect to your fork will determine what works best for you. Read on to see the best mud guards.
1.   Top Pick: Blackburn Barrier Mud Guard Xl
Designed to prevent winter water damage to the bike, the Blackburn Barrier Mud Guard is a real fork-saver. It's made from 1.2 mm thick polypropylene that not only resists corrosion and general wear but is also highly elastic.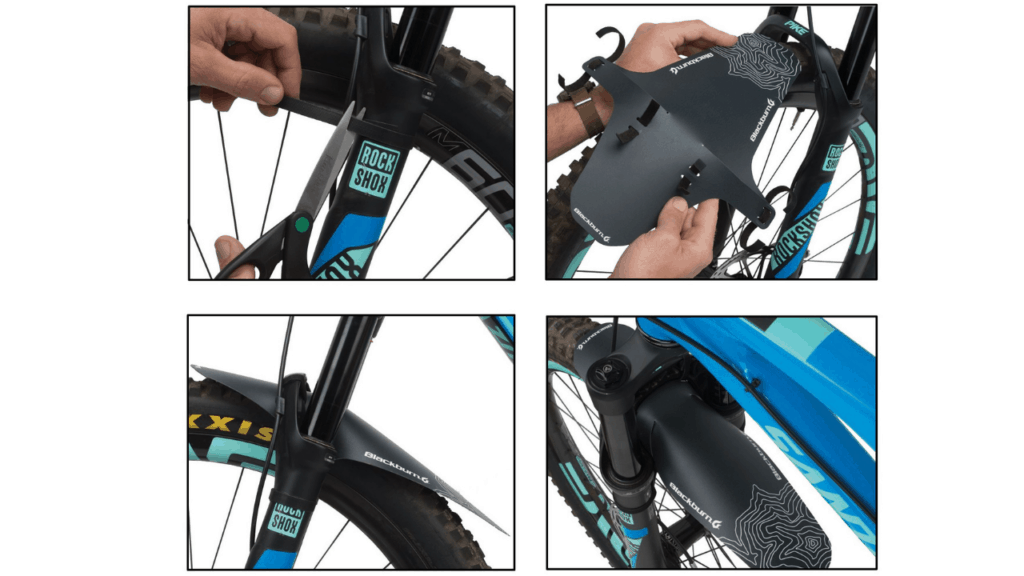 This means that the fender can bend with your bike as it turns or collapses, and you don't have to worry about it breaking.
With a simple hook-and-loop design, the Blackburn attaches directly to any bike's front fork. But before you buy, consider the fact that it's geared for fat-tire bikes or plus size tires. It may not fit over thinner bikes, so don't buy it for that.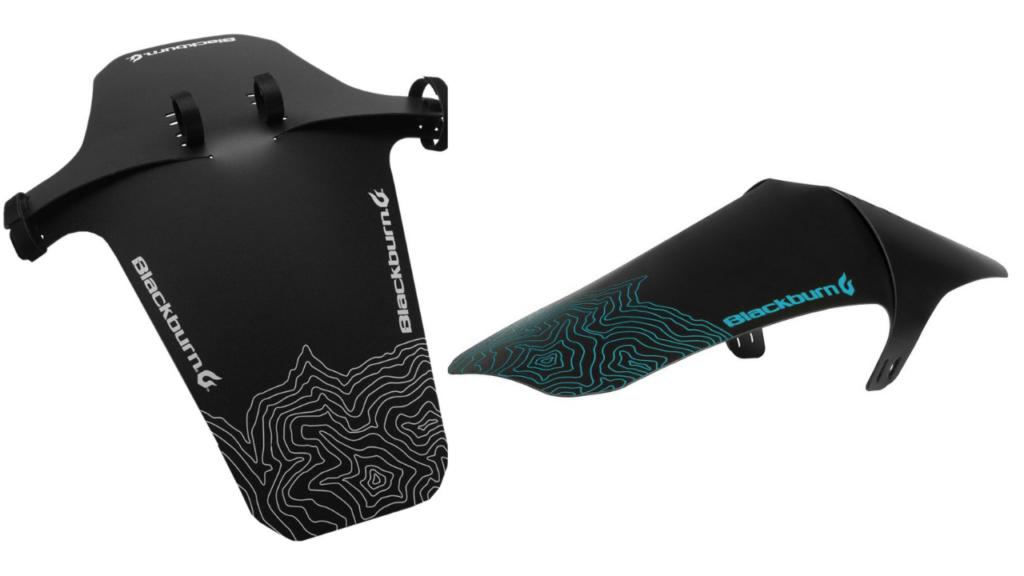 Overall, the design is pretty unique too. It has the typical rear-saver design that reduces plastic waste and minimizes maintenance. And one end of the fender features a unique pattern that integrates into any bike aesthetic.
Use this fender to prevent mud, water and snow from interfering with your drivetrain. It can survive the extreme temperatures of winter and will keep your bike safe from snow and cold water.
Pros:
Highly elastic build.
Resistant to corrosion and water damage.
Attached directly onto your bike's wheel.
Strong polypropylene construction.
Unique design and shape.
Cons:
For fat bikes and plus size tire bikes.
2.   Best Designed Mudguards: All Mountain Style Mud Guard
Like to add a bit of flavor to your life? Then the All-Mountain Style Mud Guard will surely intrigue you. Printed with a roaring gorilla pattern, this mudguard can be bolted onto your bike and protects you against water and dust.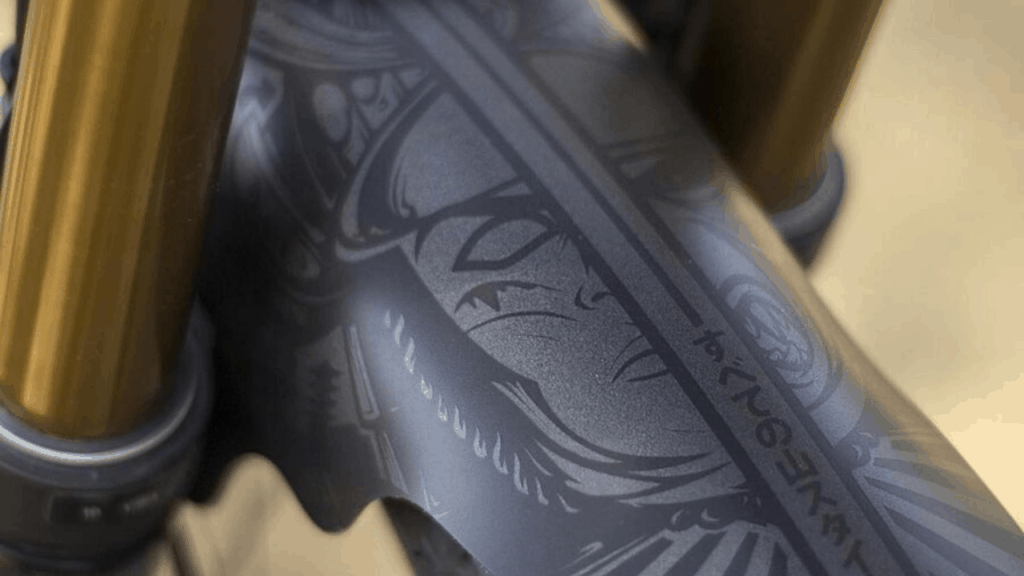 It's compatible with most 26, 27.5, and 29-inch forks. And it has a weight of about 39 grams, which is very low considering how heavy some other mudguards get.
Plus, the entire thing can be mounted onto your bike using a plastic mount. This is more of a permanent installation than a Snap-On one. So be sure you're committing to this mudguard beforehand.
Use this mudguard during Enduro mountain biking and trail riding. It works best when set up against heavy rain and mud.
Unfortunately, the way it's designed doesn't seem to protect the frame much. It's mainly a fender or fork-guard.
Pros:
Best for 26, 27.5, and 29-inch wheels.
Very low weight.
Can be mounted permanently.
Best for Enduro and trail riding.
Highly durable with a special gorilla design.
Cons:
Does not protect the chain much. 
3.   Easiest to Install Mudguard: Mucky Nutz Face Fender
Need an eco-friendly mudguard that shows off as much of your tire as possible? Enter the Mucky Nutz Face Fender. Manufactured from recycled materials, this mudguard takes a minimalistic approach.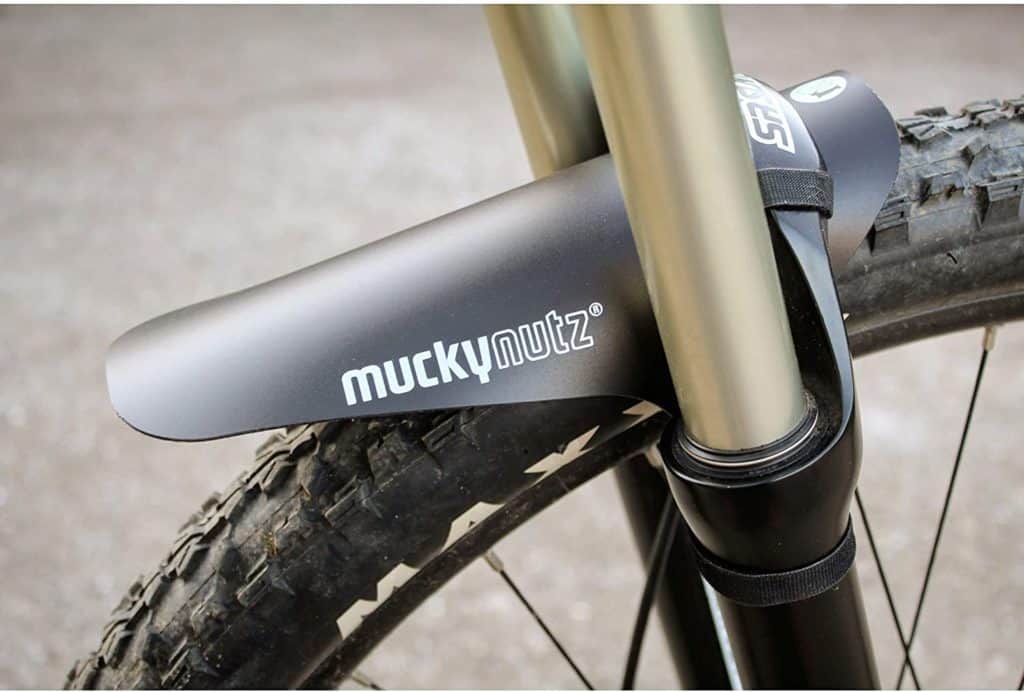 Since the mud comes splashing from the front in most cases, the Mucky only acts as a front mudguard. This cuts down on the extra unnecessary rear material. Some people might not like the design, but it's quite a unique take on the problem.
And since it doesn't wrap around a part of the wheel, it fits all wheel sizes virtually. Just make sure your bike has either a forward or double bridge fork design.
It's quite easy to mount, much like any other mudguard. But if you're looking for a temporary solution, you can use the included Velcro strips for quick and effortless removal.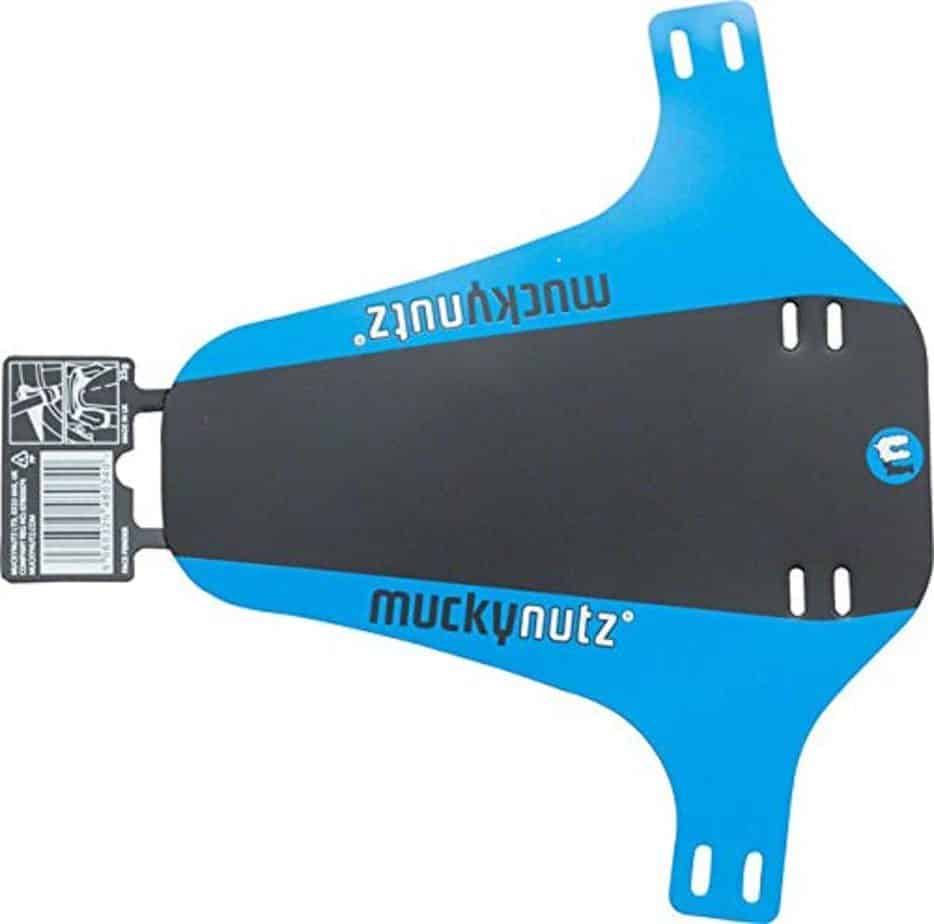 After passing it through a few twisting tests, though, it tended to bend too much. So, it's not recommended to subject this to too much stress.
Pros:
Minimalistic design.
Fits all wheel sizes virtually.
Suitable for forwarding and double bridge designs.
Made from recycled materials.
It can be fastened using Velcro.
Cons:
4.   Best Adjustable Mudguard: Enfudid Bicycle Mudguard Set
Boasting a streamlined design, the Enfudid mudguard for mountain bikes includes both a rear and a front fender. This mudguard has been molded from industrial-grade PVC. It's corrosion-free and extremely lightweight.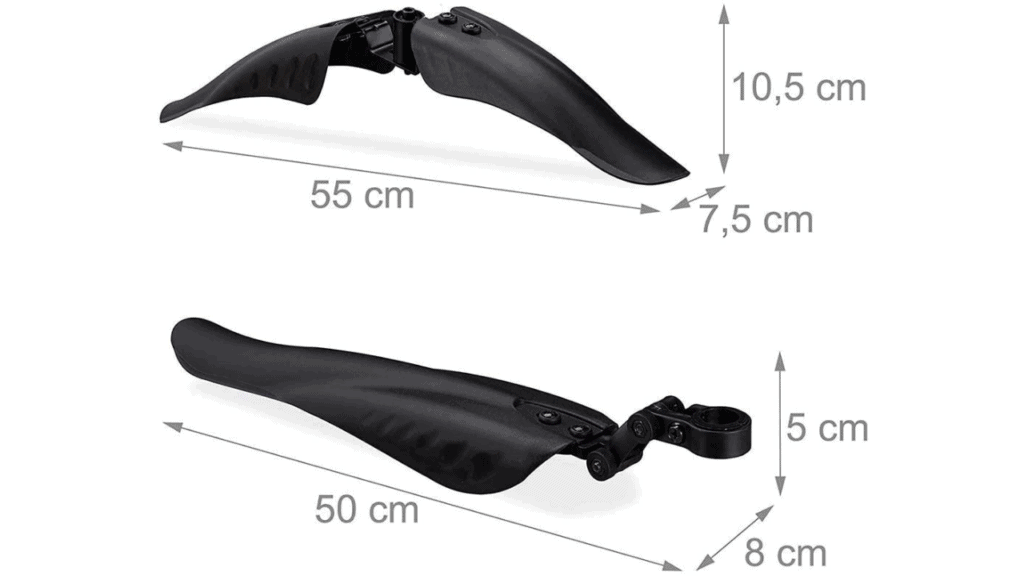 What's more, PVC is well-known for its waterproof and dustproof nature, repelling dirt and mud from the fenders.
The Enfudid fenders come in a matte black color that complements most bike color schemes. They're easy to install and remove. And the best part is you can adjust the angle as well without any special tools.
One thing you may have noticed is how long and flexible this fender is. That's because it's made to actively disperse wind and mud even when you're riding on the fast track.
However, this isn't a universal fit. It's best for wheels of sizes 24 to 28 inches. Additionally, it doesn't come with instructions, so that assembly can be challenging. You'll need to read some instructions online to learn how to build this mudguard.
Pros:
Rust and corrosion-proof design.
Lightweight and portable.
Integrated into most color schemes.
Disperses wind and dirt.
Easy-to-adjust angle and position.
Cons:
No instructions included.
Only for wheels of a specific size.
5.   Best Bolt on Mudguard: RRP Unisex's Proguard Bolt-On Mudguard
Designed and marketed as the first direct-mount mudguard, the RRP Proguard Mudguard is the best choice for its minimal design. It features a classic, streamlined look paired with an extra-long front lip for protection when cornering.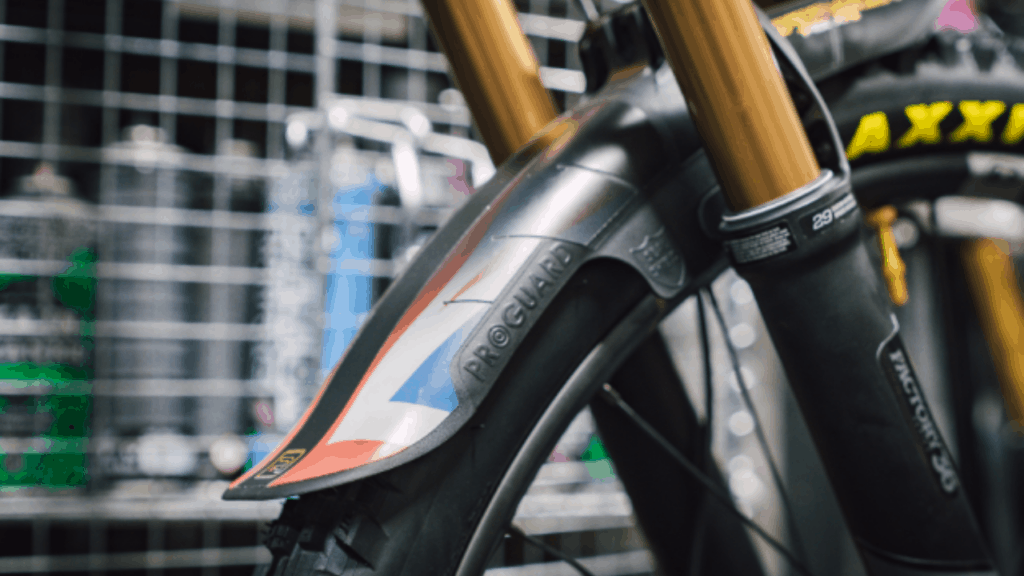 What makes the RRP Proguard special is that it bolts right onto the holes on the fork brace's back. If it's compatible, you can directly bolt this mudguard onto the fork without having to deal with cables that ruin their aesthetic.
Moreover, the RRP Proguard is made from polypropylene, which makes it highly durable and flexible. Flexibility is vital when you want a snugger fit.
Speaking of fit, it comes in two lengths: 470 mm and 390 mm (mini). It's an almost universal fit; if you have the bolt hole on your fork, that is. It doesn't fit reverse fork setups, though.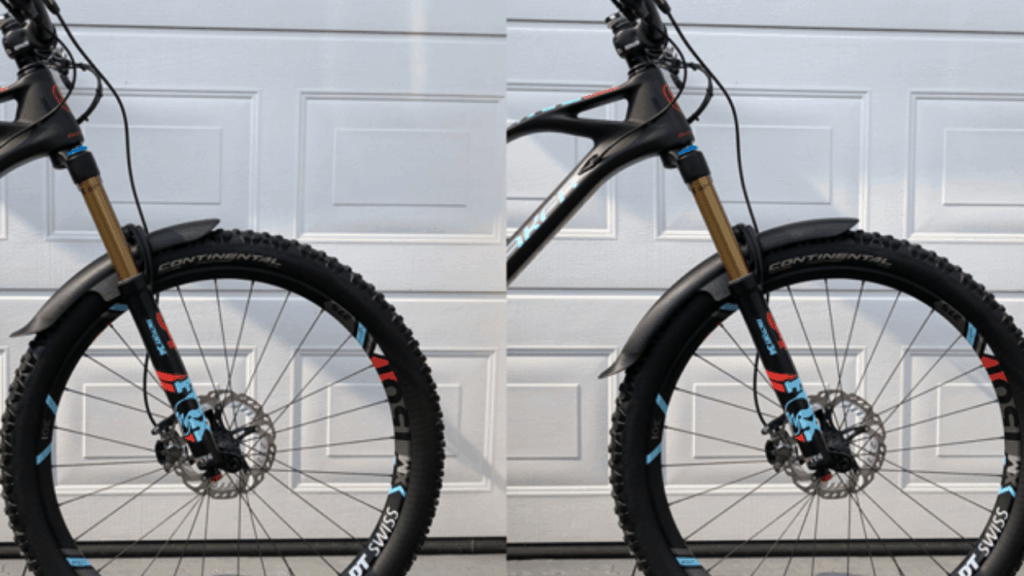 It's an entirely silent unit, though. It doesn't rub against the wheel or make squeaking noises. Installation is a breeze, especially with the visual guide provided with the product.
Pros:
Protected cornering.
Bolts into the fork bolt holes.
Cable-free setup.
Highly flexible.
Universal fit.
Cons:
Not for reverse fork setups.
6.   Best Fitting Mudguard: Crud Products Unisex's MGCXLF
Want truly universal mountain bike mudguards? Then the Crud Products Mudguard may interest you. This is an XL fender that fits around most bike wheels and forks. It employs 6 rubber O-rings that do not come loose even after hours of riding for maximum security.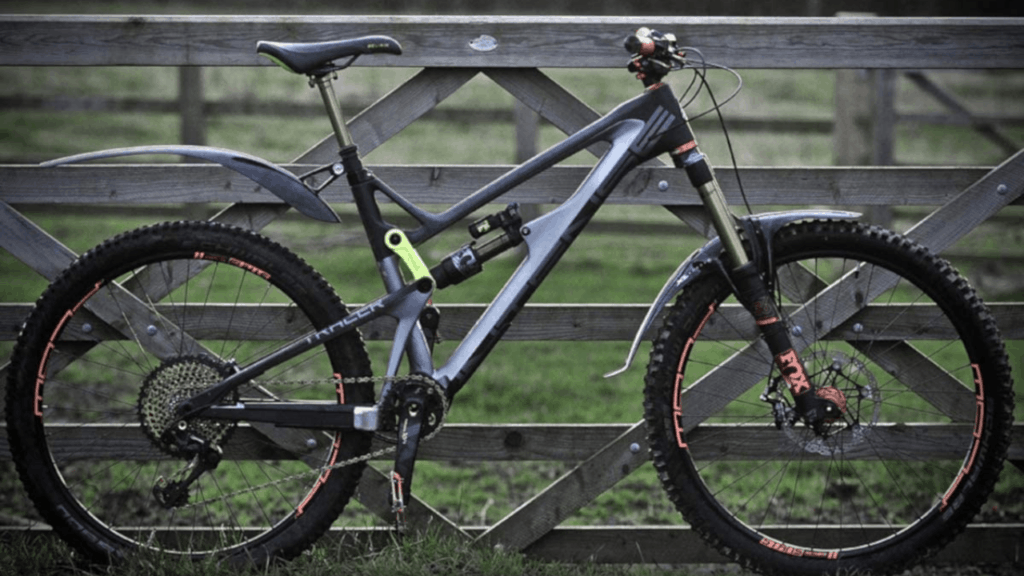 One of Crud's most significant achievements is its lightweight design. It has a gross weight of about 0.195 kilos, which is practically unnoticeable.
The front guard's rear end has an extra-long lip that juts out and deflects water and mud. This keeps your feet clean and prevents mud from splashing up.
Moreover, the Crud Mudguard is made from injection-molded ABS plastic, perfect for going against the elements. It doesn't get squashed and springs right back to its original position. It's quite flexible, which means it can fit over most tires.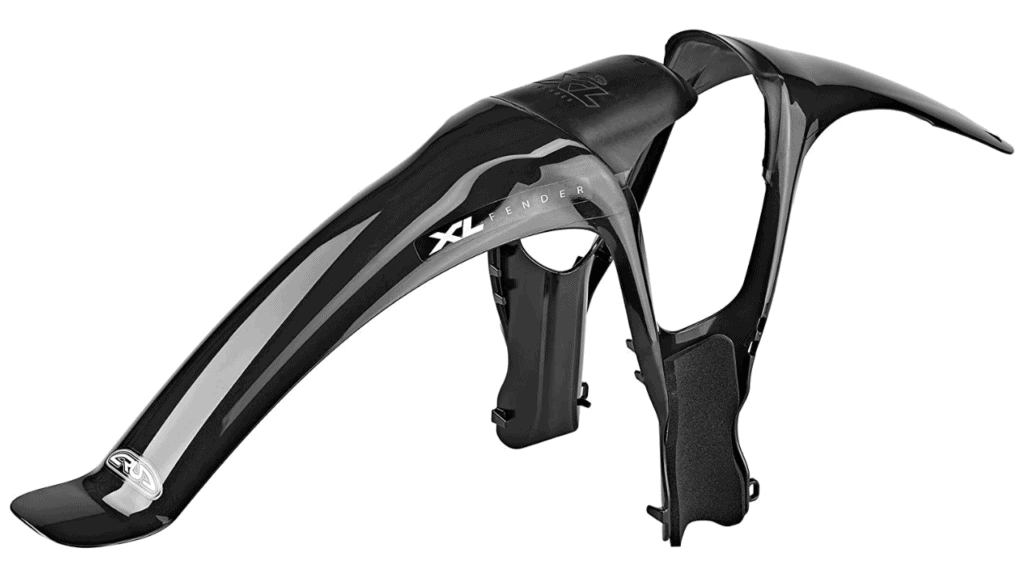 However, it's quite close to the tire and hence produces a lingering squeaking noise. It can get pretty irritating, especially if you're on a long ride. But overall, the quality is spectacular.
Pros:
Maximum security.
Lightweight design.
Durable ABS plastic construction.
Highly flexible and elastic.
Universal fit.
Cons:
Buying Guide:
Should I Put Mudguards on My Mountain Bike?
First things first, consider whether you should install mudguards on your bike or not. Mountain bikes are not like regular bikes. They're made for tearing through tough and often muddy terrain. When you don't have a mudguard, the mud and debris will fling onto your legs and clothes.
If you've found that off-roading leaves your clothes dirty and you want to protect your legs and feet, consider buying a mudguard. Mudguards keep your lower body safe from mud splashes.
Types of Mudguards
So now you know if you need a mudguard. But what are the best MTB mudguard types? There are three to choose from:
Rear Savers
The rear saver is a popular design, although it's quite new. It features a minimal design in which the fender only extends behind the rear wheel. It doesn't protect you from the front, nor does it protect your feet. The only part of your body it protects is your rear and your back.
This type is preferred for its low-profile design and lightweight construction. It's quite popular among off-roaders who find their backs getting dirtied up by the mud.
Clip-On
Clip-on mudguards are just that: they can be clipped on and off. This type of mudguard is the best choice for anyone who wants a temporary fix. Often, we may ride on a track that doesn't require a mudguard. Or you might want to remove it for storing it.
Clip-on mudguards come in handy in situations where you don't find yourself off-roading in the mud quite often. You may also want it if there are no bolt holes on your bike for a fixed mudguard.
Fixed
The fixed mudguard is one of the more popular choices for those who find themselves off-roading quite often. They stay fixed onto your bike and require more effort to remove. Fixed mudguards are available in packs that contain both the front and the back fender.
But unlike clip-on mudguards, fixed ones aren't usually universal. So, be sure to confirm with the manufacturer to find out if your mudguard will fit your bike.
Conclusion
Mud Guards for mountain bikes seem to be relatively straightforward. But sure enough, they're just as complex as any other component on your mountain bike.
We looked at 6 of the best mudguards you should buy for your mountain bike. Of these, in terms of design, the Blackburn Barrier Mud Guard stood out the most. It can survive splashes of mud and rain and withstands impact quite well. If it weren't for its loose installation, it would've been perfect.
But of course, you should go for a fender that fits your bike, above all else. So, get a mudguard now and keep your legs dirt-free!
Below is a Pinterest friendly photo… so you can pin it to your Mountain Bike Board!