Aren't all mountain bikes the same, and designed for the same job? One might think so, but there are multiple types of mountain bikes that are designed for specific types of riding.
Getting involved with mountain biking can be a lot of fun and something that keeps you entertained and fit at the same time. Understanding what different types of mountain bikes do will help you figure out what kind of bike would be best for you.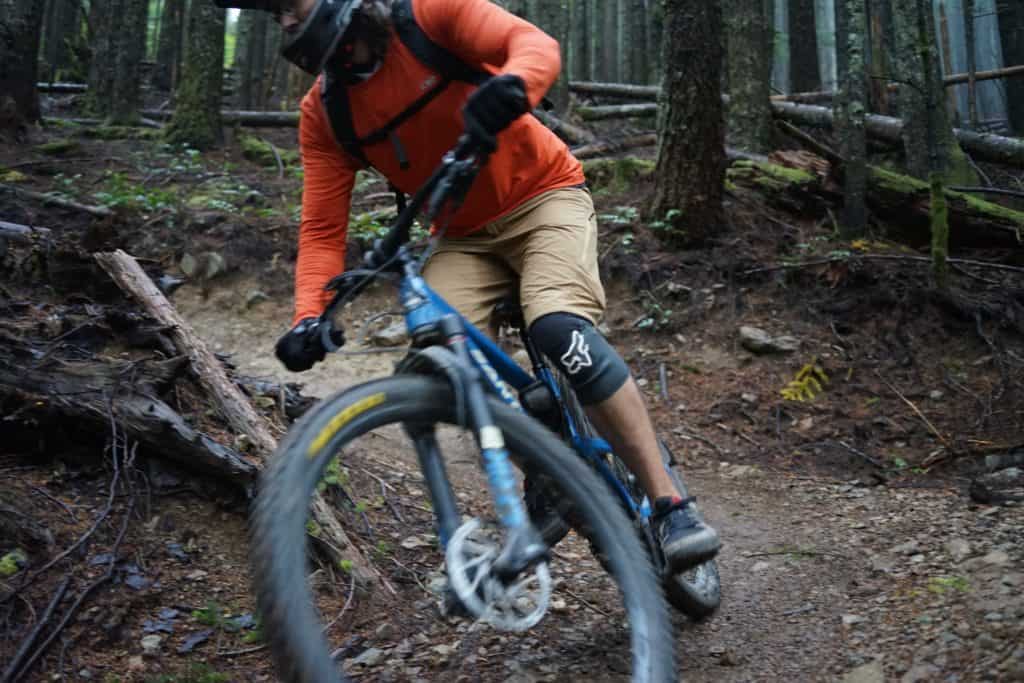 What Created Different Mountain Bike Types?
First off, mountain biking is a relatively new sport that started in the 1970's and has evolved into multiple styles and uses. When the sport first started there was only one kind of bike that was available to use. Now when you look in a bike shop you will be amazed with the flashy bikes and huge suspension systems.
Over time, riders started discovering new skills and styles that would change the way they would ride and where they would ride.
Riding through the woods in trails is what most would come to the conclusion of what mountain biking is. And yes, that would be the most common, but let's get started with the different types of mountain bikes available to use and what for.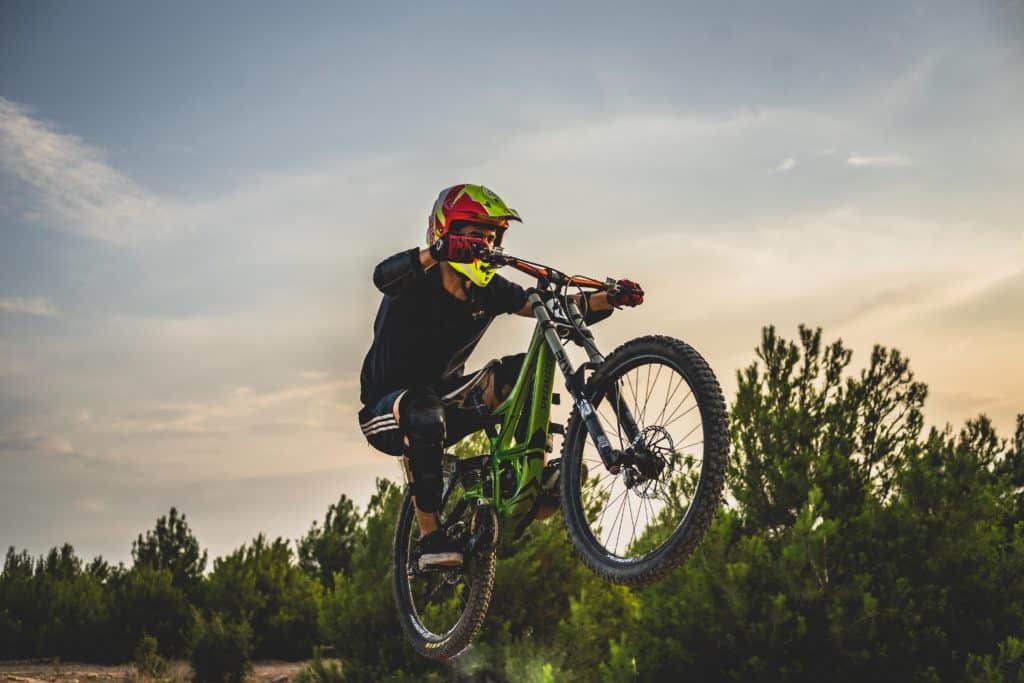 7 Types of Mountain Bikes Chart
| | |
| --- | --- |
| Type of Mountain Bike | Uses for Each Type of Bike |
| 1) XC or Cross Country Mountain Bikes | Competition Riding |
| 2) Downhill or Park Mountain Bikes | Mountain Resort Riding |
| 3) Enduro or All Mountain Bikes | Competition Racing and Park Riding |
| 4) Trail Mountain Bikes | Local Trail Riding |
| 5) Fat Tire or Fat Bikes | All Season and Snow Riding |
| 6) Freeride Mountain Bikes | Downhill Skills and Tricks Riding |
| 7) Dirt Jumping Mountain Bikes | Tricks and Stunt Riding |
1) XC Mountain Bikes or Cross Country
XC mountain bikes are the closest type to a road bike but still completely different. XC mountain bikes are designed for speed and are used for competition where riders race on trails. These trails can be made up of fire roads, singletrack, rock gardens and all in between.
Cross country bikes are designed more for climbing and have a steeper frame with a shorter wheel base for whipping around tight trails. Carbon fiber frames are best because the lighter your bike the faster you can go.
Since XC mountain bikes are about light weight and climbing efficiency, the suspension travel runs anywhere from 90-120mm on certain models. Speed is the goal when racing XC. With speed in mind, XC bikes like to use bigger tires and run 29in wheels to give you better roll-over.
XC Mountain Bike: Niner Air 9 RDO 3 star GX Eagle Mountain Bike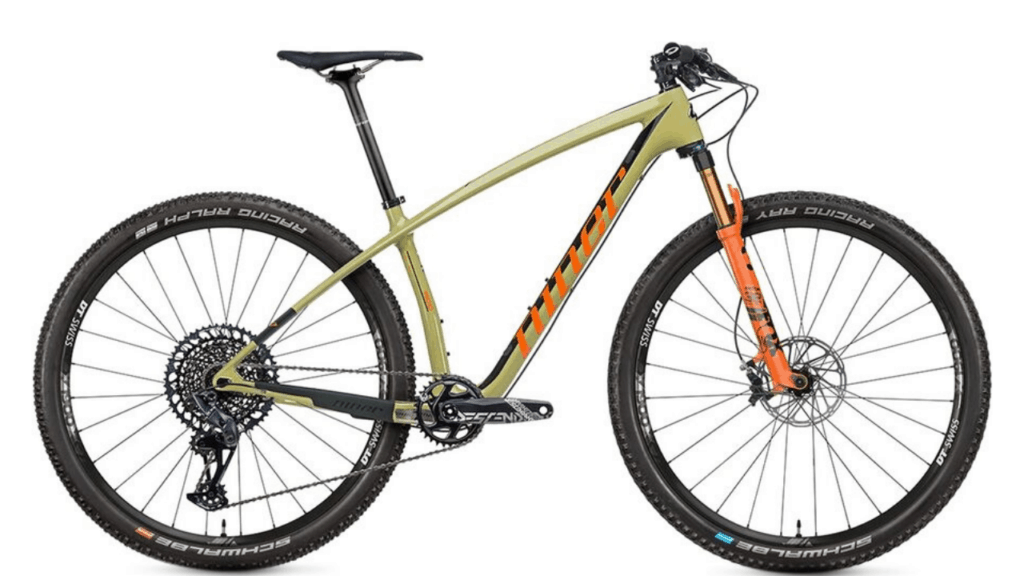 2) Downhill or Park Mountain Bikes
Downhill and park mountain bikes are made to go screaming downhills and shred through parks. However, the bikes are bulky, heavier and stronger to handle the beating and force of downhill riding.
Also, these types of mountain bikes are rugged and you will mostly see them at summer time ski lift locations like Killington, VT and Mammoth Mountain in CA. The parks are great and you can rent a nice downhill bike for the day to try it out.
The suspension travel on downhill bikes are 200mm plus to give the rider all the room they need.
Downhill Mountain Bike: Pivot Phoenix 29 Carbon Saint Mountain Bike.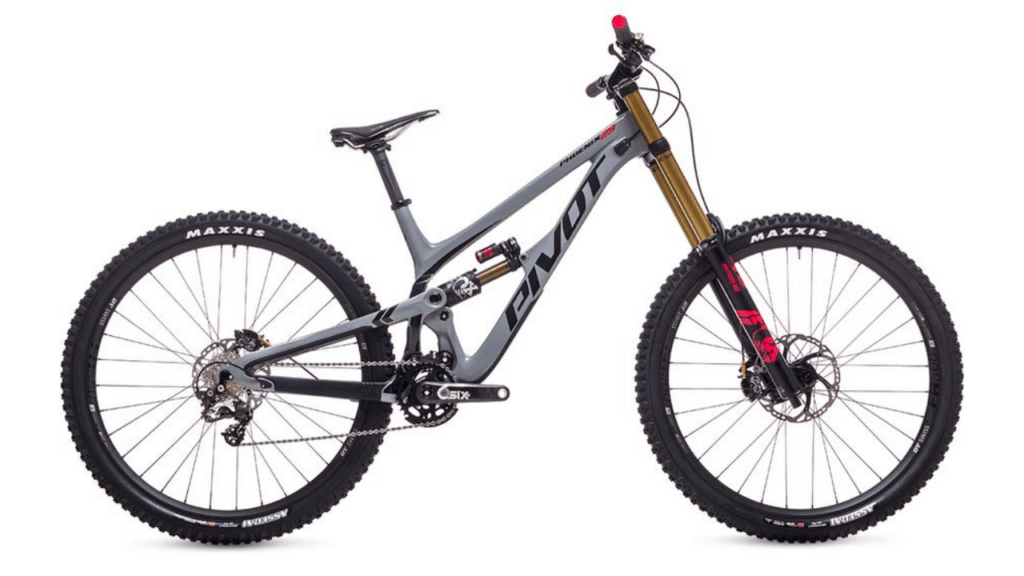 3) Enduro / All Mountain Bike
When it comes to the different types of mountain bikes, Enduro has paved its way. Enduro bikes are a mix of a downhill and trail bike. These bikes have become longer and lower to tackle some of the steep trails with its downhill capabilities. The endure bike is a great choice for anyone that finds themselves at a bike park and in the trails on a regular basis.
Enduro races are set up with timed downhill sections and mandatory uphill sections. However, downhill is a big part of the design on endure bikes, they still have the ability to climb well and is why many use them for trail riding.
The suspension on Enduro bikes is typically 150mm-180mm that can crush downhill riding. The weight of these bikes isn't the primary focus since they can take a beating.
Enduro Mountain Bike: Santa Cruz Nomad Carbon R Mountain Bike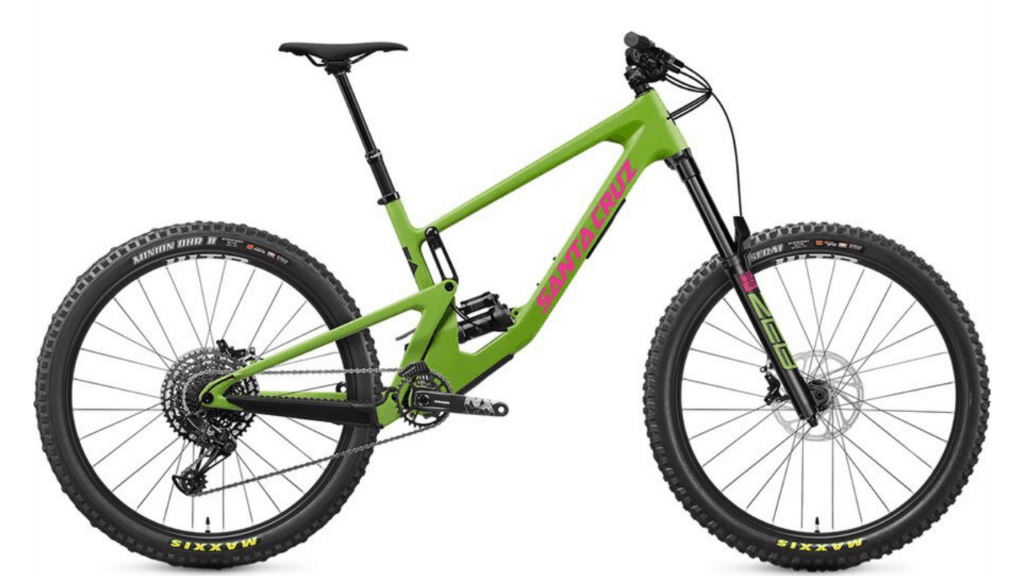 4) Trail Mountain Bike
Trail mountain bikes are the most common and what most people start riding. Trail bikes are designed for riding local trails and can be a hardtail or full suspension mountain bike. The best way to describe a trail bike is a mix between a XC and an Enduro bike.
Trail bikes are designed to keep you confident when descending and be extremely efficient when climbing. Most will have full suspension but you will run into some diehard, hardtail riders.
Most suspension travel on these bikes are 120mm to 150mm depending on the make and model. However, trends continue to lead to more travel with new designs and technology coming out every year.
Trail Mountain Bike: Diamondback Release 3 Mountain Bike.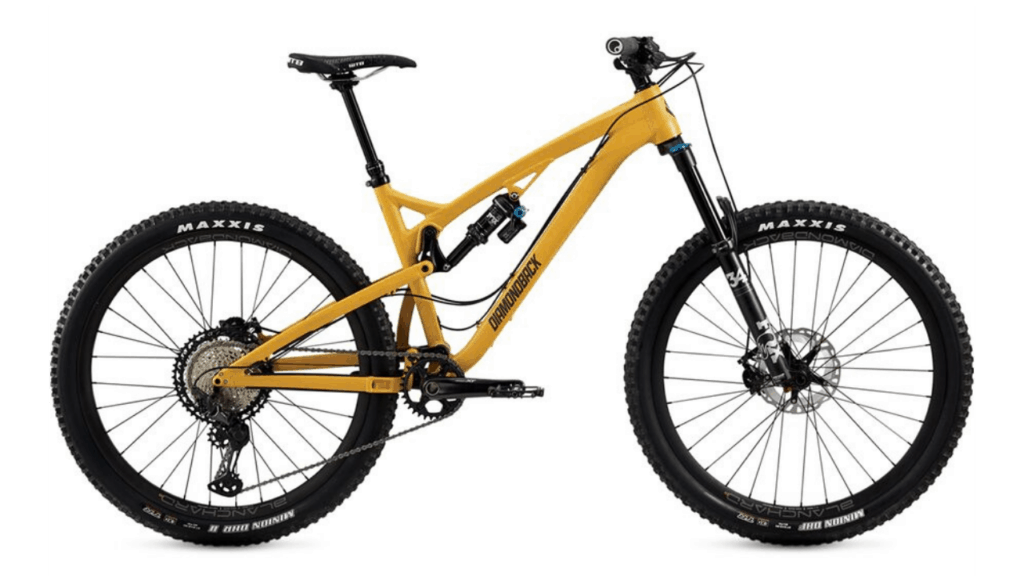 5) Fat Tire Bikes or Fat Bikes
Fat bikes are all about 4 season riding. Capable of riding in the snow or on sand, when it comes to the different types of mountain bikes, fat bikes win. The tires can be as wide as 5 inches to handle any type of terrain.
Even though you hear more about fat biking in the winter, tons of riders choose to use these bikes in the summer months because they're a blast.
Fat bikes can be full suspension or hardtail but the low PSI in the tires gives you a lot of cushion.
Fat Tire Mountain Bike: Mongoose Argus ST Fat Tire Mountain Bike.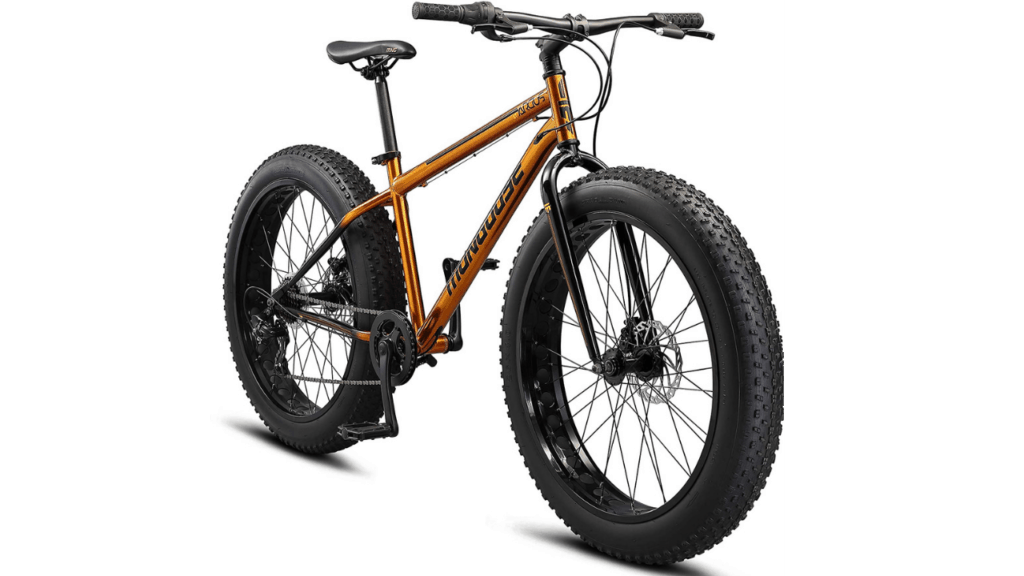 6) Freeride And Dirt Jumping Mountain Bikes
Freeride bikes are closely related to downhill bikes but designed to perform tricks and skill. The frames are more compact to give you more maneuverability. However, the suspension will run between 150mm-180mm.
Free riding is the same as downhill but with tricks and stunts in mind. A site to see for sure, and some of the best riders in the world step up to the task. You must have no fear and lots of experience to start to freeride.
Freeride Mountain Bike: Yeti Cycles SB165 Turq T2 X01 Eagle Mountain Bike.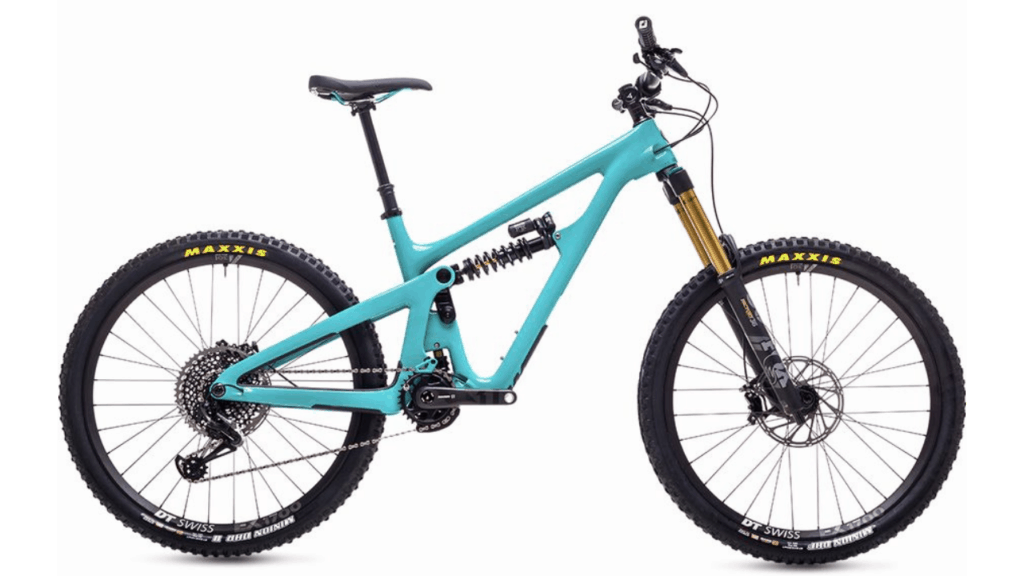 7) Dirt Jumping Bikes
When you start looking into dirt jumping bikes, you will find they closely resemble a BMX bike. You will typically see these are hardtails with a front fork only. A lot of people refer to these as street or urban mountain bikes.
The point of dirt jumping is to perform tricks in the air and different stunts. Dirt jumpers will mostly have a single speed gear with one brake set up.
Dirt Jumping Mountain Bike: Polygon Trid J5 – Dirt Jump Mountain Bike.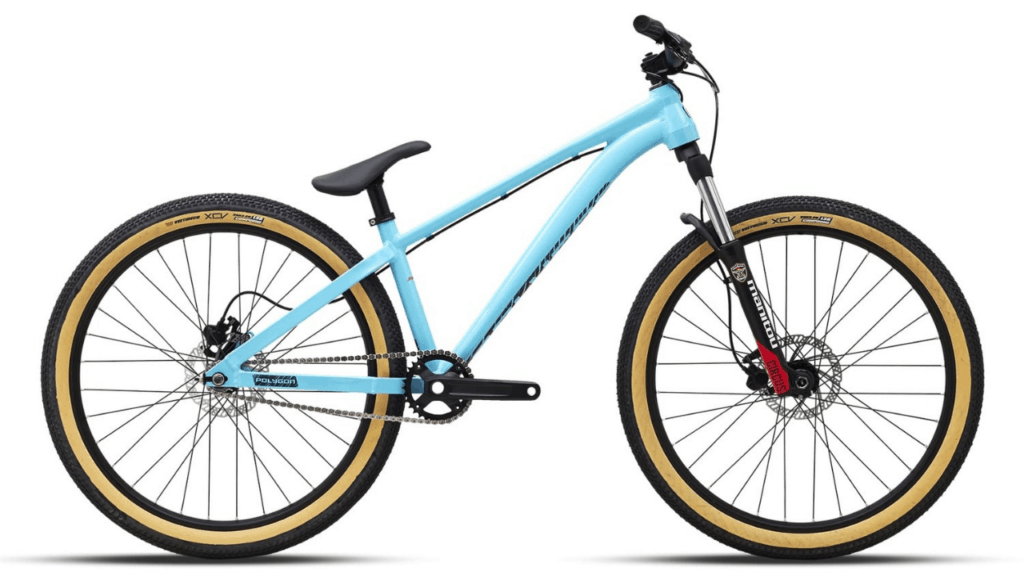 Conclusion
That's a wrap for the different types of mountain bikes. As you can tell, since the beginning of this sport, more and more styles have come to be. If you want to figure out what bike to use or style to start with. We recommend starting with a trail bike and let it lead you to other disciplines like XC and Downhill.
A good trail bike and trail riding will give you a little bit of everything. Additionally, climbing power of a Cross Country bike and the full suspension from an Enduro or Downhill bike.
After you get the hang of it, try each type of bike out from there and enjoy this awesome sport.
Below is a Pinterest friendly photo… so you can pin it to your Mountain Bike Board!