You need the best mountain bike upgrades to customize your bike to make it a lot more comfortable and improve its performance.
With these upgrades, you can transform the performance of your bike. You might be thinking that maybe these upgrades are for the old mountain bikes. But that is not the case!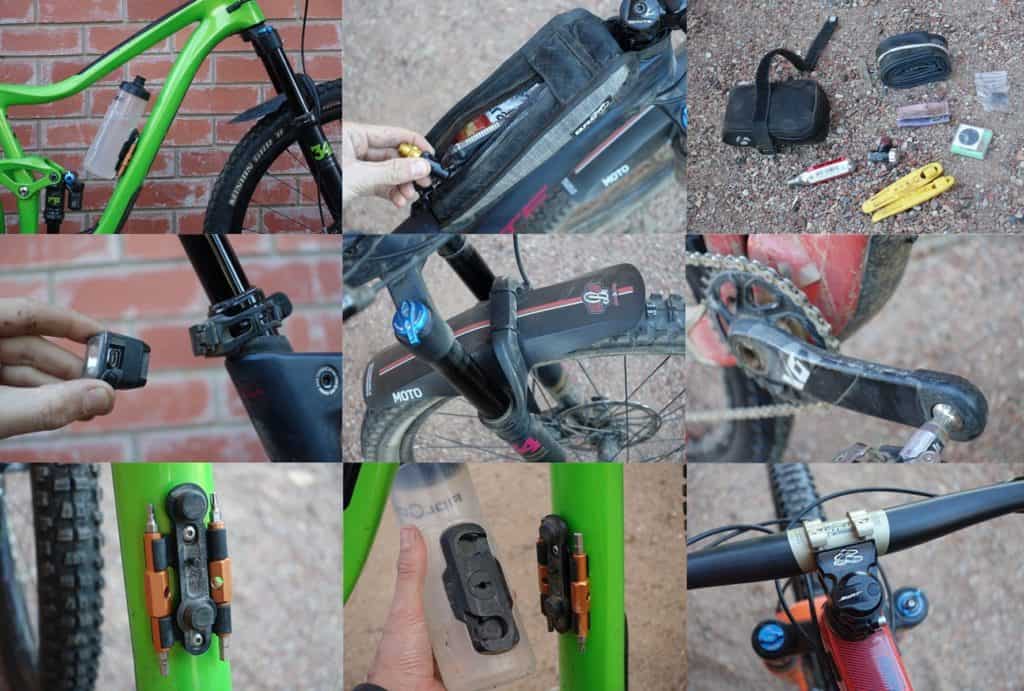 Even if your bike is freshly out of stock and you haven't ridden it even for a trial run, you will need a few upgrades to make it perform according to your needs and preferences.
So, what are the best upgrades for a mountain bike? In this comprehensive guide, we are going to find all about it, so keep reading.
What Should I Upgrade on my Mountain Bike?
Bike manufacturers these days are pretty good at making these bikes since they add a lot of specs. But you will still notice your new bike will need some upgrades along the way.
The thing is, these customized upgrades will only be according to your specific riding style and ergonomics. So, what works for some will not work for others.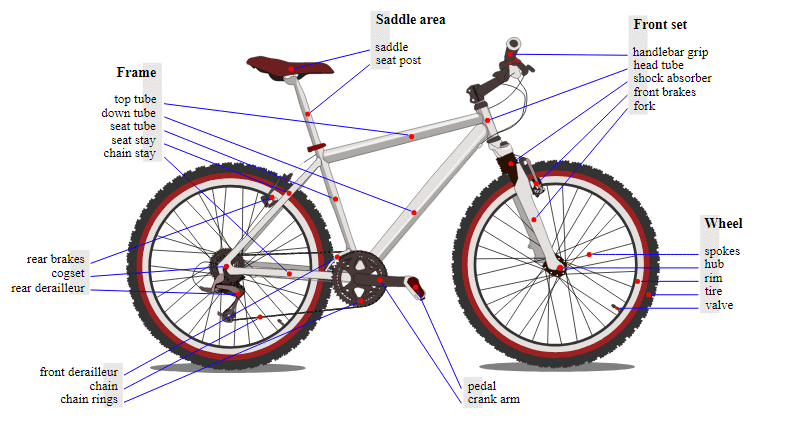 It would help if you shaved some grams off or alter the suspension assembly to suit a design according to your body type. These best upgrades for a mountain bike will allow your bike to react and perform differently on various terrains.
Upgrades
Cost
Fun Factor
1) Saddle Seat
$$

★★★★

★
2) Dropper Post
$$$

★★★★★

3) Handlebar Grips
$

★★★

★★
4) Handlebars
$$

★★★

★★
5) Stem
$

★★

★★★
6) Tires
$$

★★★★★

7) Brakes
$$

★★★★

★

8) Suspension Fork
$$$$

★★★★★

9) Drivetrain
$$$

★★★★★
Top 9 Best Mountain Bike Upgrades
1) Saddle Seat
Your saddle seat needs to be upholstered and designed with the comfort of the rider in mind. A saddle seat is the most significant point of contact between the rider and the bike. Therefore, it needs to be very comfortable.
You might find a saddle extremely comfortable to ride throughout the day. Also, a saddle post with the wrong shape will make your bottom feel pretty sore and inhibit blood flow as well.
You will be riding in awkward positions because you will constantly be looking for the most comfortable position. It can ultimately lead to alignment problems and muscle imbalances, and you won't be able to maximize your power delivery.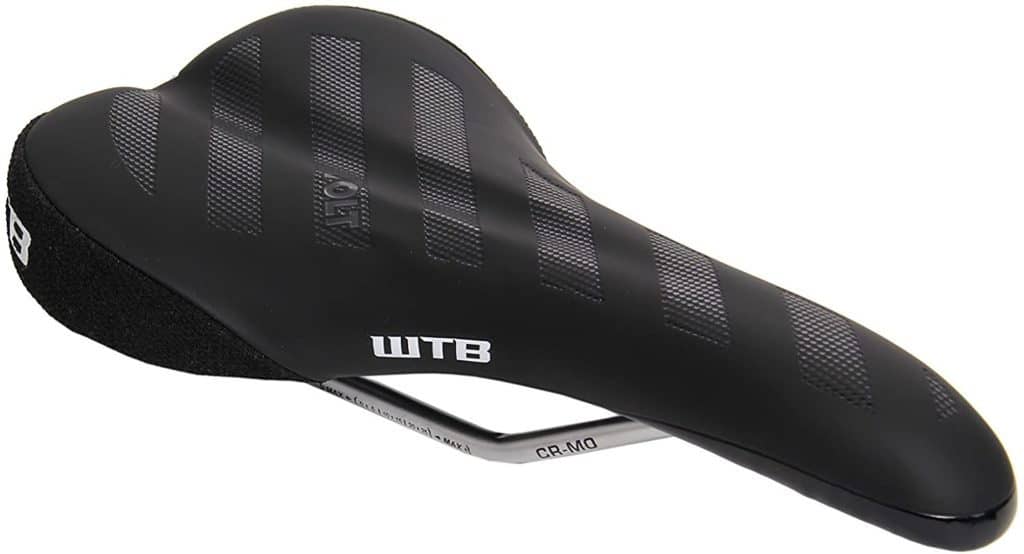 In this regard, we recommend you go for the WTB Volt Team Seat because it is the most comfortable one out there, and it works with most rider requirements.
2) Dropper Post
Dropper posts are great because they allow you to drop your seat post right out of your way. You can easily shift your weight even further back so you can descend with even more confidence. You can handle even more technical terrains.
Most high-end mountain bikes come with this dropper post and will allow you to perform very well on your bike. However, you will have to consider the insertion depth and diameter of the post when looking for the right dropper post. 

You won't find many options on the market if your bike comes with a 27.2mm post. But if your dropper post rages in diameter from 30.9mm to 31.6mm, you can explore many different options. We highly recommend going for the RockShox Reverb Stealth B1 for your bike.
3) Handlebar Grips
The right pair of grips will always work for you because you will be more comfortable holding on to your bike and guiding it in the direction you want to go.
The wrong grips will make you hold on to the handlebar with an arm pump, and it will cause fatigue. It might also result in a sore neck and shoulders. Death-gripping your handlebar will also cause some blisters on both your hands.
Therefore, you need to go for the right handle grips, and Ergon GE1 is one of the better ones you can find on the market. It's ergonomic, and you won't have an arm pump to hold on to your handlebar.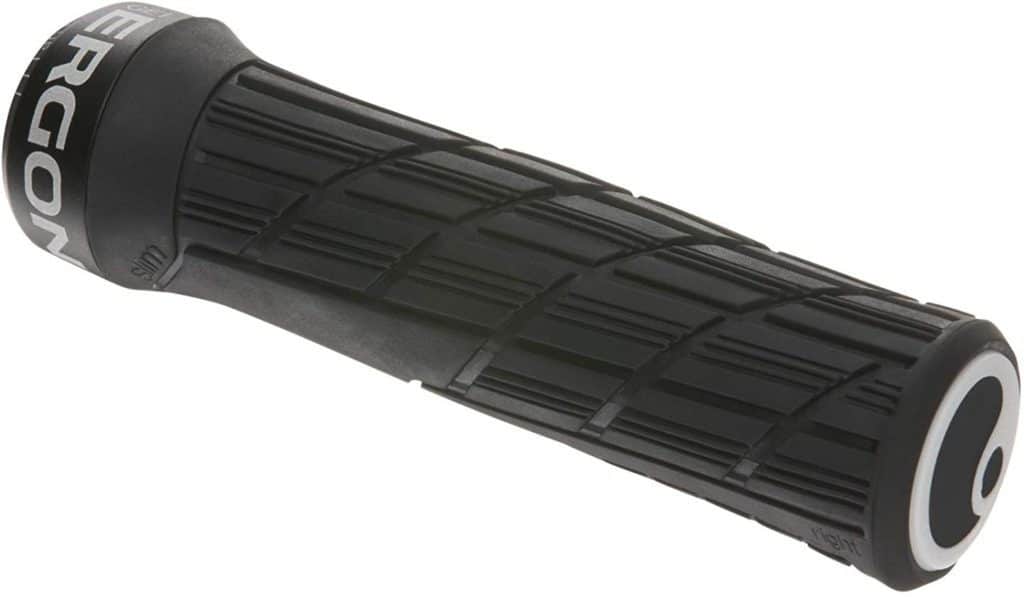 Several compounds go through the unique shape and the cut-out skeleton. These grips create a wide area of contact for your hands. We recommend going for the Ergon GE1 grips because they work well for most riders.
4) Handlebars
You will need to go for longer handlebars for better steering because you will always have more leverage as handling becomes more manageable. This is especially the case on those high-speed technical descents.
With wider bars, you will be able to transfer your weight forward. But make sure you pair your wider handlebar with a shorter stem for better control. The ratio between them is 2:1, which means that with each 20mm handlebar wider width, your stem needs to drop 10mm.
Your local trails will also allow you to make an informed decision here. For example, you don't want to go for a bike with wider handlebars only to notice you will have to ride it through the trees with those tight corners.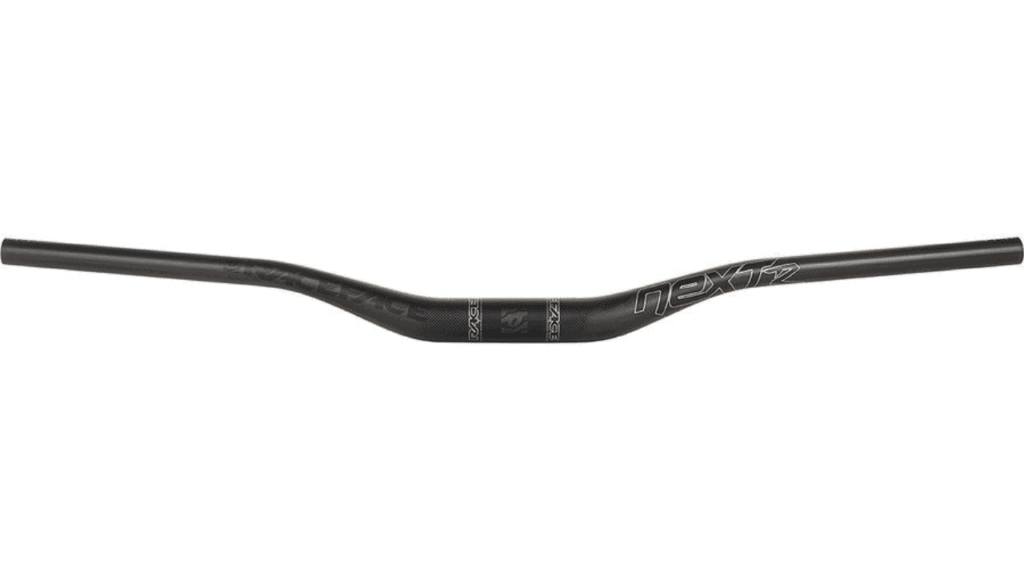 If you do not ride a technical trail that is not very speedy, you don't need a wide handlebar with a short stem. We highly recommend going for the RaceFace Next Carbon Handlebars.
5) Stem Length
If you are looking to make the handling of your bike much easier, you need to adjust its stem length according to your preferences. With an adjustable stem length, you can also improve the overall durability of your bike.
Reducing the stem length will allow you to speed up your handling. But if you notice your front wheels lift during climbs, you can go for a longer stem.
You can do the same with the stem rise to shift your weight on various terrain angles. Again, these stems come in different angles and lengths with varying standards of a clamp.
The default size is 25.4mm. Oversize is 31.8mm, while the stiffest is 35mm. You also need to consider the fork steerer size that should be either 1.5 or 1⅛ inches.
6) Tires and Tubes
You need to go for the right kind of tires according to the terrain you ride the most. For example, if you do a lot of mountain riding, go for trail tires. On the other hand, if you do some road riding, go for the hybrid tires to roll on the tarmac and mud.
You will have to check whether the current assembly on your bike is tubeless or not for the tubes. Trail tires need to have low pressure to ensure better traction and ground grip. They are much better when it comes to rolling resistance.
Road tires will need more tire pressure to get a better grip and traction on hard surfaces. Therefore, you have to pick the right tires according to the surfaces.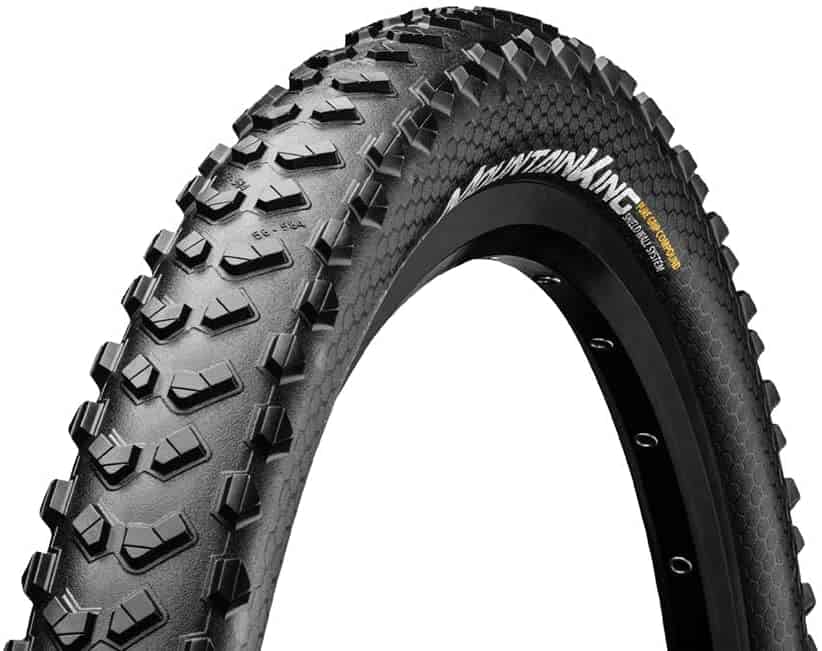 With quality tires on your bike, you will be able to ride with confidence and will be able to control your bike in a much better way. You can also look for downhill tires or trial tires to go for more specialized tires. We highly recommend going for the Continental Mud King tires
7) Brakes
Most of the mountain bikes come with disc brakes on them. But for exceptional performance, you need to go for hydraulic or cable-actuated brakes. Unfortunately, these two types have minimal modulation when the wheel locks up and when the brakes bite.
Your best bet here is to go for Shimano or SRAM and make sure you go for the brakes and the pads as well. These will incredibly enhance your stopping power, and you will be able to ride your bike more confidently.
8) Suspension Fork
For a more comfortable ride, you will also have to change the suspension fork on your bike. Make sure you go for a lightweight fork that feels plush and is highly tunable. Fox and RockShox are the leaders. The Fox Factory 38 Float is a great choice.

It will significantly enhance your overall ride comfort and put a lot less strain on your arms and neck. Also, consider a narrow fork with less distance from the leg to the leg. This way, you will improve your lateral stiffness and have lesser weight to handle too.
9) Drivetrain
For drivetrain and cranksets, go for Shimano and SRAM as well. Both these companies have been providing a variety of options for different riders over the years. Going for a clutched derailleur on the rear end is important if you want to ditch the front ring.
This assembly will hold itself well against bumpy rides on uneven terrain, and your chain won't bounce off. Also, go for a chainring that comes with alternating teeth profiles that hold onto the chain.
What Should I Upgrade First on a Mountain Bike?
The first thing to upgrade on your bike is your Seatpost and handlebars. This is because they are directly linked with your riding position. If you are not comfortable, you cannot deal with multiple fatigues.
After that, upgrade your tires and tubes because these are the two points when your bike comes in contact with the surface below.
You have to make your bike extremely comfortable to ride. This way, you will not deal with any muscle stiffness or aches once you get off your bike.
How Can I Make My Mountain Bike Better?
To make the best upgrades for a mountain bike, start from the comfort of riding your bike. Moreover, be 100% sure that your bike is extremely comfortable to ride. Now, look at the components on your bike that are directly associated with your riding comfort.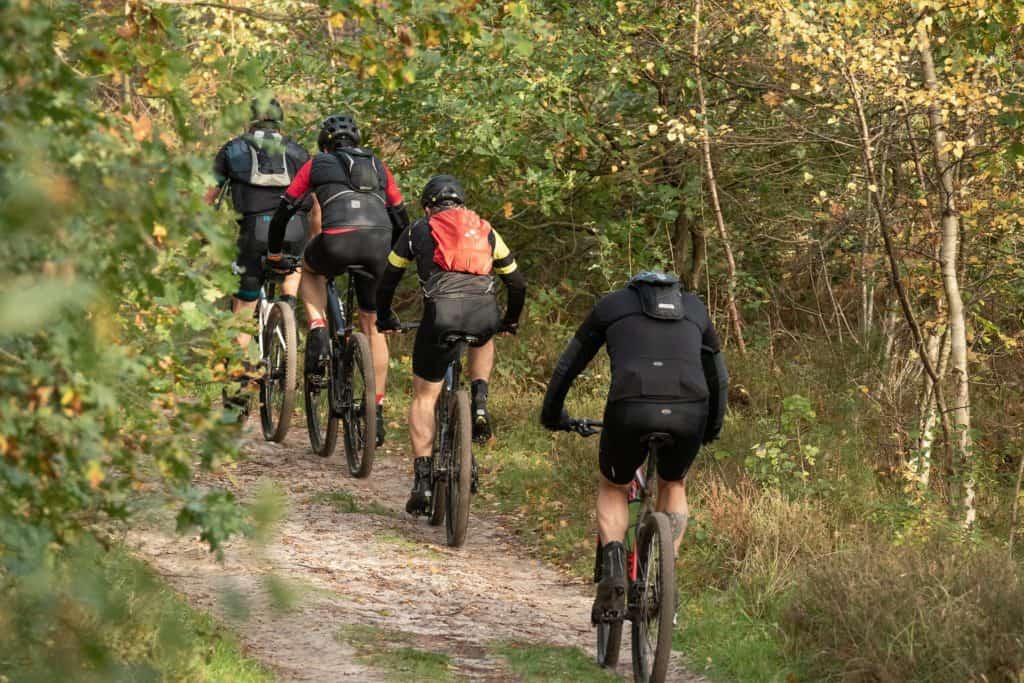 You will see your bike's Seatpost, dropper, handlebars, stem length, and grips are directly linked with your riding comfort. Therefore, make changes according to your riding position.
Secondly, focus on your tires and tubes and, along with them, the shocks, drivetrain, and brakes. All these components put you in control of your bike and provide you with good stopping power.
Riding your mountain bike is all about gaining control of your bike and remaining comfortable while doing so. This way, you will enhance your bike's overall performance.
Final Word
The best upgrades for a mountain bike are all associated with enhancing your overall riding experience and making it more exciting and safer. It's all about gaining control of your ride while still being comfortable.
Bike manufacturers have come a long way over the years, and they have been focusing very hard on the specs of the bikes they make. But you still need to customize your ride according to your requirements and needs.
Below is a Pinterest friendly photo… so you can pin it to your Mountain Bike Board!