Grip is always something that comes to mind when speaking of tires. However, you need to have some grip on the handlebars when riding. The best mountain bike gloves will keep your hand free of any dirt, whilst absorbing sweat, which allows you to have an optimal grip on the handlebars, regardless of the weather conditions.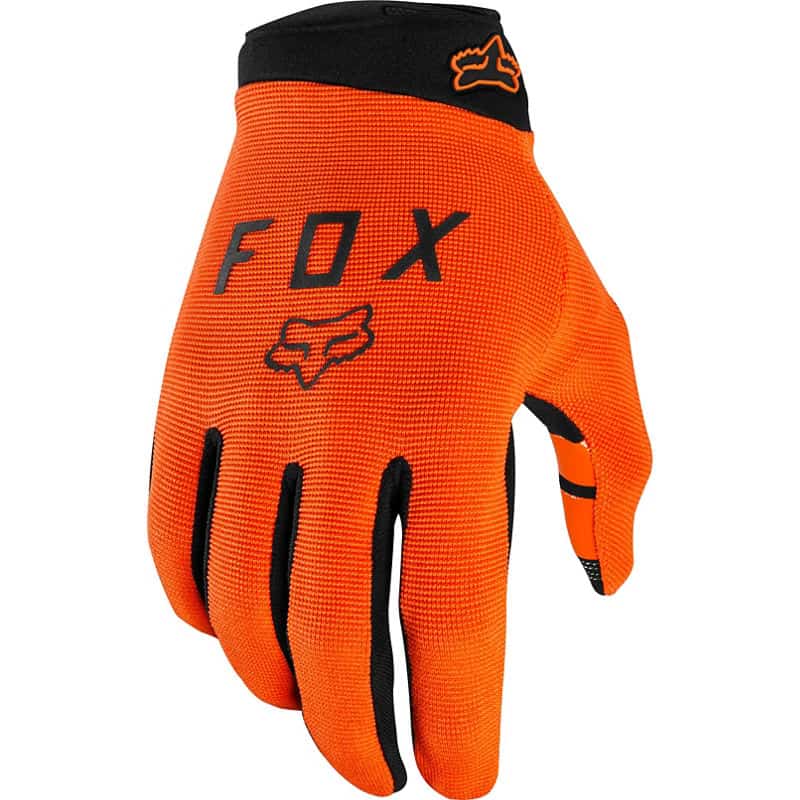 There are tons of mountain bike gloves on the market today. Many of these gloves are from high-end manufacturers, but there are many cheaper versions as well. In the following article, we will have a look at some of the best mountain bike gloves for all riders. You can also use our small buyers' guide to have a look at some of the features we deemed the most important.
Best Mountain Bike Gloves On The Market Today
Before diving into the key features, we have an entire list of mountain bike gloves to weed through. Since there are so many available, we have picked multiple gloves that will suit different riders and their styles. If you have been looking for a decent set of mountain bike gloves, the following options are worth looking into:
Top Pick: Fox Racing Men's Ranger Glove
As far as extreme sports brands go, FOX is one of the leading brands when it comes to quality products. The Fox Racing Men's Ranger Glove is a versatile glove, designed to give you versatility when you are cycling. It is constructed from durable nylon materials, with a breathable mesh that makes it possible for air to flow through.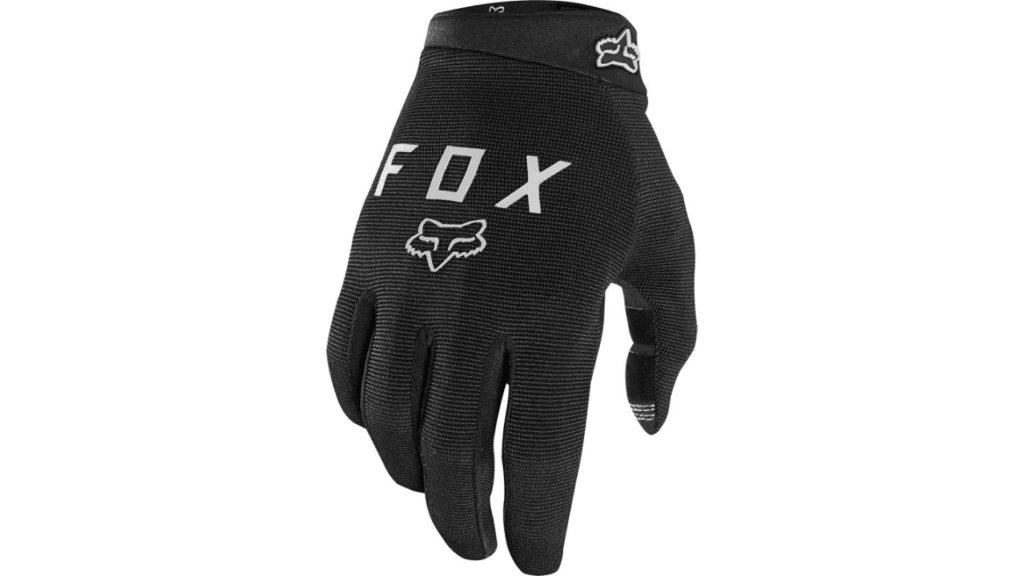 An additional suede thumb is designed for the glove, which enables the user to use it for navigating mobile devices and being useful on touchscreen sensors. The Trugel Palm Technology will absorb most of the shock your hands need to deal with when cycling, which makes this a safe and effective mountain bike glove.
Pros:
Shock Absorption: The glove features a gel insert that enables you to absorb some of the shocks while molding to the handlebars.
Breathable: While nylon is the main material, the additional mesh makes the gloves breathable to allow air to pass through.
Pull-On Design: You don't need to worry about fastening the gloves. They have a pull-on design, which keeps them in place.
Cons:
Stitching: One of the downsides is the stitching that comes loose after a while and might force you to replace them.
Best Enduro Mountain Bike Gloves: DIRT Gloves Mountain Bike Gloves
In the world of Enduro cycling, you would want to have a mountain bike glove that is comfortable. The DIRT GLOVES Mountain Bike Gloves are constructed from polyester and spandex, with the spandex making them stretch and mold around your hand. The gloves are pretty basic and do not have any padding, which makes them effective for preventing hotspots.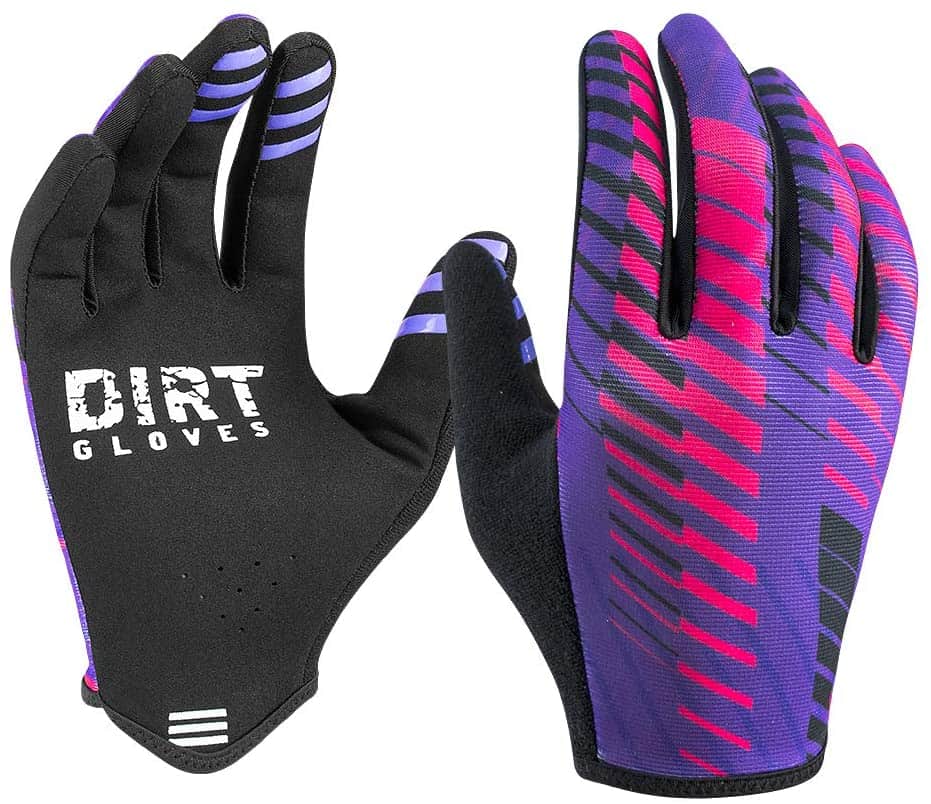 Once you are done with the gloves, they can be washed in your standard washing machine. Since the gloves do not have any Velcro, they will not pose any risks to your other clothing. Numerous colors and style patterns are available and the sleek design means that you can use them throughout the year. However, they tend to be warm.
Pros:
Flexible: With spandex being introduced, these gloves are flexible and stretch over your hand while retaining their form.
No Padding: You might think this is bad, but padding can often lead to hotspots, which may burn your hands.
Great For Winter: Since the gloves stick to your hands, they tend to be warm when riding cold trails in the winter.
Cons:
Can Get Hot: The downside is that these gloves will get rid of moisture, but they build up a lot of moisture due to the hot design.
Most Durable Mountain Bike Glove: Fox Racing Men's Dirtpaw Glove
Nothing can be more frustrating than damaging your hands when you are riding your mountain bike. However, the Fox Racing Men's Dirtpaw Glove is one of the durable options that you can choose. It is made from stretched polyester and neoprene for the enclosure but features padding around the outside and inside of the glove.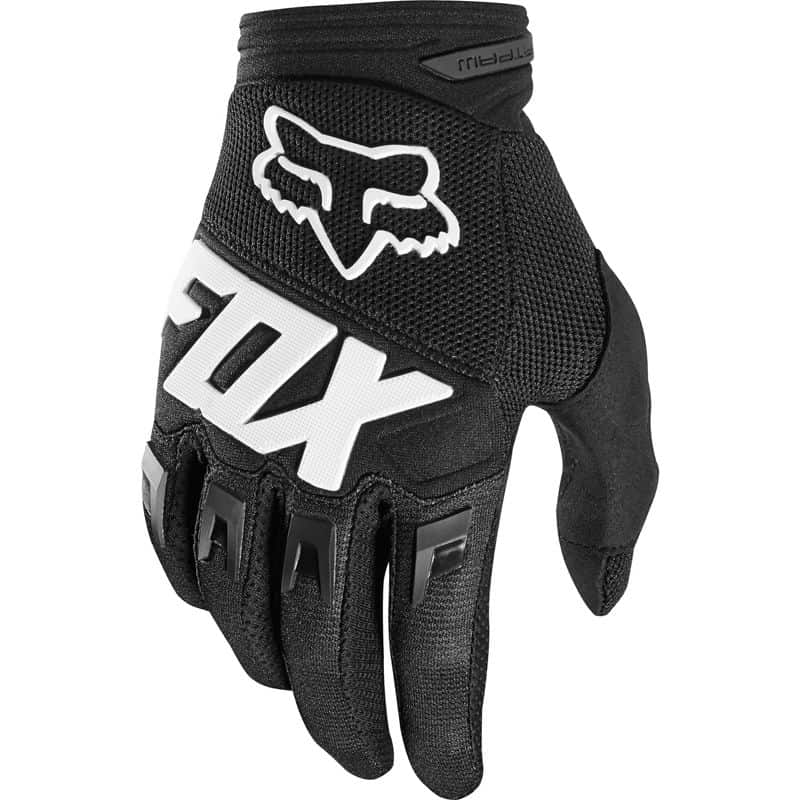 The gloves might be a bit heavy, but with the mesh overlay, they are extremely breathable and comfortable for all riders to use. There are numerous sizes that you can choose from, but we have to mention that they run a bit small and you might need a larger glove then you generally buy. Fox has introduced 4 stylish colors to choose from.
Pros:
Stylish: This might not be a feature, but these gloves look extremely good when they are used for cycling.
Durable: The combination of materials and the padding will make it one of the most durable gloves on the market today.
Ventilation: Even when you look at these gloves, you will find that there are numerous ventilation holes to make it more breathable in hot conditions.
Cons:
Best Gloves For Mobile Devices: INBIKE Cycling Screen Touch Bike Gloves
Nowadays, we all have some form of a mobile device and with technology improving; you have bike monitors that can track your stats with an LCD Display. Gloves make it hard to operate some of these tools, but the INBIKE Cycling Screen Touch Bike Gloves is designed to specifically cater to those that need to operate these devices with the gloves on.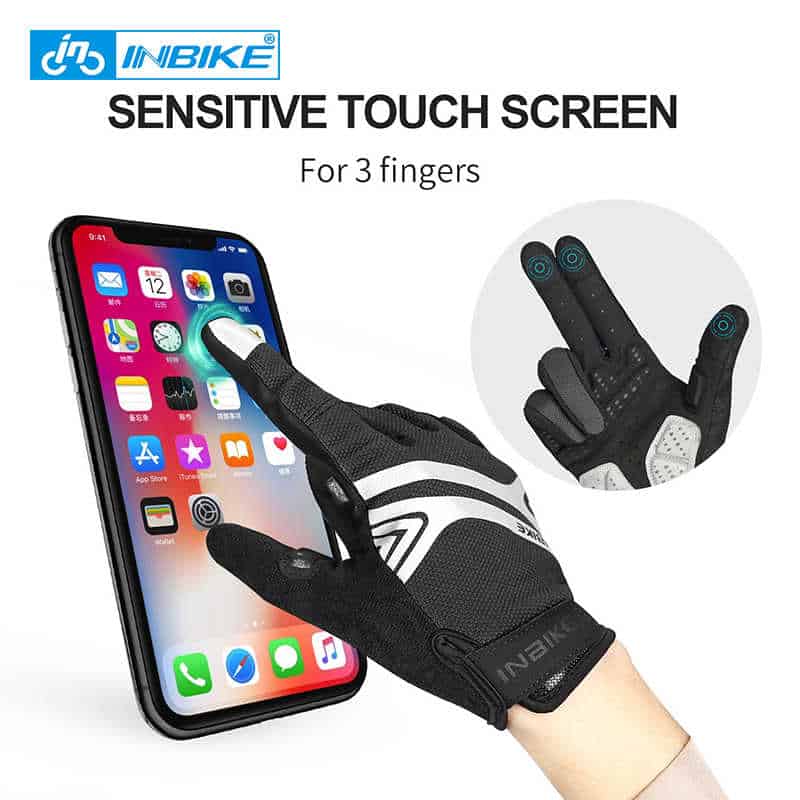 The gloves feature a microfiber and mesh material combination, which keeps them lightweight while making your life much easier with the EVA padding that will mold to the shape of your handlebars. The gloves might seem heavy, but they are lightweight and they have numerous ventilation holes that should make them breathable.
Pros:
Touchscreen Compatible: These gloves will allow you to operate your touchscreen devices with ease.
EVA Padded: If you want a material that molds to your handlebars, the EVA cushioning will allow you to have ultimate comfort.
Breathable: With the mesh overlay, you will once again have the benefit of fresh air passing through these gloves.
Cons:
Does Not Stretch: Unfortunately, these are not the best gloves when you are looking for something that will stretch.
Best Mountain Bike Gloves For Women: NICEWIN Cycling Gloves
The difference between men and women is paramount when we look at things like the size of their hands and feet. As a woman, you will need something comfortable for your hands. The NICEWIN Cycling Gloves are much like the top mountain bikes and they look great for women while giving them an ergonomic feel.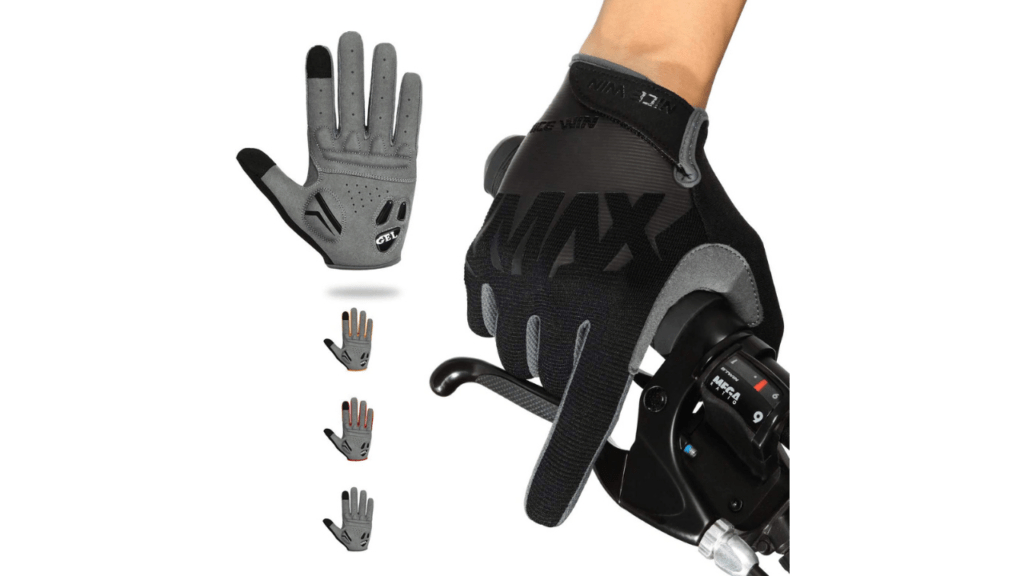 These gloves can be used for a variety of purposes, which includes the ability to navigate your mobile device. The gloves have molded EVA padding to make them capable of absorbing shock and should make your riding experience more comfortable. The safety stripe is also great for added safety when riding at night.
Pros:
Safety: These gloves offer a variety of safety purposes and protection to keep the user safe from harm.
Stretchable: These gloves are made with spandex and they are extremely flexible, ideal for women with smaller hands.
Affordable: One of the best features is the price. You will receive all of these benefits are at a cheap price.
Cons:
Durability: Unfortunately, these gloves tend to tear and get damaged when you use them too much.
Best Mountain Bike Gloves: FIRELION Cycling Bicycle Gloves
One of the worst things you might need to deal with is a budget. If you have a durable and expensive mountain bike, you might need to slash your budget when it comes to accessories. The FIRELION Cycling Bicycle Gloves are packed with durable features while remaining some of the most affordable on the market today.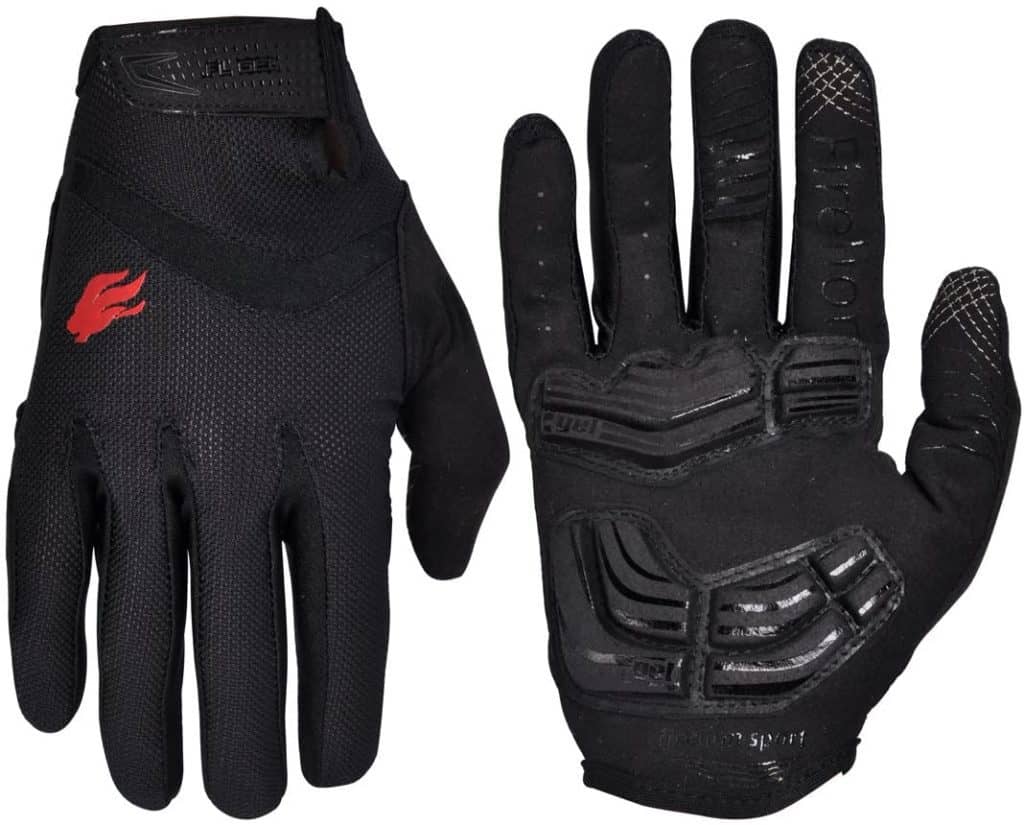 These gloves feature gel inserts, which might not make them the best when you want to wash them. However, the gel has numerous purposes, which enables you to use them on trails that have a lot of shocks. The absorbent microfiber will get rid of your sweat while keeping your hands dry inside the gloves.
Pros:
Gel Inserts: These gloves have gel inserts, which are designed to absorb as much shock as possible.
Moisture Absorbing: These gloves tend to absorb all the moisture you need to endure and keep your hands dry.
Affordable: One of the main reasons we have selected these gloves is the affordable price tag for all riders.
Cons:
Heavy: With all of these features, you might need to endure the weight when you are taking on longer trails.
Best Fingerless Mountain Bike Glove: Fox Racing Ranger Glove (Fingerless)
The full-finger glove is often the most common when it comes to mountain bikes. However, fingerless gloves enable you to ride longer before your hands get wet. The Fox Racing Ranger Glove(Fingerless) is one of the top options from one of the most reliable brands. These gloves are lightweight and they do not have any adverse padding.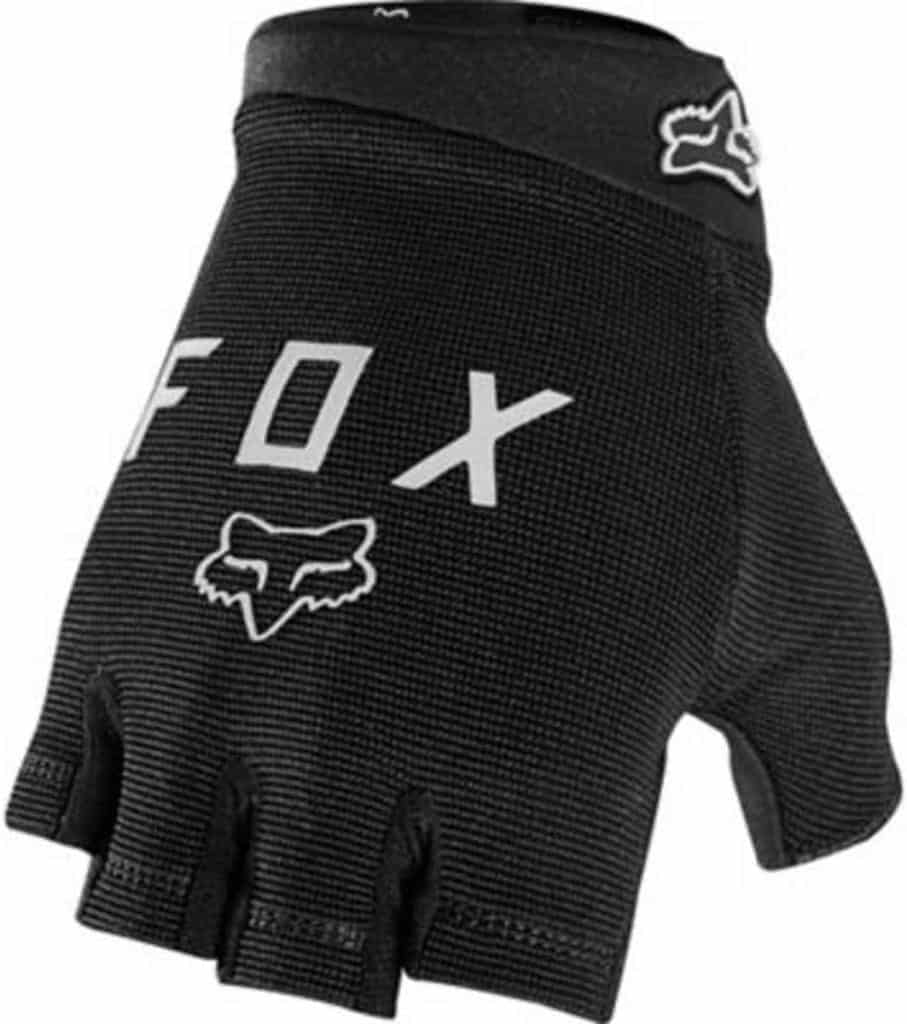 These gloves have another feature which makes them ergonomic. The entire glove is compression molded, which enables them to fit snug around your hands. Trugel is still part of the glove, but only in a small quantity. Since it does not have any severe padding, the gloves can be washed in your washing machine.
Pros:
Lightweight: Since there are fewer features on these gloves, they are some of the lightest on the market today.
Durable: FOX is known for the durability of their gloves and these are some of the most durable options in the fingerless range.
Breathable: Since you don't need to deal with the fingers, these gloves are completely breathable in all conditions.
Cons:
Slippery When Wet: They might lack a bit of grip and the gloves tend to be slippery in wet conditions.
What You Need To Look For When Buying The Best Mountain Bike Gloves
Finding the right mountain bike gloves can make a big difference to your cycling experience. Once you understand the features, it should be easier to find your desired gloves. The following features are perfect for all riders and should enable you to pick the best mountain bike gloves. Here are the features we used as a criterion:
Comfort
The comfort factor is one of the most important that you will need to consider. Your gloves should be comfortable and easy to wear for long stints on your mountain bike. It is best to look at the materials used in the gloves. Polyester or nylon is often the most common with polyester offering more shock absorption.
Additionally, one can also add spandex to the gloves, which wicks away moisture, but stretches the gloves. This means the gloves will fit more comfortably around your hands and offer more versatility to your hands.
Breathability
Every glove needs to provide some form of ventilation. You will find that your hands will heat up in these gloves and with ventilation; clear air can cool them down again. Materials like mesh might not be durable but allows air to pass through. Mesh can also wick away some of the moisture from sweat to keep your hands dry.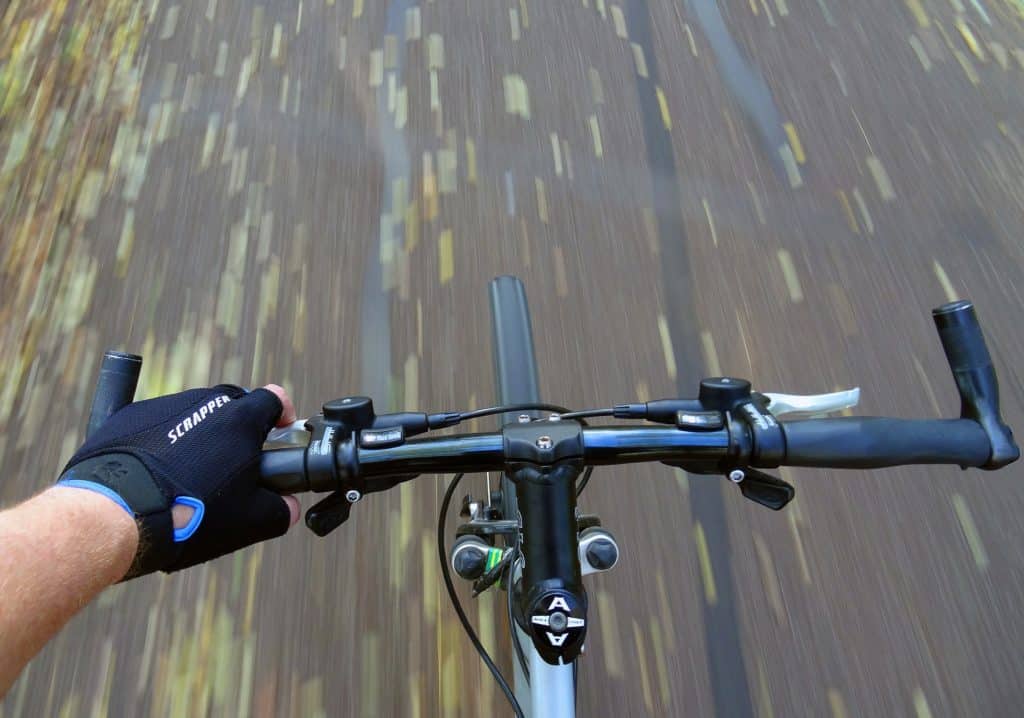 Grip
On the inside of the glove, you will often find some form of a rubber compound that tends to offer some grip to your hands. The grippy sections are great for the different weather conditions and will ensure that you have control over the mountain bike. Soft rubber is often the best for grip on your mountain bike gloves.
Shock Absorption
Not all gloves have shock-absorbent features, but for downhill or trail bikes they can be very beneficial. The gel is one of the best methods to absorb shock, but rubber padding is also used. The downside is that the gloves need to be washed by hand. However, you will have much more comfort when riding your downhill trails.
Machine Washable
The last thing to keep in mind is how you will go about keeping your gloves clean. Unfortunately, these gloves tend to build up a lot of dirt and you need to wash them. For gloves with large components, you might need to wash them by hand. However, softer materials can be placed in the washing machine.
Wrap-Up
All mountain bike riders will need a set of gloves to make their riding journey better and to give them more control over the gloves. All of the gloves on this list have been tested and chosen from reputable brands. Since there are many options on the market today, we would love to see your thoughts on the best mountain gloves.
Below is a Pinterest friendly photo… so you can pin it to your Mountain Bike Board!