Different Mountain Bike Styles Explained
If you are just starting in this field, you might think that all mountain biking is essentially the same thing. After all, isn't mountain biking just riding on trails in harsh terrains with bikes that are supposed to handle the frequent wear and tear? Are there different mountain bike styles?
While that can be true, the reality is that there are different mountain bike styles and disciplines. Depending on your style, abilities, and frequency of use, as well as the type of terrain you intend to ride on, you'll be able to find the most suitable bike for your needs.
Finding a good bike is essential, and not only because it can be a considerable investment. Different bikes are designed according to there disciplines. They are suited for and will have special characteristics to perform better and to keep you safe depending on your riding style.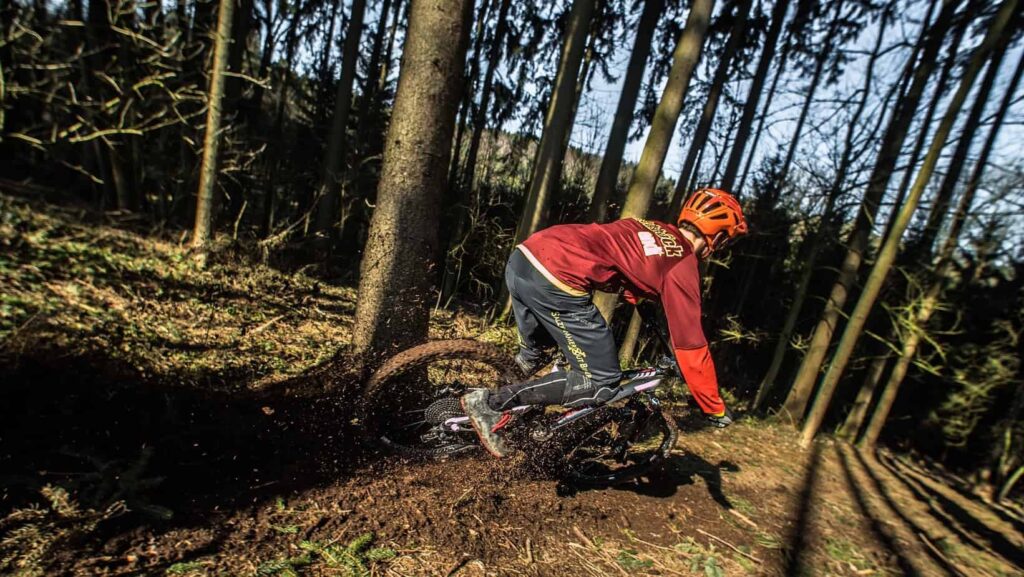 Before even thinking about the kind of bike you need and especially if you are a beginner in the world of mountain biking, you must be aware of the different styles of this sport. It will be a lot easier to choose your bike, after having assessed the kind of rider you are.
After all, there are endless options out there in terms of mountain bikes and choosing one might be a bit challenging, especially without the right information on hand. But also, if you are serious about getting into this sport, it will be a good idea to have some knowledge about it.
To help you learn more about the different mountain biking styles and possibly assist you in the process of purchasing your next bike, we created this essential guide about the different mountain bike styles you should be aware of.
Cross Country (XC)
Trail
Enduro
Downhill
Fat Bike
Dirt Jumping
Freeriding
Cross Country (XC)
Cross country is a very popular mountain bike style. Still, there is a lot of confusion about what it entails. Most cross country trails usually involve long periods of climbing and descending mountains.
As opposed to other mountain biking styles, XC does not involve extreme obstacles. But it does require great endurance and control. Trails can vary both in length and in the challenges they propose, but they generally will require occasional jumps or rock drops, as well as twisty single tracks.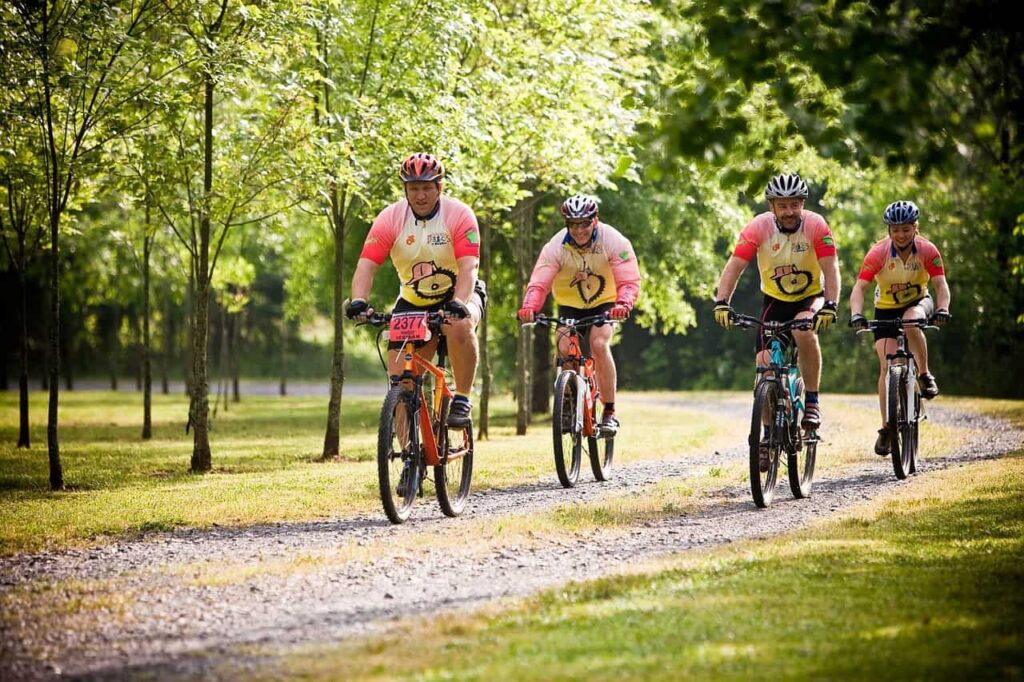 Cross country can get challenging as bikers have to make their way through a variety of terrains and situations including open muddy spaces and narrow gravel paths, for instance. This discipline requires good skills in handling your bike even on the harshest terrains, but it does get extremely rewarding, especially when you participate in events or races. Competitions might get dirty, with riders pushing themselves to the limit to reach the top of the hill the fastest.
Cross country bikes are lightweight and designed for speed. These bikes lack a rear shock to help riders accelerate faster. They are fast to accelerate on and tend to have weight forward positions. XC bikes are not made for high impact jumping or landing.
Trail Riding
To someone inexperienced, trail riding and cross country might sound very similar. And yes, they are, to some extent, not very different from each other. However, it might be interesting to know that trail riding distinguishes itself as it is a more adventurous biking style. Trail riders often look for bigger obstacles and make it a priority to find jumps, drops and rock gardens.
In general, trail riding is a more technical and challenging style of riding. While for cross country riders speed is important both uphill and downhill, trail riders will place more importance on the fun of getting downhill extremely fast.
Trail bikes are slightly heavier than cross country mountain bikes. They are designed for withstanding higher impacts and different terrain. Trail bikes are suited to be used both on dirt roads and singletrack trails. Trail riding is where most beginners start before trying other styles.
All Mountain/Enduro Mountain Biking
If you are looking for something that will be able to give you lots of adrenaline or you simply cannot decide on which bike you need. You should look into an Enduro/all-mountain biking.
You should be aware that enduro mountain biking can be extremely challenging: it requires good skills and excellent control as well as a certain amount of boldness. The trail riders of these disciplines will have to deal with are unpredictable and adventurous.
For this reason, such bikes are stronger and have more suspension than cross country bikes. That means that they withstand well harder obstacles that require a bit more technique. Also, they are great to be used on steeper trails, in the mountains for example. Their wheels are wider, to ensure greater grip.
Downhill Mountain Biking
For those looking for adrenaline and speed, downhill mountain biking can become their next passion. Indeed, the ultimate goal of downhill mountain biking is speed. But not only speed.
Contrary to cross country trails, that involve curves and some snaking paths, downhill trails are, as the name suggests, straight down the mountain. It is common for riders not to use any specific trail, but rather to get down the mountain using their skills and finding their way. After all, the objective is to use focus and control to get down as fast as possible, no matter which path you chose.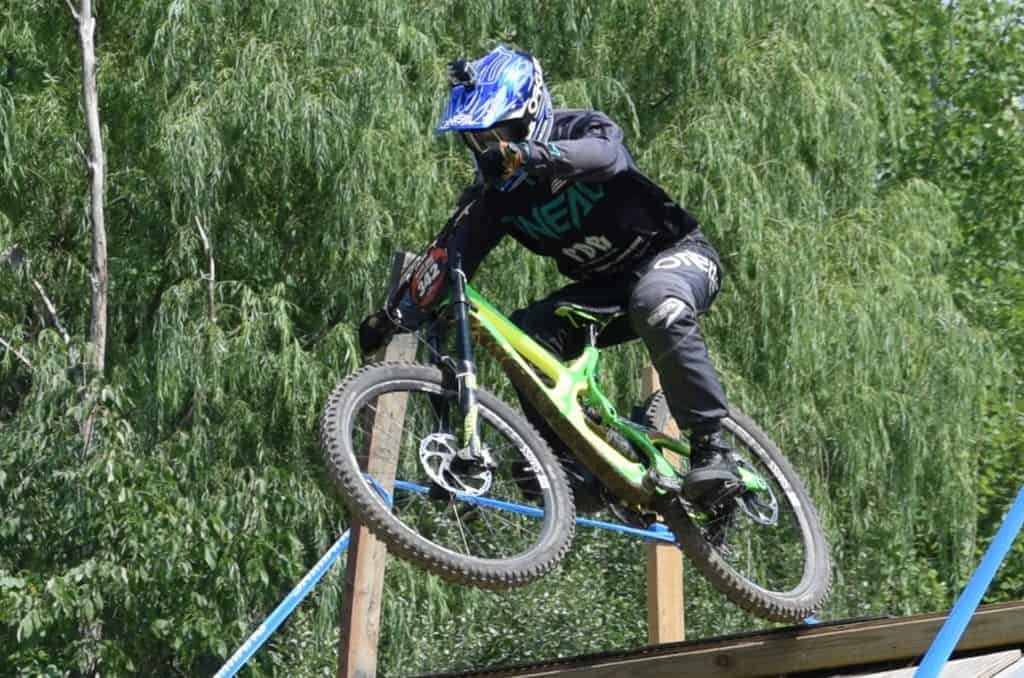 This discipline does not require riders to cycle up the mountain in most cases. Downhill bikes are not designed for pedaling uphill. Instead, downhill mountain bikers usually walk up or are reach the top with a lift. This discipline is extremely challenging and requires excellent focus and control. Riders have to deal with rough tracks, huge jumps, and obstacles.
Proper bikes for such a discipline have wider tires and wider reams as well as more durable gears and frames, made to hold up well under pressure. They also feature a chain guard to keep the chain in place even during the roughest descends. Downhill bikes are equipped with full suspension setups and have either air or coils shocks. Because of the characteristics of such bikes, they are not fun to ride uphill, which explains why riders would walk up.
Fat Biking
Fat Biking is relatively new mountain bike style and becoming very popular. These bikes are much different then most mountain bikes. Picture a rigid frame mountain bike with dirt bike tires on it.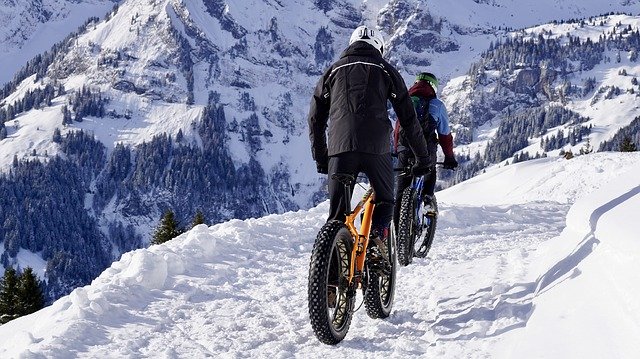 These bikes utilize over sized tires that run at a low pressure which acts as a cushion when you ride. What's awesome about these bikes is the ability to ride in any terrain's like snow or sand. You can also use these in the trails and have some fun.
Dirt Jumping
The name is self-explanatory, but to be clear, dirt jumping does not involve riding through trails on different terrains. Dirt jumping is performed in dirt parks built for riders to enjoy. These parks include several types of jumps, with ramps of various height to provide riders with challenges and to allow them to test their skills.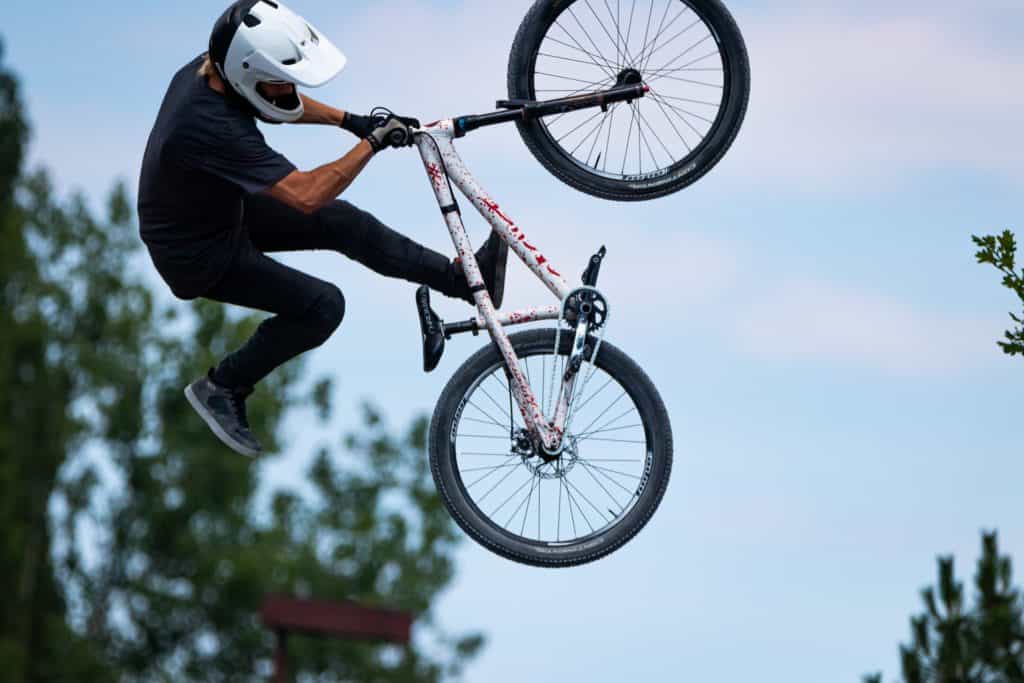 Dirt jumping is a discipline that is more related to tricks and air. The main objective is to gain the greatest amount of "air" as possible. That is to say, to achieve the right speed and stay in the air as long as possible to perform the greatest number of tricks before landing. It comes without saying that strength and control are essential skills for this mountain biking style, but you should also have a passion for acrobatics.
For this discipline, bikes tend to have suspension only on the front. Dirt jumping bikes are equipped with single speed gears and one break. The frames are smaller and they have lower seats to allow for stunt riding.
Freeride
Freeriding is a discipline that is very close to both downhill riding and dirt jumping. To put it simply, it is about mastering the art of mountain biking and tricks. Riders are allowed to use their creativity and skills to take advantage of the natural terrain and its obstacles.
Freeriding is very versatile and allows its riders to either go for high speed for higher jumps or to master their control skills to make it through complex and rough trails. Usually, most of the trails for freeride will involve lots of jumping, big drops, and several obstacles.
In terms of bikes, freeride bikes are very similar to downhill bikes. The primary difference is on the main use of the bike. Freeride bikes are lighter and equipped with a more compact frame. This allows the rider better maneuvering.
Conclusion
As you can see, mountain biking involves different riding styles, each coming with different requirements and involving different terrains or skills. For this reason, it is important to define your style or your preferences before investing on a mountain bike.
Having a better idea about the different mountain bike styles is extremely beneficial, not only because you should learn about the kind of bike you will need, but also to be more informed about mountain biking.
Hopefully, by now you at least have a clearer image of what mountain biking can entail and you will have it easier to choose your bike. Even if it might sound obvious, no matter the level at which you intend to ride, going for the cheapest bike might result in temporary savings but it will most probably cost you more in the long run. Proper research and investigation will lead you to find the perfect bike suited for your needs.
Below is a Pinterest friendly photo… so you can pin it to your Mountain Bike Board!!