Some people like to call it the "Formula 1" of mountain biking. The adrenaline rush Downhill Mountain Biking gives to riders. And they are not far from the truth. It's not hard to label downhill mountain biking as one of the most exciting styles. When it comes to mountain biking, downhill is the adrenaline rush.
The adrenaline, the wonderful scenario, the mental and physical challenge posed to the riders all make this discipline extremely attractive. It's no wonder so many mountain bikers enjoy practicing downhill and grow to become quite addicted to it.
This sport can be dangerous if not prepared. For how fun and spectacular it is, Downhill Mountain Biking does require excellent technique. The deep knowledge of biking as well as great physical strength all play a roll with downhill. You shouldn't let that scare you and prevent you from trying this exciting discipline. Downhill riding will most probably become one of your favorite ways to enjoy mountain biking.
We collected everything you need to know about Downhill Mountain biking in this essential guide. We discuss what downhill mountain biking is and why you should give it a try. Keep reading if you are curious to learn more about this discipline or if you are simply interested to try it out but do not know where to start.
Are you ready?
What Is Downhill Mountain Biking?
Let's start with the basics. Before getting into this discipline you should be at least familiar with what downhill is. Simply knowing some fun facts about it will open up your eyes.
This exciting mountain biking discipline first started back in the 70s. This is when the first pioneers decided to try out the feeling of racing downhill. However, it was not until the 1990s that the real distinction between classical and downhill mountain bikes became evident. The two developed into two separate disciplines.
Downhill Mountain Biking essentially started with cyclist throwing themselves down the hill on some sorts of modified cruiser-style bikes referred to as "clunkers". With time and experience, from those simple designs, dual-crown forks and advanced suspensions were added.
Today, more than 30 years later, downhill mountain biking has changed a lot. Not only in terms of riding style but also for what concerns the equipment and trails.
What has not changed (and keeps attracting more riders) is the adrenaline that this discipline will guarantee you every time you decide to tackle a downhill track at full speed. The feeling is something that cannot be compared to any other experience. This explains why so many get extremely passionate about downhill mountain biking.
What Makes Downhill Mountain Biking So Special?
Downhill mountain biking is all about flow. That is what makes it so special. You'll learn how to anticipate the trail and use your body weight to go around turns and obstacles.
The whole thing might be a big challenge; however, the efforts to master the technique will all be worth it in the end.
The great thing about downhill mountain biking is that even though it requires various skills and experience in cycling, almost everyone can get started. Just like with skiing or snowboarding, you'll find trails for every level.
There are beginner to extremely crazy trails. It is easy to get started on this discipline and learn how to love it.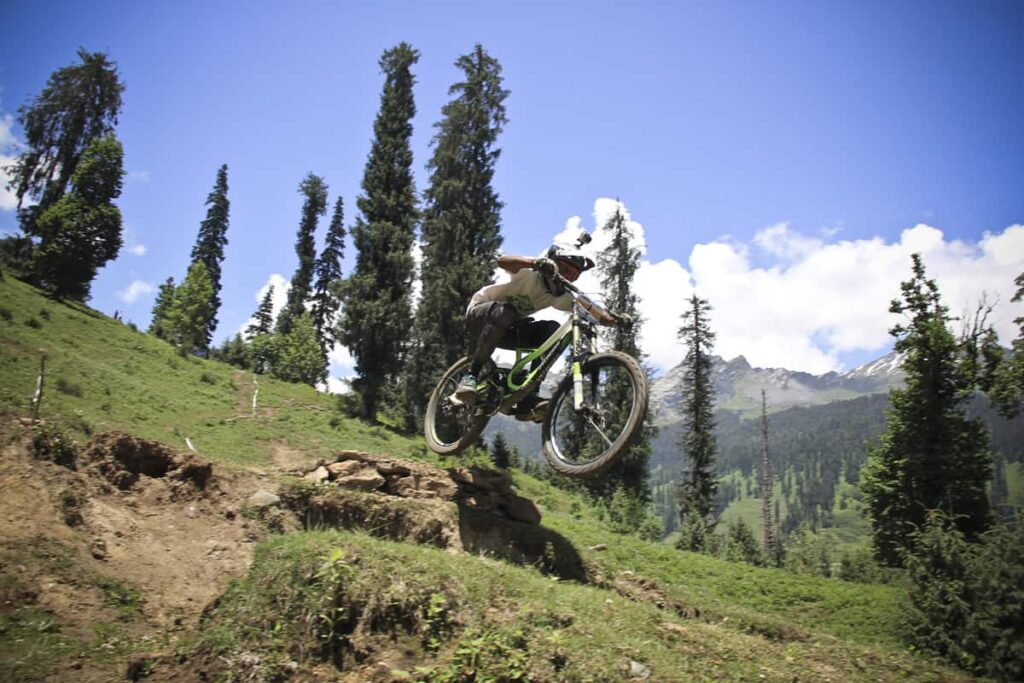 Benefits of Downhill Mountain Biking
The benefits of downhill biking do not stop the adrenaline rush you get from it. Unlike other biking disciplines, this one is an excellent total body workout.
It engages not only your legs but also your core and arms, making it a great workout to keep you fit. On the other hand, that also means that downhill can get extremely tiring. But that is easy to fix: make sure you bring enough snacks and water!
Something else that makes downhill so special that might be obvious. Mountain biking allows you to immerse yourself in sceneries and views that are simply breathtaking. It's true that when going downhill, you'll probably go so fast you won't be able to admire the gorgeous panorama surrounding you; however, you can appreciate it on the way up.
If you are a nature lover (and if you have a passion for mountain biking, chances are you are), you'll get some of the best views from downhill mountain biking. If you are into photography, don't forget to take pictures along the way!

What Kind of Bike do I need for Downhill?
Even if downhill trails tend to be smoother and wider then most of the "classic" mountain biking trails. It's still important you get the right equipment for your ride. Some downhill parks offer cyclists machine-graded trails, which will guarantee you optimal speed and a lot of fun.
The trails, however, are specifically designed for downhill bikes, that are heavier and simply differently designed than most cross-country bikes. Do not try to get into Downhill Mountain biking without the right gear. You might put yourself in danger but you also won't be able to make the most out of your experience.
Because downhill mountain bikes are made to corner and brake hard. They really exploit the power of gravity. They're quipped with deeper suspension than a classic mountain-bike. They will ensure you'll get the most out of your downhill experience.
Here is an example of a common trail bike vs a downhill mountain bike. The Pivot 429 and the Pivot Phoenix 29 Carbon Saint.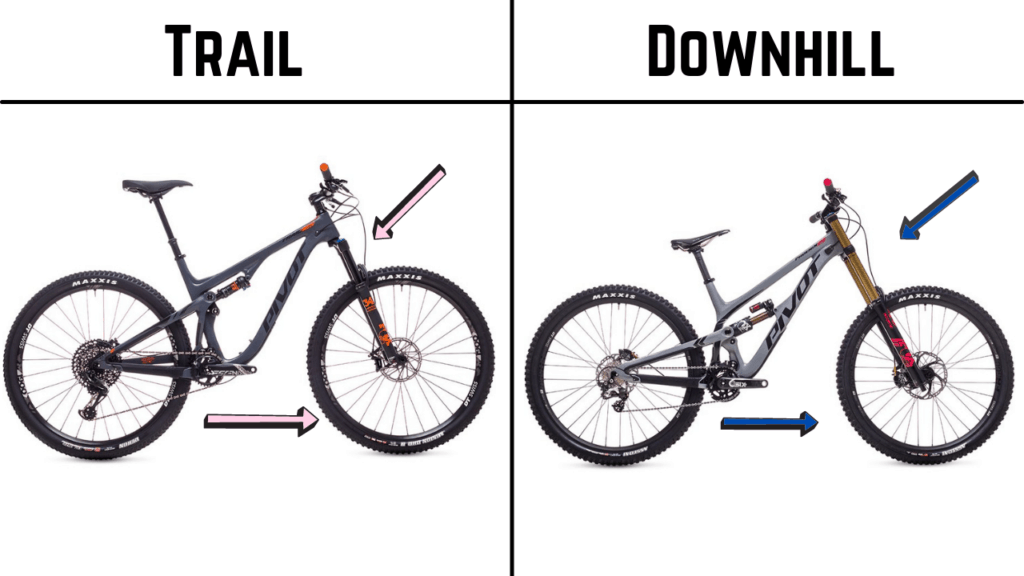 If you don't own one, you can simply rent it. Especially if you are staying at a resort in the mountains. Alternatively, it is easy to book a downhill bike online. It is also a great way to test out whether downhill mountain biking is for you or not. Without having to invest in a new bike straight away you can find out for yourself.
Don't forget to ensure your safety by wearing full body armor. Having a full-face helmet, chest and shoulder padding, leg and arm protection will all allow you to prevent some bad accidents. With the right technique and experience, downhill mountain biking is not particularly dangerous.
Controlling your speed and taking precautions pay off. If you do fall down, having the right gear will help you shrug it off. Again, if you don't have it already, you can always rent it online: better be safe than sorry!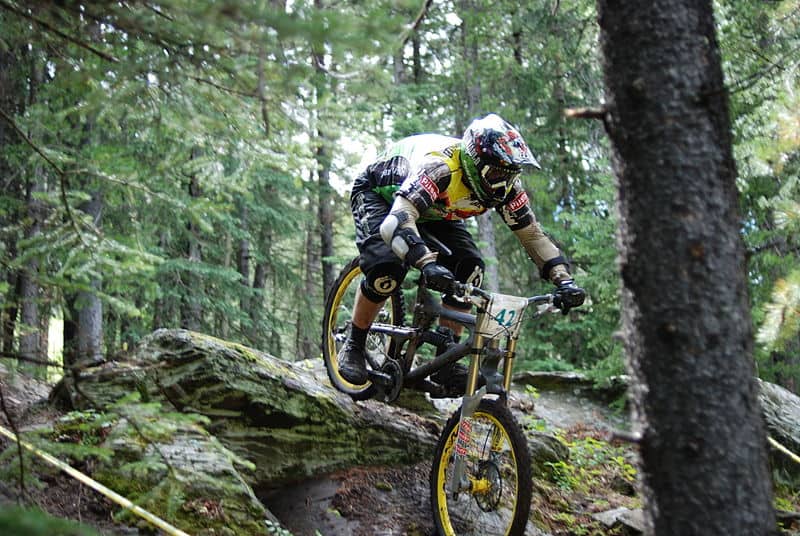 How To Start As A Beginner
If you are new to Downhill Mountain biking you should take a lesson the first time you try it out. Because the technique is a lot different from any other biking discipline and you'll want to master it.
The good news is that most bike parks do offer lessons and package deals for beginners. Most of the time they include bike rental, protective gear, and a lesson. To learn the basics of Mountain biking see our article on Mountain Biking For Beginners.
To start with, you should know about the body position you should take on your downhill mountain bike. You'll have to stand up on a centered position, your elbows open and knees slightly bent.
You should look in front of you and focus on the trail to anticipate any obstacle and master the trail. Needless to say, doing all that is challenging.
Staying Protected as a Beginner
And it doesn't stop here. You'll need to learn how to use your body weight to steer and shift as well as coast and brake. You will also find the right balance to stand on the bike. Most of the time, you'll have to take a lift up and carry your bike with you.
You might be a bit nervous if it is your first time, but you'll earn confidence right away. Once you finish your first downhill trail you'll be jumping for the next ride down.
Don't forget to keep your eyes straight ahead to avoid being caught off guard. Slow down if you feel you can't do an obstacle at the speed you are going.
Of course, the idea is not to start right away without using brakes and travel at the top speed. Instead, find a comfort zone in terms of speed where you feel at ease and that allows you to focus on your balance.
But don't worry about the challenge! Downhill mountain biking is extremely exciting and with practice, you'll probably get to love it too. Because of the good feeling, you might get addicted to Downhill Mountain biking just like many other biking lovers out there.

Conclusion
Downhill mountain biking is fun and adds a new dimension to your biking experience. It provides you with a feeling that you won't be able to have with classic cross-country or trail riding. Starting with this discipline is a great way to challenge yourself further.
There is nothing like the amazing experience of flowing down a mountain at full speed. If you don't feel ready yet, you can adjust your downhill mountain biking experience to your level. You can make it as easy or challenging as you want.
Hopefully, you have the concept of what downhill mountain biking is thanks to this article. We want you to be prepared to take up this wonderful discipline. It is hard to have it all figured it out from your first trial. Make sure you practice, and maintain the right attitude.
And don't forget the right equipment will help you improve your downhill riding and gain more confidence. Just relax and enjoy the ride and make the most out of this spectacular mountain biking discipline!
Below is a Pinterest friendly photo… so you can pin it to your Mountain Bike Board!!