Having some outdoor exercising done during the winter is hard, especially if you are passionate about mountain biking. Luckily, fat tire mountain biking allows you to ride even in the most difficult conditions. But what is fat tire mountain biking? As the name suggests, a fat tire mountain bike is characterized by extremely wide tires that run at low pressure.
Fat bikes are great to be used in the snow. There is a lot more about them that is interesting to know. If you want to learn more about Fat Biking or you are simply curious to discover this discipline, keep reading this essential guide.
What Is Fat Tire Mountain Biking?
Fat biking has quickly evolved over the years. The concept itself has shaken up the industry of mountain biking as soon as it came out. This bike niche has been gaining a lot of traction lately, even though these bikes haven't been around for long.
Because of their versatility, fat tire bikes are often recommended for bikers looking to keep riding during the winter. The tires are extra fat and knobby specifically designed for riding on ultra soft surfaces like snow or sand. Picture dirt bike tires on a mountain bike frame.
The fat tires help to distribute the rider's body weight across a larger area. This helps avoid sinking in the snow and in gaining more traction than with a standard bike. That means that by riding a fat mountain bike, you'll be able to easily go over snow and ice.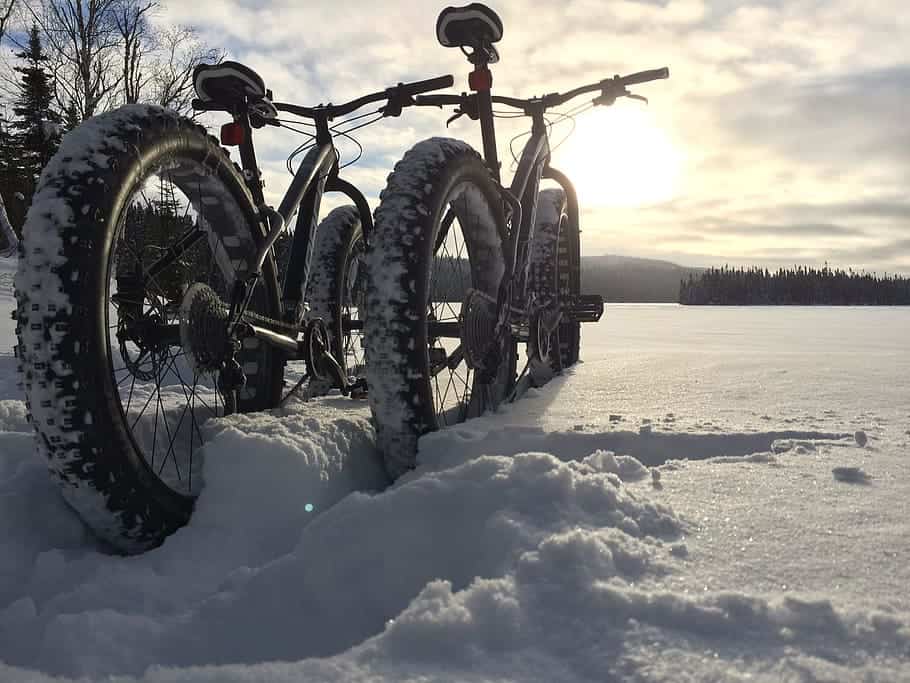 How Are Fat Tire Mountain Bikes Different?
Fat bikes are essentially your best solution if you ever tried to ride a normal bike or mountain bike after a snowstorm. Fat tire mountain bikes were traditionally a lot different and much more "chunky" than normal mountain bikes. Today, newer models are similar to "normal bikes".
The Q factor, which refers to the distance between the pedal attachment points on a bike's crank arms. These are a lot bigger than regular mountain bike. This allows for an interesting ride that would be hard to find on any other bike.
The thicker and wider wheels are what characterize these types of bikes. They provide riders with confidence, thanks to the higher traction that also allows for an enjoyable experience uphill.
Experienced riders tend to deflate their wheels to a pressure point that is lower than normal. This way the bike is better to absorb different levels of snow hardness and other obstacles covering their path. That simply results in the ability to pedal across the fluffiest snow without risking to sink. The pressure of these tires can get as low as 5psi. Keep in mind that very low pressure might damage the rim on technical trails. Also, too much pressure might make the bike feel rigid and bouncy. Usually, 8 to 10 psi is ideal for most riders.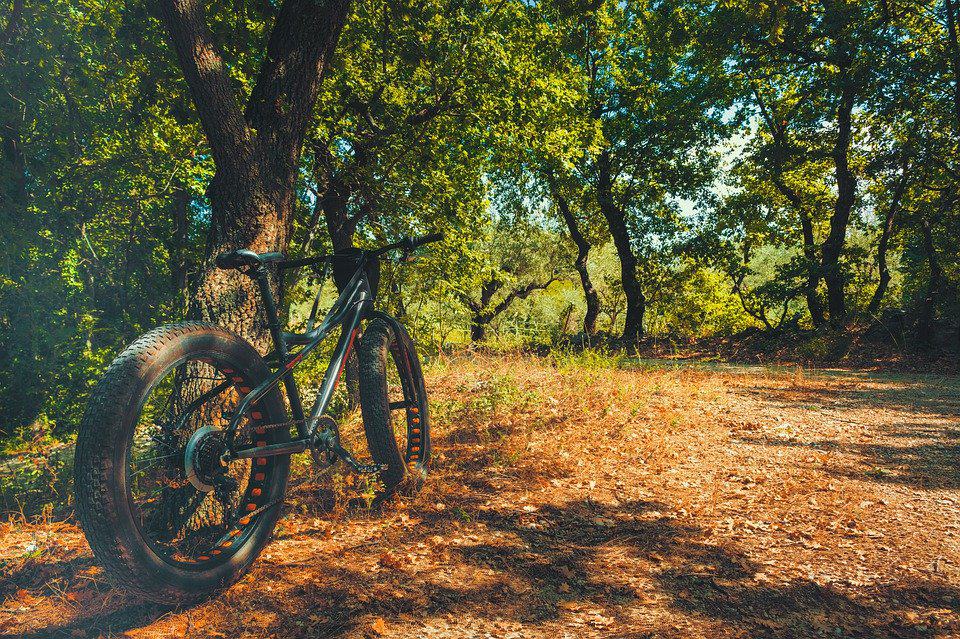 Benefits of Fat Tire Mountain Biking
The benefits of fat tire mountain bikes are not limited to the fact that they allow for touring all year long. Also, fat bike mountain biking is an extremely efficient workout. Fat biking can burn more than 650 calories per hour under normal conditions. When you have to push through thicker snow, those burned calories can double.
Additionally, if you suffer from sensitive knees or have been injured. You might enjoy fat biking as it takes away the joint-pounding that comes with pedaling on the pavement. Another great thing about fat biking is you can take advantage of the downhill parts of the trail. This can be a lot of fun descending with ultra fat tires absorbing the terrain.
Fat bikes were designed to ride on loose terrain like snow but can also be used on hard dirt trails. The tires are so thick that even soft and dry sand won't be a problem riding a bike with a fat bike. If you ever thought to take your time on the beach, well, here is your opportunity to do so!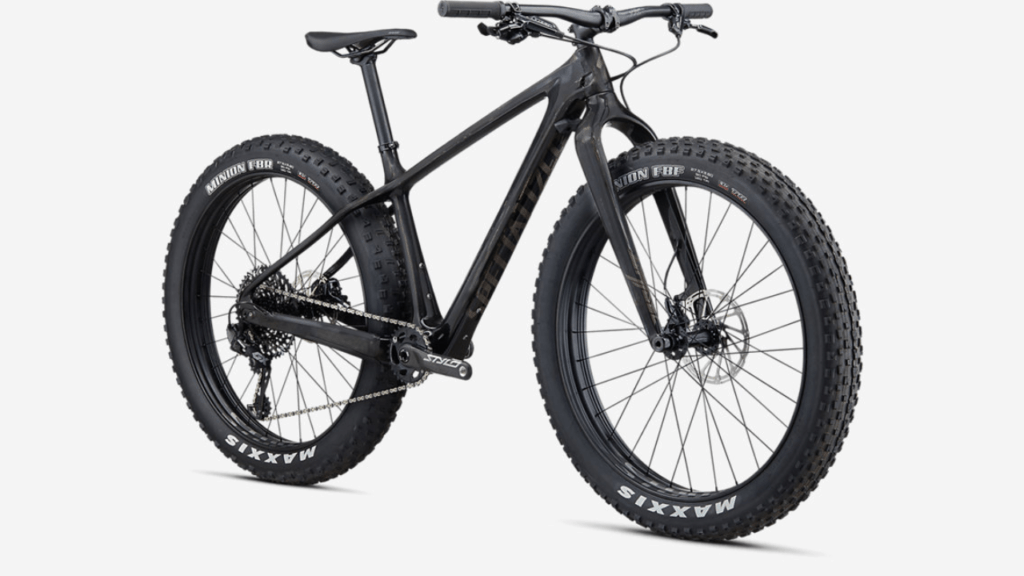 Getting Started with Fat Biking
Riding a fat tire mountain bike is very similar to riding a mountain bike. One difference is going to be the way the bike handles. However, it is better to point out that a slightly different approach to riding will make you get the best out of a fat bike.
First of all, you'll need to stay upright on the bike, to prevent you from losing traction and to sink. Also, you'll need to be very careful when steering and being rather gently instead of turning too quickly. Instead, you should try to anticipate your turns as soon as possible to avoid any sudden changes of directions which might cause you to sink.
If you don't want to invest in a fat bike to start and first want to find out whether you like riding one or not. Consider renting one for less money than buying one would require you. Luckily, the fat bike market has been recently exploding. Today you can find such bikes in almost every material. They have carbon to steel and aluminum, which gives you plenty of options to choose from.
Most of these bikes are fully rigid but some models have suspension forks attached to them. If you are a beginner, fat biking could be a great way to start. These well-balanced bikes are not complex to ride and can be a lot of fun!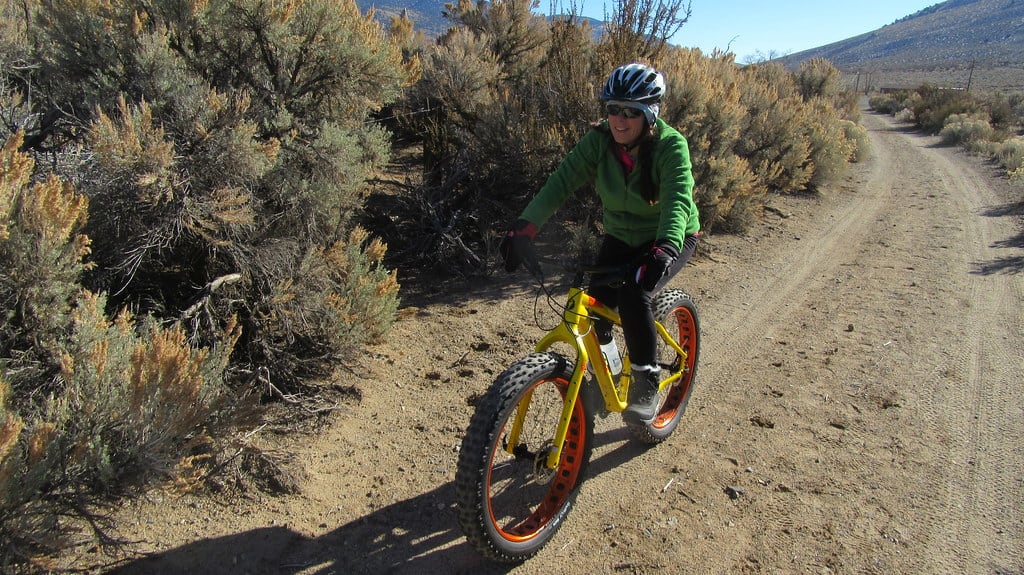 Fat Tire Mountain Bike Competitions
The great news you might want to hear if you are the competitive type is that getting into the fat bike race scene is not difficult at all. For beginners, it is one of the most welcoming ones. If you are based in the US, the biggest race is the Fat Bike World Championship. This competition is hosted in Colorado every year in January.
This race is more of a festival rather than a competition. If you have the chance to do so, it is extremely interesting and fun to participate in. It lasts three days and you'll get tournaments, but also free food and beers. If you don't have the chance to participate in the Fat Bike World Championships, don't worry! You'll be able to find plenty of other occasions and locations to race with your fat bike!
Another resource to find more Fat Bike competitions is to check on Endurancepath.com.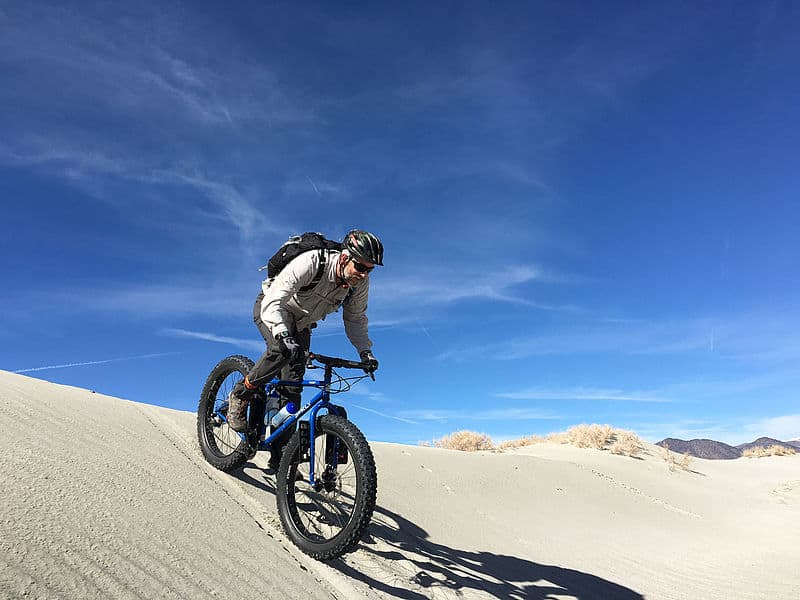 What Kind Of Equipment Do you Need?
Of course, you need to be equipped with a helmet. Indeed, even though fat bike mountain biking is not an extreme sport, it is better to keep safe. Number one is to prevent any issues or bad accidents that transform into disasters. Also, make sure you wear proper attire to allow your skin and your body to breathe. Depending on how long you plan to ride, staying comfortable during your workout makes a difference.
Gear suited for cold weather and snow will be a must. Part of fat biking is riding in the snow and having the proper gear and equipment will be necessary. Nowadays, you might find fat-bike specific apparel in certain shops. Or you can simply get some winter sports clothing to keep warm without sweating too much.
Experts advise keeping your head, feet, and hands warm. Some even suggest dressing as if you're going to ski, but that might be a bit exaggerated. But, hey, after all, it's up to you! Just, make sure you won't suffer from the cold and that you'll feel comfortable while riding.
Gear for Fat Tire Mountain Biking
Consider buying some biking gloves, especially if you are going for long rides. Suffering from blisters on your hands is the worst and easily avoidable. Gloves suited for cold weather will be necessary if your riding in the snow.
Don't forget to bring your water pack and some snacks for ensuring you won't run low on energy during the ride. If you are riding your bike in very cold weather, consider taking an insulated thermos with hot water or tea in it.
The good news is that if you commit yourself to maintain your gear, you might have to make a rather hefty upfront investment at the beginning. This will be more than worth it in the end as it will last you for a long time.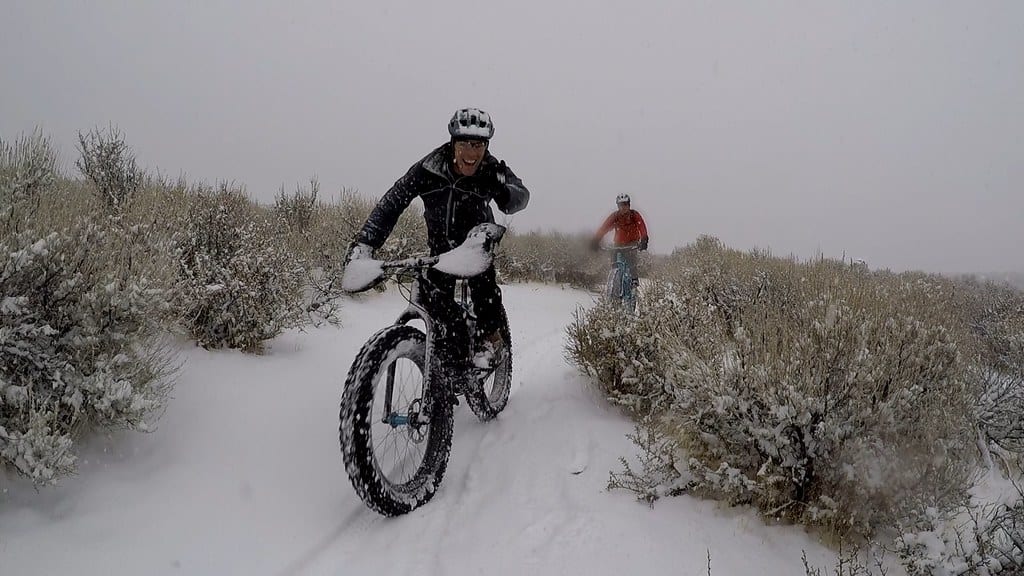 Conclusion
Among all of the mountain bike disciplines, fat bikes might be one of the least well-known among many. However, you should not undervalue this interesting discipline. If you still want to go mountain biking in the wintertime or, if you tend to ride over extremely dirty and muddy trails, a fat bike might be the way to go.
Whether you'll be riding on snow, sand or dirt, the super fat tires of these bikes will distribute your mass over a larger area and prevent you to sink while gaining more traction. There are no limits to mountain biking!
The good news is that Fat tire mountain biking has been booming the last few years. It's easier then ever to find these bikes and the equipment needed to enjoy these rides. You will even start to see more and more people riding these in the trails.
Now that you know a bit more about this mountain biking discipline, you might be interested in trying it out. If that's the case, what are you waiting for? Simply look for some trails and a bike and you are good to go! Who said that mountain biking could be done only during the summer and the spring?
Below is a Pinterest friendly photo… so you can pin it to your Mountain Bike Board!