Thinking about how to build a mountain bike? You need to first contemplate if you can build a mountain bike on your own. If you do it right and smart then yes, you can! But just keep in mind if you're not a metal expert or a mechanical engineer, don't try to mess with the components and frame. Make sure to pick up all the components right down to your seat post clamps and handlebar grips and put them all together.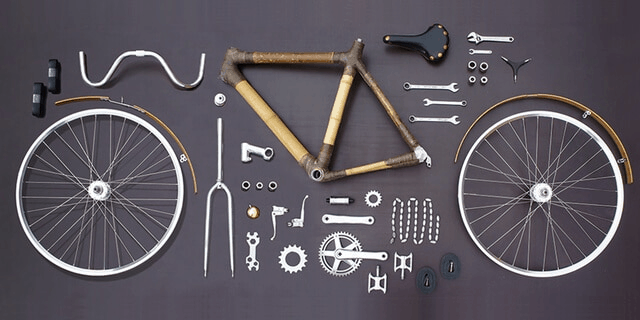 Why Build Your Own Mountain Bike?
Building a mountain bike can be as much of a thrill as riding it. It can be intimidating if you are doing it for the first time. But it will be an experience you will never forget for a long time. We would recommend to have enough riding experience and some experience in working on your bike.
DIY workers will fall in love with the entire process but if you are assembling something for the first time, you need to be careful in each of your steps. Following this guide carefully will get you through the process slowly but surely.
You Will Have A Chance To Learn A Lot About How Your Bike Works
If you are a complete gearhead to start with, there is nothing new you will learn. But for the newcomers, it is going to be a huge learning curve. Building a mountain bike from scratch is completely different than riding it.
It Will Be Among The Coolest Things You Have Ever Done
Once you get started, you might realize the reality is a lot different from what you expected. Still, it would be an adventure like no other. It will be one of the most rewarding things you have ever done. You will feel parental pride once someone compliments you for your ride. Because that is all your hard work which is getting recognition.
What To Keep In Mind?
There are a couple of things you need to keep in mind before you begin your work to build a mountain bike.
It's Going To Cost More No Matter What You Do
Your bike building project will cost you more than your estimation. And it's going to happen no matter how much you avoid it. Not many of the components from your old bike will help you with this project. And this is where you have primarily underestimated your new project. Keep in mind you will end up using all new components in your bike-to-be.
It Is Going To Be A Never-Ending Project
We are not saying that you won't be able to technically complete your project. We are saying that you will keep identifying those potential upgrades and modifications on your every ride. Maybe you want to go for tubeless tires, so it's time to turn your attention to a dropper post.
The Most Suitable Geometries
For building a mountain bike that does well on the terrain, you have to be sure about the right amount of handlebar sweep or stem rise. And to find the correct numbers you can try out different formulas.
But if you don't want to get into the mathematics of your bike, you can use the geometries of your current bike and make adjustments according to your needs. For instance, if you prefer the width of your handlebar in your current bike to be a bit higher, you can choose a stem featuring more rise.
It will bring the handlebar closer to you without altering the angle. If you prefer a different bike from your current one, you may test different bikes. After finding the best one according to your preferences, use its specs as a guide to build your own.
Mountain Bike Build Checklist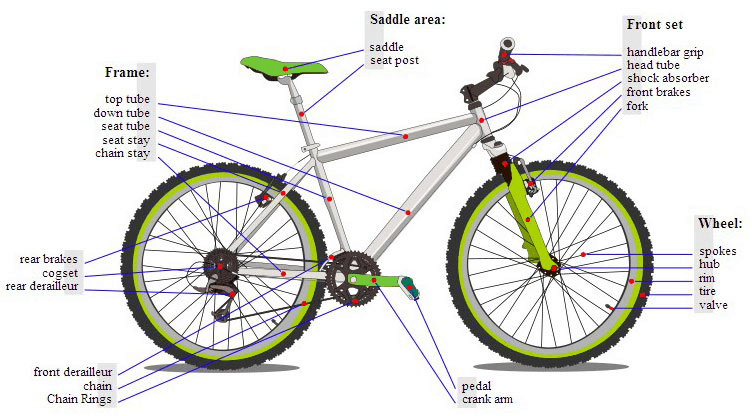 Before you start working on your bike-to-be, you need to gather all the tools and components you will need in your project. If you keep everything at an arm's length, working on your projects will be a lot easier.
Required Tools
Here's the list of tools you will need.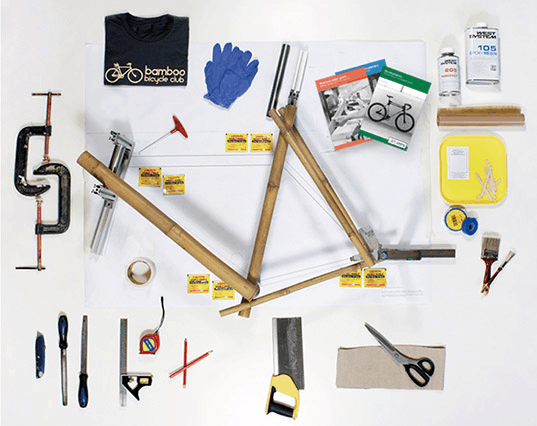 Parts Required
Here's the list of parts required in the building process.
The frame (carbon, steel or aluminum, and dual suspension, hardtail, or fat bike).
Prebuilt lightweight wheelset (exotic wheelset needs special tools for installation).
Derailleur hanger for the rear end to connect the frame.
Rims, spokes, hubs will be needed if you are building your bike from scratch.
Wheel axles will be needed and you can go for thru-axles or quick-release one.
Front fork especially a suspension model but there are different options available.
Headset and the most common one is threadless, for allowing the fork rotation.
Rear shock will be needed if you are building a dual suspension bike.
Handlebar according to the overall geometry and materials.
A stem that will attach to the handlebar and its angle and length is going to be crucial.
Handlebar grips according to your personal preferences.
Brake levers and shifters that you can buy separately or in a set.
Brakes along with brake pads according to the different types including cantilever, discs, or v-brakes.
Seat post including the regular one or the dropper post and looking for the right materials including carbon fiber or aluminum.
Seat post clamp where you can shave off some grams from the overall bike weight.
Crank arms can also be part of a groupset.
Chainrings or the cogs that are there on the front and that can also be a part of a group setting.
The bottom bracket is the pace where your cranks go and need to work well with your frame and it should be solid.
Chains come with groupsets and SRAM and Shimano are the leading brands.
Cassette goes in the rear end and it is a cluster of cogs and can be part of a groupset.
Rear and front derailleur that focuses on performance and they can be part of one of the above groupsets.
Cables & housings will be needed for the non-hydraulic shifters and brakes.
Tires come in a range of options and you can pick a pair according to your riding style and terrain that you prefer to ride.
Pedals, either clipless or flat and you can pick a pair based on the terrains you ride.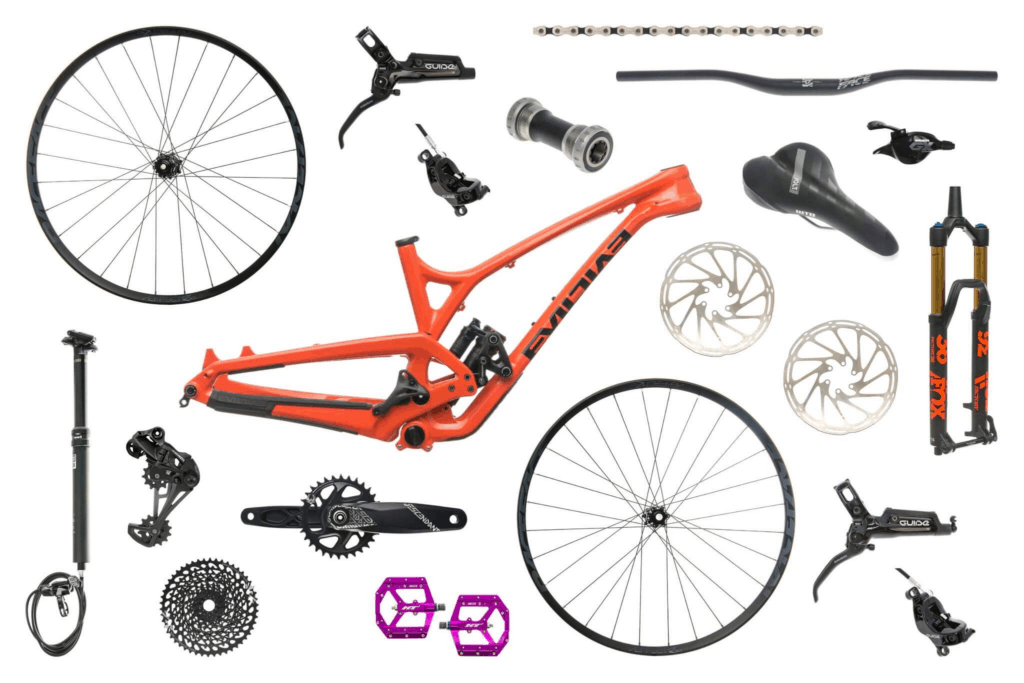 Let's discuss these points briefly one by one.
Mountain Bike Frame
You have to decide what type of frame you will need for your bike. You have the option to go for dual suspension, fat bike, or hardtail. For rough trails, you need it while a fat bike is suitable for soft dirt and loose soil. A Hardtail will be suitable for all trails but if there are no potholes in your way you may choose rigid with no suspension.
Derailleur Hanger On The Rear End
It's time to address the question of how to build a mountain bike from the frame up. A derailleur hanger is a small metal component connecting the frame with the rear derailleur. It is there to bend/break when you smack the derailleur during your ride. It will allow your frame to be safer during those wild rides. The derailleur hanger is more part of an upgrade than a mandatory setup.
Wheelsets And Wheels
It is better not to build the wheel for your mountain bikes because getting those spokes, rims and hub will need a lot more skills and experience to get the best result. If you have done it before only then you can choose to work on it again. But it will unnecessarily increase the duration of your project. There are different types of wheels available. Just make sure you pick the right one that fits with your cassette.
Wheel Axle
You have the option of going for the axle or quick release. Quick-release wheel axles are going out of trend rapidly but they allow to quickly attach the wheels on your bike. There is a lever that opens to remove the wheel from the frame dropout or U-shaped fork. On the other hand, thru-axles have frame loops or closed fork for insertion and adjustment. They are better in terms of stability and handling.
Headset
It is a collar-like part that goes into the vertical front tube and the fork slides right into it. Modern MTBs have threadless headsets and the set of bearings are held together with pressure instead of a thread. The pressure is created by the cap bolt that screws into the steering tube.
Forks
There are different kinds of forks and none of them can be considered as all-rounder. For free riders, go for forks that have plenty of travel. Make sure the fork set is compatible with your wheel size.
Rear Suspension
The suspension set on the rear end also comes with several options. And your purchase might also include rear shocks. You will have to be a lot more careful to fit the rear suspension in your dual suspension bike because of the space available.
Stem
It is a tube that connects the handlebar of your bike. You need to choose the right stem based on its angle and rise. Moreover, you can go for a stem that provides you with a drop and not arise. You will need to pick the right stem based on your frame geometry.
Cross country stem comes with a 30-degree drop and ranges from 80mm to 120mm in length. The trail stem comes with a 0-degree to 6-degree rise and is 50mm to 70mm in length. Downhill stems come with a 0-degrees rise and have 40mm to 50mm length.
Handlebars
Different types of handlebars are available in terms of dimensions, materials, and geometry. For cross country racing straighten handlebars are better for free-riding, riser bars are suitable.
Different Groupsets
If you are building a mountain bike for the first time or don't have much experience under your belt, choose different components in groupsets. Some manufacturers can provide you with a range of different components.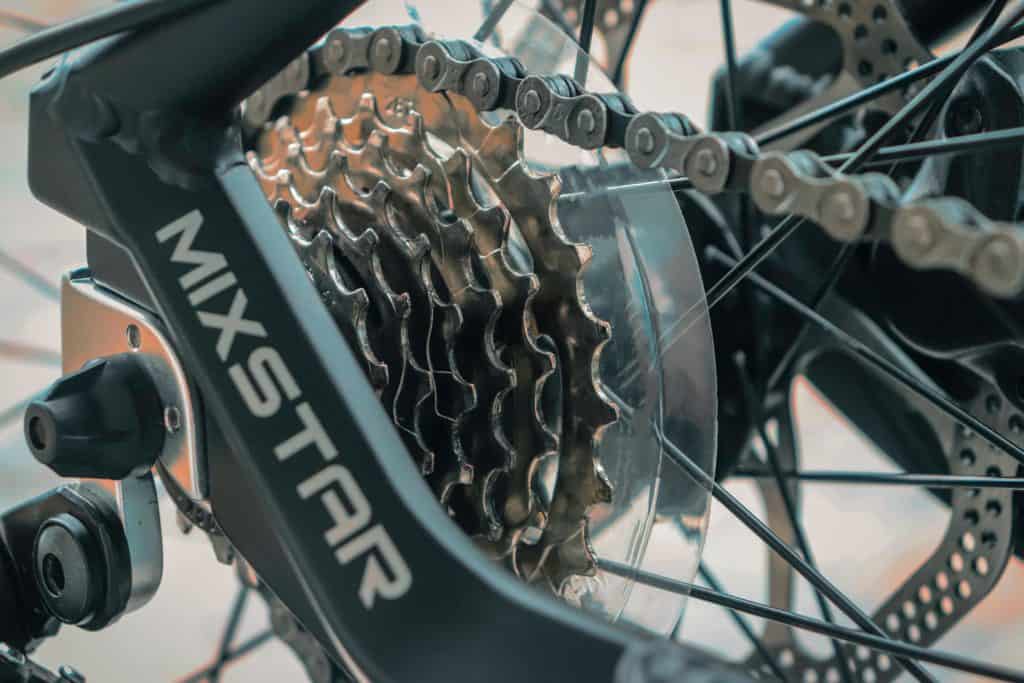 For instance, Shimano makes XT groupset that includes a chain, cassette, chainring, crank arms, shifters, bottom bracket, brake levers, rear and front derailleur, and rotors for disc brakes. All these parts are designed to work with each other.
So, compatibility will not be an issue for you. Even if you don't have much experience in bike building this compatibility is going to save a lot of your time.
Handlebar Grips
The grips don't have much importance but they serve to be your bike contact points so they need to be most comfortable for you. Don't go for something too cushy or your hand will get tired of the large diameter.
Brakes
Disc brakes are far better than others and available in separate groupsets. So for compatibility, you can again go for SRAM, Shimano, Hayes, or others. Everything will be available in the groupset for easy installation.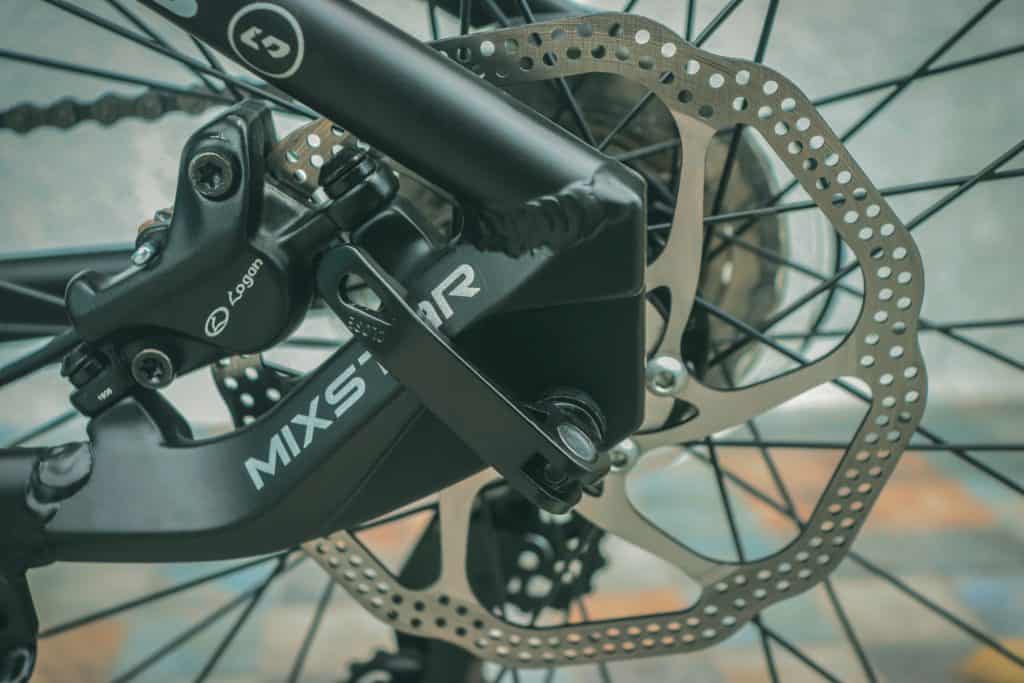 Seat and Seat Post
The seat is your other contact point with your bike and should be extremely comfortable according to your preferences. Choose something that makes your sit bones extremely comfortable. But don't go for something bulky or it will make movement difficult.
For the right seat post, you need to find out whether it will fit your seat and frame or not. These seat posts are made of different materials including carbon fiber, titanium, and aluminum. Extreme terrains will need a dropper post as well which collapses when you activate the lever mounted on the handlebar.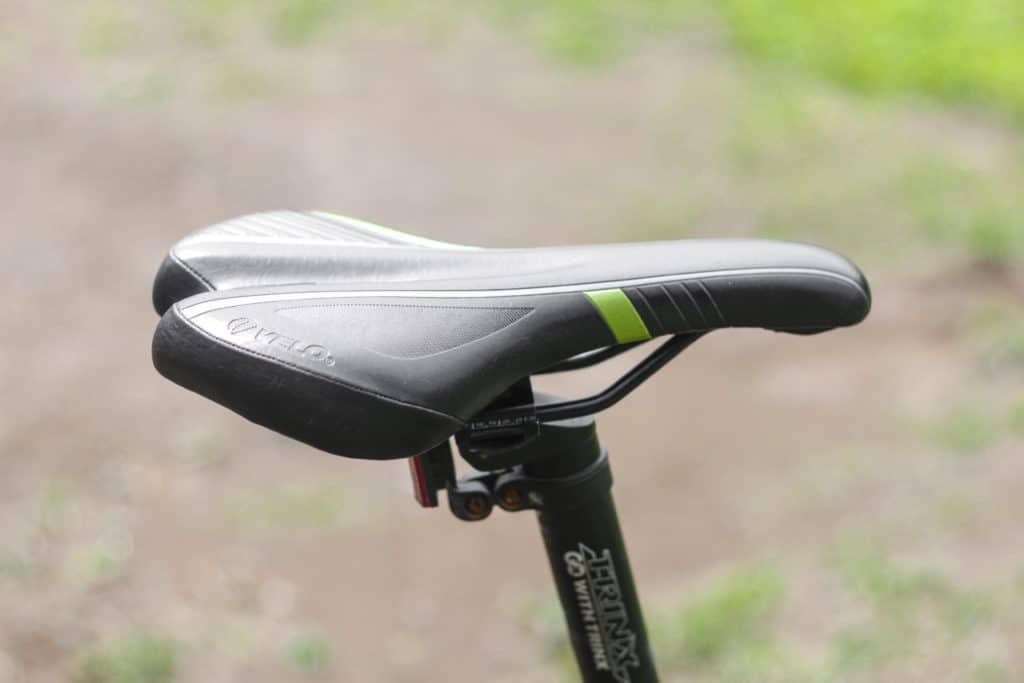 Bottom Bracket
It is a component present inside the lowest part of your mountain bike. Your crank levers link with this bracket so don't skimp on quality. Bottom brackets take a lot of beating. Make sure the bracket is fully compatible with your frame.
Crank Lever
Crank levers are also included in the groupsets but you might want to pick the right length. The standard length here is around 175mm. According to some MTB experts, this length relies more on foot and femur length. Shorter riders should go for shorter cranks but that is not always the case.
Pedals
Flats like the RaceFace Chester Pedal Black and clipless like the Crankbrothers Doubleshot Hybrid are the two most common options available here. If you already have preferences, go with that set. If you like to explore different pedal types, you might end up benefiting from diverse riding possibilities. But you will need special types of shoes and cleats to go with clipless pedals.
Tires
You need to choose the right kind of tire based on the terrain on which you ride mostly. Rail trails require semi-slick or sick tires. Cross country riding needs lightweight and low-profile tread. Rail trails require semi-slick tires like Sunlite K847 or slick tires like WTB 2.2.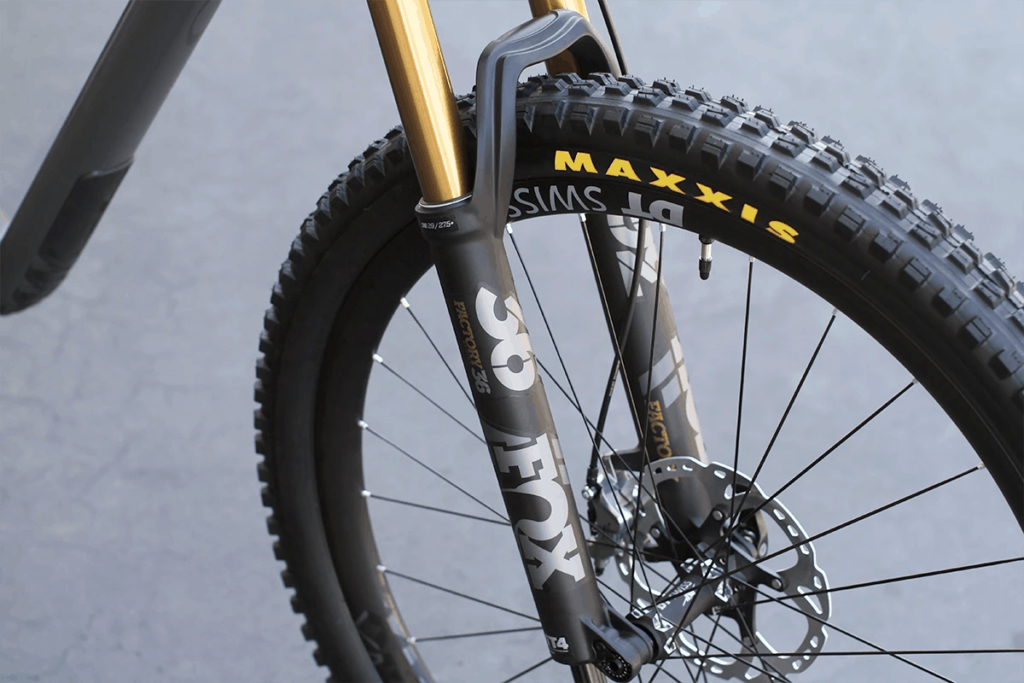 Freestyle riding requires sidewall reinforcement and aggressive knobs. Mud riding needs even higher knobs for mud shedding along with a narrow profile for digging down or floating fat bike tires. Maxxis has become one of the most popular brands with great options like the Maxxis Minion DHF.
Final Word
Building a mountain bike is not much rocket science. But you still need to do it with a lot more care and attention, if you want your setup to be error-free. Make sure you have all the tools and components to avoid any inconvenience. 
It will be a learning curve for you which will be nothing less than an adventure. But when all is said and done, the satisfaction is priceless. To build a mountain a mountain bike will be a huge accomplishment that you can do!
Below is a Pinterest friendly photo… so you can pin it to your Mountain Bike Board!