One of the most common topics in the biking world is "hydraulic disc brakes vs. mechanical disc brakes." And so it should be because most of the bikes either come with hydraulic disc brakes or mechanical ones.
Hydraulic disc brakes are the dominant of the two. These brakes are complex but reliable. However, mechanical brakes are under-performing but straightforward than their counterparts. So, which one will be better for your bike?
Keep reading to learn all about it.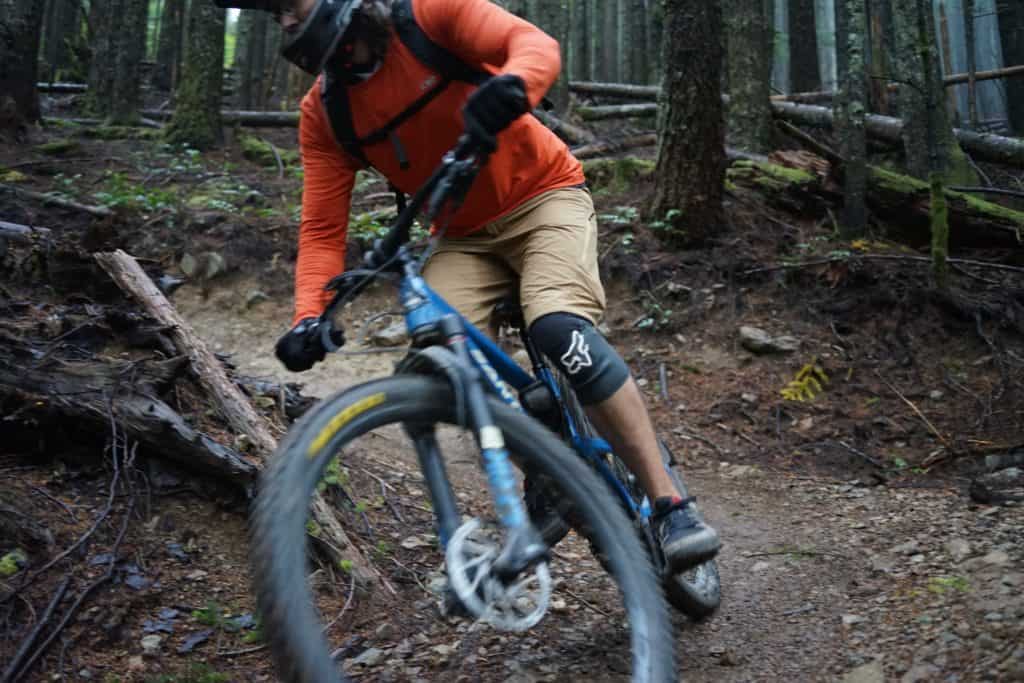 Hydraulic Disc Brakes vs. Mechanical Brakes Overview
Mechanical
These mechanical disc brakes are much easier to maintain even if you don't have much experience in bike repairs, and you will have to do the maintenance work quite frequently. In addition, these brakes are good enough to work for most touring applications.
You will have a more on/off braking feel when you press or release it. There won't be any blending to control the pressure. These brakes have very little chance of failing on your tours to remote areas. And the best part is that these brakes are cheaper as well.
Hydraulic
Hydraulic disc brakes can self-adjust, and they don't need much maintenance either. They are great for effortless braking and are much more responsive and robust than mechanical brakes.
As soon as you press the brakes, the braking power will gradually deliver to the wheel to prevent any skidding from happening.
Any leakages from the piston or cylinder might render these brakes useless. However, they have a sealed system, and therefore, they perform exceptionally well in poor road or weather conditions.
Are Hydraulic or Mechanical Disc Brakes Better?
They both serve different purposes. If you are more into a simpler brake, go for the mechanical brake. You don't have to be an expert to fix these if they break, but you will have to go for frequent repairs and adjustments.
On the other hand, hydraulic brakes can be costly, and they need proper expertise for any adjustments or repairs. You need to be an experienced repairman to deal with these brakes. So, they are more complex, but hydraulic brakes are great for performance and reliability.
If you frequently ride in harsh conditions, you need to consider using hydraulic brakes and know how to repair them or bleed the brake lines. However, for normal conditions, the mechanical brakes are more suitable. This is especially the case if you don't have much experience handling or repairing your bike's brakes.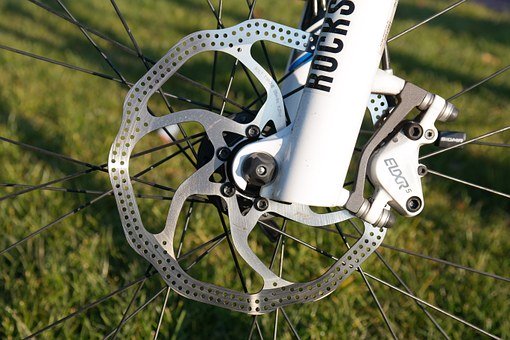 What is the Difference Between Hydraulic and Mechanical Disc Brakes?
Hydraulic disc brakes vs. mechanical, to understand the difference between the two, you must understand the difference between disc and rim brakes. Bike brakes work by pressing a pad against the wheel surface. It stops the rotation of the wheel as friction is created.
The primary difference between the rim and disc brakes is where the fiction is created. Rim brakes directly apply force on the rim's flat size. At the same time, disc brakes apply force to the rotors that are attached to hubs.
Both mechanical and hydraulic brakes have their rotors bolted to the hub of your bike, and they spin with the wheel. Brake pads mount in the calipers, and the rotor spins when your pedal.
The clipper pushes a mechanism into the rotor with a piston, and it squeezes the brake lever. With the friction, the wheels slow down. 
Now mechanical disc brakes have steel cables, while hydraulic disc brakes have a brake line that is filled with fluid. Depending on the type of brakes you have (SRAM or Shimano) you will have DOT fluid for SRAM or Mineral oil for Shimano. When pressing the level of a hydraulic brake, a plunger pushes the brake fluid directly from the main cylinder, creating inline pressure.
This pressure pushes the piston on the brake calipers and pushes the pads against the rotors. It happens because the fluid doesn't compress. This braking system is very similar to the one present in a motor vehicle.
Now, mechanical disc brakes activate with the help of a steel cable. They work just like those conventional rim brakes. As soon as you pull your brake lever, the wires get pulled, and it goes all the way to your bike's brake caliper.
The movement in cables moves the lever that is there on a caliper, and the piston is pushed. The piston brake pads are pushed against the rotor to create friction, stopping the wheels from rotating.
Are Hydraulic Disc Brakes Reliable?
Hydraulic disc brakes are significantly more reliable than their mechanical counterparts. In addition, they produce a lot more stopping power than the mechanical disc brakes, and you don't have to put in much effort to repair or maintain them.
There is a reason why hydraulic brakes are way more efficient and reliable than mechanical brakes. Using fluids like Finish Lines DOT 5.1 Brake Fluid the hydraulic braking system multiplies the overall initial force that you apply on the lever.
So, this system produces more stopping force, and your bike's braking system becomes more responsive when you have hydraulic brakes on your bike.
Moreover, brake fluid doesn't tend to compress, and it produces almost zero friction. As a result, the force almost freely travels down the brake line, and none is lost within the system.
This makes the brakes extraordinarily responsive, and you won't have to put in much effort to get a good stopping response.
On the other hand, mechanical brakes are not very reliable because the force that travels down the line is less effective. This is precisely why you will have to put in more effort when you are using mechanical brakes.
In addition, the cable going through the house also creates some friction, and some of the force wastes there.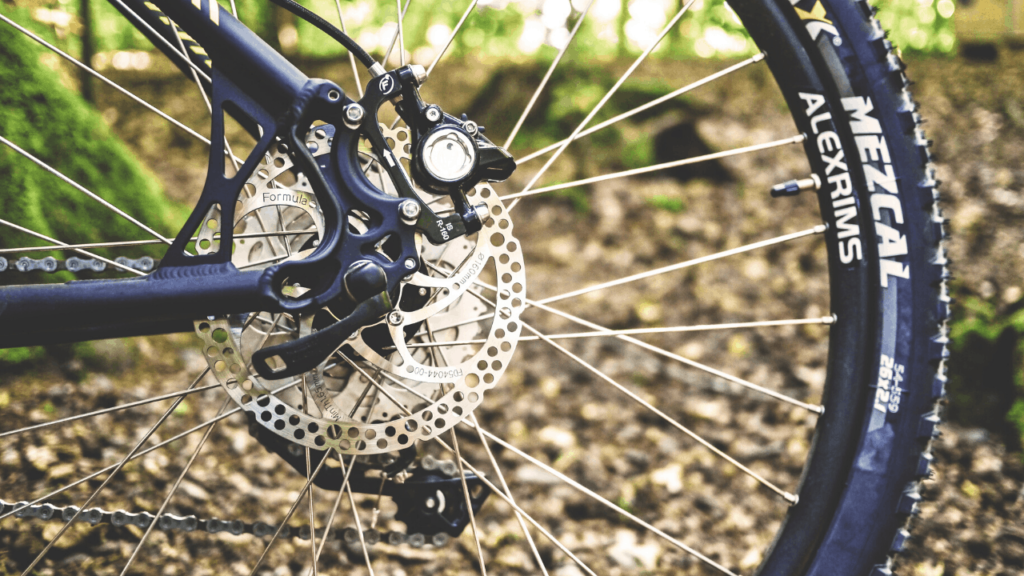 What are the Advantages of Hydraulic brakes over Mechanical?
There are various advantages that hydraulic brakes have over mechanical disc brakes. These are as follows,
Hydraulic brakes have much more stopping power and are more responsive than mechanical disc brakes.
When it comes to brake maintenance, hydraulic brakes are better because mechanical brakes require frequent adjustments and repairs.
The hydraulic braking system has fluid in it, and it accurately channels the force you have applied to the brake pad in the end, which makes it far more accurate than mechanical disc braking.
Another advantage of hydraulic brakes is that they are much lighter than mechanical ones because mechanical ones have a steel cable while hydraulic brakes have fluid.
Hydraulic braking systems are much more consistent and smoother to operate as compared to mechanical disc brake systems. The braking force is much more predictable than the mechanical system's applied force in the hydraulic system.
As hydraulic brakes are more responsive, you can ride faster with more confidence, and your hands won't get stiff after a long biking session because hydraulic brakes are very smooth and soft.
Due to their advanced technology, hydraulic brakes are high-end and expensive options, and therefore, they are preferred by experts and pros.
Hydraulic disc brakes are designed for much tougher conditions and are suitable for experts and professional riders.
How Long Do Hydraulic Disc Brakes Last?
Both hydraulic and mechanical disc brakes use similar brake pads like these from Shimano. This is one similarity between these two types of brakes. In addition, these pads are the most wearable and most replaceable part of both these brakes systems.
But how long do these pads last depends on how much you ride and the conditions in which you mostly ride? They wear out due to the rubbing that occurs between the pad and the rotors.
How you brake and the terrain you are also riding directly impact the overall lifespans of these hydraulic disc brakes.
There are resin pads available, and they are also called organic pads. They tend to last from 500 to 800 miles. However, sintered pads can last from anywhere between 1000 miles to 1300 miles. When the brake pad surface is only 1mm thick, you need to go for the replacement.
How Long Do Mechanical Disc Brakes Last?
Mechanical disc brakes also have similar types of brake pads. So, they are equally vulnerable. You can either go for sinerated pads like the SRAM G2 Guide/Trail Disc Brake Pads or resin pads like the TRP Tektro Resin Semi Metal Pad. How quickly they tend to wear it will depend a lot on your brake, the terrain you are riding, and how much you press the lever when riding.
Because of the uneven braking with mechanical disc brakes, these pads tend to wear out differently from different areas. This reduces the overall responsiveness of your braking mechanism.
But in most cases, resin pads tend to last from 500 miles to 800 miles, and sinerated pads last 1000 miles to 1300 miles. But if you ride a lot, then these numbers can vary significantly.
Mechanical disc brakes are much easier to repair and maintain, so that you can do it regularly. Therefore, you will notice that the mechanical system needs more maintenance.
But it's the pads that tend to wear out quickly, and you need to replace them before your braking system loses its integrity.
Conclusion
Hydraulic disc brakes vs. mechanical disc brakes is a hot topic because the braking system is frequently used. Some riders prefer to go for ease of use and simplicity, while others prefer complexity and sophistication.
But disc brakes are significantly more effective than rim brakes. So, the hydraulic disc braking system is relatively extraordinary, and that is why it has been quite frequently used by bike manufacturers of today.
These brakes are highly responsive, and they increase your stopping power as well. The brakes are much easier to use, and you don't have to put too much effort into the lever. Repair and maintenance need some expertise, but they do it with every penny. That's a wrap on hydraulic disc brakes vs. mechanical.
Below is a Pinterest friendly photo… so you can pin it to your Mountain Bike Board!