Mountain Biking for Beginners and getting your first mountain bike is usually quite exciting. These bikes bring a whole new level of satisfaction. They are different from road bikes due to their unique characteristics and features. Their tires are thicker to help you achieve maximum stability, protecting you from the rough terrain. Mountain biking for beginners can be extremely rewarding and a endless amount of fun.
Today's bikes are also loaded with awesome suspension systems, which act as shock absorbers giving you the level of comfort you need while spending a day out riding in the trails. You also get a better view then road bikes since you will be facing forward rather than downwards. Sorry road bikers:)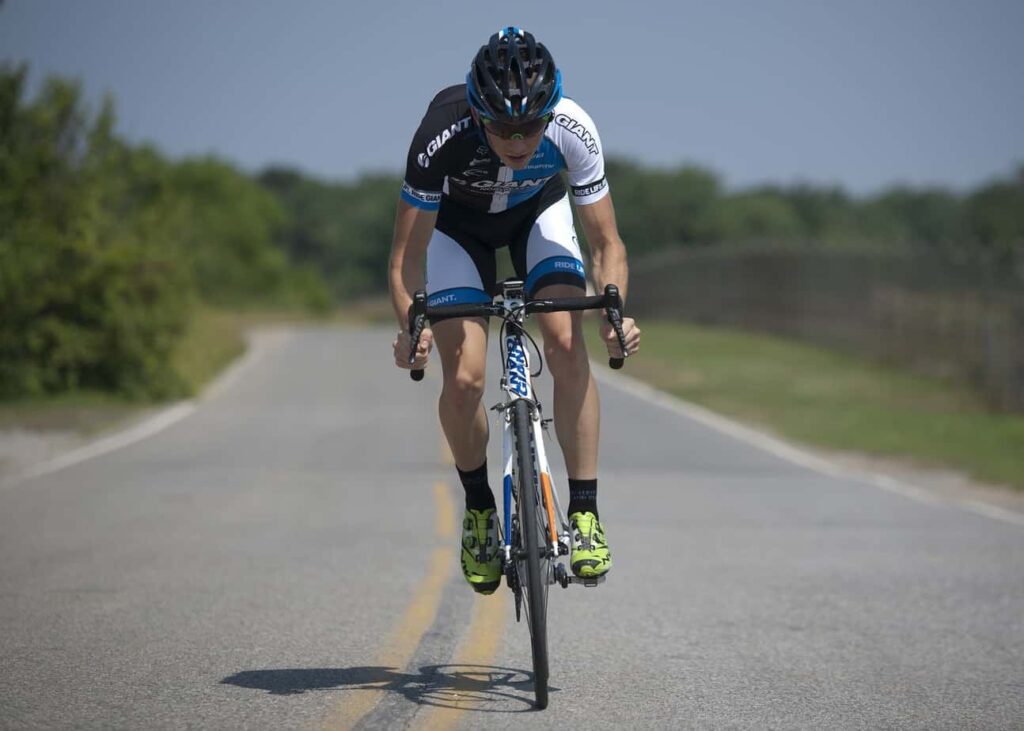 For a beginner, there are a number of things that you need to know regarding these bikes and getting started. This article will guide you, as you take your first step into a world of fun with your bike. We will look at the type of bikes, different styles of riding, gear you need and where to ride your bike to get you on your way as a beginner mountain biker.
Types of Mountain Bikes For Beginners
Mountain biking for beginners starts with learning your options and what interests you the most. As a beginner, you need to have in mind the types of mountain bikes available.
Rigid Bikes
One of the conventional mountain bikes we have around is the rigid frame bike. Rigid bikes come without any suspension on the front or rear.
These bikes are not as smooth compared to a bike with suspension but can still get the job done. If you are just starting out and only have access to a rigid bike, give it a shot. You can always upgrade to a full suspension or hardtail described below.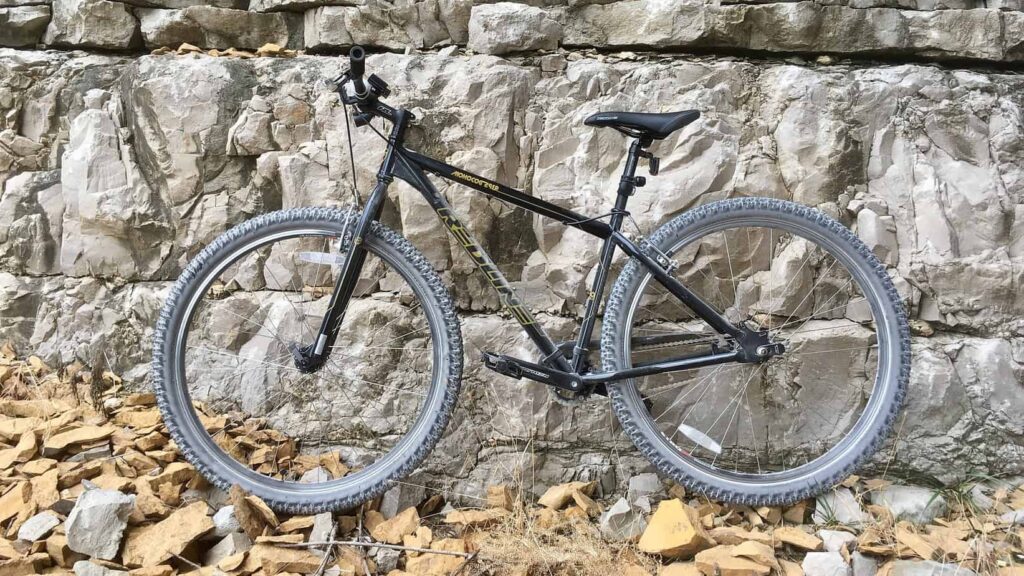 Full Suspension Bikes
Unlike the rigid mountain bikes, full-suspension bikes are equipped with suspension both on the front and back. They are well suited for trail riding and give you the smooth ride you're looking for. The level of suspension on these bikes also makes them ideal for tricky and more technical terrains.
There are certain disadvantages associated with these bikes. One, full-suspension bikes cost more and can be more pricey.
Secondly, these bikes can be heavier, mostly because of the suspension systems and can be harder to maneuver as a beginner. These two are some of the factors that you will need to consider before buying a bike. 
Depending on your type of riding style these are mostly preferred and best for most trail riding.
Hardtail Bikes
This third category is quite friendly. These bikes have suspension shocks on the front fork but none in the rear. They also cost less than the full-suspension bikes and can be a good choice for your first mountain bike. The hardtail bikes are also lighter, and therefore could be easier to maneuver. Most Cross Country Riders choose these bikes.
If you want to save money and get quality at the same time, you know where to turn to. I would recommend starting with a Hardtail as a beginner before moving up to a full suspension bike.
Tire Sizes for Beginners
Most bikes use to be 26in wheels and now we have more options. This can sound confusing but we will break it down for you.
26in: These are still an option and best for maneuverability but poor at rolling over terrain like logs or rocks.
27.5in: A lot of hype has been around the 27.5in giving its maneuverability and ability to roll over obstacles like a 29in wheel. Most Enduro style and downhill bikes have been using this wheel size.
29in: If you're looking for the best size wheel to roll over obstacles then look no further than the 29er. These are the biggest wheels available for trail riding and give you the ability to roll over logs you couldn't with a 26in wheel. A couple downsides with these are the weight and lack of maneuverability compared to a 26in wheel.
Any of these sizes are good for a beginner but with today's options, stick with the 27.5in or 29in. You can't beat the roll it gives you over obstacles.
Riding Styles for Beginners
Here are some of the most popular mountain bike riding styles.  This will give you an idea where to start when you begin looking for a bike. 
Downhill
This style, Downhill also referred to as park style usually occurs during summer depending on where you live geographically. It happens at lift-serviced bike parks at the local ski area for those with downhill bikes. These bikes boast of a superb suspension different from trail riding which makes them highly suited for this type of riding.
Full face helmets and protective gear like knee and elbow pads are worn when you're riding downhill style. You should note that this type of biking can be risky.  Make sure you take your time to learn how to ride before jumping into downhill biking.
The best bikes for this type of riding are the full-suspension bikes designed for rugged terrain and equipped to embrace the force of downhill riding. 
Enduro Style
Also known as the all-mountain style, the Enduro style originated in France and is derived from a special form of motorbike racing.  Enduro/all-mountain has become increasingly popular and growing worldwide due to its excitement and competitiveness. It's a combination of riding techniques where the downhill racing sections are timed and uphill's are not.
This style of riding also requires a lot of wit since it is pretty aggressive. Bikes that are used for this riding style are usually well equipped for traveling up and downhill. These bikes are like a mix of a downhill and trail bike with full-suspension.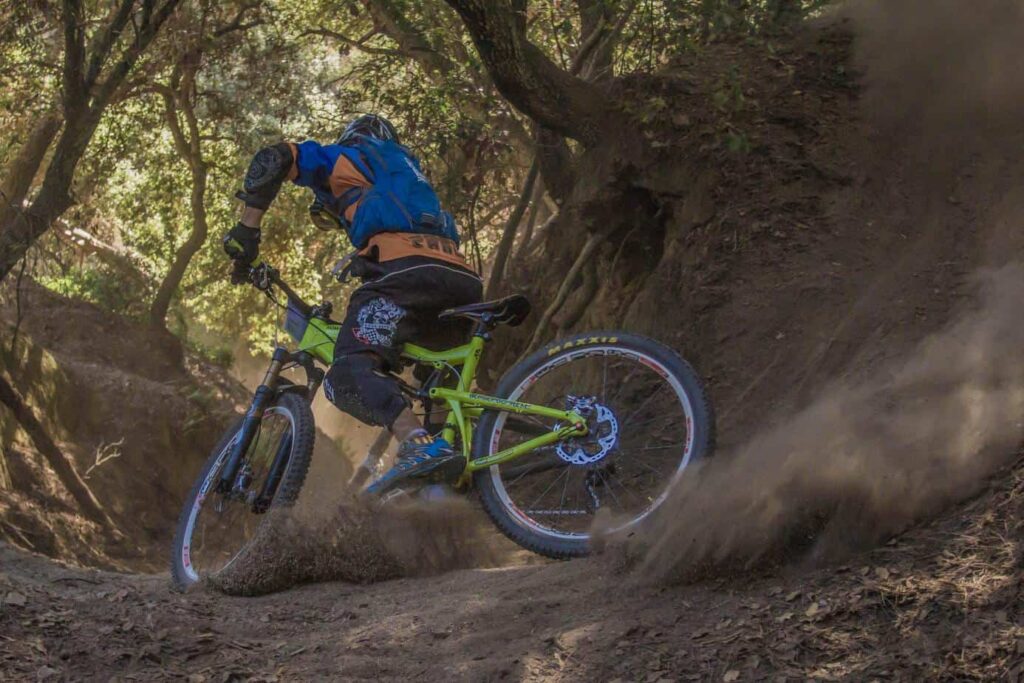 Trail
Trail biking, just from its name, focuses equally between advanced downhill riding and uphill cross country terrain. It is the most common biking style for mountain biking for beginners. Trail riding is perfect for taking a quick ride with friends, by yourself or meeting up with a group.
Most mountain bike riding falls under this category. This biking style also offers you a variety.  Depending on where you live, you can hit the trails at a local park or known bike trail.  With trail riding you can start with almost any style bike, from rigid to full suspension and is why I recommend it as a beginner to start here.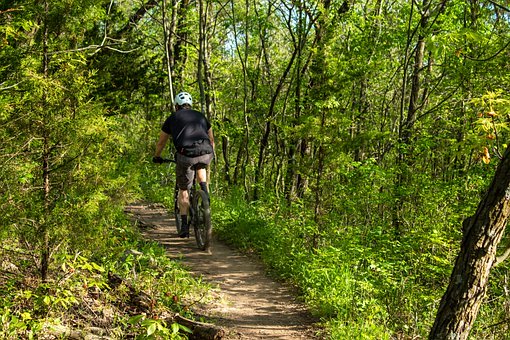 Cross Country
Commonly known as XC, this biking style focuses mostly on climbing and acceleration. It takes place in the back country occasioned by longer, unforgettable rides. Keep in mind that there are XC bikes that are purely meant for this riding style and are more rigid for sharper handling.
These bikes are lighter and endowed with a smooth-shifting ability. The best bikes for cross country riding are the hardtail mountain bikes.
Fat Tire or Fat Biking
Fat biking is a relatively new riding style for mountain bikers, which you may want to explore. These bikes are made to ride over snow and sand which also calls for a super huge tire that offers the best grip to keep you stable.
The tires are designed for a low ground pressure that gives you better traction. Picture dirt bike tires on a rigid frame mountain bike.
As a beginner you can look into using these bikes as they are forgiving and can be a lot of fun.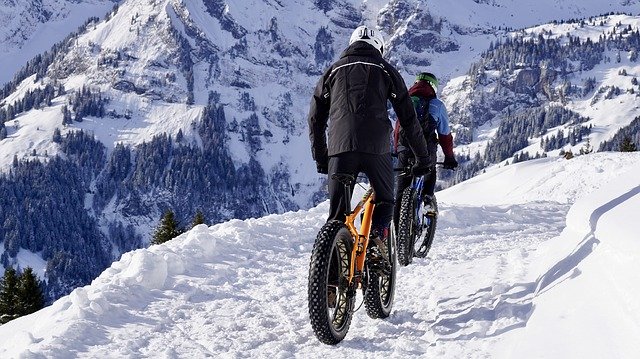 Essential Gear for Beginners
As with most sports or hobbies you need the right gear.  You don't want to be a few miles into a trail and not have the right equipment or be uncomfortable.
Mountain biking for beginners can be challenging and dangerous with out some of these items.

Helmet
The helmet is a crucial piece of safety gear when mountain biking and is a must have. Make sure that you settle for a lighter and well-ventilated helmet that will give you maximum comfort as you ride.
The helmet should also offer you a tight fit and sit well on your head.  Helmets range in price but are worth every dollar you spend on them. For more on helmets see our post on the top 10 here.
Gloves
Gloves are also necessary when riding. Mountain bike Gloves help avoid developing blisters. Ensure that you wear gloves all the time when you ride.
There are different types of gloves available for mountain biking. I would suggest that you settle on the full-fingered gloves which provide maximum protection from blisters.
When settling for the best glove, make sure that you get one that is well ventilated, well-fitting, and offers the best grip.
Water Pack
Staying hydrated is a must when your mountain biking. Hydration packs work great and give you the ability to hydrate while you're riding.
By hydration pack, I do not mean a water bottle, Make sure that you settle for the best hydration backpack that will also help you store extra gear.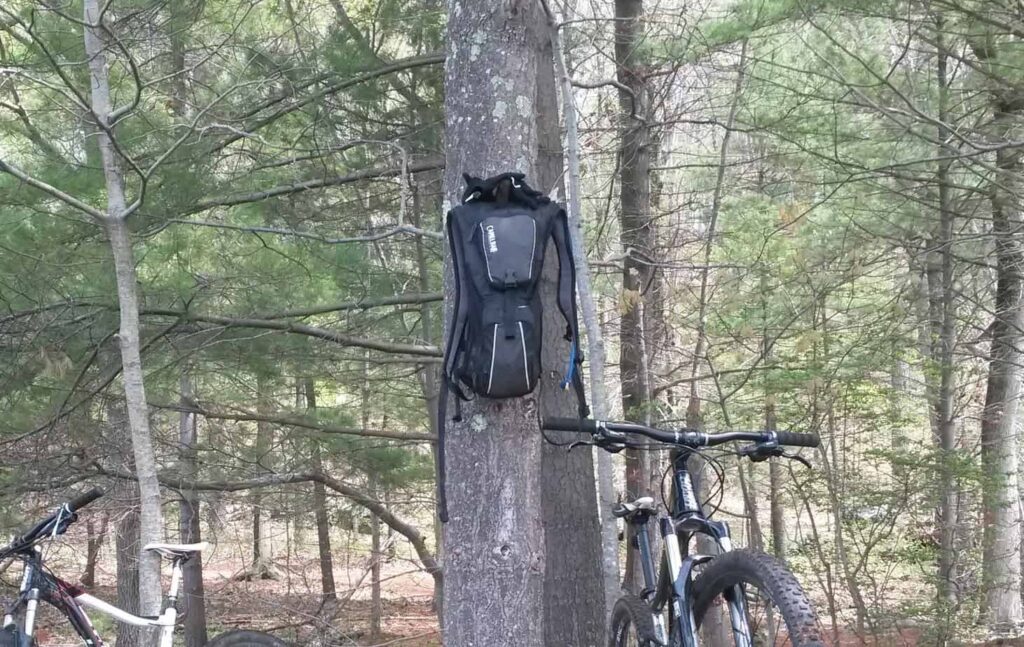 Hand Pump
Like with any tire, you will eventually get a flat.  Your water pack will be a good location for this or you can mount it to you frame. You can find small portable hand pumps or get the CO2 cartiridge hook up.
Tubes
Unless you're riding tubeless you're going to need extra tubes to replace.  Make sure you get the right type and size.
Repair Kit
The repair kit will come in handy when your replacing your tubes or tightening up any components on your bike. Multi tools are great to have with you in a pinch.
First Aid Kit
When your stuck a few miles into the woods you'll wish you had this.  Covering up an annoying blister can save the day. Covering up cuts or scrapes will make a big difference with your comfort while riding.
Mountain Bike Cloths for Beginners
Mountain bike clothes are part of your gear and trust me that having the right clothes can make a difference. You don't have to have all of these to start but eventually you will want them.
Mountain Bike Shoes
When going for shoes, make sure you settle on the right mountain bike shoes and nothing less. Remember, mountain bike shoes are different from all the other types of shoes we have, be it hiking or walking shoes.
Mountain bike shoes are pretty rigid for more effortless pedaling.  You can also look into snap-in shoes where your shoes snap into the peddles.  This can sound strange because you are going to want your feet free to brace yourself if you fall, but with these peddles you can easily remove your foot.  The snap-in peddles can really help your riding comfort and keep your feet on the peddles while moving.
Mountain bike shorts
Shorts are another essential accessory while mountain biking. They keep you away from saddle sores, which trust me can be really inconvenient.
Baggy designs have been a trending. When it comes to functionality they are not the best. Look for padded shorts that you feel comfortable in.
Long Sleeve Shirt
You could wear any shirt if you go for a ride but if you start trail riding you're going to want a long sleeve. Trust me when you go past a set of pricker bushes you'll understand.
Steer away from cotton t-shirts, which succumb to wetness pretty fast. Look for something that is best for moisture wicking fabric like polyester.
Mountain Bike Socks
Having the right socks to pair with your mountain bike shoes will be a match. Ensure that you do not settle on just any type of socks, go for the bike-specific ones. Biking socks have pretty high moisture-wicking ability and are pretty breathable.
When choosing what to wear, make sure you stay away from cotton.
Where To Find Places To Ride
Since you are a beginner looking for a place to ride your mountain bike, the Trailforks crew has you covered. Just type in your state and see all the places reported.
Also, You can always look up places near you or another great tip is to visit the bike shops and ask where most people are mountain biking locally.
Mountain biking for beginners should be started on more accommodating trails until you get your grove. Then you can start to branch out.
Important Considerations
As a beginner, one crucial consideration to work on is your cardio before beginning your riding experience. You should also stretch before hopping onto your bike to prevent injuries or strains. Also, ensure that all your equipment and gear is in place before you leave. Fix your flat tires, check your gears and oil your chain.
We have given you some of the tips that will help you enjoy your mountain biking experience. Again, Mountain biking for beginners can be challenging, but like any sport or hobby, the more you practice, the better you get. Make sure you make every moment count. Also, safety is key. Always have your helmet on!
Below is a Pinterest friendly photo… so you can pin It to your Mountain Bike Board!