Mountain Biking to Lose Weight
We all know that cycling is effective for weight loss. But why mountain biking specifically! When you give it a little thought, you will notice that this idea is crazy enough to work. There is nothing better than doing a bit of off-roading to burn that filthy flab.
Mountain biking to lose weight has worked for so many riders because they do it to remain fit. It is a great outdoor activity to stay in shape and enjoy the views while at it. But of course, it's not just the matter of getting on the bike and starting to lose the fat straightaway.
You need to put in some effort and need to have the right gear to keep track. In this post, we are going to share some secrets with you about using mountain biking to lose weight.
Read on to find everything you need to know about losing some flab by hitting the trails.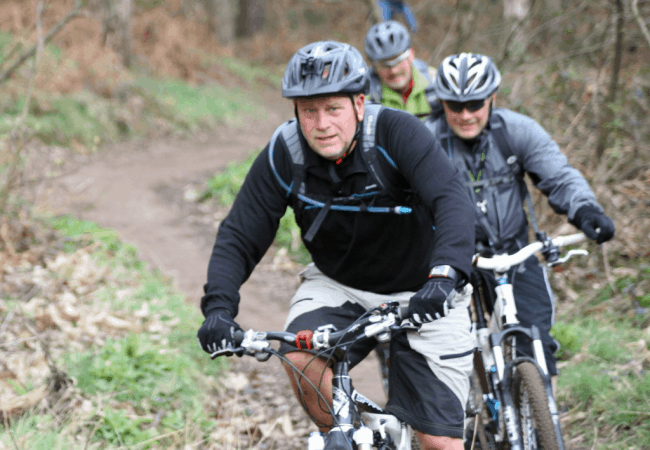 Weight Loss In General
If you are concerned about weight loss, then you need to start thinking about mountain biking. It is because you will get good aerobic exercise, which focuses on cardiovascular body movements. It won't focus on anaerobic exercises that involve short bursts of power repetitions involving free weights.
Now you might be thinking, how is cardiovascular activity good for weight loss?
And the answer to that is the way we get the fat on our body in the first place. Our body stores the fat to provide energy for the time when it doesn't have any left. It allows our body to carry on without the energy that it garnered from the last meal we ate.
Many people consume more calories than they burn, and their bodies keep accumulating it for a later date. For many people, that later date never comes, and that excess fat that our body stored never burns up. Ultimately, you will get those love handles, flabby belly, and so many other cute things.
Burning The Excess Fat And Mountain Biking
To get that excess fat trimmed off, we need to burn the calories piled up on our bodies. And for most people, it doesn't happen until you get your heart rate up to a certain level.
The consensus is that your body starts to burn some calories after a moderate cardio activity of 20 minutes.
Now, this is where mountain biking comes into play its role. Mountain biking is a fairly simple activity that you can easily do for more than 20 minutes. There are not many trails that you can finish up inside this time frame. Moreover, it allows you to increase your heart rate to a good level.
But that's no different from road biking, running or power walking. So why go for mountain biking to lose weight? The key here is that mountain biking is a load of fun.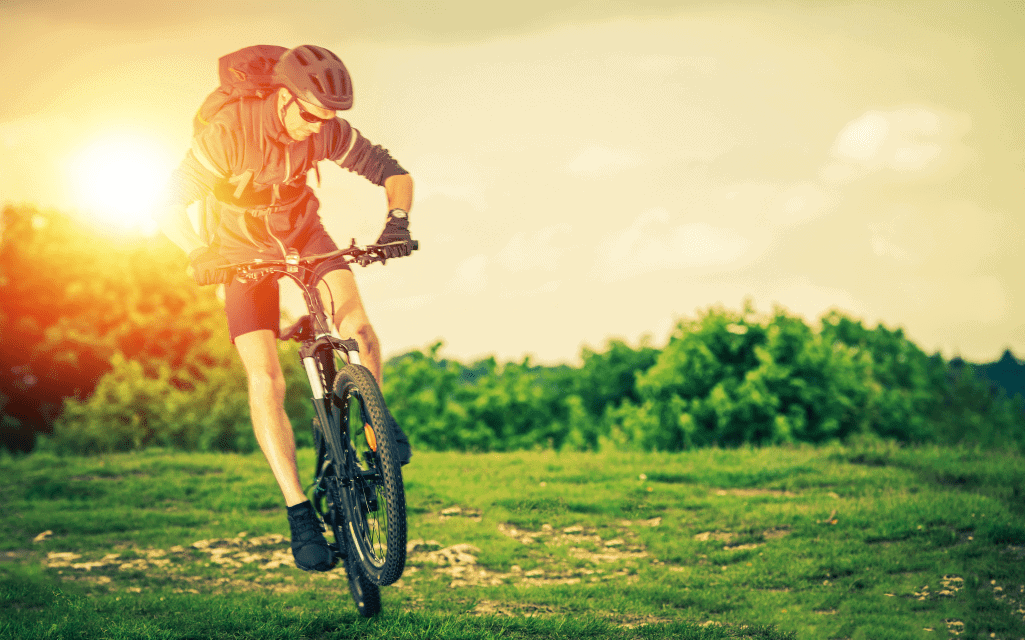 Boredom Keeps You Away From Any Exercise
You ask anyone who goes to the gym or starts doing reps at home. The most difficult part of doing the exercises is doing it consistently. Many people find it extremely boring. It is why so many people use different techniques to get rid of boredom. These include listening to music, watching a program, or doing something else while completing there exercises.
If you are doing something fun and working out as well, the pain from the exercise is not going to matter. Think of something in the past that you had so much fun doing! And when you were doing it, you never realized that you were drenched in sweat. You know why you didn't realize the sweating because you were having fun. It's where mountain biking nails it.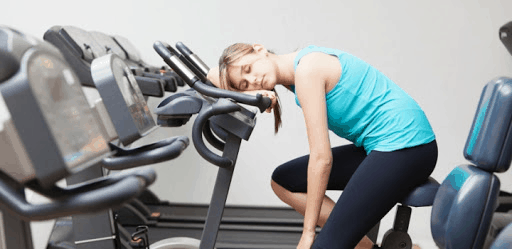 Those Views Will Make The Activity Fun
Going through the beautiful trails makes mountain biking to lose weight so much fun. It has a lot more to offer than road biking. It will especially be the case if you don't have many scenes and sights to cherish in the city you are living in.
On the trials, the variety is so much better when we talk about the sights. If you are cycling up a steep incline, the eagerness to reach a scenic vista is hypnotic. This thrill of getting to a better sight keeps you going, and you are benefiting two folds.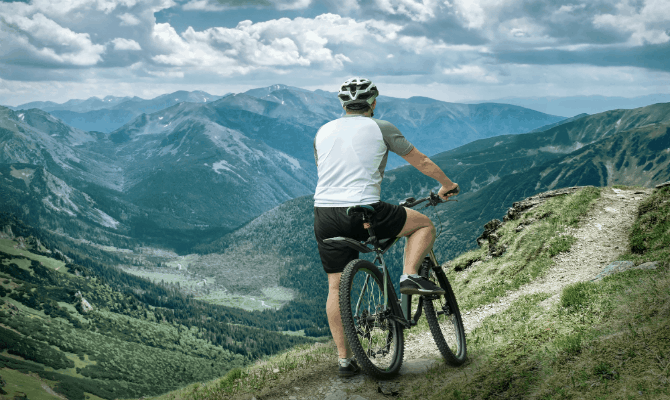 Your Brain Remains Active Too
If you are zipping through 30% and you have a slippery slope ahead, you won't feel bored. You will feel the adrenaline rush now and then, because your mind is working hard. You need to use the correct gear, maintain your body position, keep the wheel balanced, and on the line!
Things will be a lot more different when you plan your mountain biking trip off-road on a trail that has not been used by anyone before. Now you must plan your routes, use the maps, scan through those contour lines, and use your compass and GPS.
It is a lot to do to get bored. And if you are planning a long journey where you can stay somewhere for a while in the mountains, then you need to think about water, food, and shelter too.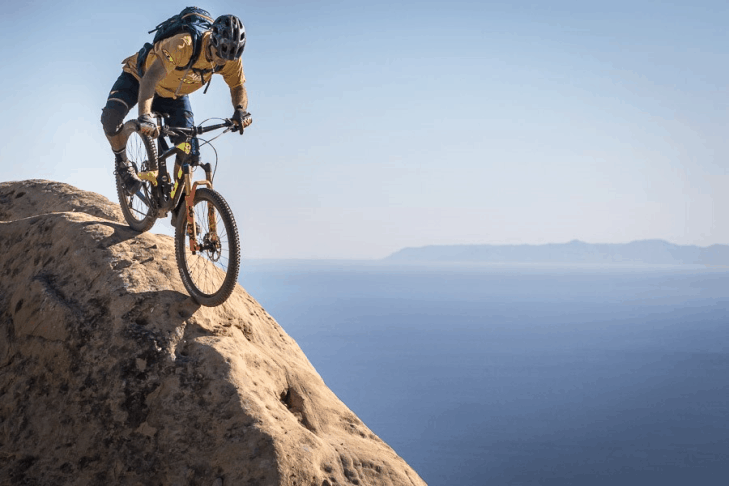 The Range Of Activities Help You Burn The Fat
Of course, you are going through a lot during your ride. You will easily get complacent when you are doing a range of other activities. It becomes a very easy time and time again when you find yourself coasting and letting your heart rate down to 100 bps when you're running or road biking.
But when you are doing mountain biking to lose weight, there is so much you have to deal with. There is no coating in this activity. Trails can go up and up pretty fast, and you need to alter your efforts accordingly.
You might be easy pedaling now, and the next minute you have to get out of your saddle and power up your way on a slope. Your heart rate will stay up, and you won't get complacent. Your body will continue to burn fat while you are fighting your way through the trails.
8 Tips on Mountain Biking to Lose Weight
The best way to use mountain biking to lose weight is to make sure that you track your activity and also reduce the daily calorie intake. You can't blame mountain biking if your daily fat dosage continues to peak. A healthy diet and proper activity is the key to weight loss. And of course, you can add a bit of fun with your MTB.
With mountain biking, you not only lose weight but also gain muscle and build core strength. Moreover, mountain biking is a low impact sport, and you won't suffer any injuries if you compare it with other sports provided that you don't crash.
1) Get a Decent Mountain Bike
The most important partner in this journey is your mountain bike, of course. If you don't have a decent MTB in your hands; you won't find your rides enjoyable. It needs to stay reliable on those slopes, and gripping as well as traction needs to be top-notch as well.
A couple of good options here you can go for is the Diamondback Overdrive or Schwinn S29. Both these bikes are top-performing trail bikes, and they are all about resilience and strength.
2) Don't Go All-in Right Away
If you have been a couch potato for a long time, then make sure to build up slowly. Don't go all-in right away in the beginning, or the body will start fatiguing. You can start riding for about an hour and just a couple of times a week. And don't go exploring the new horizons on your MTB day one either. Over time, you will get stronger, and then you can increase your workouts.
3) Just Set Realistic Goals
Whether you are 20 lbs. overweight or 60 lbs., set some realistic weight loss goals. Make sure that you set a goal that seems achievable in the coming months. You will be able to achieve your long term goals more effectively this way.
4) Count Your Calories Every Day
A deficit in calories is a must. Therefore you need to eat healthily and LESS. Focus on proteins and reduce carbs and fat. Eating greens is a good option too. Over time, you will notice that there is a point where your brain starts telling you that you have enough in your tummy.
You can use your smartphone for this purpose because there are plenty of apps that you can choose. But a good option for you to consider is using a good quality calorie counter app on your phone like MyFitnessPal.
You can connect your mountain bike with it if the bike comes with the sensors, or you can use your fitness tracker or smartwatch for this purpose as well. Apple Watch Series 3 and Samsung Galaxy Watch are doing a pretty fine job with smartwatches. But you can also go for some high-quality fitness trackers like Fitbit Versa 2. Your options are endless.
5) Don't Consume Soda or Alcohol
Alcohol is not great for your health, and it slows down your weight loss rate as well. You can have some beer occasionally, but that is it. Similar is the case with soda as it is a sugary drink. And sugar is exactly the kind of fat you are trying to burn in your weight loss regime.
Therefore, it is better to drink water or tea, and you add a bit of a lemon into it. You can occasionally drink diet coke, and that's all!
6) High-intensity Interval Training
HIIT is a good choice if you are looking to burn fat quickly. It is a way of training where you get to change the pace of your activity.
Your body doesn't get used to the movements, and the brain keeps on thinking, which boosts the fat-burning process.  And this is great news for mountain bikers because you need to shift gears frequently when riding the trails.
7) Get a Good Sleep/Rest
It is important not to burn yourself out. Your muscles and body need proper rest to recover. Therefore, you need to get some good rest before you head out the next day. Deprivation of sleep or proper rest won't allow your muscles to recover fully, and you will feel fatigued.
8) Better to Start in Summer or Spring
It is better to start in the spring or summer. Now, most people would think that winter is the right time to start to get the body in shape for summers. But if you are starting, then winter might be a bit depressing. There is just a lack of sunlight. Everything is pale, gloomy, and dark.
During the summers or springtime, there is so much vitamin D because of abundant sunlight. The birds are chirping, the trees are green, and the flowers are blossoming. Everything seems to be a bit more alive during this time of year. So motivational will be right at the top as well.
Conclusion
When you give it a thought, mountain biking to lose weight is probably something that you have always wanted. Your fitness regime can get boring pretty quickly. But you are too motivated to get bored. It is a nice thought at the beginning of your regime that gets difficult to hold over time.
To keep your mind and body occupied, you need to do mountain biking. There is so much going on when you are riding the trail. You have to keep your bike on the path through those steep slopes. Plus, you also have to keep increasing and decreasing your speeds according to the path in front of you. Mountain biking to lose weight is something that you will cherish for many years to come.
So what are your thoughts about mounting biking to lose weight? Have you given it any thought?
Below is a Pinterest friendly photo… so you can pin it to your Mountain Bike Board!