As we are moving into the coldest time of the years, it becomes increasingly difficult to find trails and spots for mountain biking. Aside from the cold winter breeze, snow often covers all of these trails, which makes it increasingly hard to have some fun. Mountain biking in the snow can be fun and frustrating at the same time.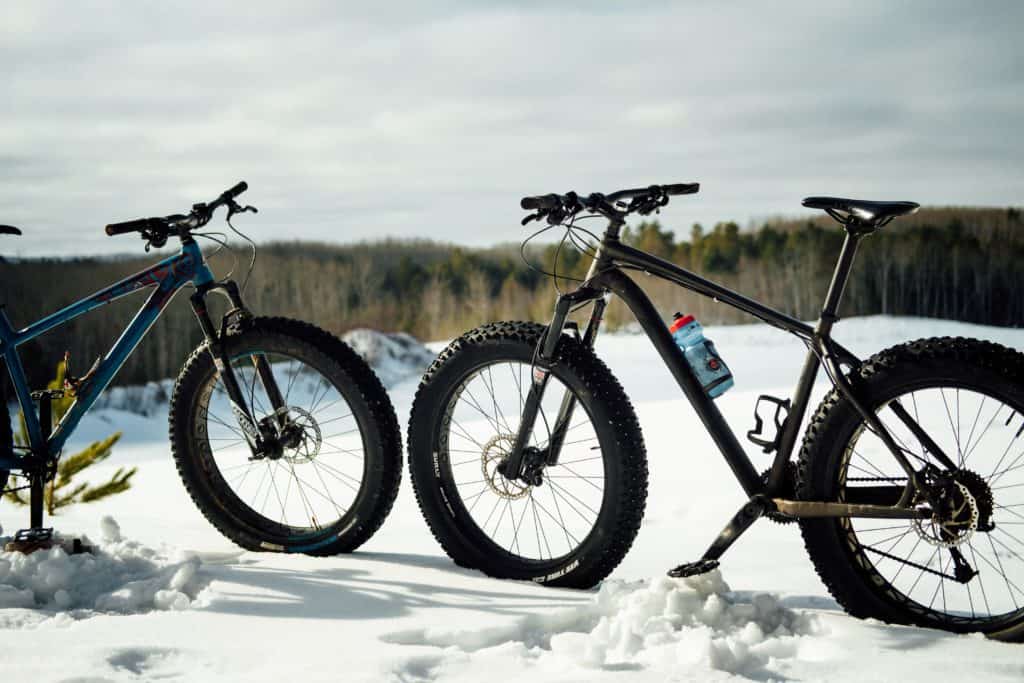 However, the fun part of the sport is that you will have new challenges to deal with. These challenges can make it fun to be outdoors and explore different terrains. In the following article, we will have a closer look at mountain biking in the snow. Now, you can be ready with a few tips on how to tackle tough terrains.
Preparatory Measures To Take Before Mountain Biking In The Snow
While it might seem like great fun, you need to understand some of the challenges that you will be facing. Aside from the different trails, you also have to deal with your own bike to make sure that it is set up for the snow. In the following section, we will look at a few hazards that you need to be prepared for when mountain biking in the snow:
The Right Clothing
It is hard for us to directly suggest specific clothing, but since the weather can be extremely cold, you will need to have decent protection. Generally, mountain bike riders will try to have as much ventilation as possible. However, you need something to keep your muscles warm while you are riding and avoid injury.
If the weather is too cold, you can run the risk of serious injury. Aside from cold muscles almost feeling like cold tires in a race and not working as they should, you can lose your control over the bike. One of the most important components will be your gloves. Your hands control the braking and steering of the bike.
Bike Setup
The next important aspect will be to make sure that your bike is set up for cold weather. Yes, the bike components will stay the same, but there are a few important aspects that could potentially help you. Instead of riding your normal mountain bike in the cold, it might be better if you invest in the best fat tire mountain bikes.
Consider looking at other components like the brakes as well. Snow and ice are very slippery, which means the bike runs a bigger risk of skidding on the surface. Aside from understanding when to pull the brake lever, you also need to have quality brakes. Mechanical and hydraulic disc brakes are the best for these situations.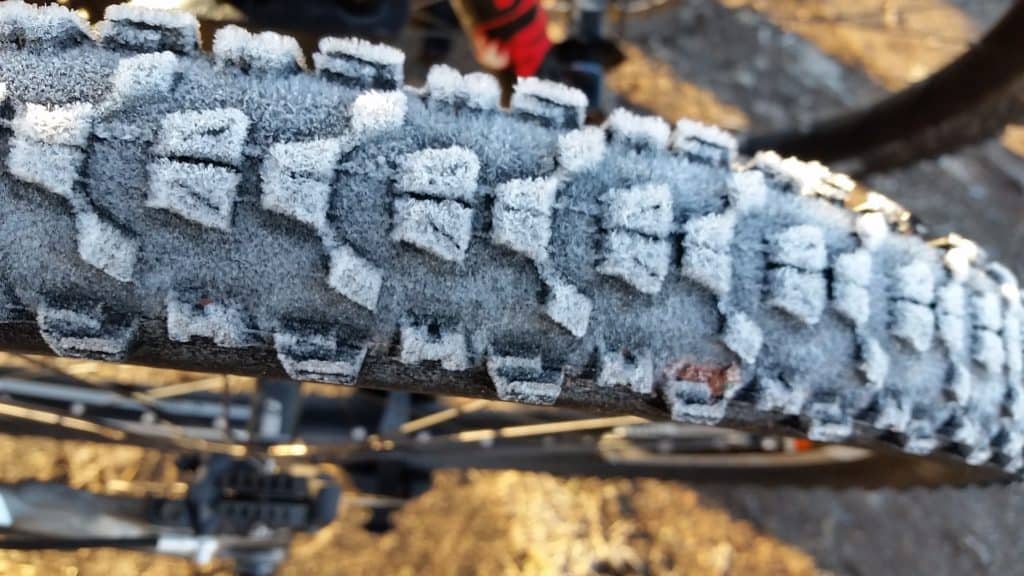 We should also add that the bike setup is not complete if you don't have the right pedals. It is easy to consider the flat pedals, but they don't have the same security as a clipless pedal. When you are in the cold or riding in the snow, you don't have time to deal with slipping off the pedals. We recommend looking at the best clipless pedals for more comfort.
Nutrition And Hydration
You might consider yourself an expert on trails in warm weather conditions. However, this will significantly change once you hit the colder weather temperatures. It is important to stay hydrated and have the right hydration pack on your journey. Your energy levels should be controlled to ensure you finish a specific trail.
Keep in mind that the body will use calories to keep itself warm. While you never really reach the optimal body temperature in the cold, your body will still need to keep you warm when riding. This means that you will be using more calories and you will need to focus on replenishing these calories to keep you going.
As a tip, we would recommend getting used to taking a backpack on your journey. Inside the backpack, you can add your healthy meals and a few snacks to eat on the road. You will notice in almost all cycling competitions that gel is one of the easiest methods to replenish calories. The metabolism will quickly burn through the gel.
Additional Parts To Fix The Bike
While not every trail is desolate and will leave you stranded in the middle of nowhere when the bike breaks down, it is important to be prepared. If you focus on the previous point that we have made, you will notice that the backpack can be very handy. You can carry a few additional items with you on your journey. Tool kits will be perfect to fit right inside your backpacks.
When it comes to specifics, we would recommend looking at a puncture kit. The puncture kit will ensure that you have your tires covered. However, components like an extra chain can also be helpful when the chain accidentally slips off the bike. You can consider packing a survival backpacking kit with a few bike components just to be safe.
5 Tips to Enjoy Mountain Biking in the Snow
I hope that you understand some of the basics when it comes to riding your mountain bike in the cold. The following tips can aid you on your journey and perhaps even make it more enjoyable. These are broad-based cycling tips for many people. However, it is great to be reminded every now and again of how to enjoy trail riding: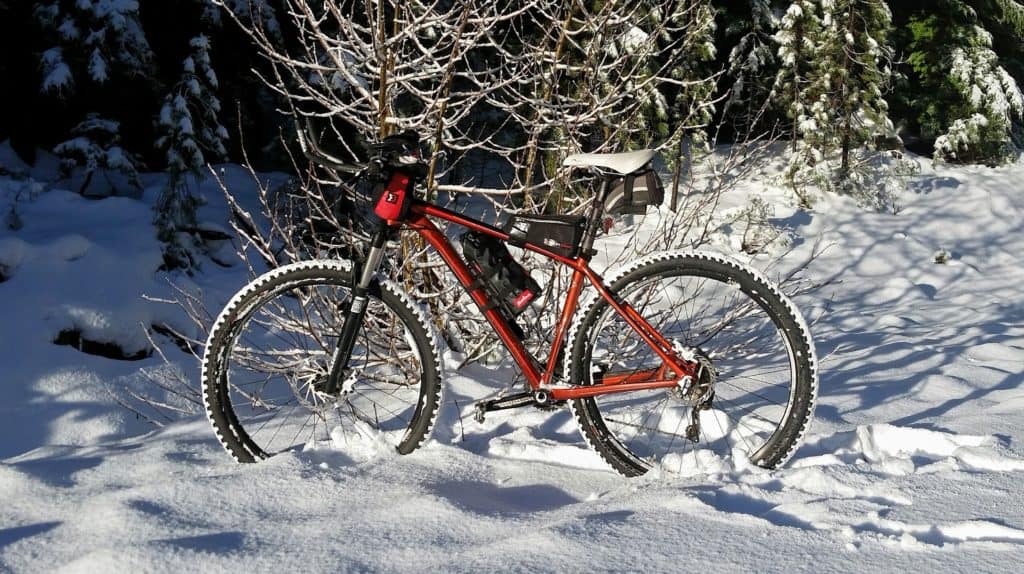 1.      Motivate Yourself
Cycling in the cold winter temperatures is not for everyone and it takes some personal motivation to do it. While you are inside your home and the temperatures are warm, it might be easy to say that you can take on any terrain. However, you need to make sure that you are really motivated and ready to take on these types of terrains.
2.      Invest In The Right Bike
We have already discussed some of the gear that you need to look for. However, there are complete bikes that will help you on your journey. The best trail bikes are not only versatile, but they also work well for trails. We would recommend that you consider one of the best trail bikes to make life easier and give you additional peace of mind.
3.      Understand Your Own Limits
When you fail on a warm trail, it can be frustrating and demoralizing, but it gets even worse when the weather is extremely cold. Before you take on a trail, you need to understand your own limits and try to keep yourself to these limits. There is no use to force yourself past these limits if you are not sure how far you can go.
4.      Have Some Support Or Company
Unless you are an expert rider and you are training for competitions, you might want to have a few friends that can join the trail with you. It is not that hard to make friends while mountain biking and they can motivate you during tough times. One can help each other through tough times and enjoy some of the good times.
5.      Have Fun
Once you understand riding in the cold weather, you only need to have fun. It is best to prepare your mindset and approach the journey as a challenge. Each trail will pose its own risks and challenges and you can reward yourself for completing these trails. We only want you to have fun and enjoy the cold weather on your mountain bike.
Wrap-Up
Mountain biking in the snow is often underestimated. Some people don't think it is fun, while others simply ignore the cold. However, it is something you need to try if you love the mountain bike trails around your town. You might not always find trails that are open, but some of them are maintained for riding during the winter months.
Below is a Pinterest friendly photo… so you can pin it to your Mountain Bike Board!