Most people that think of Mountain Biking often refer to Trail Riding. This style of riding is the original form of Mountain biking and is what gave birth to all the other categories like XC, Enduro and Downhill.
Mountain Biking In general started in the 70s and there are different groups of riders in the United States that can take credit for it.  Mostly around California and Colorado is where these groups would modify bikes with better brakes and fatter tires to deal with the trails. Eventually road bike companies started to make Mountain Bikes and the sport started to explode in the 1990s and 2000s.
Now we have multiple brands of Mountain Bikes that come equipped with all the components you could think of.  Trail Riding Mountain Biking has been increasingly popular because of the variety it offers. This guide will get you all the necessary information if you choose to get started with Trail Riding Mountain Biking.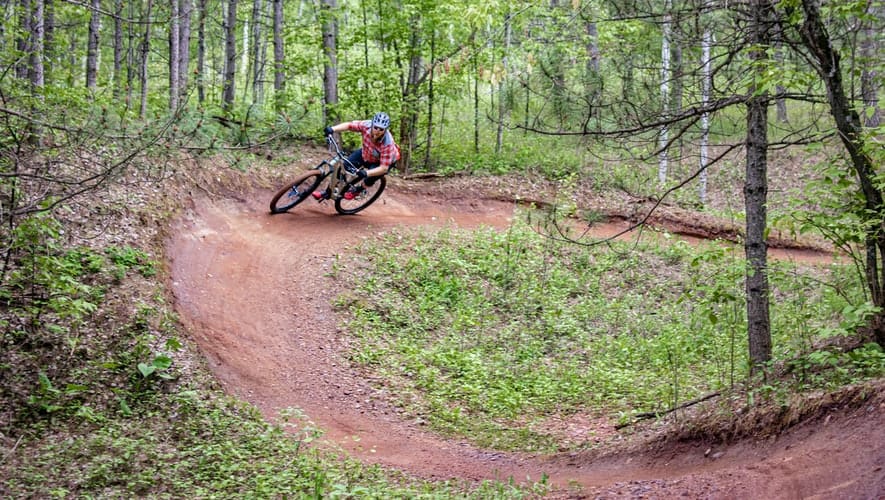 What is Trail Riding Mountain Biking?
You might have heard of different categories of Mountain Biking and it can seem confusing.  Downhill, Cross Country and Trail riding have evolved over the years. Trail riding is based on riding in local trails called singletracks. It's a combination of riding Cross Country and Downhill.  At times you can be pacing uphill or over a long distance and then have some fun with downhill sections. 
XC or Cross Country is mostly based on competitions and can be a lot of fun.  These races are based over long distances and different obstacles. The bikes designed for this discipline are mostly hardtails and have less travel in the front suspension to give the rider more pedaling power.
Downhill biking is mostly done at Ski Mountains and provides riders with the most optimal trails for cruising downhill.  These resorts will often rent downhill bikes that boast of superb suspension that can withstand the impact of riding off table tops and sharp angled turns.
The great thing about Trail Riding Mountain Biking is the variety of styles performed under one discipline. If you are a beginner there is no better place to start then trail riding. This style will teach you the basics of riding and help point you in a direction you may be inclined to try.
Trail riders usually lean on the adventurous side and could look forward to a challenging hill climb or an exciting downhill section to get there adrenaline pumping. Fast trails that flow are what riders look for with this style.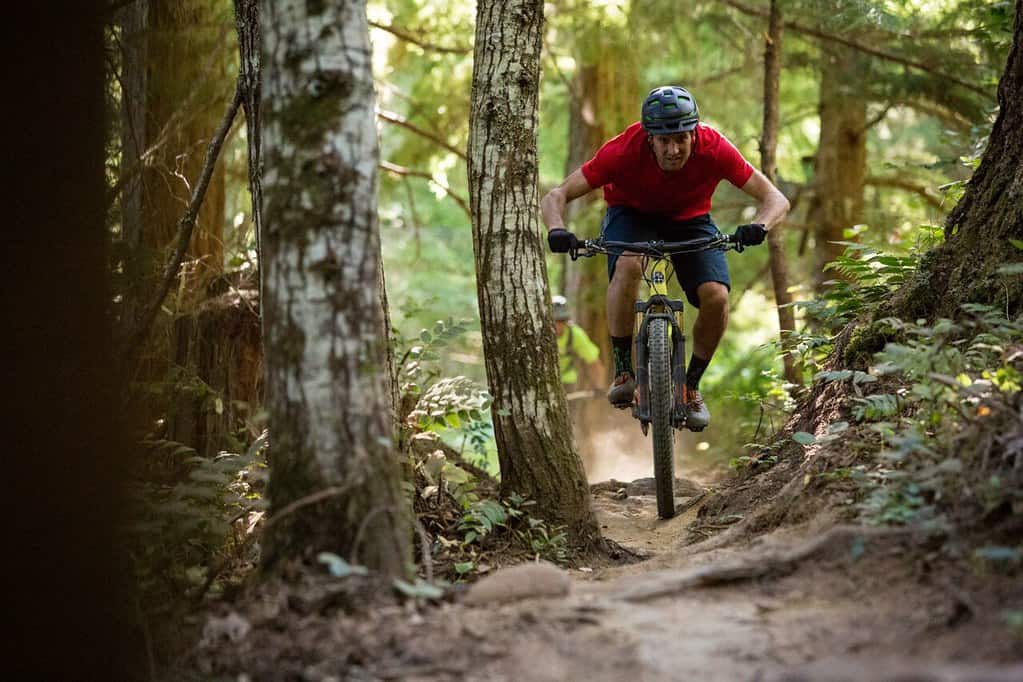 What Kind of Bike Do You Need for Trail Riding?
Trail riding bikes have a geometry that gives you uphill pedaling efficiency and downhill stability. Full suspension bikes are common for trail riding but some prefer a hardtail to increase pedal power.
These bikes have a longer reach compared to XC bikes to give you better control while dealing with trails and obstacles. Here is a trail vs XC mountain bike comparison. The Pivot Trail 429 Carbon trail bike and a Pivot LES SL Carbon Race XT XC bike. Both great bikes, but different purposes.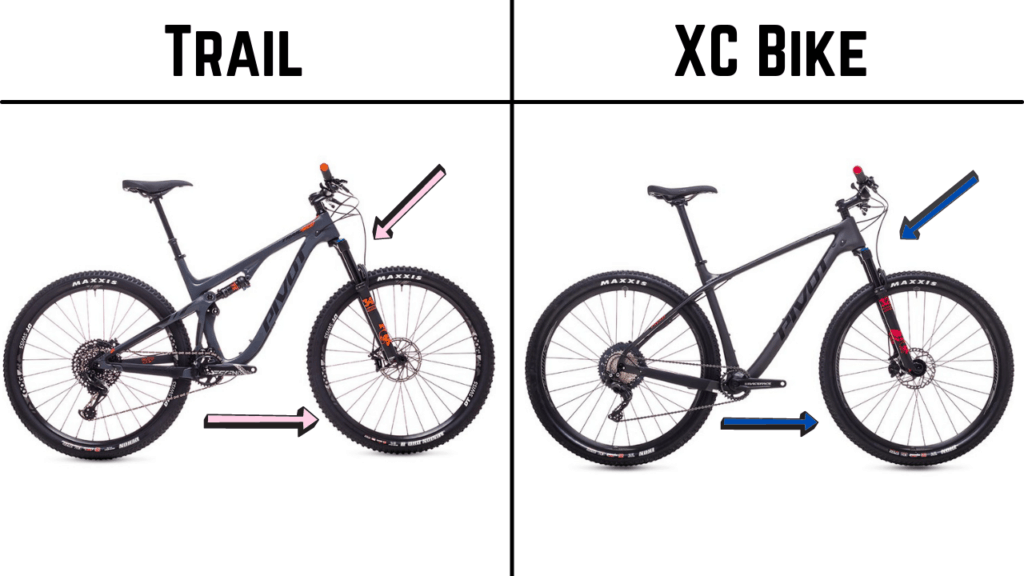 The seat angle on trail bikes is steeper then XC bikes to aid while tackling downhill sections.  Most bikes now come with seat dropper posts that you can control with a switch to lower your body giving you more control and comfort. These seat dropper posts take your trail bike into a perfect position to cruise downhill with comfort.
The suspension systems on trail bikes range from 100mm-150mm (4-5in) both for the rear and front fork. With most 29in wheels you will have less travel or suspension compared to the 27.5in wheel which scores you more travel. Enduro style bikes will give you 150mm-180mm (5-7in) of travel where a downhill bike boasts of 180mm to 200mm (7-8in) of travel.
With a trail bike you will be capable to handle all trails except a vigorous downhill that would call for the downhill bike.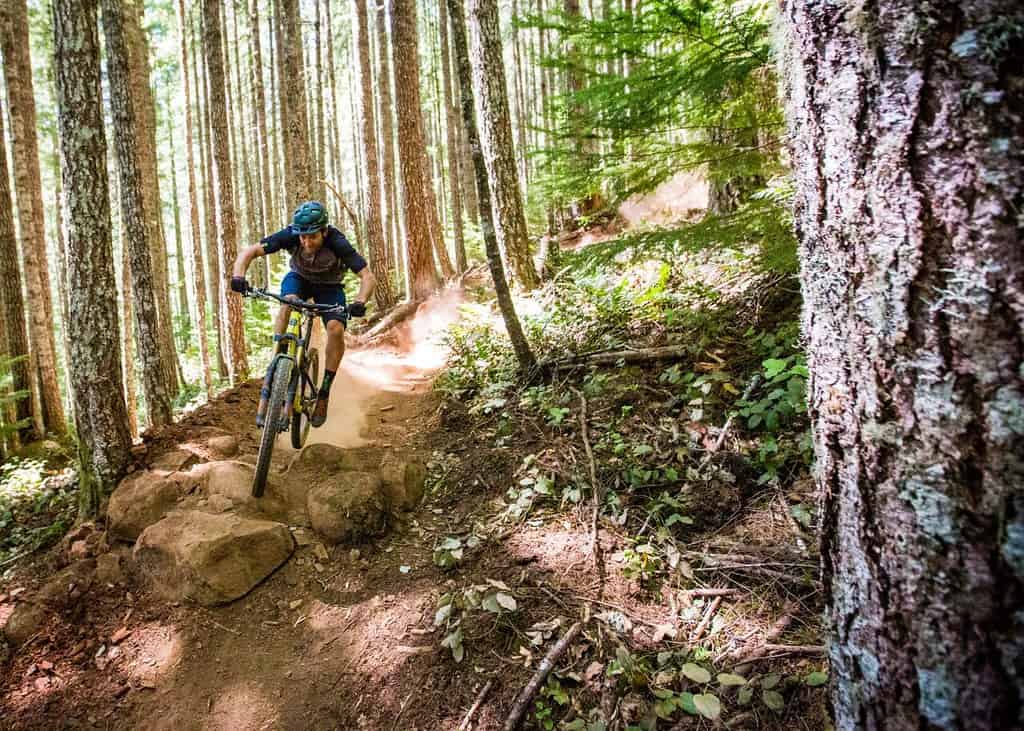 Why should you Try Trail Riding Mountain Biking
If you are just starting out with Mountain Biking, the best place to start is trail riding. This will be the best style to find what interest you the most and teach you a combination of riding styles.
One of the best parts of trail riding is the convenience. With Cross Country and Enduro you mostly will have to sign up for a competition or plan a trip. Trail riding gives you the ability to find local trails and go when you feel like it. If you're into fitness or looking for something to get you fit, this will be an excellent hobby to consider.
Another great part of trail riding is the fact that it doesn't cost you a dime to go.  Once you have your bike and equipment you are ready to hit the trails. This can be a huge benefit compared to other Mountain Bike styles. Of course each style has its perks but the ability to go on your time for free is a win.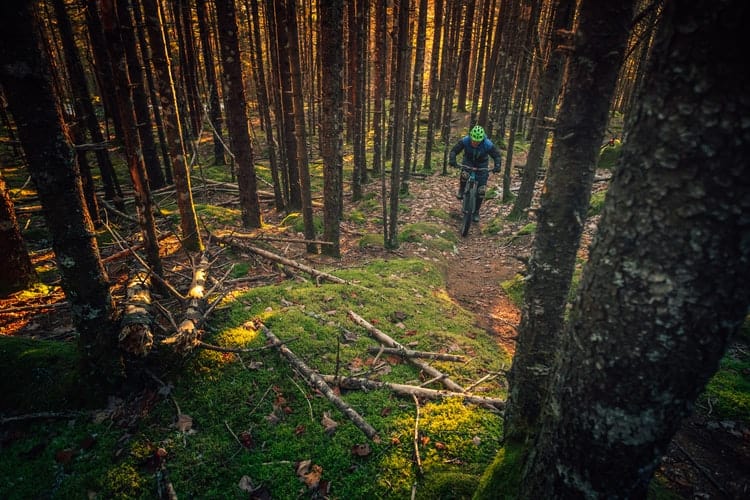 Trail Riding Mountain Biking For Beginners
Getting started as a beginner with Mountain Biking has never been easier. Depending on your budget you can start with a used bike if necessary or try a lower cost model until you're ready for a better model bike.
Starting in the trails gives you a sense of what you like or don't like. Downhill sections might not be for you and could point you towards XC style mountain biking. On the other hand you might find downhill sections exciting and look into ski parks that offer this.
Learning your local trails will be a huge benefit once you get started.  A tip is to find any local bike shops and talk with the crews there about the best local trails.  Of course you can search online for local trails and see if they have maps. Traillink has made this really easy. Just type in your location and make sure you choose Mountain Biking.
When you get on your bike the first time you will have to make adjustments. Make sure you get your seat at the right height and feel comfortable before heading out. This will most likely be done at the bike shop depending on where you purchase your bike.
As a beginner you need a variety of riding to show you your strength's. Trail riding will be your guide of what's next for you. Don't plan to become an expert after your first ride. It might take a few times before you feel good and can start testing your limits. Of course, you will be going at your own pace. This is what makes trail riding even more appealing.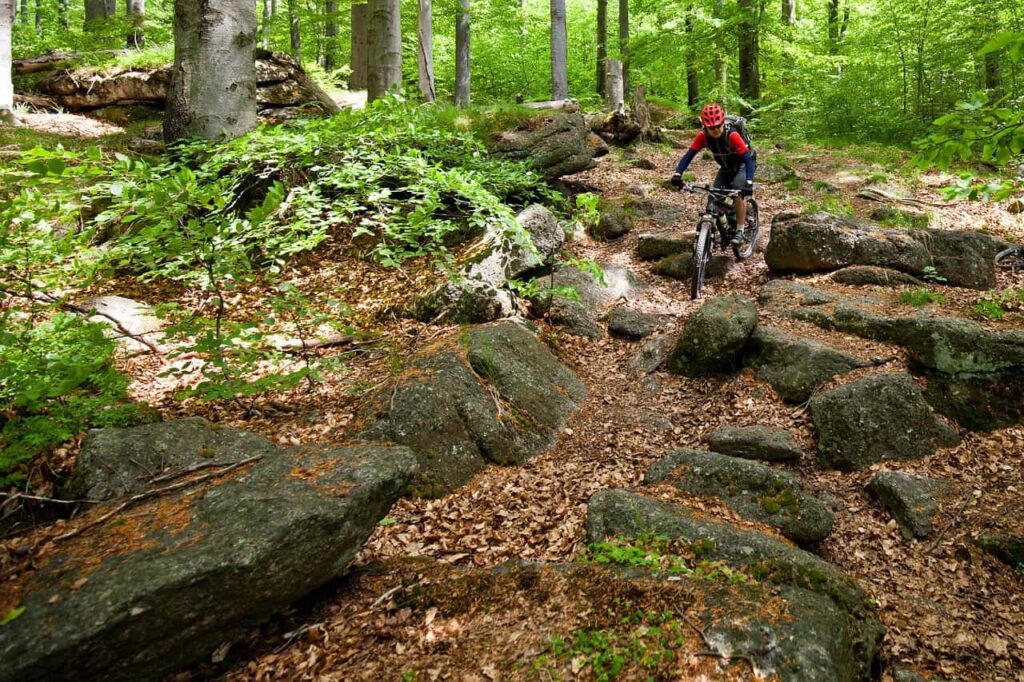 What Kind of Equipment You Need To Have
With trail riding you will need certain pieces of equipment that are must haves. Like most biking sports you have to have an appropriate helmet to protect your head. Having a helmet is crucial and can save your life in the worst of circumstances. The chances of you falling are high especially if you are a beginner. Safety first!
Trail riding can require a lot of equipment but will depend on your style of riding and how much you want to spend.  Here is a list of gear that you will need.
Mountain Bike padded shorts
Mountain Bike jersey
Protective Glasses
These items are nice to have and recommended but you could still give it a try without any of these except the helmet. Having gloves will save your hands from blisters and feeling tired. Padded shorts really help after trail riding for a while and add extra comfort. A hydration pack is obvious but will also help with carrying these next pieces of equipment.
Next you want to make sure you have tools in case you have a flat. Again, there are lots of tools that can work but to start make sure you have these.
Tubes
Small pump or CO2 inflator
If you're not familiar with the CO2 inflators, they are small and can fit in your hydration pack. These tools will come in handy at some point. Avoid putting a damper on your experience, be prepared.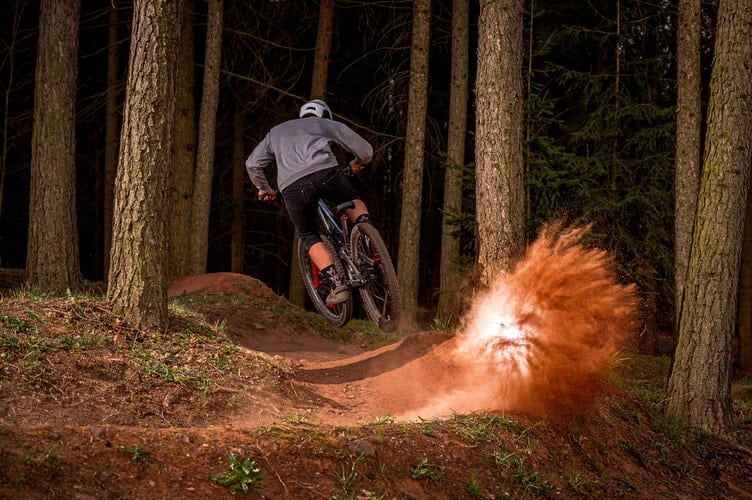 Conclusion
When putting a name on Mountain Biking, Trail Riding Mountain Biking is the style most often thought of. These are some of reasons mentioned above that make trail riding the most popular style of riding. It gives us a multiple of styles combined into one.
A beginner can get started with any style of mountain biking. But the ability to ride Cross Country and Downhill Mountain biking at your own pace makes this style very unique and attractive. Now get out there and hit the trails!
Below is a Pinterest friendly photo… so you can pin it to your Mountain Bike Board!