When looking for your brand new bike, you will eventually come across the hybrid and one of the most common questions we have seen is "what are hybrid bikes?" While it is quite easy to distinguish between other bikes and the hybrid bike, you will find that the hybrid bike is a mix of a road bike and mountain bike.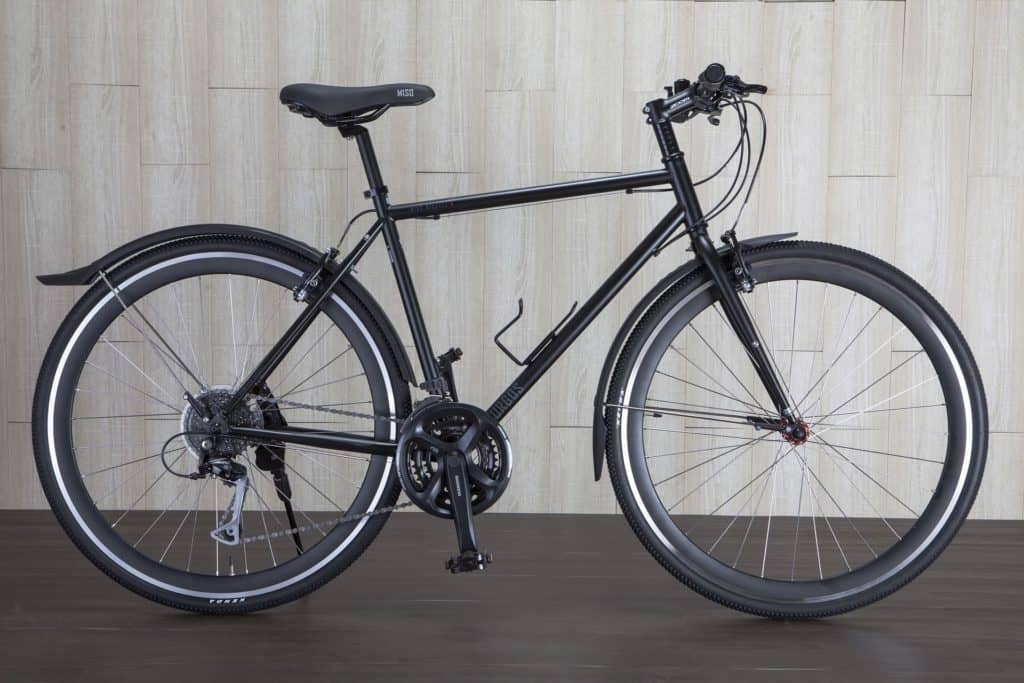 In the following article, we will have a deeper look at the hybrid bike and look at what makes the hybrid bike different when compared to some of the competitors. Since there is little information available on the topic, we aim to give you a clear and concise article. It should answer all your questions when asking; "what are hybrid bikes?"
What are Hybrid Bikes?
Before we move into some of the detailed answers, we think we should start by answering the main question at hand. A simple explanation of the hybrid bike can make it easier for people to discern whether they might need one of these bikes or if they want something more specialized like a normal mountain bike.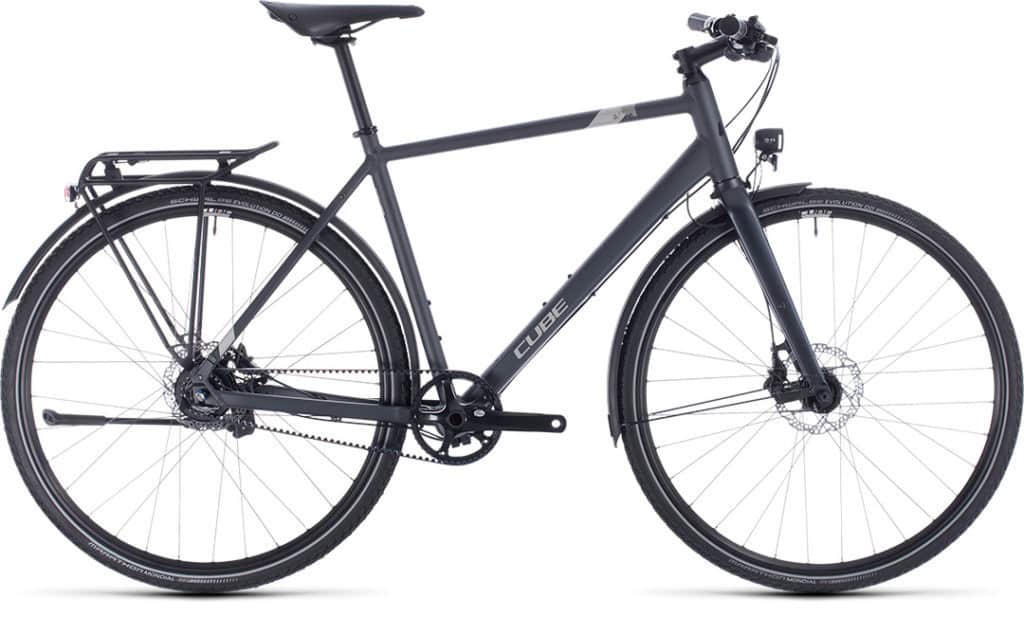 In Lehman's terms, the hybrid bike is a simple combination of the road bike and the mountain bike. However, there are also versions of the hybrid bike that resemble a touring bike or trail bike. One of the main reasons that people choose these bikes is for the "do-it-all" style of bikes. Additionally, they can take on virtually any terrain.
To be honest, the term hybrid bike cannot be defined as 2 different bikes that have been combined. In some cases, the BMX bikes can be combined with a commuter bike, which might often lead to a useful cruiser bike around town. Technically speaking, these bikes are also considered a hybrid bike due to the two bike features being combined in one.
What are Hybrid Bike's Special Features?
If you are considering one of these bikes, you must look at the special features they offer. Most hybrid bikes have similar characteristics due to being a road bike and mountain bike combined into one. When you are looking for a top hybrid bike, the following features need to be taken into account to ensure the best value:
Wheel Size
The hybrid bike can have almost any wheel size, but the most common is the 700c wheels. These wheels can be from any of the top brands and offer enough height off the ground to take on almost any terrain. Additionally, the 26-inch height is another wheel that we have found to be common among these bikes. Choosing between these two will give you some sort of versatility.
Drivetrain
Regardless of the bike you choose, the drivetrain is always an important part of your bike. When it comes to the hybrid bike, you will have your standard drivetrains. Yes, you can find some of them with better drivetrains, but once you go over the 30-speed level, you are entering a very complex level of micro gears. The Cube Travel SL is a very simple and non-complex option.
Suspension
Unlike the top trail bikes, you won't find a hybrid bike with a dual-suspension system. Most of the suspension systems are simple and make it easy for riders to have a comfortable ride. It is common to find some of the entry-level hybrid bikes that do not have any suspension at all. However, the front suspension can be a useful tool like it is on the best hardtail bikes.
Brakes
From complex to even more complex, we look at the braking power of the bike. You must have adequate braking power for any bike you choose. Understanding the difference between rim brakes and disc brakes can make your life much easier. This information can be used for choosing any bike you like.
Rim Brakes: These are some of the most common brakes you find on entry-level bikes. They are extremely affordable and easy to set up. However, the rim brakes tend to wear out the rims of the bike over time. They also lack the best stopping power in wet weather conditions.
Disc Brakes: Unfortunately, disc brakes are a little more complex and you will need to choose between the hydraulic or the mechanical disc brakes. They are slightly more expensive, but have a longer lifespan and ensure your bike rims are protected. The disc brakes are the best for all weather conditions.
When selecting the right brakes, you will focus on the quality and your individual needs before looking at the price. The Carrera Subway 1 Men's Hybrid Bike is one of the more affordable options on the market today while offering you excellent features that include the top features an excellent drivetrain.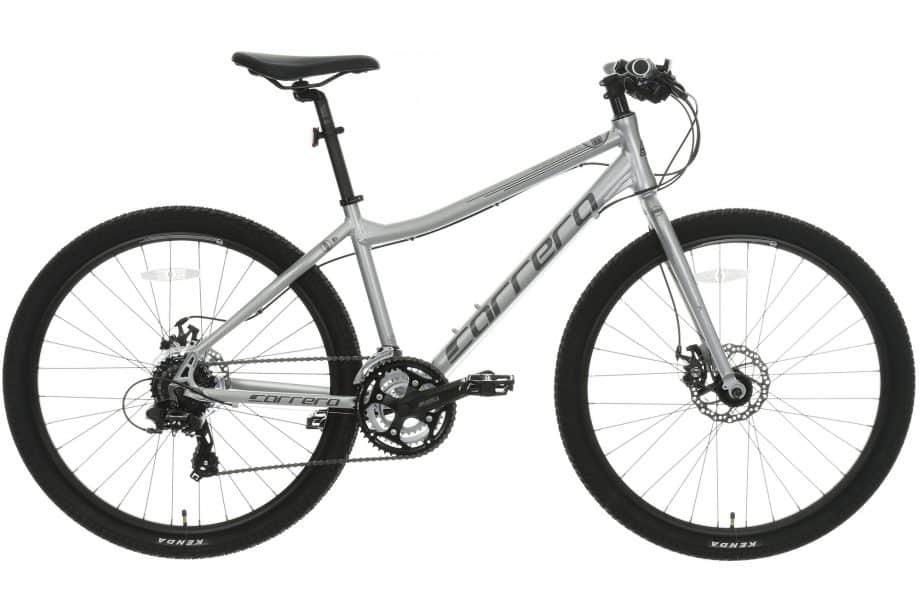 Bike Frame
The frame is the one part of the bikes that will make a big difference and when it comes to the best hybrid bikes, you will need one that has a frame for your needs. Much like the other top bikes, the bike will give you a choice between aluminum, steel, and carbon fiber. It might come down to budget, but usefulness is also important:
Steel: The steel bikes are the most affordable, but they tend to be a bit heavy. When you have a steel bike, you might not generate the same speed, but these bikes are extremely durable due to the steel tubing.
Aluminum: There are tons of aluminum bikes on the market today and it forms the middle ground between steel and carbon fiber. We recommend that you make sure the bike is made from 6061 aluminum (aircraft-grade aluminum) to ensure overall quality and the best durability.
Carbon Fiber: If you are a serious rider, you might want to consider the carbon fiber frame for your hybrid bike. These frames are very expensive, but they are extremely lightweight. The carbon fiber frame will ensure that you get the top speeds and they are often fitted with the best brakes and drivetrains.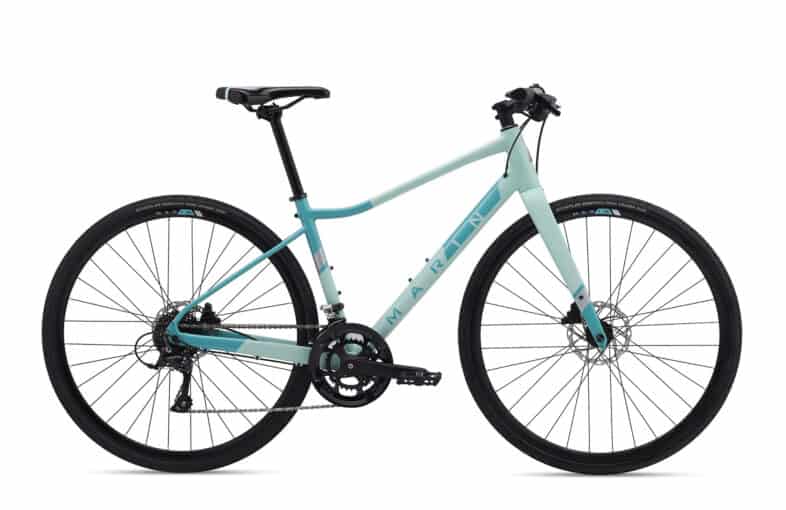 It is important to have a look at your budget before buying any of these frames. If you can buy aluminum or carbon fiber, we would not recommend settling for the steel frames. The Trek FX Sport 5 might be one of the more expensive options, but it is worth looking at when you want a top-quality hybrid bike.
Benefits And Drawbacks Of The Hybrid Bike
It is not every day that someone asks; "what are hybrid bikes?" However, it is best to be prepared with some of the benefits and drawbacks when someone does ask the question. The following section will show you some of the overall pros and cons of the hybrid bike. However, there are so many variations, we can't cover them all:
Benefits
The hybrid bike is one of the leading sellers of all bikes due to the functionality and versatility that it provides. In many cases, it even outsells some of the top mountain bikes. If you have never used a hybrid bike, here are a few of the benefits that it could offers.
All-terrain: These bikes are designed to take on almost any terrain and make it possible to ride on the road and in the mountains.
Affordable: When looking at a bike for the road or the mountains, you might notice that they are very expensive. These bikes tend to be slightly more affordable.
No Specialty Needed: You don't need to excel in one field to use one of these bikes. They are functional for any purpose.
Better than Cheap Mountain Bikes: When looking at some of the cheapest mountain bikes on the market today, we have found that these bikes tend to be better than them.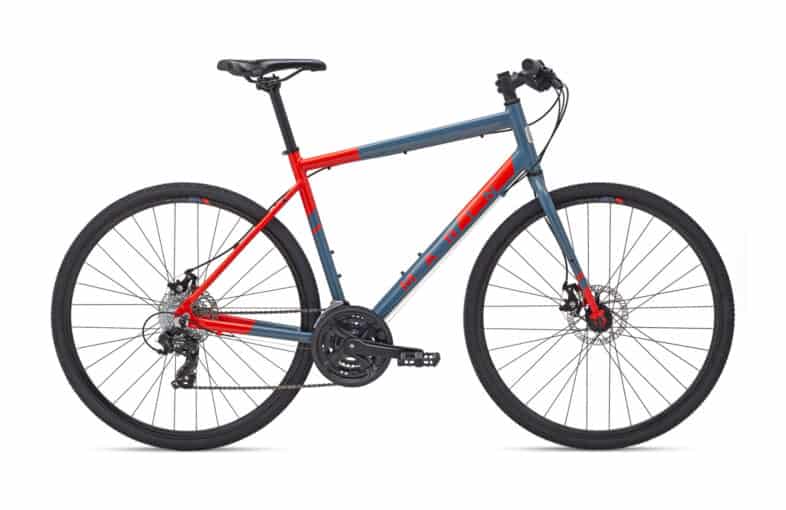 Drawbacks
To be honest, there are not many drawbacks when it comes to the best hybrid bikes. These bikes are not designed for any specific purpose, which means they cannot be bad for what you are using them for. However, there are still a few areas that will force you to move back to one of the top niche bikes:
Master Of None: These bikes can be considered the Jack Of All Trades, but they are not the best for anything specific.
Hard To Find The Right Combinations: You will need to play around with these bikes, and it is often hard to find the right combinations.
Hard To Judge The Best: Since there are so many different variations, it is hard to find the best one for a specific purpose. The Marin Fairfax 1 is one of the best overall combination bikes we have seen.
Wrap-Up
If you have ever wondered what are hybrid bikes, you should have all the answers by now. There are tons of articles that will show you the best hybrid bikes, but very few of them will give you a concise definition. While it is hard to give a concise definition, this article should define it as best we possibly can.
Below is Pinterest friendly photo… so you can pin it to your Mountain Bike Board!