As you become better at riding your mountain bike, trail riding will be more tempting. Almost every expert makes use of mountain bike trails for training and for competition purposes. However, there are certain things about mountain bike trails that not everyone understands. Once you get riding on trails, you might ask what is mountain bike singletrack trails?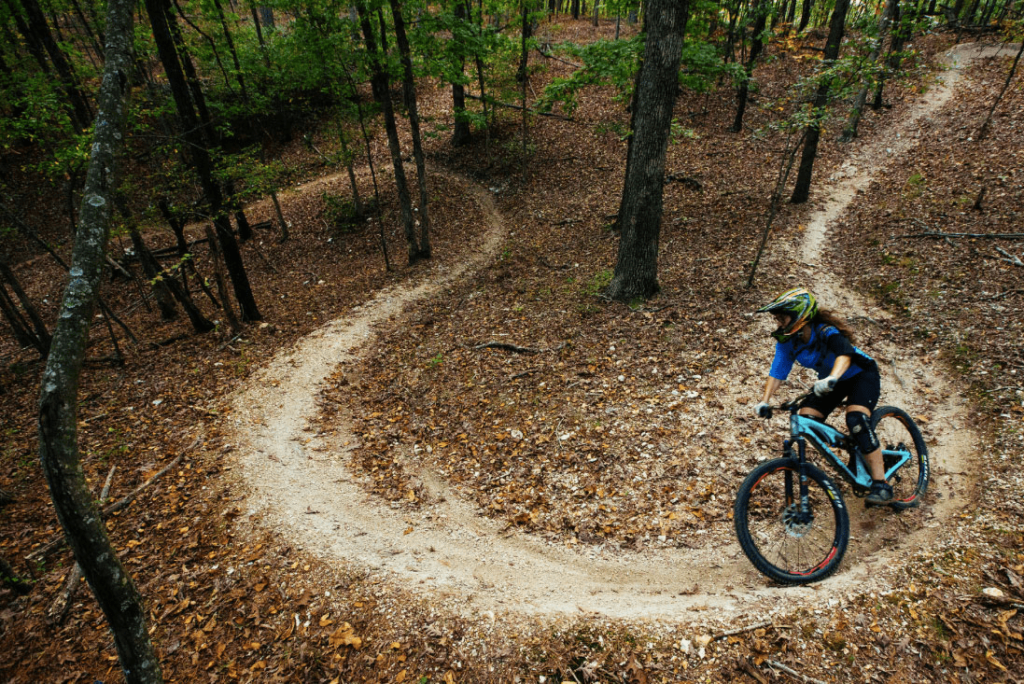 In the following article, we will break down the anatomy of the mountain bike singletrack. It should help you understand what it is and how it functions. Whether you are a beginner or an expert, the singletrack trails could be perfect for training. They are littered with obstacles to give you a challenging, but rewarding experience.
The Mountain Bike Singletrack Explained
The singletrack trail often refers to a trail that is only the size of one mountain bike. This means that it might be hard for riders to go side by side. It is also not ideal when you have hikers on the trails. Since one bike can pass through the trail at any given time, it is also dangerous. There might be less room to navigate obstacles.
Since these tracks are narrow, they tend to be smooth and easier to maneuver with your bike. However, there are a few of them with massive obstacles. Mountain bike jumping is often not part of these trails due to the narrow riding area. However, many trails will open up a bit for obstacles before returning to the narrow singletrack designs.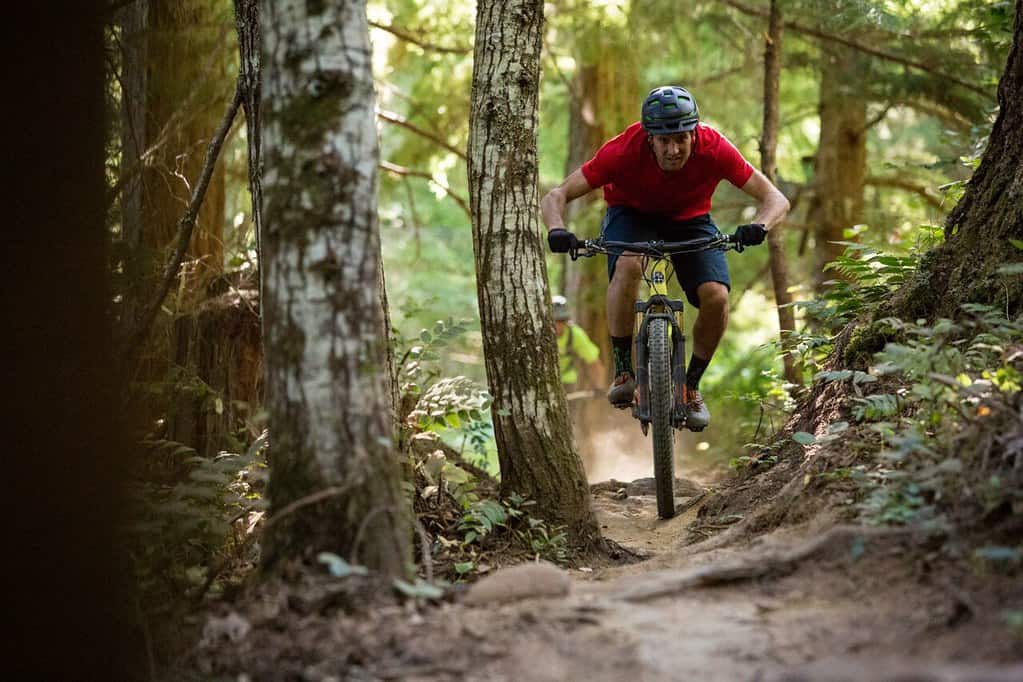 One of the main reasons that most mountain bike riders will choose the singletrack is the lack of traffic. These trails are often located apart from the main hiking trails and they are designed for mountain bikes. Downhill trails will have some sort of bend in the road. These bends help with braking to avoid uncontrollable speeds.
Building of Singletrack Trails
Much like any trail you ride, a singletrack trail is often built by cycling organizations. However, in many areas, you will find that locals have built the track for themselves or friends. Singletrack Advocates (STA) is a nonprofit organization that specializes in building some of these trails. However, they are mainly responsible for some of the top trails in Alaska.
While building trails might seem like a fun endeavor, you can't simply build a mountain bike singletrack anywhere. There are a few important things to consider, which is often highlighted by the US Department Of Agriculture (USDA). These include the effect of the trail on natural resources and wilderness in the area.
Keep in mind that many private landowners don't want kids riding around on bikes all day, which can also be a hassle. It is best to consider getting the relevant permission before starting one of these trails and to ensure that it meets most of the safety regulations that are generally put in place. Yes, these trails also need to have safety precautions.
You will also find that there are a few ordained regulations that govern the design of these trails. The IMBA is an organization that promotes mountain biking as long as it does not have any adverse effects on the environment. The main goal is to promote sustainable mountain biking that can be performed by anyone for many years.
Mountain Bike Singletrack Trail Maintenance
Once the trail is built, one also needs to consider the maintenance aspect of the project. The trail will not be in peak condition all the time and weather conditions will have an impact on the trail, much like degradation does. Fortunately, there are many organizations that specialize in keeping these trails in their best possible condition.
Additionally, it is also up to the riders to ensure that they take care of the trails. If you damage one of the obstacles, you can take a few minutes to repair it, but we should also mention that you want to report it. Oftentimes, your repairs might not have fixed the issue and it could lead to a potential hazard for any rider following the track.
As mentioned, it is often volunteers that take their weekends to build these trails and maintain them. Fortunately, you can also be a volunteer at any of these free trail parks and help to keep the trail in peak condition.
Singletrack Trail Difficulty Ratings
Not every trail is the same, with some being harder to do than others. Generally, the more skill needed for a trail, the darker the ribbon attached to it. You will find at most parks that color-coded ribbons are often used to indicate the difficulty of a trail. It ensures that a rider does not get stuck on a hard trail without knowing beforehand. 
Keep in mind that most of these trails are only monitored once a day or a couple of times a week. If you choose a hard trail that does not have a lot of traffic you need to be sure you can complete it. Should anything bad happen, along the route, you should carry a mobile device or any form of communication to ensure that you can receive help. We also recommend that riders choosing the hardest trails invest in the top trail bikes.
Benefits Of The Mountain Bike Singletrack
Now that you have a basic understanding of the mountain bike singletrack trail, we would also like to share some of the benefits over the other trails. While we still recommend riding the doubletrack trails and many of the other open routes, the following benefits are what we experience from the singletrack trails.
Less Traffic: One of the first things you will notice is that there is far less traffic to these trails than some of the larger trails.
Pose A Challenge: Due to the nature of these trails, there is no way around obstacles, forcing you to take them on.
Well Maintained: Singletrack trails are often shorter than some of the other trails, which makes them much easier to maintain and keep in optimal condition.
Ideal For All Riders: Regardless of your skill level, almost anyone with any of the top mountain bikes can consider one of these trails.
If these benefits appeal to you, the best singletrack mountain bike trail is definitely something you might need to consider. They are well-designed and will allow you to have a lot of fun with the right mountain bike to take you through the obstacles.
Drawbacks of the Singletrack Mountain Bike Trail
While there are not many drawbacks to one of these trails, unfortunately, you will have to deal with a few of the drawbacks. As an expert mountain biker, you might not even see these drawbacks, but we have thought it best to mention them.
Dangerous: Unfortunately, the narrow roads can often be winding which makes them dangerous at high speeds.
No Jumping: Many experts might take the risks, but jumping is dangerous due to the narrow landing spots.
Not For Casual Riders: While you might enjoy a casual ride by yourself on a singletrack trail, they don't allow side-by-side riding.
The singletrack mountain bike trails can be a lot of fun and you won't have to worry about any issues when you follow the rules and the basic principles of cycling. It is also important to make sure that your mountain bike is in peak condition.
Wrap-Up
Mountain biking is a relaxing leisure activity with a little bit of strain that helps you workout. However, the mountain bike singletrack are some of the best trails and they allow you to challenge yourself and find out if you can take on the best in the business. Let us know which singletrack trails you like and whether you prefer them over the doubletracks.
Below is a Pinterest friendly photo… so you can pin it to your Mountain Bike Board!