Mountain biking is an exciting sport. The great thing about it is the several disciplines suited to different people. Depending on your expectations and style you choose, it poses challenges for any skill level rider.
However, while many might have it clear what mountain biking is when it comes to the various existing subcategories, the subject becomes more blurry to new riders. No matter your experience with mountain biking, you've probably heard about Enduro Mountain Biking at least once.
Enduro Mountain Biking has been around for several years. But what is the difference between Enduro and Trail mountain biking?
If you want to find answers to such questions, keep reading. We put together all the information you should know about this mountain biking discipline. We included the equipment you need as a beginner and how to start in this exciting discipline.
Let's get started.
What is Enduro Mountain Biking?
For many people, the term "enduro" remains an ill-defined term. There is a bit of confusion around what enduro mountain biking entails. However, this discipline is growing in popularity, affecting the biking culture and technology. So what does enduro stand for?
To put it simply, enduro mountain biking is a form of mountain bike racing that first started in Europe. It was affected by influences from both car rally racing and motorbike enduro racing.
The idea is to get on top of a mountain and speed down to the bottom. For how simple as it might sound, enduro mountain biking does require considerable knowledge in terms of technique and control of your bike.
Enduro mountain biking is essentially created for racing. Nowadays, most races are made out of three to six timed phases. Most of the time phases are downhill, but they vary in terms of length, steepness and trail difficulty.
Between each timed stage, some non-timed transfer stages give you time to get uphill. Sometimes you might need to hike or you'll have to get a chair lift. Other times the transfer time might involve uphill pedaling.
What Is So Special About Enduro Mountain Biking?
The good thing about enduro, which is also what makes it so popular, is the fact that enduro mountain biking is a discipline that combines elements of all the racing disciplines. It is an exciting sport that required physical fitness just like with any cross-country race. It also includes a lot mental stamina and focus, as well as excellent technical skills.
Its not far from the truth to say that Enduro mountain biking is a discipline that falls between cross country and downhill mountain biking. It provides its riders with the adrenaline rush typical of downhill.
It also gives you the physical and mental challenge of cross-country. All this makes enduro mountain biking very exciting and attractive as a sport. It's suitable for different kinds of cyclist and gives us a variety to choose.
You have to remember that enduro mountain biking can be extremely challenging and exhausting. This can be a lot of fun to many, but do the knowledge and the technical skills make it only for the most experienced cyclists? Let's find the answer to this question in the next section.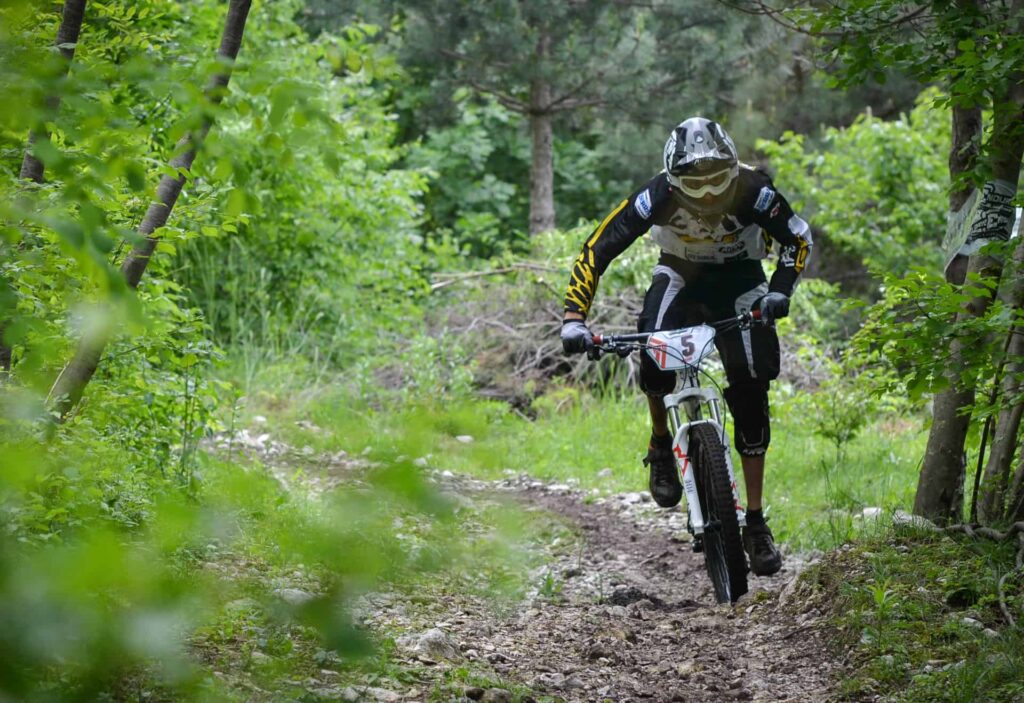 Enduro Mountain Biking For Beginners
While it is true that Enduro riding can be a very challenging discipline, that does not mean that it is only for the pros. It can be defined as one of the most approachable disciplines when it comes to mountain biking.
This discipline requires less physical preparation than cross country and more affordable equipment compared to downhill. That means that the challenge posed by enduro mountain biking is considerable but also accessible, making it great for beginners.
The discipline itself is suited to a variety of terrains and it mostly involves you, your bike and your skills. Enduro mountain biking offers cyclists of any level to increase their ability and to compare their times to everyone else.
The competitiveness of racing makes Enduro a great method to polish your skills. You'll have to push your limits on the descents, but the results will be more than worth it!
What Kind of Bike do you Need for Enduro Mountain Biking?
What makes enduro mountain biking so approachable is the fact that unlike other mountain biking disciplines, you won't require a dedicated bike. This will bring the costs down and makes the discipline less expensive overall.
It doesn't mean that any kind of bike will suit your needs. Therefore, before getting a bike that will do great for the enduro races you'll need to take into consideration a few points.
First of all, you'll need to find a bike that can handle the tasks at hand. You need to ride both down but also up hills for a considerable amount of time. For that, you'll need a lightweight bike and that will provide you with the required amount of support.
Here is a Santa Cruz Nomad Carbon R Mountain Bike great for this type of riding.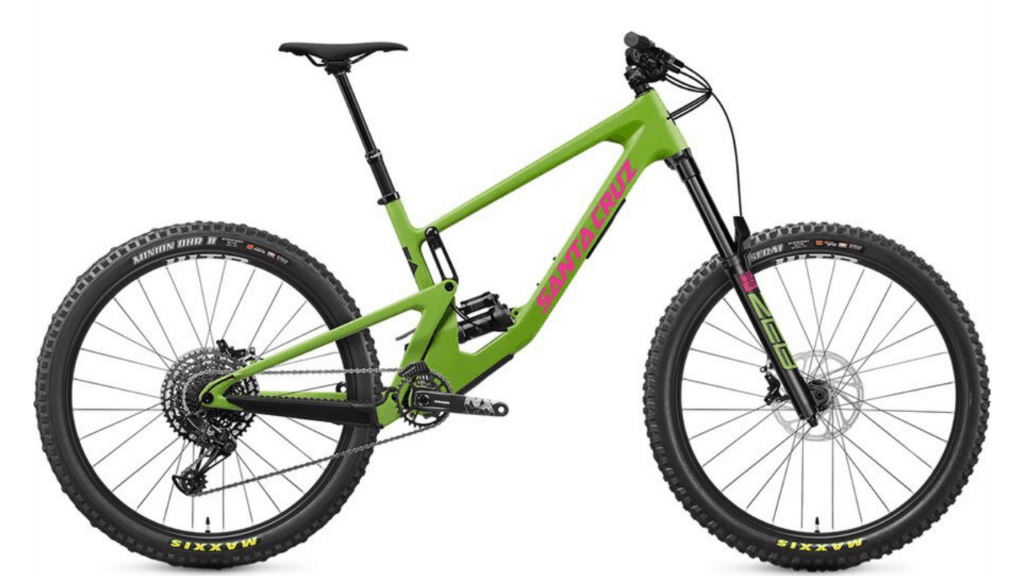 What is the Difference Between an Enduro and Trail Mountain Bike?
Enduro bikes today lean more toward a downhill bike with a longer and lower frame compared to a trail bike. Also, the bikes have beefed up suspension to handle the beating from downhill riding with 150mm-180mm of travel. As you can see below, the length is notable different on this Yeti SB165 Turq T2 compared to the Pivot trail 429 bike.
Trail bikes on the other hand are a step down from the enduro bikes with a less travel, usually between 120mm-150mm. Because trail riding involves a lot of uphill the head tubes are closer to a cross country bike.  Also, the chainstay is shorter for pedal power up hills along with a steeper seat tube angle.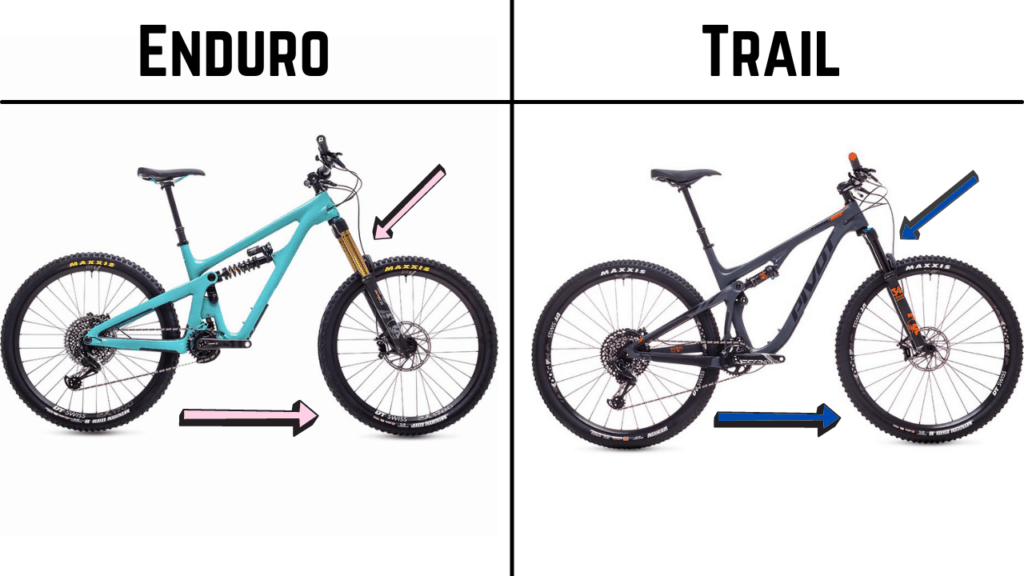 Bike Components Best for Enduro Riding
Furthermore, a good bike suited for enduro mountain biking requires full suspensions. Your going to want this to build confidence and keep you comfortable during the ride. Don't forget to take into account the kind of terrains you'll be riding on.
For example, for steep trails, full travel, defined as 140-160 mm of front and rear suspensions will do great. Alternatively, for enduro races that do not involve much of a elevation change, a bike with less travel such as 100-140 mm will be enough but 150mm and up is recommended.
Another important consideration includes the selection of tires and breaks. Make sure you do some research about the trail conditions to make a more informed decision. Whether the trail is muddy or rocky, it will have an impact on the kind of bike that is better suited for racing.
For example, if you are planning to ride on steep trails, with a lot of descending, larger rotors will provide you with more power for longer.
Also, tires with tougher sidewalls will ensure fewer chances to have to deal with flat tires on any kind of trail. Additionally, having a dropper seat post will come handy to get the saddle out of the way. This will allow you to change your body position on challenging terrains and return to a pedaling position in an attempt to maintain your speed and momentum.
What Gear do I Need?
As with any type of mountain biking, Enduro also requires you to wear appropriate gear. Also, the kind of gear tends to have an impact on your performance. Enduro racing doesn't require any specific kind of gear, but you'll need to be equipped with some basic items.
Of course, some kind of gear mainly depends on the specific conditions of the trail you are racing on and the weather, which is why you should be aware of the weather conditions and on the type of trail you'll be racing on.
In general no matter the weather conditions and the kind of terrain you'll be riding on, there are some types of gear that you should make sure you have on hand during your enduro race to be safe at all times but also to enhance your performance. Whether you are a beginner or an expert, this section includes all the necessary gear for your average enduro racing.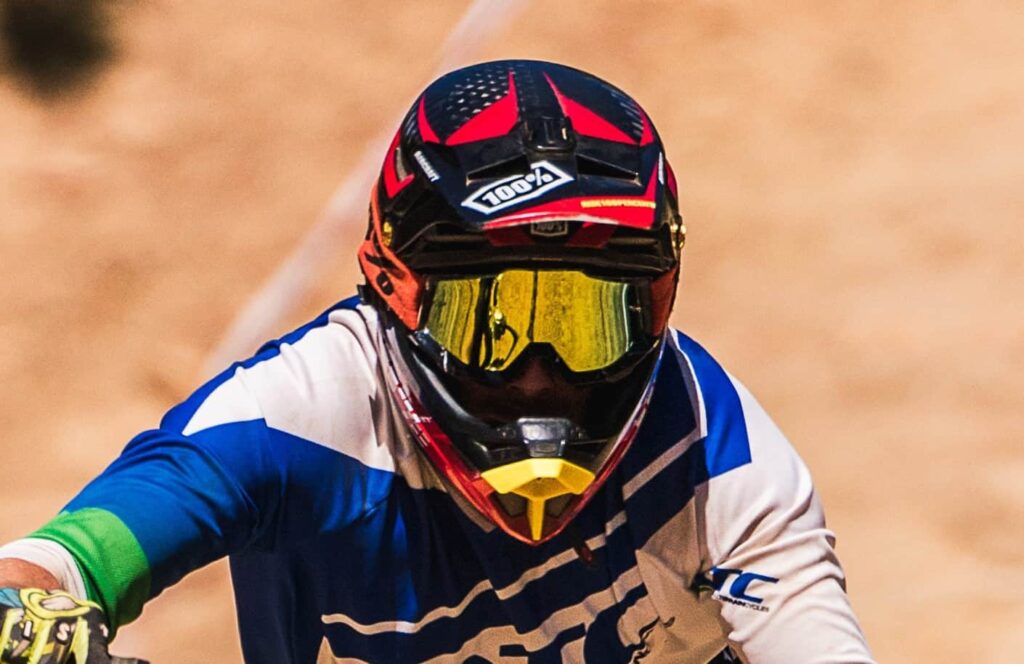 Essential Gear Needed
First of all, you need to be equipped with a full-face helmet. Even though only some races make it an explicit requirement, it is better to wear a complete helmet at all times. As you'll most probably ride at extreme speed and have to deal with tough trails, better be safe than sorry!
Another good idea, that will reduce the impact of possible falls and keep your extremities protected is to get some pads to wear on your elbows and knees. Also, the more clothing you wear, the better protection you'll get in case you fall during your race.
Minimizing the impact is essential in enduro biking. Generally, long sleeves and baggy shorts are preferred. Also add gloves to this category due to the continuous strain you will put on your hands and forearms.
What's more, don't forget to pack enough water in your hydration pack as enduro races tend to be extremely long and tiring. Some snacks will provide you with extra energy to keep up your mood and your attention. Also, pack some basic tools that will come handy in different situations you might have to deal with (such as a flat tire or a basic fixing situation).
Don't forget to protect your eyes by tweaking cycling glasses or goggles. They will not only keep flies, debris, and mud to disturb your vision but will also guarantee you great vision at any point in the race!
Check out this great video to see more on Enduro Riding.
Conclusion
As you can see enduro offers great opportunities to different kinds of cyclists. It is an attractive biking style that combines cross-country with downhill.
Before getting into racing, make sure you are appropriately equipped. Especially if you are a beginner, pick your races wisely and do your research, as trails will vary widely, both in terms of length and physical requirements. At the end of the day, the most important thing is that you have fun and that you challenge yourself to your limits!
Below is a Pinterest friendly photo…. so you can pin it to your Mountain Bike Board!