Camping is one of the best opportunities you have to explore the world and travel. It is an affordable method of breaking away and having the right gear can make a big difference. If you are fortunate enough to own a camper, you should consider looking at the 5 best mountain bike racks for campers to help transport your bikes.
With so many options to choose from, it can be daunting to find the right one for your needs. When heading off on your travels, having the right bike rack can make a big difference and ensure that you reach your destination efficiently. We have done some research to determine the best mountain bike racks for campers.
Top 5 Mountain Bike Racks For Campers
Before diving into the intricacies of these bike racks and explaining how we went about selecting them, you should look at which products are the best. We have isolated some of the top options that are compatible with most campers. These should give you peace of mind security, while effectively transporting your mountain bikes: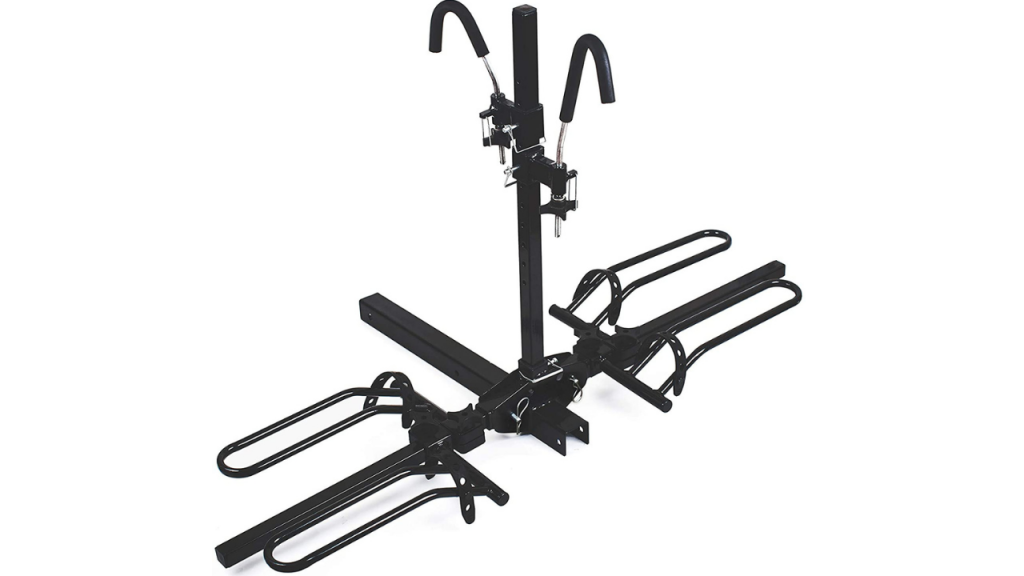 The first one that comes to mind is the MaxxHaul 50027 Hitch Mount Bike Rack, which gives you plenty of storage and even enables you to store some of your e-bikes. The rack itself comes in at a low weight but could cause issues when it comes to the nose weight of the camper. You will have to keep this in mind when selecting this option.
It can hold an impressive 60kg, which means that many bikes will comfortably be usable when it comes to the rack. One of the top features is the sliding feature, which makes it much easier to reach the drawbar storage space. It also features additional clamps that can be locked to give you security from possible theft.
What We Like:
Capacity: This is by far one of the top options in terms of durability and should give you plenty of value when it comes to capacity.
Security: The secure clamps on the side of the unit should ensure security and prevent any possible theft.
Sliding Feature: With the sliding feature, you can still access the drawbar storage on your camper.
What We Didn't Like:
Weight: Being heavier than some of the other options, you will need to make sure you are not exceeding the nose weight of your camper.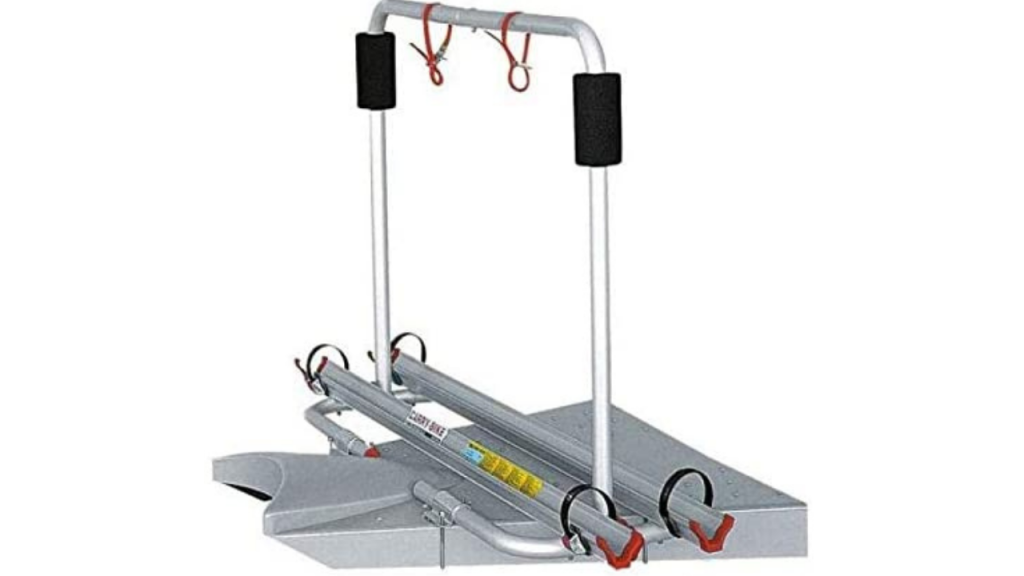 Being one of the older brands on the market today, Fiamma has had ample time to perfect the camper bike rack. One of their top options is the Fiamma Carry-Bike XL which offers a maximum weight capacity of 35kg. In terms of compatibility, it is proven to fit on almost every caravan on the market today and provide value.
The unit features a two-bike carry capacity and can be mounted with simple clamps. You don't need any specialized skills and no drilling will be required. The only downside is that it can be tricky to access some of the rear elements of your camper. However, you can make some modifications if you have the time and money.
What We Like:
Fits All Caravans: The main reason to buy this rack is that it can fit almost every caravan you could own.
Capacity: If you have someone joining you on the trip, the capacity should be great and you could fit two bikes on it.
Price: Even though it is one of the established brands, you don't need to worry about it being overly expensive.
What We Didn't Like:
Weight Limit: Since it can only hold about 35kg, you will find that bikes can easily exceed this maximum capacity.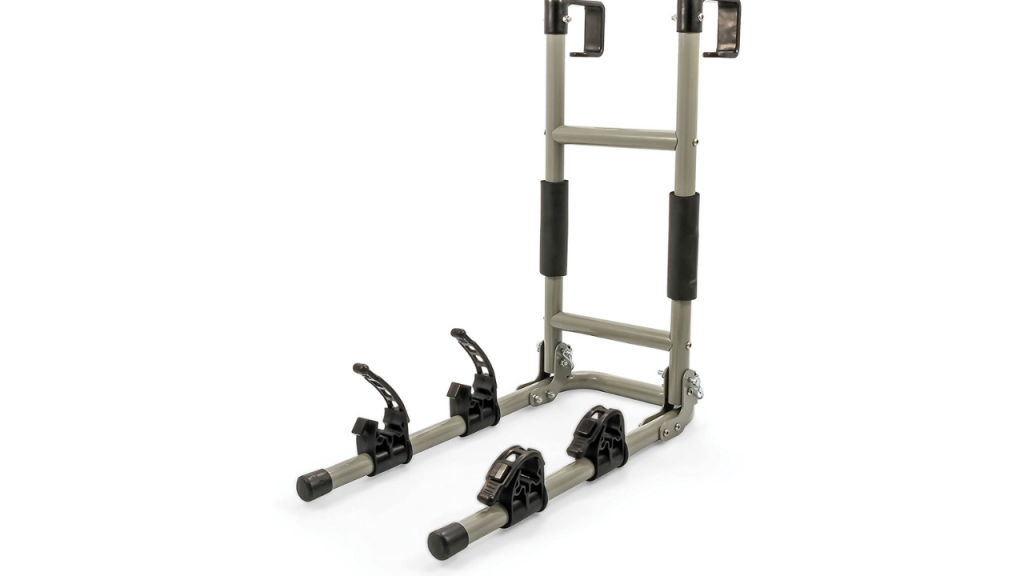 The Camco RV Ladder Mount Bike Rack is one of the most useful options you can buy. Aside from having a ladder design, it can easily install and mount on your camper. The unit is durable and can comfortably hold your mountain bike. However, we have seen some users add additional straps to ensure that the bikes are tightened.
Once you are done with the unit, it should readily fold and be out of your way. Mountain should not be an issue, but some users could need some assistance. One of the main reasons for selecting this bike rack is the price. Compared to some of the other top brands, this is one of the cheaper options that can hold 2 bikes.
What We Like:
Price: The first thing you will notice with this bike rack is the price. It is one of the more affordable options to choose from.
Portable: When not in use, the foldable feature means you can quickly store it out of your way if need be.
Includes Straps: The additional straps will be a great addition for peace of mind and for keeping the bikes safe.
What We Didn't Like:
Weight Capacity: Unfortunately, the weight capacity is only around 25kg and this could be demoralizing for many.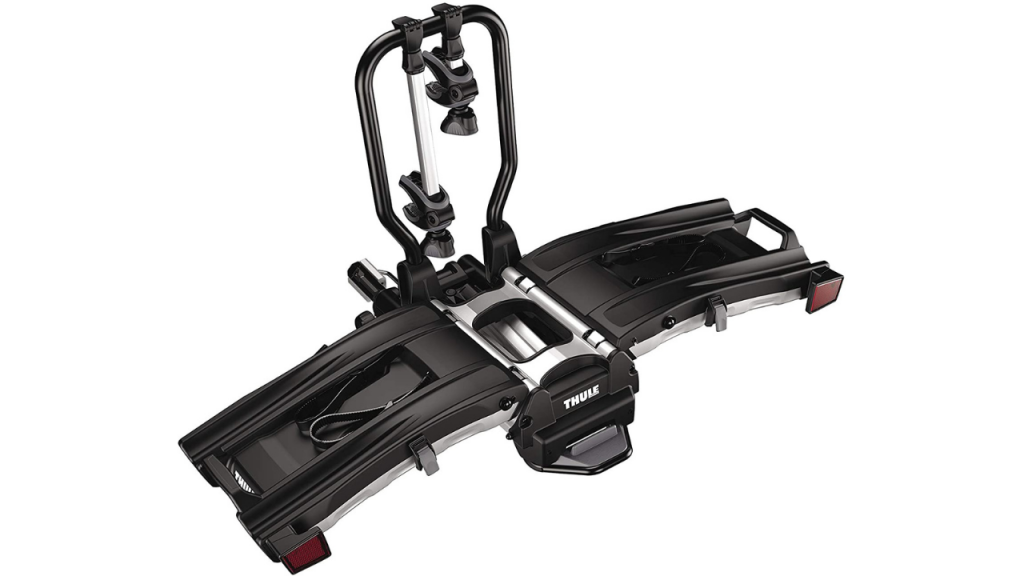 Competing with Thule is daunting and intimidating for almost every brand. The Thule EasyFold XT 2 Hitch Bike Rack is one of the most popular options on the market today and it can support a maximum weight of up to 60kg. With some good planning, you can hold up to 4 bikes on the rack to support the whole family.
Thule has a reputation for reliability and with different locking mechanisms on all their bike racks, you can have peace of mind that nothing will run the risk of being stolen. Mounting is easy and should not take too much time. However, Thule is one of the most expensive brands on the market today and you might need to spend more than your bargain for.
What We Like:
Weight Capacity: In terms of the weight capacity, you can store up to 60kgs on the unit, making it ideal for e-bikes.
Security: Thule has been well-known for the security they put on their bike racks and this is certainly noticeable.
Reputable: We can ramble on all day about the reputation of these bike racks and how much value they bring to the table.
What We Didn't Like:
Price: The biggest downside to most of the Thule bike racks is the price. It is one of the more expensive options.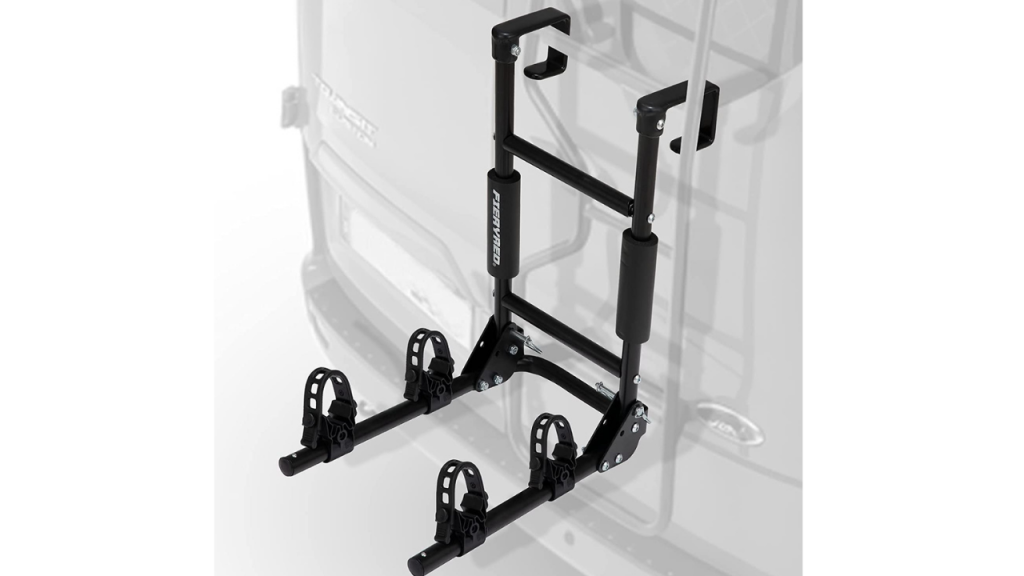 Finally, we need to look at something affordable that will give you the best value for your money. The FIERYRED Ladder Mount Bike Rack is a versatile option that is constructed from durable materials. It features a solid structure and can hold 2 bikes with a total weight capacity of close to 30kg for these bikes.
A unique foldable feature has been integrated and the feature will enable you to quickly fold the unit if it is not in use. Impregnated hooks and clamps make up the bulk of the overall security features of the unit and EVA tubing will protect your bike. If you are strapped to a tight budget, this could be the option for you.
What We Like:
Capacity: With a total weight capacity of around 36kg, it is one of the more durable options to choose.
Security: The rack will not only give you security for your bike from being stolen but ensure they don't damage.
Universal Fitment: The rack should easily fit on almost every RV and ensure that you have durability.
What We Didn't Like:
There is not much we didn't like about the bike rack. It is durable and functional and for the price, you get excellent features.
What You Need To Look for When Selecting The Best Bike Rack For RVs
Like many other things, you have to make sure that you consider the crucial features that give value to these bike racks. We have identified some of the main elements and have stuck to them for selecting these options. If you don't like these options, you can use this as your buyer's guide to potentially find something else.
Mounting
One of the most important features to look at is mounting. If you need to drill holes or damage your vehicle to mount the bike rack, it is not worth it. You need to make sure that you have something that can be mounted without any hassle and make it easy for you to set up your bike rack.
Capacity
Another important feature is the capacity of the unit. Depending on which bikes or how many bikes you need to transport, you need to find something that makes it possible. We recommend looking at the weight capacity of these bike racks as well as the total number of bikes that can easily be stored.
Security
The final thing to keep in mind is security. You should be looking for something that offers you a secure place to store your bikes. Many brands have different security features and camping with your bike rack heavily depends on this while on the road. Bikes are hot property to be stolen and you want to avoid this.
Frequently Asked Questions
With most of the aspects covered, there are still a few lingering questions that many people might have. To ensure that we are all on the same page regarding mountain bike racks for campers, we will need to answer a few of these common questions:
Can You Put A Bike Rack On A Camper Trailer?
While it used to be impossible, nowadays, manufacturers will cater to virtually everything. New and modern bike racks can easily fit on the camper and you can effectively set them up to meet your specific needs.
How Do You Carry A Bike On A Camper?
Generally, your camper should have room inside and you can quickly stow the bike inside the camper. However, many people have lots of baggage to transport. The bike rack for campers should be the most effective way to ensure you can store your favorite mountain bike. It should also keep the unit as safe as possible.
Wrap-Up
The best mountain bike racks for campers are designed to add to your storage capacity. They make it possible to add any new bikes and ensure you have adequate room to set them up. The above-mentioned options are some of the best we could come across. However, we would love to see some of your comments on options we could have missed.
Below is a Pinterest friendly photo… so you can pin it to your Mountain Bike Board!