When you're new in the world of mountain biking, you might think your new mountain bike is all you need. However, that is far from being true. Having the essential mountain bike gear for beginners is critical.
Mountain biking can be as expensive or cheap as you want it to be. Depending on the money you are willing to spend. You might want to invest money for better equipment and gear. But there are some essentials you must ensure to have before hitting the trails, without having to break the bank.
To give you a quick list of the must have mountain bike gear for beginners to be equipped with before getting out on the trails.
Helmet
Even if you are on a budget, you don't want to skip getting a helmet. It's worth investing in a good helmet. It's a very important piece of equipment that can save you from serious injuries.
For how obvious as it might sound, you need to have a helmet to ride. While it is not a requirement for all countries. Wearing a helmet is just as important as wearing your seat belt in the car.
Depending on your riding style, you might need a special kind of helmet suited to the riding style you'll be involved with. Before purchasing one, make sure it is certified.
You might even come across with Multi-Directional Impact Protection certified helmets. Or MIPS, which are designed to offer greater protection for impacts that involve rotation. These tend to be common with biking.
The key to finding a good, protective and also comfortable helmet is to find a helmet that fits you well. One without it feeling lose on your head while riding or when you tilt and shake your head. A loose helmet will not protect your head properly. This is one piece of mountain biking gear you can't afford to not have.
Remember, it is important to replace your helmet often. Even if you didn't suffer from any impacts, to ensure optimal protection at all times. If you did have an accident, no matter how severe, you should replace your helmet with a new one immediately.
Riding Gloves
You might not have thought about it yet, because you still have not experienced it. A good pair of high-quality gloves can prevent injury from scraped palms. It also can reduce the formation of blistered caused by friction.
Mountain biking can be very rough on your hands and it is not uncommon to get calluses, scratches and bad wounds. Speed is also part of mountain biking meaning that falling from your bike can be dangerous. Leaving gloves behind might cause you painful injuries that can be easily avoided with a good pair of riding gloves.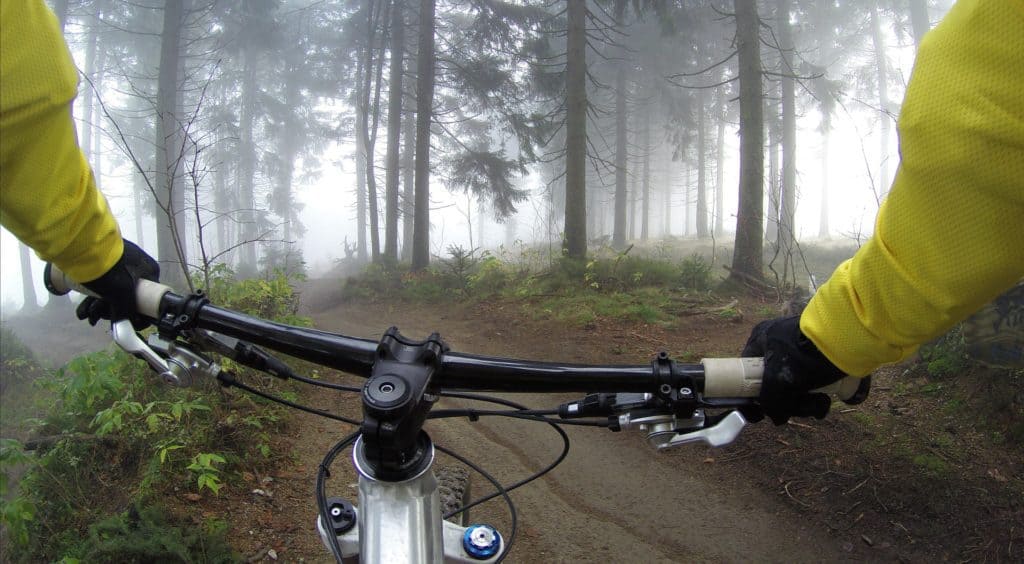 It would be better for you to get a pair of gloves offering some palm padding to reduce hand fatigue and increase comfort. Again, even when it comes to gloves, there are a lot of options for you to choose from.
Generally, it's advisable to buy full-finger kinds of gloves, for improved protection and better grip. Gloves that are made of breathable material will be best.
Protective Glasses
Eyewear is another piece of essential equipment that is important for your safety when mountain biking. On your trails, you might have to deal with tree branches, dust, bugs and even bright light that might impede you to see properly.
Depending on the kind of light you'll be subjected to, you'll have to choose different kinds of lenses. For example, for bright light situations, tinted lenses are better while yellow or amber lenses work well in low light. But vision is not all, wearing glasses also means protecting your eye from any external body that can get into it.
Price can vary a lot. You should make sure you choose glasses offering adequate protection. Also make sure they are suited to the kind of light you'll be riding in. Also make sure you find a pair that will stay in position while you're riding.  You don't need these falling off your face when you're riding on a downhill section.
Hydration System
Water is a must-have when doing any kind of sport. Dehydration can negatively affect your performance and you must ensure you have proper access to water. Even for "just" a few hours of riding. Hydration packs (or hydration systems) can be bulky. They do offer great advantages over the simpler water bottler for anyone mountain biking.
First of all, they allow you to keep your hands free and not to lose focus. Additionally, it is an effective way to carry up to 3 or 5 liters of water. This is essential for longer trips. It's recommended to drink every 20 minutes or so. Even if you are not thirsty, in order not to lose too many electrolytes during your ride. Carrying water with a hydration pack will make drinking easier and less uncomfortable.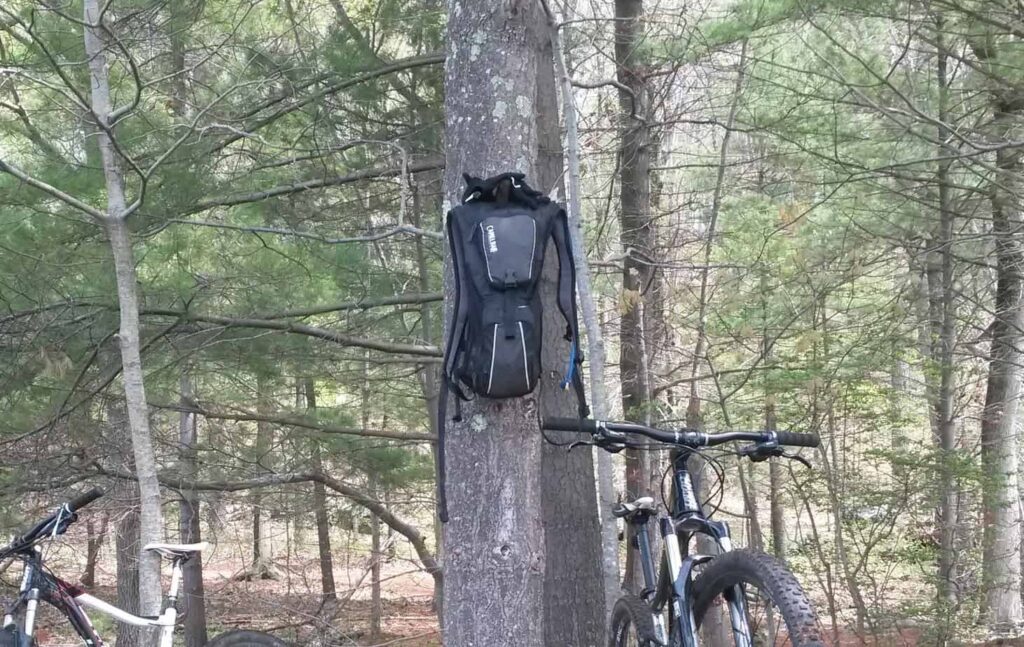 Hydration packs are handy backpacks that are equipped with a water bladder and hose. Most of the time there will be enough space for you to fit some snacks, a toolkit and even some extra clothes (just in case!).
Tool Kit
When on the road, it is not uncommon to have to deal with flat tires and broken chains. This is why you must be prepared. That does not mean you need to carry the entire gear shop with you. Be equipped with the right tools to deal with any possible problems.
Mountain biking involves steep and bumpier trails. These increase the chances of having to face some kinds of incidents along the way. Carrying a basic tool kit with you at all times can help avoid a headache. You will be able to quickly fix a punctured tire or a broken chain.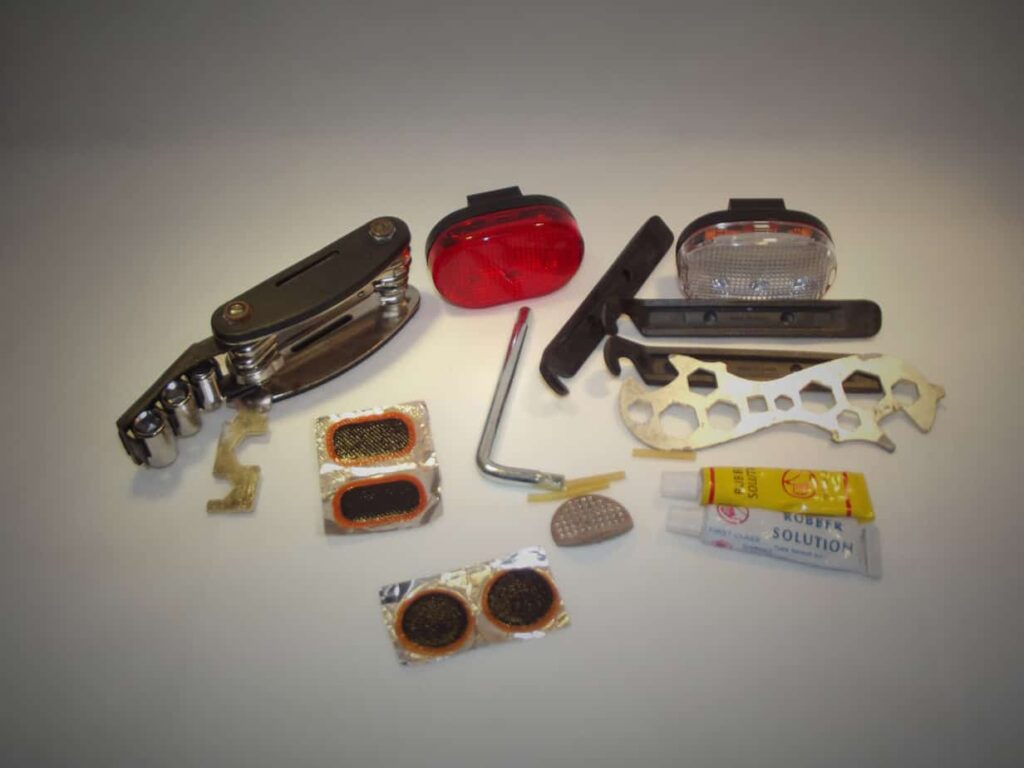 Get a tool kit that includes different sizes of Allen wrenches and screwdrivers. These will be handy to adjust or fix most of the components of your bike. A multi-tool with a built-in chain breaker would be preferable. Also, don't forget to carry a light-weight and portable mini-pump, spare inner tubes and a master link. You never know when you will have to use them. Remember that it is better to be safe than sorry!
When it comes to choosing the right pump, get one that can switch between Presta and Schrade valves. Also make sure that you can easily fit in your hydration pack or mount to your bike. Additionally, don't forget to carry with you at least one spare tube, being careful it is the right size.
Before getting on the road, learn how to fix a flat tire. Know how to deal with some common incidents you might encounter during your ride.
Good Clothes
Clothing will play a role in how comfortable you'll be during your ride. For longer rides the right clothing makes a big difference.
For example, you must purchase some padded shorts. Trust me, Even though they might feel odd at first. You will soon find out how good they can be, especially after having sat in the saddle for long. Indeed, a good pair of riding shorts will keep you from getting sore or getting uncomfortable rashes. Wearing regular clothes might hinder your movements or lead to muscle fatigue and cramps.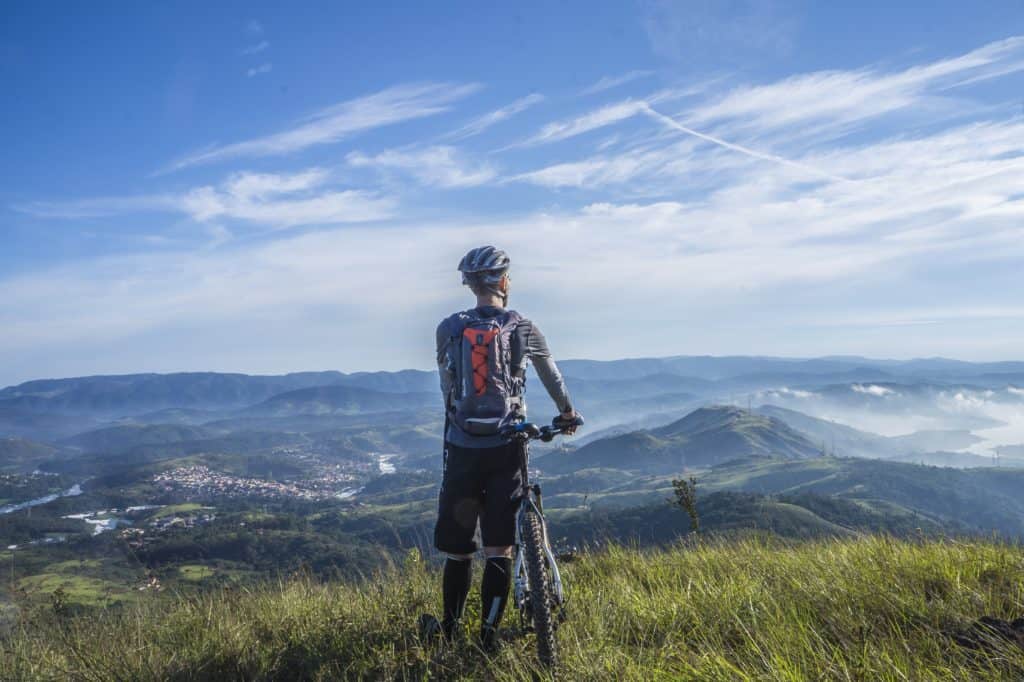 Plan to be equipped with insulation layers. A fleece jackets, which will keep your body temperature constant while still ensuring breathability. Long sleeve shirts that are polyester work well. They can save your arms if you happen to cruise by a pricker bush.
Also, having a waterproof jacket might come handy, especially with unpredictable weather. Try to look for jackets that have some reflective tape which will increase your visibility in low light.
First Aid Kit
Most of the time you wont need a first aid kit. But better to have it and not need it, then need it and not have it, right? Having band aids, ace bandages and more can really be key to helping you get through a tough time.
Being prepared is a good thing. It makes you better equipped to adapt to the situation when you might be miles into a trail. Try to find a small kit that can fit inside your hydration back pack.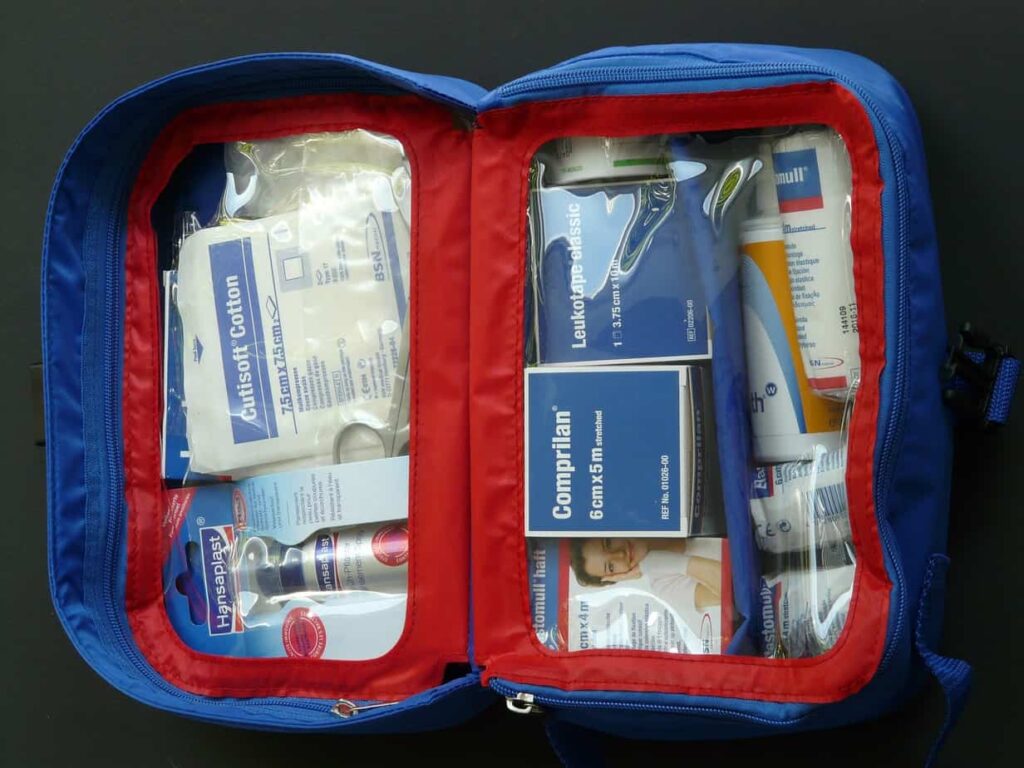 Bike Lights
Being equipped with some lights will be key when riding after dark. You never know what kinds of surprises you might have to deal with during your ride. Be prepared for the worst and having bike lights will be key. For increased visibility purchase both front and rear lights. You can choose between simple safety lights and high-output lights.
When it comes to mountain biking, it is better to use high-output lights. Especially for your front lights as they allow you to see the road better.
You can even choose to purchase a headlamp. They can come with a long battery life, a long-distance beam and sufficient lumens (at least 350 lumens will work fine) if you wish to do so.
Conclusion
This concludes the list of must have mountain bike gear for beginners. You might want to add some more items over time like Energy bars, sunscreen, lip balm, and mountain bike shoes. But for now you can hit the trails.
Once you start building experience in the trails, you might find some other useful types of equipment. Build up your list to have for certain types of mountain biking experiences.
As mentioned previously, the amount of money you decide to invest will be up to you. The choice is yours. However, it is advisable not to skimp out on your safety. Investing in high-quality mountain bike gear and material ensure your safety. These items might save some huge costs in the long run.
To start with, the list above is an exhaustive selection. We included everything you should have with you for your first few times out on the trails.
Below is a Pinterest Friendly photo… so you can pin it to your Mountain Bike Board!