Big Bear is located in the southern parts of California and it is one of the top destinations for mountain biking in this region. Mountain biking in Big Bear is so much fun. You get to have fun on a variety of downhill trails as well as singletracks. Most that vary from each other in terms of difficulty.
Whether you are an experienced rider or a novice, you will always find a trail for yourself in Big Bear. Even if you don't own a bike you can always pick up a rental from one of the local bike shops around in the area. If you love thrilling rides and the views to go with it then the best big bear mountain bike trails should be on your bucket list.
Big Bear is not that big of a region but it still has more than 30 trails in it. And these networks of trails bring many bikers from all across the country as well as the globe to this spot in Southern California.
Here is a list of the top 10 best mountain bike trails in Big Bear California.
Top 10 Big Bear Mountain Bike Trails
Below, we have a look at some of the top Big Bear mountain bike trails. This is by no means the complete list of every mountain bike trail the the mountain has to offer. These are the most prestigious people know Big Bear for. Big Bear has some of the most fun and most beautiful bike trails in the country.
1.  Miracle Mile Mountain Bike Trail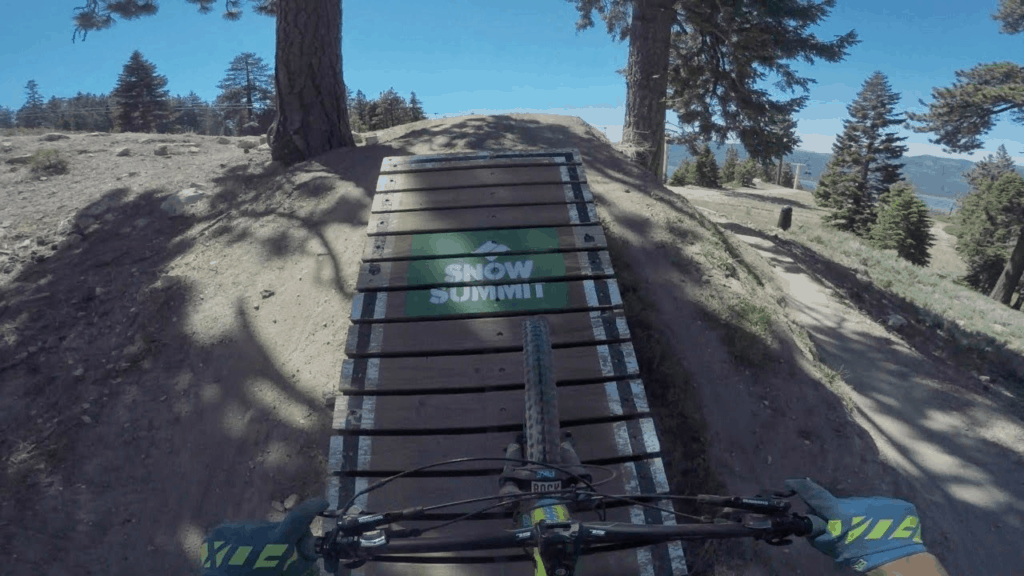 As the name goes this short trail is only a mile long and it is going to test your mourning bike skills for good. Rated as an advanced trail, the Miracle Mile is purpose-built a singletrack and it is the first of the few in this area.
This trail also covers the region of Snow Summit Mountain Resort. So it is a ski area in the inters and a network of MTB trails in the summer. This trail has been designed with gravity logic and it contains 10 jumps, 33 berms, several rollers, sweeping S-turns along with 3 wooden features. All of this you will have to tackle in this one-mile ride.
You will have to ride fast and through different obstacles so it's a game of proper balance and resilience. It is one of the best mountain bike trails in California as well. You won't get much chance to explore the views once you start riding. So after a climb, you can have a bit of fun at the top of the hill and then start riding downhill.
2.  Cougar Crest Mountain Bike Trail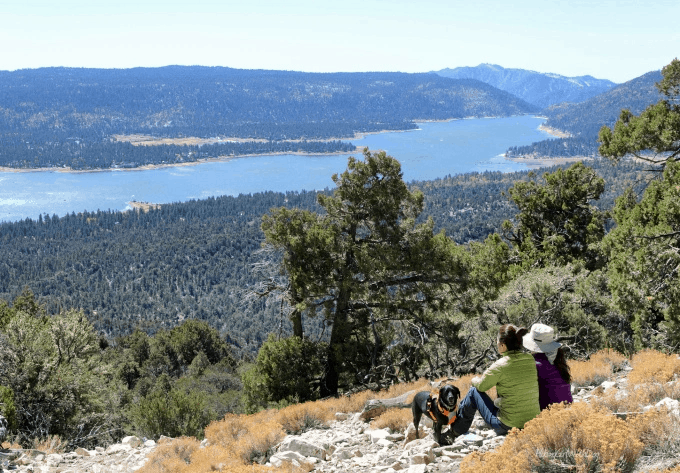 This singletrack is rated as an intermediate trail and it is over 3 miles long. Cougar Crest is tricky and the technical trail can be used as a single track or an out-and-back trail as well. If you are looking for some mesmerizing views of the blue-colored water matching with the sky above Big Bear Lake then this is the trail that you need to run.
There are ski resorts around the area as well and they also add to the overall view of this lake. You will notice that this rocky trail is pretty different from all the trails on the south side. Its classic rock garden look and feel of this trail make it different from the other trails in this region.
And of course, you will have to prepare yourself and your bike's suspension system for some punishment because you are in for a bumpy ride. At the end of the trail, things start to level out and open up and you are allowed to zip through the trail but keep your eye open for the hikers around as well. You have to keep in mind that mountain bikers are not allowed on Pacific Crest Trail that passes right over the Cougar Crest.
3.  Upper & Lower Fall Line Mountain Bike Trails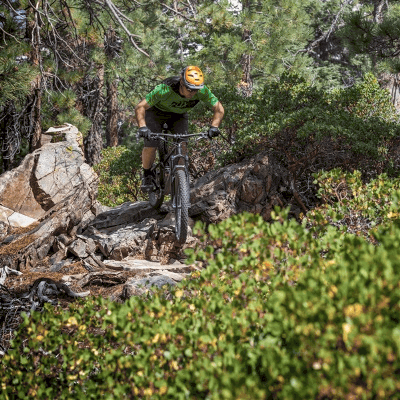 Thrill-seekers beware, this will test your nerves and skills in a very short time. This trial is a mile long but from start to finish you will notice that you did achieve something when you are done with it.
This small network of trails features some heart-pounding steep descents with loose rocks on them along with sand and a few drops along the way. On these trails, you will find several kickers that will test your skills and a few sketchy drops that will make you wonder whether you should run it.
This brief network of trails is no joke at all and it has been rated for advanced riders. Lift service is available in this area to take you to the top of the mountain and from there you can ride your way down and try to emerge victorious at the end once you are done.
4.  Skyline Mountain Bike Trail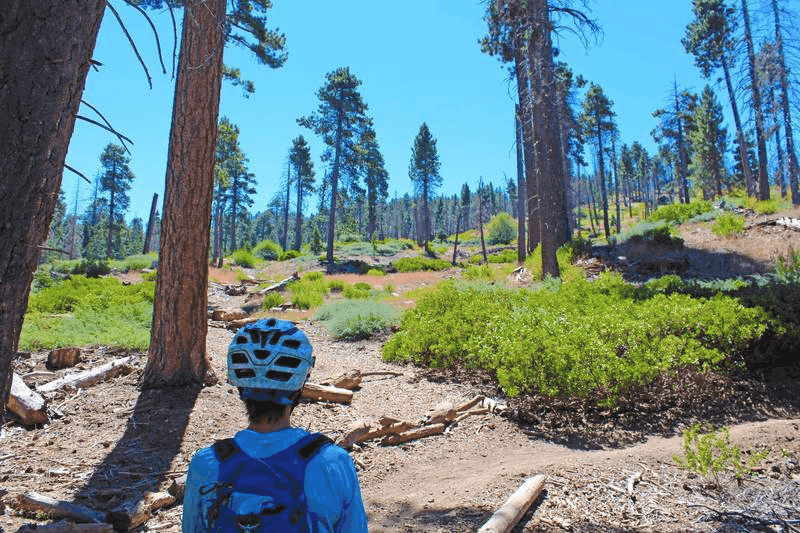 You might be thinking that does the southern California region have any trail for beginners too? Well, it does and the Skyline Trail is one of them. This singletrack is 8 miles long and has an out and back configuration.
One of the primary reasons why Skyline Trail is rated for beginners is that it is a multipurpose trail. You can also use it for horseback riding as well as hiking. This trait is present right behind the Snow Summit Resort and it begins right at the meeting point of US Forest Service roads (2N06 and 2N10).
And just to add that WOW-factor to it, you can have a look around the beautiful views of Mt. San Gorgonio. You should take a camera here with you. Furthermore, you can ride with your family on these trails as it is pretty easy going and even elders and children in your family will have fun riding it.
5.  Pine Knot Mountain Bike Trail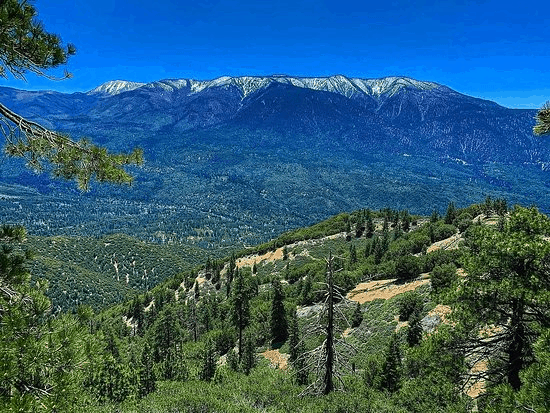 This trail is one of the best in this region and it is marked as an intermediate level singletrack that is more than 5 miles long. There is a small section for advanced riders as well in this trail. From the fire road 2N08, your tough climb of 4 miles begins that will take you to Grandview Point. 2 miles out of these 4 miles is all about climbing.
Right at the top, you will visit some local shops to buy some food and inks to energize yourself like the Clif Energy Chews. Now it's time to enjoy one of the best singletrack descents in this region that will take you to the picnic area in Mill Creek Rd at the bottom. This descent is enough for you to test your skills with plenty of rocks and trees to take care of.
6.  Bona Vista Mountain Bike Trail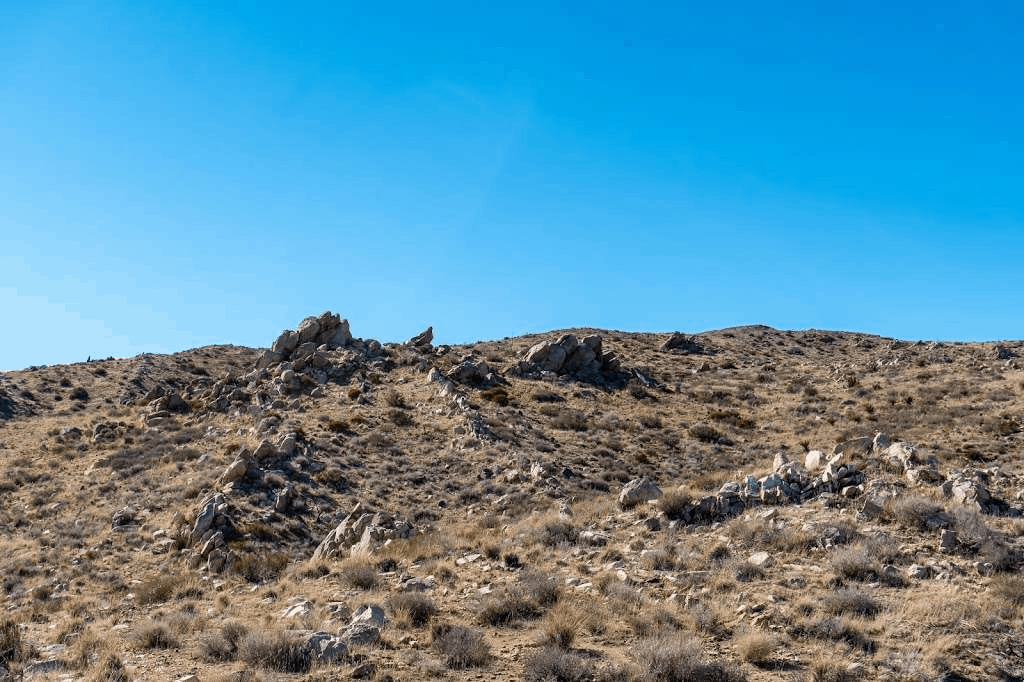 If you are looking for some serious big bear mountain bike trails then this is one of them. It is a 25-mile long trail with an advanced rating and the singletrack has network configuration. First of all, you will have to be careful because you will find hikers around as well.
Right at the beginning of this trail, you will have to do some hiking with your biking. After that, you will have to start climbing on your mountain bike like the Diamondback Overdrive Hardtail Mountain Bike. You will get plenty of breathtaking views through your hike and climb and that will make your time climbing less hard. And once you reach the top it's all about going downhill from there.
Your adventures of mountain biking in Big Bear Bona Vista begin right here whether you go for fire roads or other trails. This network of fire roads and trails will take you to the other end of the mountain where the Mojave reservoir is present. You can also go to Lake Arrowhead or Deep Creek springs.
7.  Santa Ana River Mountain Bike Trail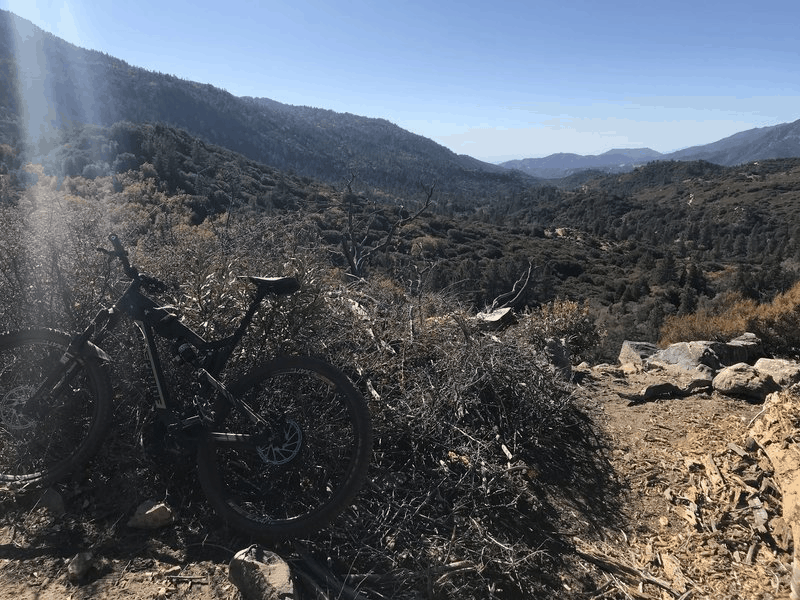 Here's another one for the riders who are looking to have some thrill on their mountain bikes. The singletrack is 22 miles long and it has an out and back configuration and is rated for advanced riders. Most of these trails feature dirt and lose solid so gripping the surface will be pretty difficult and this is where your riding skills will come into play.
There are plenty of local shops present throughout the trail and you can conveniently look for bike repairs or grooming if you want. Plus, you can find something to eat and drink and rejuvenate to tackle the trail as it is a long and testing one.
The views of the river are pretty nice for you to enjoy if you are looking to stop for a while. So essentially, this trail has everything to offer and you will love riding it again and again. But make sure that you are skillful enough to tackle the hurdles along the way.
8.  Crafton Hills Ridge Mountain Bike Trail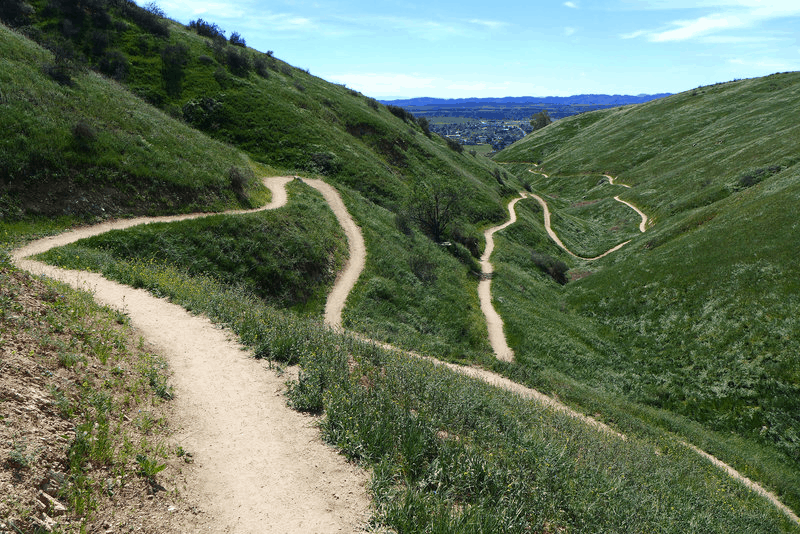 This intermediate-rated trail is singletrack and it's 10 miles long with a Lariat configuration. If you are looking for some interesting trails then you will love this area. There are plenty of trees and rocks to take care of and you can always do some tricks along the way.
This trail also allows you to enjoy some breathtaking views from the top of Crafton Hill. During the rainy season, this trail becomes pretty slippery and you will have to be careful while riding it. But the good thing is that there is not much rain throughout the year. Navigating the trail is pretty simple because the track goes almost in a straight line.
But you will have to beware of the hikers in the area. There are local bike shops available as well where you can get some repairs and buy something to consume during your ride.
9.  Fern Mountain Bike Trail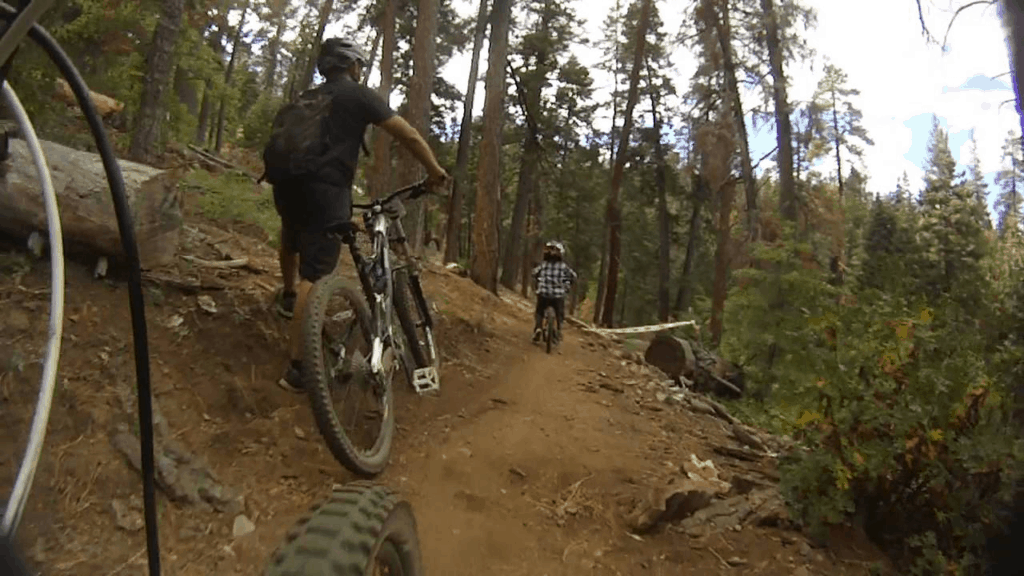 Fern Trail is a singletrack that has been rated for intermediate MTBers. It is a brief network of trails and the trail itself is around one-mile long. Most of the trails that you will find in the eastern part of this area fall into this trail.
Therefore, it is going to be a very flowy and smooth finish to your ride no matter what has happened at the top of the mountains. Therefore, we would say that it is even a good trail to ride for beginners as well. The trail is only a mile long but it links all the other trails in this area.
This trail is full of trees and flowers so you will get plenty of opportunities to take some photos as well. The scenery here calms your senses and if you are looking for a trail for a relaxing ride then this is it.
10. Hanna Flats Mountain Bike Trail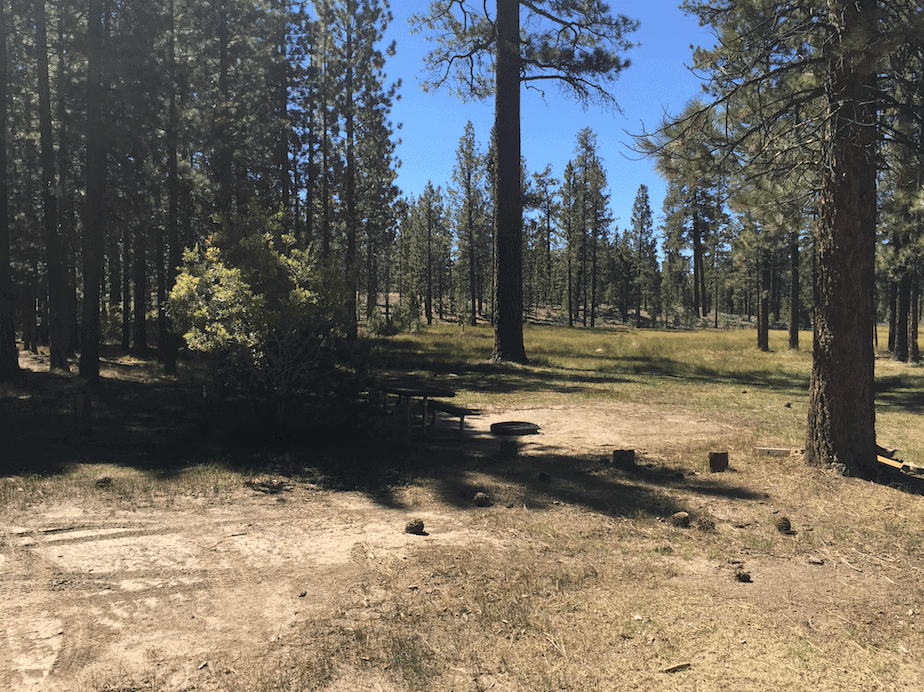 Hanna Flat trail is also singletrack with a loop configuration and it is 8 miles long and rated for intermediate riders. If you are looking for smooth and easy but seriously quick singletrack then Hanna Flat is the way to go.
The singletrack descent begins from the campground area. The original track is not this long and you will have to ride it as a loop along with some gravel roads for the full stretch. You can loop it with 3N14 forest for better access.
It is one of the best singletracks in the area because you will ride at a blistering pace. But there is not much to talk about when it comes to bumps and obstacles. This track is for speed. If you are an MTB rider who likes to go for pacey trails then you are not going to find anything better than Hanna Flat.
Final Word
Mountain biking in Big Bear should be right at the top of your bucket list whenever you visit the southern region of California. This region attracts a lot of visitors from across the country throughout the year. In the winters, skiers come to have fun here and, in the summers, it is the time for hikers and MTBers to stomp the mud holes.
The best big bear mountain bike trails attract a lot of attention in the state and this small section has some of the best mountain bike trails in California as well. Whether you are an advanced rider or a beginner, Big Bear has got something in store for you.
Below is a Pinterest friendly photo… so you can pin it to your Mountain Bike Board!