Mountain Biking in Arizona has always been a popular pit stop for mountain bikers and adventurers. It's not just the scenic beauty, but the trails present challenges that only an experienced rider can overcome.
But that doesn't stop freshies from trying more overpowering trails in the area. In this guide, we will take a look at 5 popular trails when mountain biking in Arizona. And our main focus will be on trails in Sedona, a melting point for hikers and bike-packers.
Top 5 Trails for Mountain Biking in Arizona
Depending on your skill level and experience will determine which trails will be best for you. Mountain biking in Arizona will give you some of the best mountain bike trails in the country and a ride never to forget.
Here are the best mountain bike trails in Arizona:
1. Mescal Trail, Sedona Mountain Bike Trail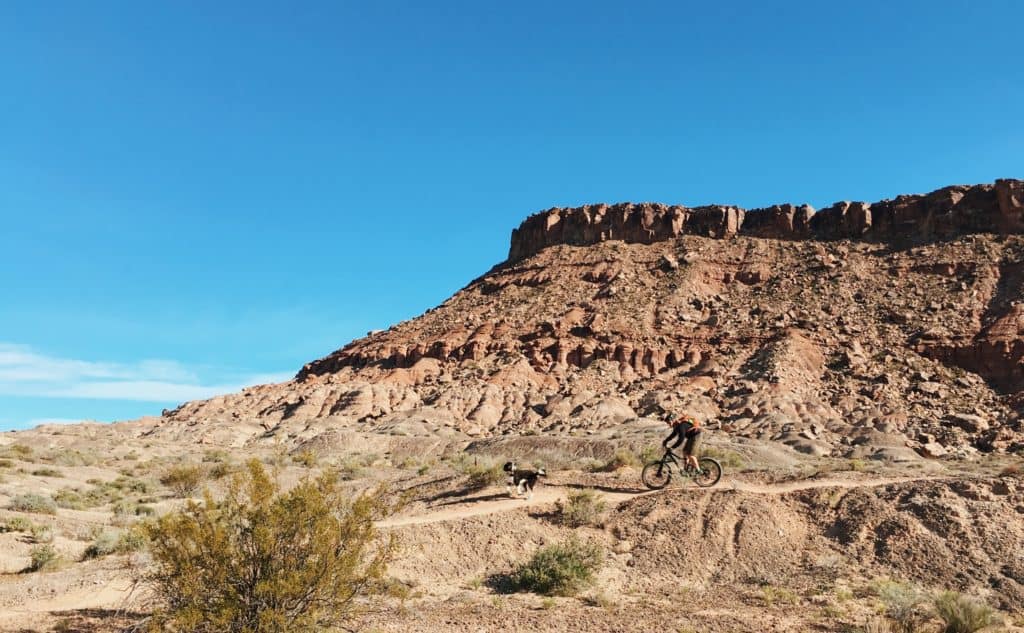 Distance: 13 miles (20.9 km).
Difficulty: Intermediate.
There's nowhere better for mountain biking in Sedona than the Mescal Trail. Rated as a moderately challenging trail, Mescal is a great place for both intermediate and advanced riders to meet and greet.
It is a two-mile stretch that blends elements of rocky terrain with abundant forestry and slick rock riding. In fact, an entire section of this trail is a hotspot for Slickrock riding. It is near the outskirts of the trail, by the famous Mescal Mountain.
Intermediate riders who are acquainted with rocky climbs, find this trail interesting. It's riddled with rocks and structures that will put your skills to the test. And once you get to the end of the trail, the gracious sights out the Courthouse Butte await to reward you.
The initial ride through the loop will be daunting, but the ground will start to flatten quite rapidly. It's a famous trail among MTB riders for its extreme challenges and rewarding thrills. Beginners should steer clear of this site though, as it may pose some danger to the newbies.
Mescal is a hotspot for mountain bikers, hikers, and bike-packers alike. Not only the mesmerizing experiences, but the trail also connects in the East with the Chuckwagon Trail. It is indeed another popular route for mountain biking in Sedona. The trail also meets with the Yucca Trail, the Deadman Pass Trail, the Canyon of Fools Trail, and the Boynton Vista Trail.
Due to its many connections with other trails in the area, it's considered a communal melting point for bikers and hikers to meet and socialize. A few local bike shops are present in the area, such as the Enchantment Resort.
All in all, the Mescal Mountain Trail is a must-visit route that diversifies your journey.
2. Slim Shady Trail, Sedona Mountain Bike Trail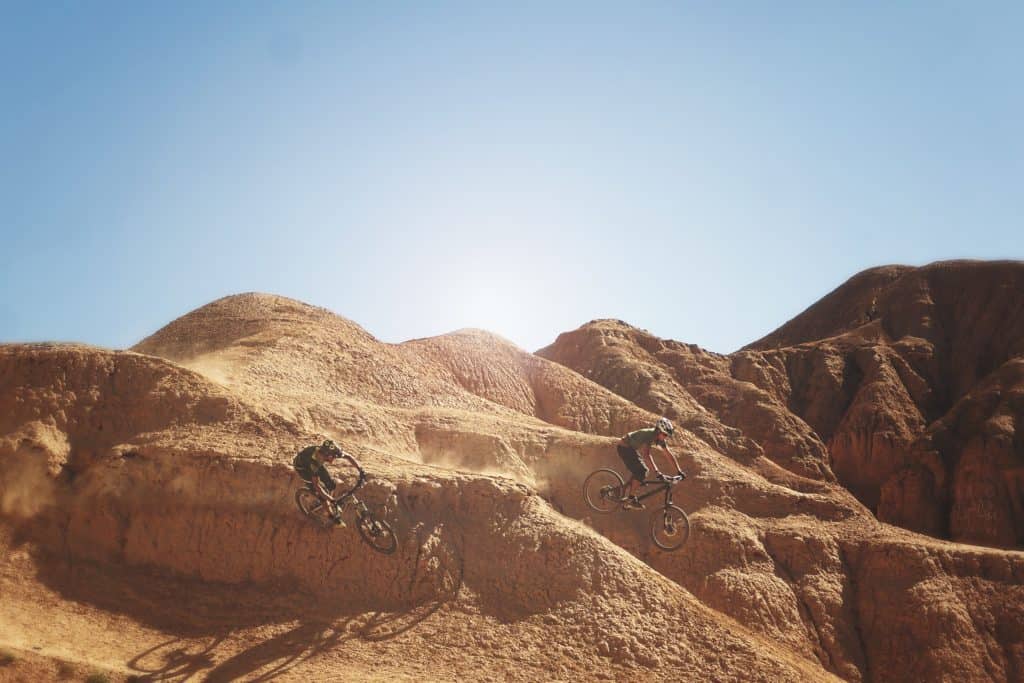 Distance: 2.6 miles (4.18 km).
Difficulty: Intermediate.
Red sands and smooth sailing, that's how many people describe the Slim Shady Trail. Across the main highway, the trail is eminent in the area for its exceptional beauty and exotic flora.
The sand and rocks shine red against the sun, and the dotted vegetation only contrasts that. Each twist and turn of the trail is smooth and low-lying, allowing for bikers to enjoy the beauty of the ride. It's not the most challenging trail for mountain biking in Sedona but is certainly breathtaking.
However, not having any significant elevations and steep rises doesn't mean beginners can cross it. The trail is rated blue-square, which means it has a slope gradient of 30 to 40%. It is still quite high for many newbies and should be avoided by that demographic.
But for those who have some experience with this gradient, the ride will be more than beguiling.
Much like the Mescal Trail, the Slim Shady Trail also connects with many popular trails. These include the famed Llama Trail and the Templeton Trail. There's another trail, the Bell Rock Trail, which loops around the Slim Shady Trail. So, you can take a hot detour of the route before rounding back to the Slim Shady Trail.
Those who are willing to take on a bigger challenge can ride along the Made in the Shade Trail. It runs right alongside the Slim Shady Trail and is rated black diamond, with a steeper slope.
The Slim Shady Trail is open for night riding and has a few bike repair shops, such as the Absolute Bikes shop in Sedona. If you're up for the challenge to work on your bike, a good repair kits like the Bicycle Repair Bag & Bicycle Tire Pump Home Bike Tool will help. But it's always good to check the shops out on your journey.
Truly, this trail presents as both a minor challenge and a major stress-reliever.
3. Honeybee Canyon Loop, Oro Valley Bike Trail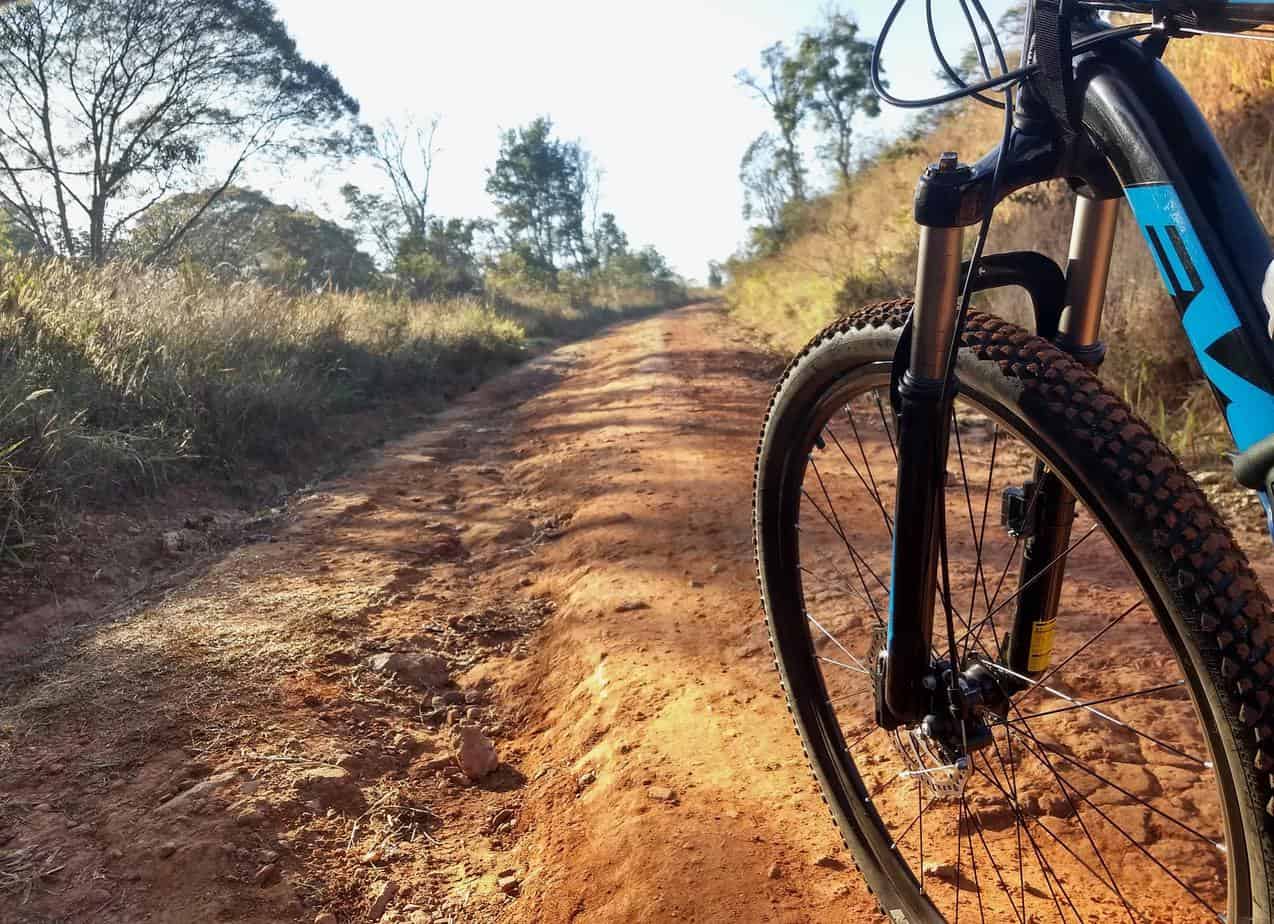 Distance: 16.8 miles (27 km).
Difficulty: Beginner to Intermediate.
Here's something for the newbies. The Honeybee Canyon Loop is a blue-square rated trail that winds through Oro Valley and is divided into two halves. The first half of the trail starts smooth, almost monotonous. Since it's in a humid area, the ride can be challenging. But with the right equipment and refreshments, you should be able to pull through.
The uphill climb may seem boring at first, but you'll soon begin immersing in the natural beauty. It's mostly desert-like with cactus and wild shrubs growing every few miles. The view is great for those who like rocky mountains and canyons.
Eventually, after traversing for miles, the ride finally catches on to its second half: the downhill descent. The descent is almost sudden but gradual enough to gear yourself up. It is arguably the most interesting part of the ride that grips most bikers.
The trail can be accessed from Oracle Road, where you will also find a parking lot to park your car. Do not use Miravista Lane for parking, as you won't access the Oracle Road entrance.
Both beginners and advanced riders can take on the trail head-on. But there are two things to be aware of. One – the trail is quite long and exhausting. And two – the trail has many detour trails that you can easily veer you off into. So, always keep checking your GPS and stick close to the main route. The Garmin Edge 830 Touchscreen is one of the best GPS's for a journey like this.
Verily, the Honeybee Canyon Trail is one of the longest mountain bike trails in Arizona. It's not challenging but requires a strong will and ample endurance.
4. Hangover Trail, Sedona Mountain Bike Trail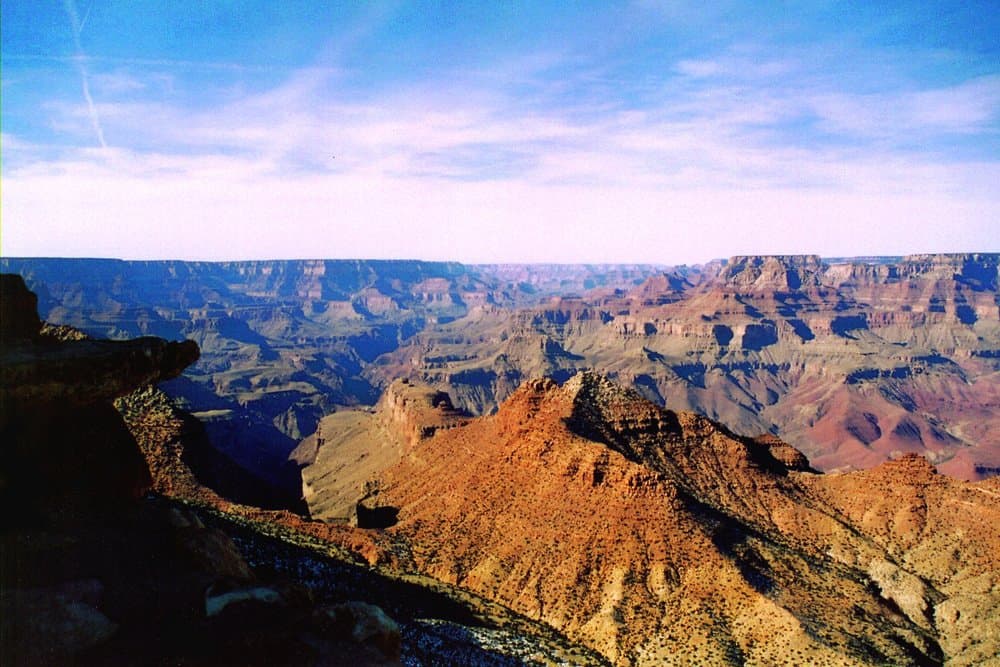 Distance: 3.2 miles (5.15 km).
Difficulty: Advanced.
It is perhaps one of the shortest but deadliest trails for mountain biking in Sedona. The Hangover Trail poses a challenge for experienced riders. Despite being short, it's undoubtedly quite intense, and the journey will be quite a rollercoaster. Your going to want a full faced helmet like the Bell Super Air R MIPS for ultimate protection.
Starting at the Cow Pies Trail, the Hangover Trail climbs upwards through a saddle that cuts straight through two red monoliths. Then it rides "smoothly" through the knife-edge of the cliff almost 200 feet above the bottom of the canyon.
The ride is short but intense sections that will put every skill to the test. From swerving to climbing and even balancing, this singletrack is indubitably one of Sedona's most lethal. But despite the challenges, numerous riders successfully traverse it each year.
The saddle's flat expanse is a hotspot for riders to settle down, take a break, and make second guesses. After all, the ride up ahead is anything but friendly.
Once you've conquered the knife-edge of the trail, the path winds down into a safer Slickrock formation. Of course, safety here is relative. The descent is not level, nor is it smooth. It can often appear as though you might hurtle to the bottom if you make a mistake. It's truly the most challenging out of the mountain bike trails in Arizona.
But as with every trail, the thrill and adrenaline at the end are always rewarding. And you'll have one dazzling journey to tell your friends. But don't ride on this trail if you're not experienced enough, or have a fear of heights.
The intensity of the trail dies down, and you can sail smoothly across the Junipers into the Munds Wagon Trail.
5. 50-Year Trail, Tucson Mountain Bike Trail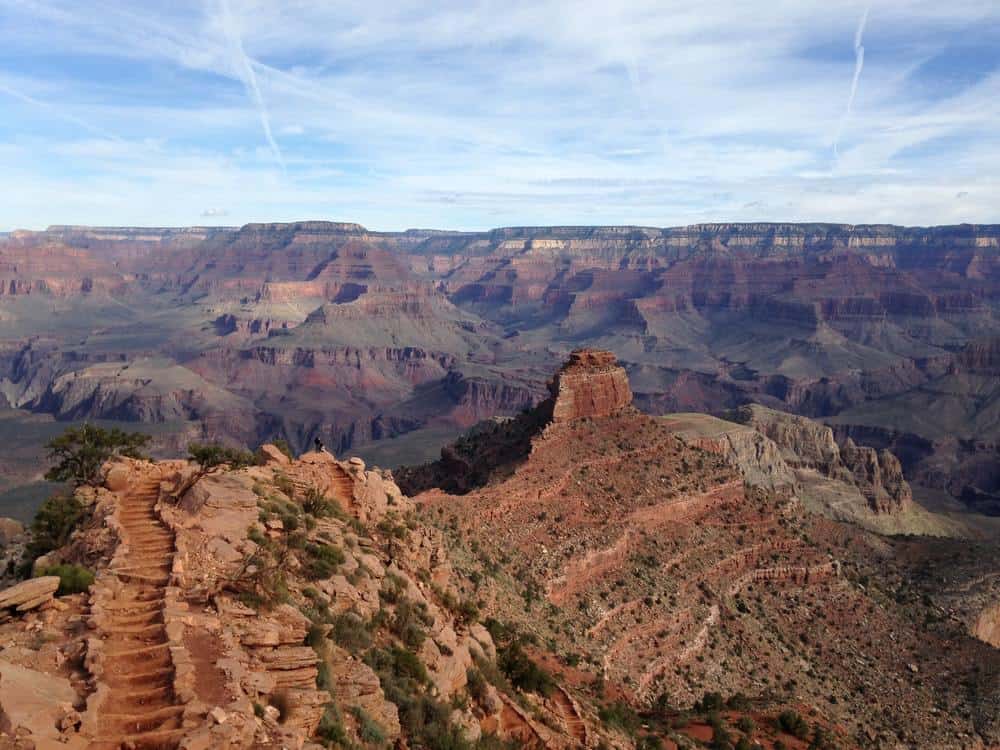 Distance: 3.7 miles (6.1 km).
Difficulty: Various.
Rated as a blue-square biking trail for mountain biking in Arizona, the Tucson Trail presents diversity in its challenges. Anyone can ride this trail, be they are beginners, intermediate riders, or advanced bikers. The 50-Year Trail section has something in it for everyone.
The ride starts smoot and fairly even for about the first 5 kilometers then it starts to go uphill from there, where the gradient starts to rise to a maximum of 7%. It's still fairly easy to ride, and all riders' levels can take their time traversing it. But the second half, the one with the higher grade, is also the most challenging.
The main challenge it poses is that, frequently, the trail becomes so intense that bikers have to hike their way through. It may sound intimidating, but switching to hiking should usually solve the problem. That's why it's recommended to have some hiking gear on you as well. A good hydration pack like the M.U.L.E. Mountain Biking Hydration Pack will be a great place for gear. You can also see our post on hydration packs HERE.
But there are some real dangers present on this trail, particularly at night. The trail is a famous brooding ground for snakes, showing up at night and cause panic among riders. Also, watch out for ruts and sandy spots that may interfere with your ride.
A local bike shop that lends out rented bikes is a great place to start for newbies who don't own a bike yet. It's also a neat way to traverse the area if you're just passing by quickly.
As for the scenery, it's quite similar to the rest of Arizona's hot arid climate. The shrubs add a mystic look to the overall grey and sandy landscape. There are some wildflowers here, though, that will be a great collectible if you like taking back souvenirs.
Wrap-Up
Mountain biking in Arizona is not short of challenges. But with the right equipment and experience, anyone can enjoy the Slickrock rides across the canyon.
In this article, we looked at 5 of Arizona's most bewitching biking trails, and in particular, 3 trails for mountain biking in Sedona. These trails are perfect for experienced riders. But there are some that beginners would find enticing too.
More trails will be built over time but for now these are the best mountain bike trails in Arizona to plan a trip to experience. Remember to pack to right equipment and plan your route.
Below is a Pinterest friendly photo… so you can pin it to your Mountain Bike Board!