The State of Pennsylvania understands that its people are outdoor enthusiasts and embrace adventures in the wilderness. Therefore, it has some breathtaking MTB trails that anyone will love.
Whether you love to explore new land sections or want to enjoy with your family and friends some thrilling experiences, the mountain bike trails in Pennsylvania will provide you with everything you need.
Top 8 Best Mountain Bike Trails in Pennsylvania
Below, we have opted to highlight a couple of the top mountain bikes trails available in Pennsylvania. This is by no means the complete list of every mountain bike trail the state has to offer, but there should be something for everyone. Regardless of your skill level, Pennsylvania offers something for everyone to improve their skill.
1.  Rothrock Mountain Bike Trail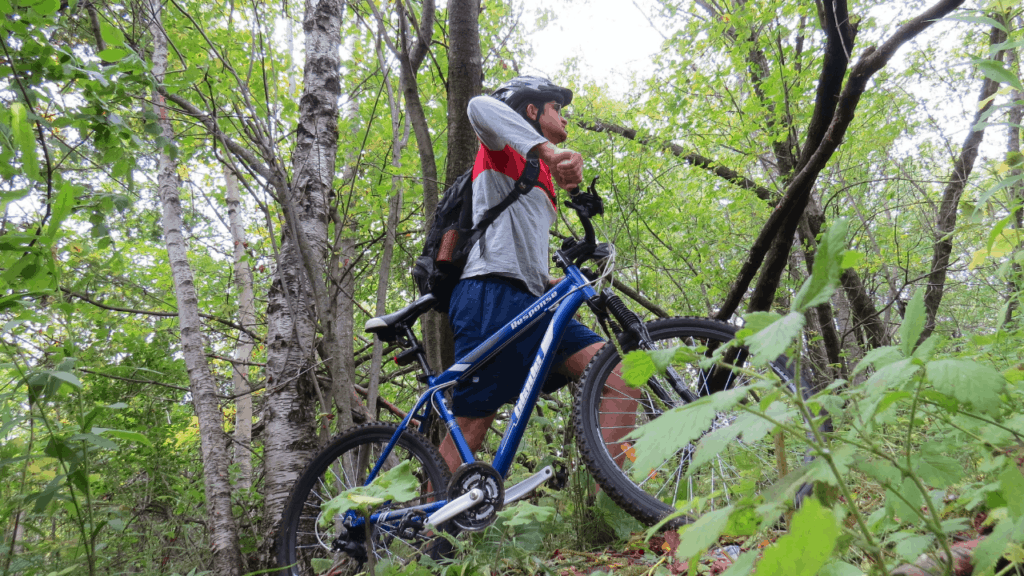 Located in the State College area, this MTB bike trail is among the top that the State of Pennsylvania has to offer. This advanced-level MTB trail is 100 miles in length and comes in a network configuration of singletrack.
A significant section of this long trail passes through the Rothrock State Forest, and you will find a variety of flow and technical sections throughout. There are around 4500 feet ascents and descents that you will have to go through on these trails.
That is why it is rated only for advanced-level MTB riders. It is located around 15 miles just outside the State College, and you can take 322 E after a mile from Boalsburg. From there you can go to Bearmeadows Club road.
From this point, you are roughly 2 miles from the parking and other TH facilities when you reach the Galbraith Gap. There are 21 different trails, and they are all suitable for expert riders.
2.  Tussey Mountain Trail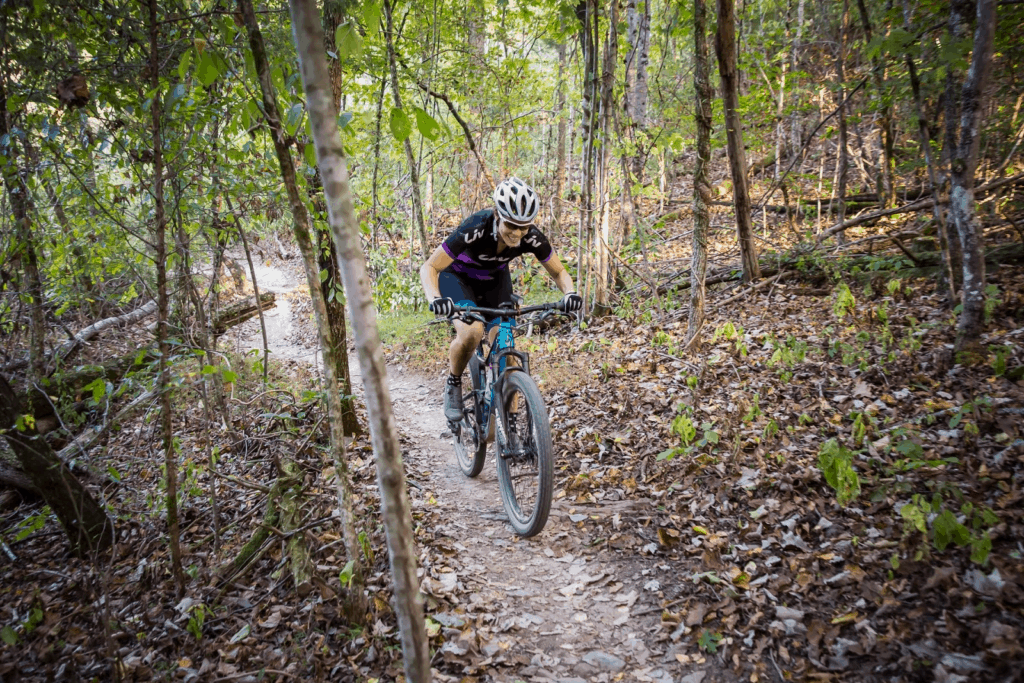 If you love beautiful green hills with streaks of clouds and the sun shining down on them, this is the right place for you to go mountain biking in PA. This singletrack is about 9 miles long. It features an average elevation of just around 1100 feet per square foot of area with a loop configuration.
You can access it by parking your vehicle at Bear Meadows Road and then returning. You can follow the road up to the mountain until you find Corner Road on your left. This trail is called Camp Trail till you reach the intersection with a beer tap.
This beer tap is not usually stocked, so you should carry on and don't wait to enjoy a drink here. Turn right from here on the Tussey Mountain Trail. You will intersect back with the Bear Meadows road, and on your left, you will find a gate on your right that leads to Longaberger Path.
Follow this trail and intersect the Kettle Trail and go downhill to reach a fork. You will have to turn right from the fork, and it will lead you to a short trail that goes back to Bear Meadows Road and its parking lot. This trail is looked over by the Tussey Mountain Ski Resort and is among the most well-maintained trails you will find in this area.
3.  Stoopid 50 Mountain Bike Trail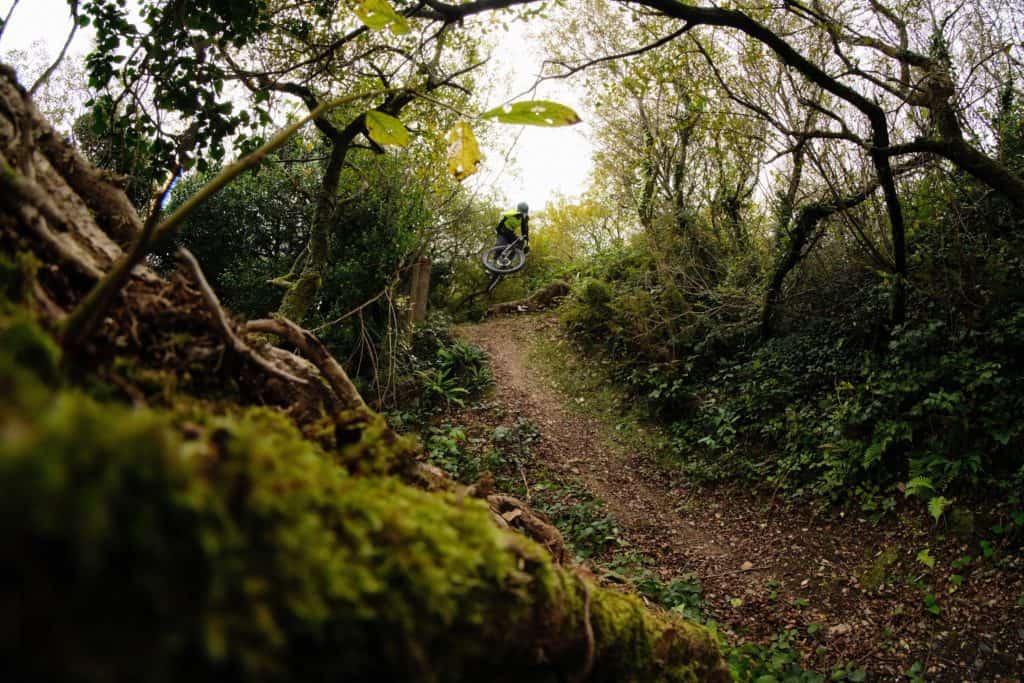 Here is another advanced-level mountain bike trail in PA for you. As the name goes, this is approximately 50 miles long (48 miles to be precise) singletrack with a network configuration. This trail has breathtaking views and some serious descends as well.
You should take a map or have a trail app so you can try all the trails in the network. These include Dynamite Loop, which is one of the top-rated trails in Pennsylvania.
All these trails at the Stoopid 50 are rocky and smooth. But they are all rideable and fun. You will find a local bike shop here for your routine maintenance and repairs, but the trail conditions are quite dusty.
4.  Wildcat Gap Mountain Bike Trail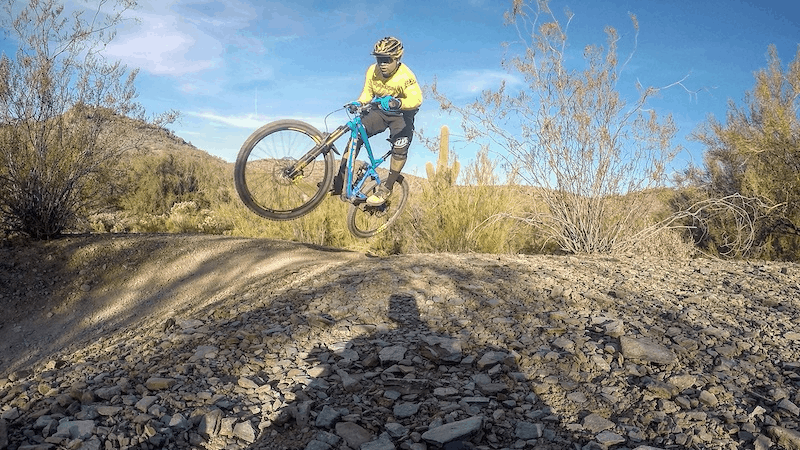 If you are looking for some thrilling rides, you need to visit the Wildcat Gap. It's one of the best mountain bike trails in Pennsylvania because this advanced-level singletrack comes with an elevation of around 3000 feet every 3 feet on average. But this trail is only a couple of miles long.
With a loop configuration, you can ride it again if you want. There is a local bike shop, and you can go for any repairs or maintenance before you set off. This trail is also going to provide camping and lodging facilities very soon.
There are some serious rocks on this trail, and you will have to hold on to your breath to go through this exciting ride. This trail is only for advanced riders who know how to handle tough terrains very well.
Look into some good protective equipment like the Bell Super Air R MIPS Helmet and Fox Racing Enduro Knee Sleeve.
5.  Maguire Mountain Bike Trails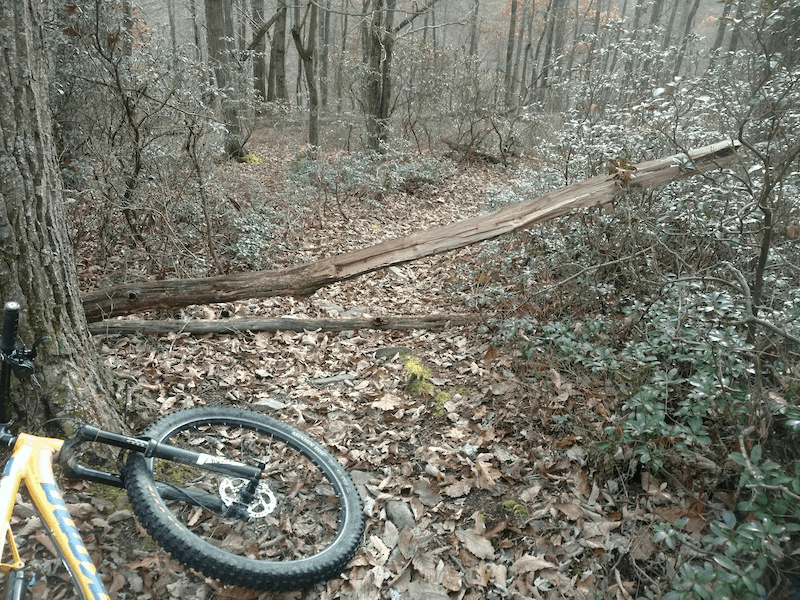 Pennsylvania doesn't cater to only the advanced level riders. If you are new to the art of mountain biking, you should try out Maguire. It's a small trail that is only a mile long but is part of a network configuration.
This singletrack also doesn't offer much elevation. So, it's great to hang out and ride with your family and friends and enjoy a little MTB adventure. This small trail is all about some downhill fun that will make you go through some shady trees and some lush green areas.
You will be dumped out on the Lower Trail. It's a smooth trail with just a few light jumps, and that's it. You can conveniently access it downwards from the Bald Knob Ridge or upward from the Lower Trail. There is a local bike shop to get your riding accessories or bike rentals and new bikes, including a Diamondback Line or a Ibis Mojo HD5 Deore.
6.  Spring Creek Trail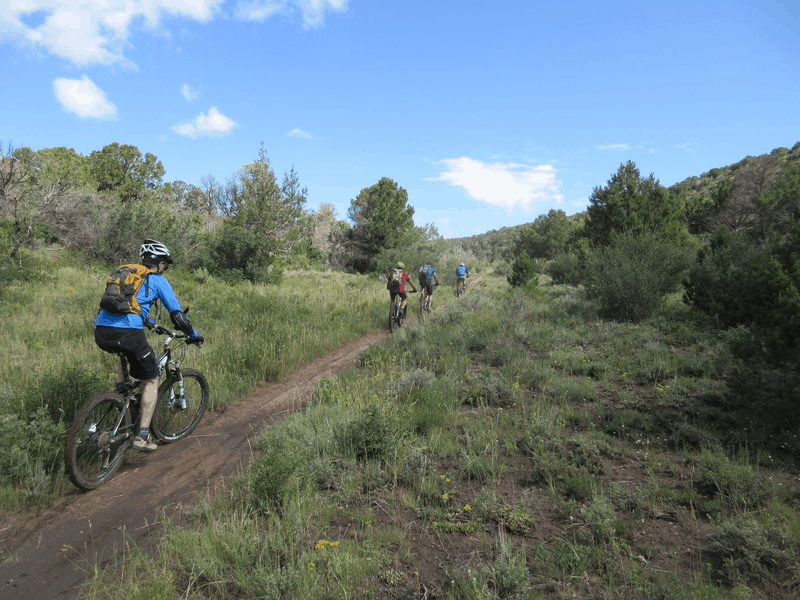 Here's another one from the beginners' collection, and it's the Spring Creek Trail. This doubletrack is the easiest to ride, and you won't have to deal with any tough obstacles or conditions. It is 5 miles long, and you get to ride it again because it has out and back configuration.
If you are looking for some great family fun, you will love this trail. You can access it from the parking lot off Rock Road, parking area off Shiloh Road, or even the parking area off Spring Creek Road.
So, it's easy to access and a fun trail to ride with anyone. Trail conditions are smooth, and anyone who doesn't have a riding experience will love going there. The elevation is around 885 feet at max, so there is nothing to worry about if you want to enjoy the trail.
7.   Green Shoot Mountain Bike Trails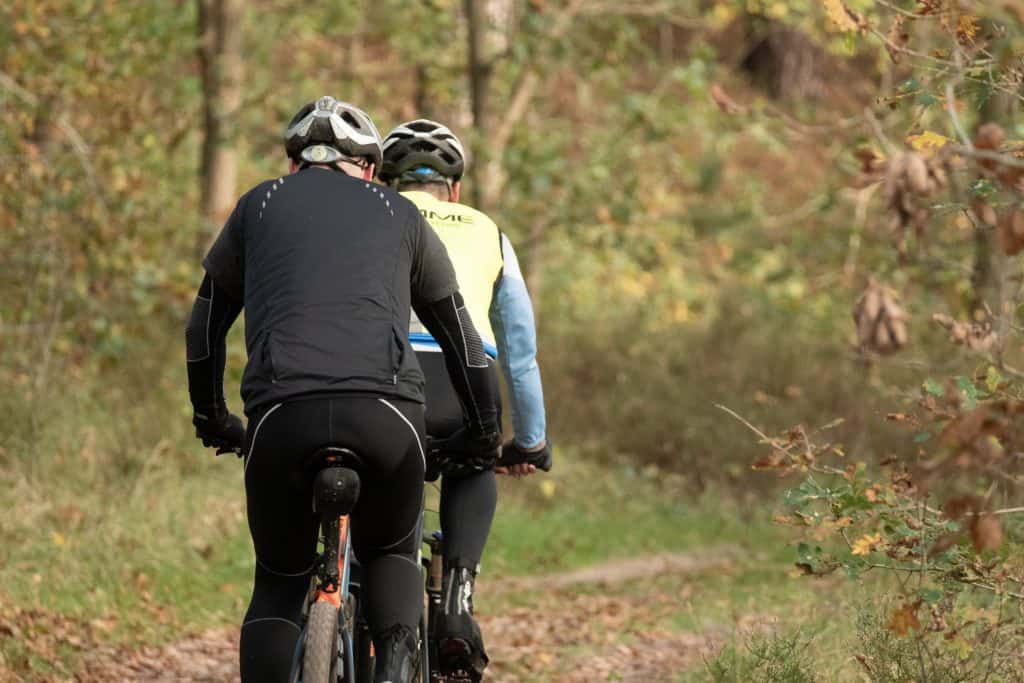 This trail is one of the finest for nature lovers because it has lush green outfields and sun-kissed hills surrounded by dense trees. When going out there on this trail, don't forget to take your camera or Go Pro with you because there will be plenty of selfie-moments for you to capture.
This trail is ranked intermediate, so you can go out and start having fun with your family. This trail is better suited for some experienced riders. The singletrack is just a mile long but is part of a network.
It begins with a long garden of rocks, and you will have to climb on several switchbacks. After that, it will level out, and you will get some breathing. From there on, you will have to start climbing up on the Bald Knob Trail, and it continues.
The max elevation you will have to deal with is around 2100 feet, and that's right at the end. The trail conditions are rocky and dusty, and there is a lock bike shop for some routine maintenance and repairs of your bike. You can also go for riding accessories and bike rentals from this shop.
8.  Lower Trail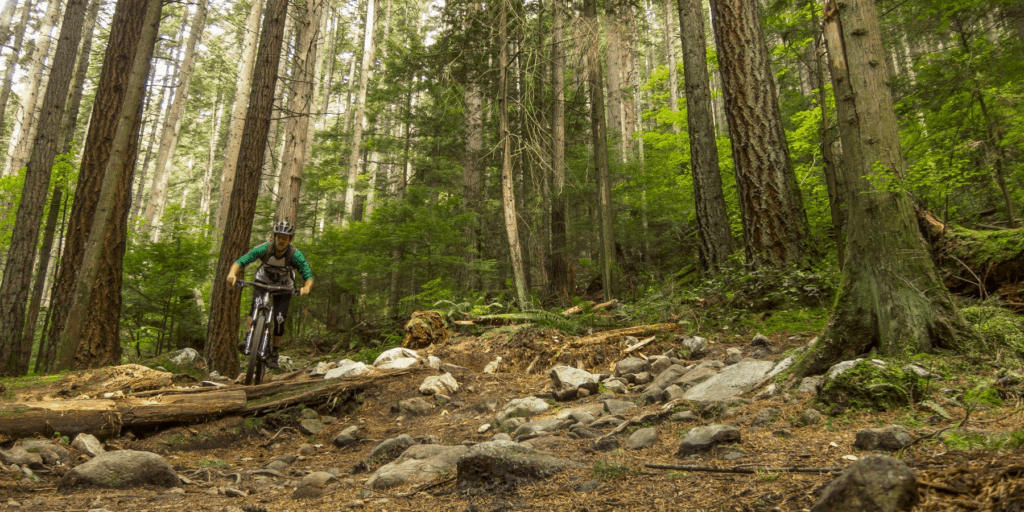 This intermediate-level mountain bike trail in Pennsylvania is singletrack and is 2 miles long. With a network configuration, you can ride other connected trails as well. It begins with a flowing trail that will increase later on in terms of technical difficulty. You will experience ample roots and rocks, and it will connect with the Lower Trail. From this point onwards, you will also cross an intersection with Maguire.
It's beautiful singletrack that will allow you to gently climb out right from the center of the Shingletown as well as Roaring. Its strongly suggested you visit this trail during the spring season because Mount Laurel blooms during this time, and you will be able to seal many memories. 
This trail features the highest elevation at around 1900 feet right at the end, and the trail conditions remain mostly wet. So, you will be able to test your skills quite well.
Honorary Mentions
Mountain bike trails in Pennsylvania are a common sight, and you will find a lot of trails and tracks for some outdoor fun. And that's why this little section briefly lists some more trails that the state has to offer.
Nockamixon, Bedminister (8.75 miles | Intermediate).
Cooper Gap, State College (27 miles | Advanced).
Bald Knob Ridge, State College (1 mile | Advanced).
Iron Gate, Homestead ( mile | Intermediate).
Three Bridges Trail, State College ( 0.5 miles | Advanced).
Sassafras Loop, Rothrock (23 miles | Advanced).
Laurel Run Road, State College (11 miles | Beginner).
Ursus, Warren (1.2 miles | Advanced).
Peace Chapel, Huntington (10 miles | Beginner to Intermediate).
Scotia, PA State Gamelands (10 miles | Intermediate).
Ray's Revenge, McConnellstown (3.8 miles | Intermediate).
276, Swissvale (1.3 miles | Advanced).
Conclusion
Mountain biking in Pennsylvania is fun. There are so many mountain bike trails throughout Pennsylvania, and a good chunk of them has advanced level ratings. These trails are full of adventure but provide you with some mesmerizing mountain views with lush green fields as well.
Many local bikers have formed communities. They are investing in developing these wildernesses to ensure more people have access to the amenities available here and enjoy outdoor activities.
Below is a Pinterest friendly photo… so you can pin it to your Mountain Bike Board!