The beautiful state of Oregon has some breathtaking destinations for mountain bikers. Countless high-quality mountain bike trails in Oregon feature cascading mountain forests that are lush. You can also find some vast open and dry desert lands in the eastern section.
As a mountain biker, you will love to explore and mountain bike in Bend, the Mckenzie River Trail, and the Oakridge. These are some of the popular trails that you will find in these lands. But Oregon is not limited to these rides.
You can start right from Portland's Northern sections down to the Southern ends of Ashland. Biking in Oregon doesn't get old with tons of top trails.
Top 10 Mountain Bike Trails in Oregon
In this post we highlight the top mountain bikes trails In Oregon to give you a head start exploring this mesmerizing state with some beautiful landscapes. This is by no means the complete list of every mountain bike trail the state has to offer, but there should be something for everyone. Regardless of your skill level, Oregon offers some of the best mountain bike trails in the country for all.
1. Mckenzie River Mountain Bike Trail – Intermediate – 26 Miles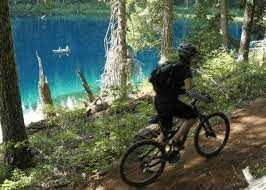 The best mountain bike trail in the state of Oregon is the McKenzie River Trail. The first ten miles go right through the lava field, and you will get the chills right from the start. After that, there is a picnic area for families.
So, families can have a great time here as well. In addition, this section of the trail has water, and from this area, riding becomes smoother.
The entire trail is an old forest, and it has crystal blue-colored waters. You will also find different log bridges, pools, and water walls in this area. The log bridges are not for riding but pedestrians and hikers only.
Most of the landscaping features forests, and it looks pretty stunning. You have to bring your camera and take some breathtaking shots. This trail is not difficult, but it sure is lengthy.
You can reach this area right above the Clear Lake on the Eastern end of the road, and there you will find the parking as well. The trails start right from the parking lot. If you start at this point, your entire ride will be downhill. Most riders use a shuttle from the point to just about a mile right over the McKenzie bridge. Mountain Biking in Oregon is incomplete if you have not explored this track.
2. Sandy Ridge Mountain Bike Trail – Intermediate – 15 Miles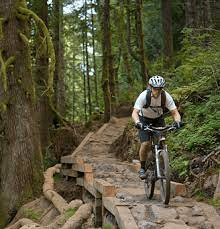 The full tour of this trail features three different runs that go downhill. With this tour, you can see the entire trail system with ease. Then, you can begin your ride from the Homestead Rd right towards the lower trail's head.
The first run will be like you have your dessert first. It has most of the thrills right in the beginning. But you will notice that the run doesn't begin pretty mellow. There are only a couple of screen fields and a few boulders here and there.
When you reach Little Joe Creek, this is the point where all the excitement begins. From here, the trails drop almost to 350 feet within the next mile, and there will be some big-time reversals.
The second run will make your arms and legs burn because you will have to deal with a climb right across the Communication Breakdown. You will have to do a bit more pedaling and get a couple of brilliant views. From here, you will descend to the Quid Pro Flow.
There will be a connector that will lead you at the Homestead Rd, and you will be on the third run. You will need to turn left from the road and then pedal up for a short distance to reach the FlowMotion connector.
From there, you need to take a right turn and then pedal up; and then turn right again. After that, you need to get ready for some fun. There will be plenty of charge downs from here, and the trail will drop up to 275 feet right through the Hemlock forest and Douglas Fir. When if comes to one of the best mountain bike trails in Oregon, Sandy Ridge is a must.
3. Alpine Mountain Bike Trail – Intermediate – 20 Miles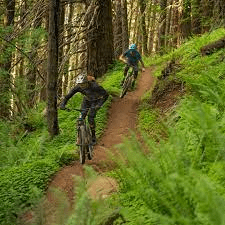 This is pretty fantastic singletrack that has been groomed for beauty and agility. It is quite commonly referred to as the crown jewel of the Oakridge section, and it's the home of Mountain Biking Oregon.
You will notice that the views here are pretty extraordinary, and the trail is almost perfect singletrack. You can climb the height to get your reward, or you can always use a shuttle to maximize your fun. Moreover, you can purchase your shuttle in town. No matter your skill level, there are endless options available here to try out and test your skills.
You can reach this beautiful palace from the east end of I-5 on Highway 58 directly to Oakridge. From there, you can turn left directly towards the West Fi right before Oakridge. Make sure to park right on the Covered Bridge's other side.
From there, you will have to ride about three and a half miles on the Northern Fork Rd and cross the bridge on the 1910 RD. You will find three loops in these trails that you can take from the bridge. It would be a better option to get a topo map and 411 in this section.
4. Blackrock Freeride Mountain Bike Trail – Intermediate – 10 Miles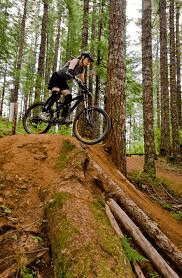 This trail system doesn't come with any flat areas at all. There will be plenty of wooden and dirt stunts that you will have to deal with when running this trail.
These trails are Downhill, Freeride, and XC friendly only. So, if you have your MTBs like the Diamondback Catch 2 Mountain Bike or Yeti SB100 C-Series Mountain Bike. And the best part is that there are numerous ways that you can find ways into the trails to enjoy the system.
But most of the people go for the main Fire Rd for a more thrilling ride experience. This trail has everything for every type of rider. Just make sure to pick up a waterproof trail map, and you can buy one from a local bike shop as well if you don't have one when you arrive here.
These trails here are designed for the riders. So, you might not get too many great views here, but if you like to ride, this is the trail you will love.
5. North Umpqua Mountain Bike Trail – Intermediate – 79 miles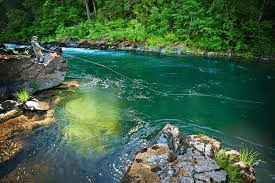 The North Umpqua is another intermediate singletrack that is quite long and stretches out to 80 miles. This trail is filled with many scenic wonders, and the ride will be an epic ride parallel to the Umpqua River.
This trail has several segments that range in terrain and difficulty. There are incredible old-growth forests and fantastic river views that will be right along with you throughout the ride. Better to get a map for this epic and scenic ride. Also, visit a bike shop for more details about this iconic trail.
You can reach this trail right from Roseberg off from 1-5. Then, take Highway 138 on the east straight after Glide. After driving about 19 miles from the ranger station, you will reach Swiftwater, the lowest section of this trail. The trail here is pretty extraordinary, with different features to test your skills up to some extent.
6. Funner Mountain Bike Trail – Advanced – 7 Miles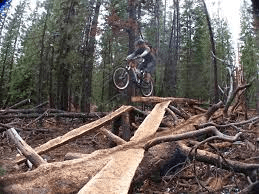 If you are looking to test your bike riding skills, you need to go for the Funner bike trail. As the name goes, this thing is a total blast. You can ride it from both ways, but it is better designed for riding from top to bottom. You can begin your blood pumping experience from Wanoga-sno-park.
The section of the ride features a big ring riding, and you will be winding your way right through the flat plateau. From there, it will drop downhill. There will be large baked corners right through the trees, and these features will keep things interesting for you. Make sure you have all of your protection gear like the BELL Super Air R Full Face Helmet and pads like the Demon Hyper X D30 V3 Knee pads before you tackle this trail.
Mountain biking in Bend will make you deal with lava rock gardens that do make an appearance here and there all of a sudden. And after that, there is a descent filled with turns and drops. So, you will have to brace yourself for these beautiful looking natural phenomena.
7. Castle Rock Mountain Bike Trail – Advanced – 27 Miles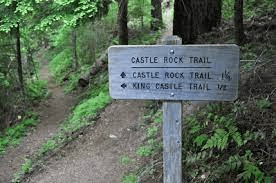 If you are looking for some old-school mountain biking in Oregon, this is it. This trail is an expert ride and features singletrack that stretches out to 27 miles. It comes with a loop configuration, and it will test your MTB skills.
The trail is all about an authentic backcountry riding experience. There are plenty of features on this downhill trail, and you will be tested right from the word go. There are different rocks and wood sections as well. You will deal with some jumps and plenty of downhill drama on this one.
But keep in mind that this is an advanced trail that is meant for expert riders. Make sure you bring along your camera because some beautiful sights are waiting for you right around the mud sections of this trail.
8. Whoops Mountain Bike Trail – Advanced – 2 Miles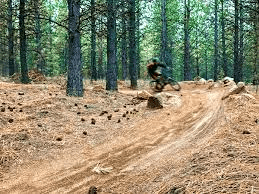 Looking for a short and punchy ride experience in Oregon, go for the Whoops bike trail. It's a very popular jump trail in the Bend region, and it connects the Ben's of the Phil's Area right on the eastern end and then connects with the Swede Ridge Loop on the western end.
It's just a 2-mile long trail, but it will test you to your limits in these couple of miles, with numerous jumps and troughs to deal with. There are plenty of tight corners on this trail area, and you will have plenty of fun riding it if you know how to handle boulders and rocks along with other features.
9. Shellburg Falls Mountain Bike Trails – Advanced – 12 Miles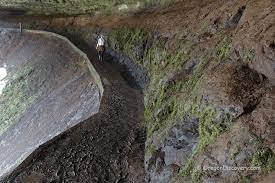 Here are another one of the advanced singletracks that you will find in this area. This track is pretty tough to ride as it comes with numerous trail features. Just make sure you get the map because this loop is accessible in different ways.
Right along the way will be old-growth forests, and you will be riding in their shade. This is now one of the longest tracks in this state, but it surely will test your skills in downhill riding.
10. Catamount Mountain Bike Trail – Beginner – 7 Miles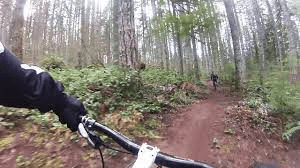 If you are new to mountain biking, you need to go for Catamount trail because it is designed for kids and families. The actual trail is a new single track. It has a forward uphill road on the house road and lookout mountain.
There might be some roots or technical spots here and there, but beyond that, nothing is there that is going to bother you much. It's the perfect option for learning mountain biking. Starting here to build up your skills will be a good choice and advance to other trails.
Final Word
Mountain bike trails in Oregon are pretty nice, and most of them are designed for all kinds of riders. So, no matter what your skill levels are, you will find a track that fits your preferences.
Mountain biking Oregon has come a long way, with more and more trails being introduced in all areas. These trails here in Oregon are all about mesmerizing views and plenty of track features.
Below is a Pinterest friendly photo… so you can pin it to your Mountain Bike Board!