Bikepacking trails are its own feat. A lot goes into an epic bikepacking trip. The right equipment, proper planning, and of course, a marvelous bikepacking trails.
The US is home to some of the world's most magnificent biking trails, including the world's longest trail to ever exist. Convoluting turns through mountains and day-long rides across deserts; bikepacking is no child's play.
But deciding on the right trail based on your experience and skills isn't all that simple. Hours of research can go into making the right decision. But we're here to curb that all.
Take a look through our picks for the best bikepacking trails, both for the professionals and the freshies.
Top 10 Bikepacking Trails in the United States
More trails will be added to this list over time but these are some of the most epic you can plan a trip to ride on. Bikepacking isn't for everyone and some of these trails might be more attractive to some. This list should have something for everyone to enjoy and plan there first bikepacking trip.
1. Denali National Park, Alaska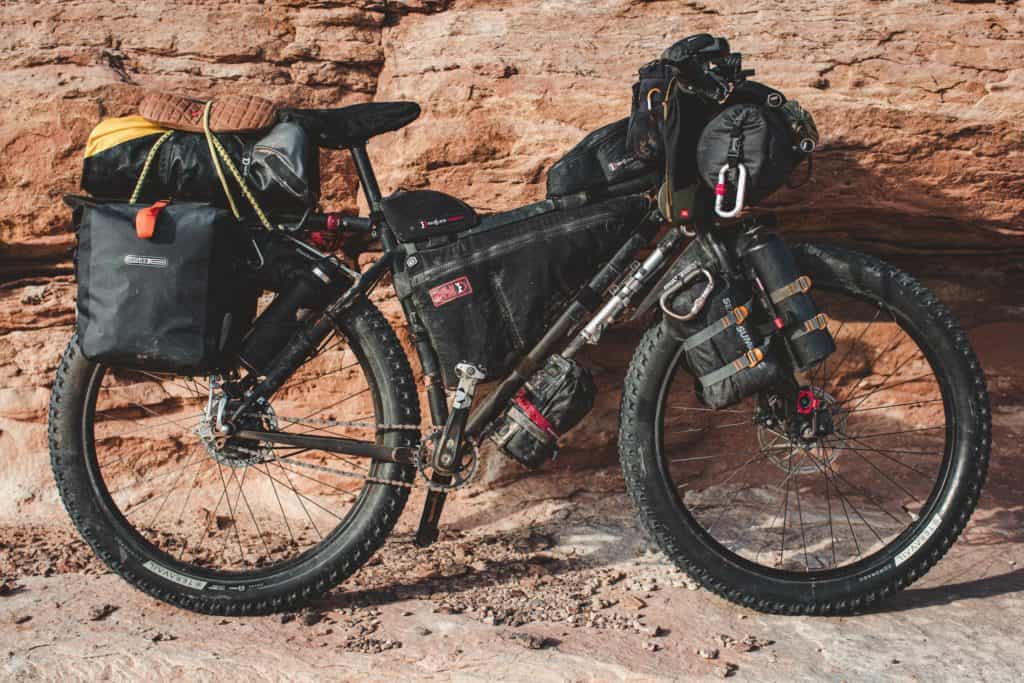 If you're a fan of exploring the wilderness, Denali National Park has everything for you. Located in a vast expanse mainly untouched by humans, this national park is famed for its exotic wildlife and scenic adventures.
Bicycles are one of the very few private transport media allowed in the park. With its 92-mile dirt road and deep affluent lodges, the Denali National Park harbors some of Alaska's most incredible sights.
You can start your tour by taking the tour busses, which covers every inch of the park's main road. But independent travelers and cyclists can either bring their own bikepacking bikes or rent them from the local shops. Don't forget a good hydration pack like the Osprey Syncro 5 Hydration Backpack. From there, it's all downhill.
Bikepackers can enjoy miles of cruising through the backcountry roads of Denali. And follow that up with a heartfelt tour of the Denali Education Center.
2. Oregon Timber Trail, Oregon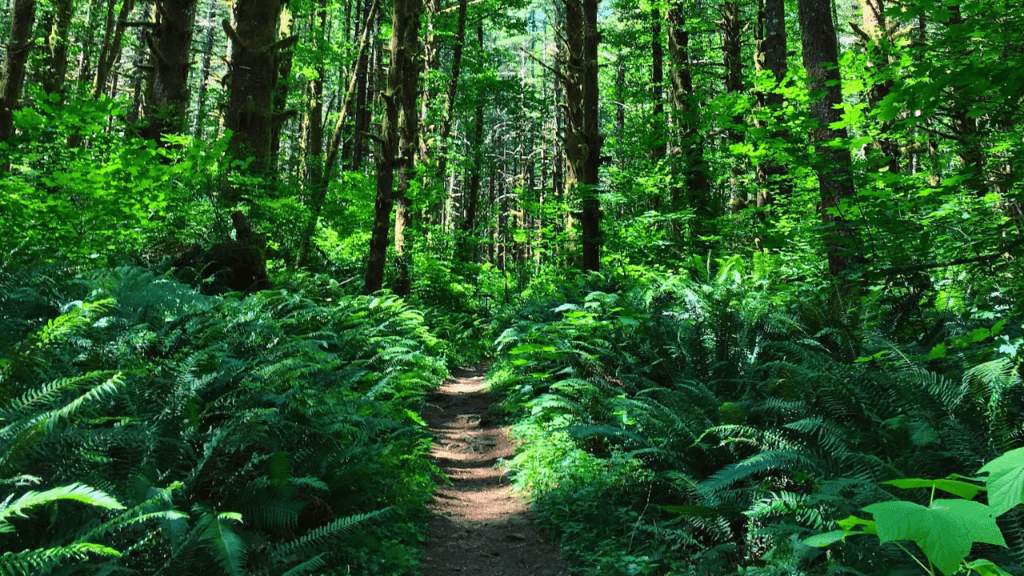 The Timber Trail in Oregon is perhaps the most eventful and adventurist road to take. With over 670 miles of off-road trails to explore, this trail runs across the entire length of Oregon. And it is home to a plethora of landscapes, each one catering to a different set of riders.
Inspired by the Pacific Crest and National Scenic Trails, the Timber Trail is 60% single-track. It will appease to both hikers and bikepackers. It's divided into four tiers, each one corresponding to a different nuance of Oregon's landscape. Since it's too long to scale in one day, many bikepackers are resorting to riding each tier over the course of several years. 
Long-term bikepackers can invest in lodgings and campsites. They'll get aided by the orderly map of the area that highlights all such locations. And those on a family vacation can tour the nearby attractions with many conveniences.
This trail is a great choice since it has a little bit of everything. It runs north to south across the very heart of Oregon and will give you a taste of every flavor of Oregon's landscape.
3. Olympic Adventure Route, Washington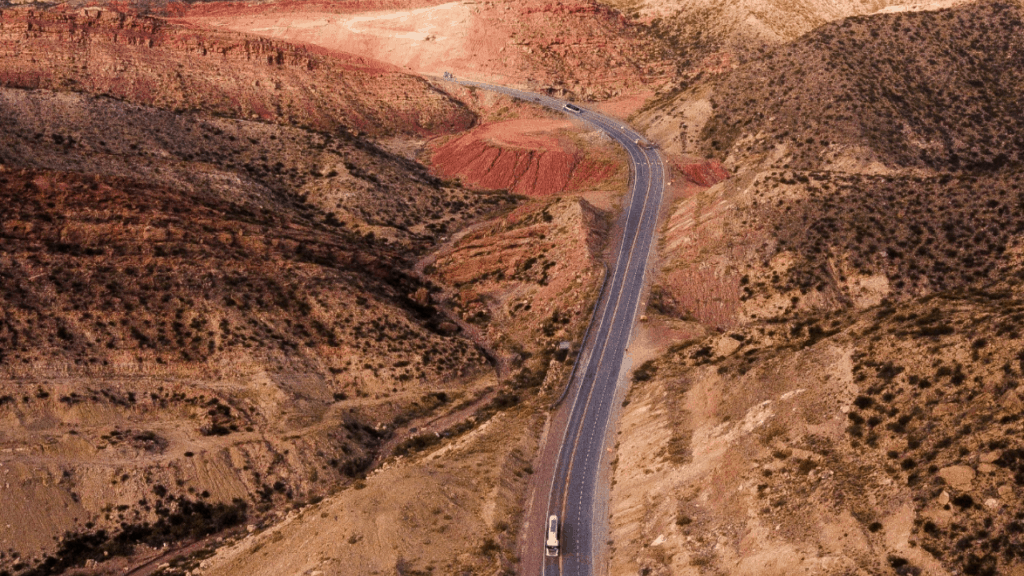 Drawn from the Port Townsend track, the Olympic Adventure Route is your typical weekend break. This is a singletrack running through dense forests and shrubs, with lots to do and see. It's 66 miles long, beginning near the Elwha River and winding all the way down to the Crescent Lake.
Along the route, you'll get to experience Washington's national forests. Down the track, visitors can see the vast mountains and the infinite sea. A bike ride through this route is not only refreshing on the mind but great for your muscles as well.
At the end of the trail, bikepackers can settle in at the Fairholme campgrounds in the Olympic National Park. All basic commodities are present at these campsites, which are maintained year-round by a volunteer crew.
But that's not all…
If you're lucky enough, you may even stumble upon a bear or two! The wildlife is not exactly exotic, but spectacular to look at and interact with. It's a great spot for bikepackers, campers, hikers, and road-trip enthusiasts alike.
4. Maah Daah Hey Trail, North Dakota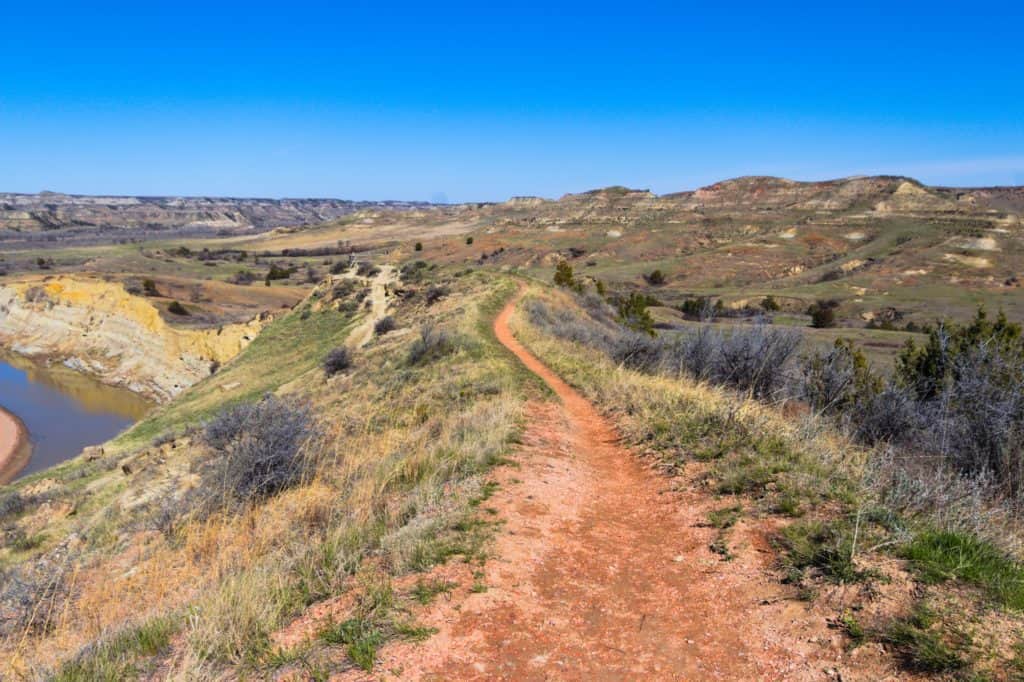 Vested in the badlands of North Dakota is the Maah Daah Hey Trail, a singletrack terrain that runs for 144 miles. Rivers interlaced with legendary plateaus wind down this trail. And they stop at peaks and valleys untouched by human hands.
The Maah Daah Hey Trail has been dubbed as the longest singletrack to run anywhere in North America. It's dotted with 9 camping zones, each one rigged with spurs, fire rings, tables, and nearby amenities.
Aside from the camping area, sightseers can also indulge in the vast culture surrounding the trail. You may happen to come upon the China Wall, a geological soil formation that winds down for hundreds of miles. The Ice Caves are also a sight to see, which retain snow up till mid-July.
Between mile markers 100 and 101, a narrow ridge is known as the Devil's Pass can be accessed. This is a 9-mile route that takes you straight through the Magpie badlands.
All in all, the Maah Daah Hey trail has a lot to offer in terms of scenery as well as adventure,
5. Arizona National Scenic Trail, Arizona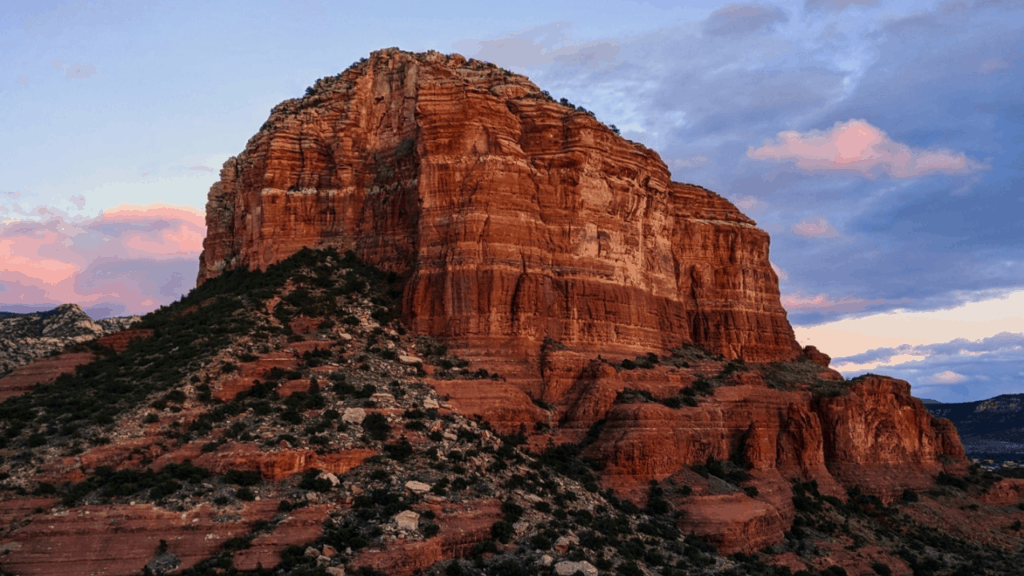 When your on a bikepacking trip across the US, what could be better than visiting the Grand Canyon? The Arizona National Scenic Trail is a whopping 800 miles long and travels straight through the Grand Canyon state near Fredonia.
Bikers and hikers alike can visit these bikepacking trails. However, the track isn't motorized all the way through. You'll need to walk the way through the Grand Canyon National Park and many other areas.
Most bikepackers break the trail up into sections they spread out over a few days. Much like the Oregon Timber Trail, it runs through a ton of different sights. Mountains, deserts, valleys, forests, and let's not forget the Grand Canyon itself.
But putting all the adventure aside, most bikepackers love this trail for the culture and history that's waiting around every corner. It is home to hundreds of communities of people from all backgrounds.
This is a great mountain bike and biking route that packs a lot of adventures and majestic scenes. It's a must-try for vacation-goers and bike-packers.
6. The Great Divide, Canada, And The US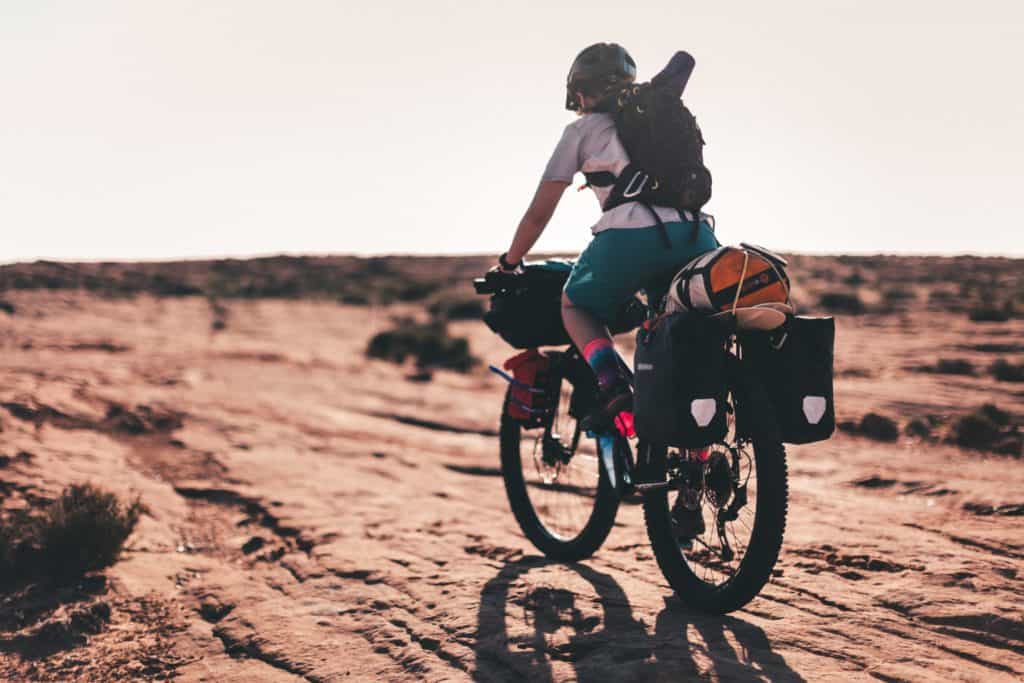 Perhaps as old as bikepacking itself, the Great Divide Mountain Bike Route is one of the oldest bikepacking trails. It's often called the grandfather of modern bikepacking, and we couldn't agree more.
Founded in 1998 by the Adventure Cyclist Association, this is an incredible 2,745-mile trail that runs through two countries. It starts in Canada and slowly creeps down to US territory, concluding at the Mexican border.
The Great Divide should not be taken as a hard-core mountain bike or bikepacking route. It's as simple as it gets. Twisting through the Rocky Mountains, this route is mostly straightforward with little hurdles.
It nearly coincides with the Continental Divide up to 30 times. And visitors divide it into multiple sections for convenience's sake. The route is mostly known for its self-supported race called the Tour Divide, in which amateurs, as well as professionals, can partake.
All in all, there's a lot to see and do here. The sheer length of the Divide idealizes it for camping and long bike-packing trips.
7. Kokopelli Trail, Colorado And Utah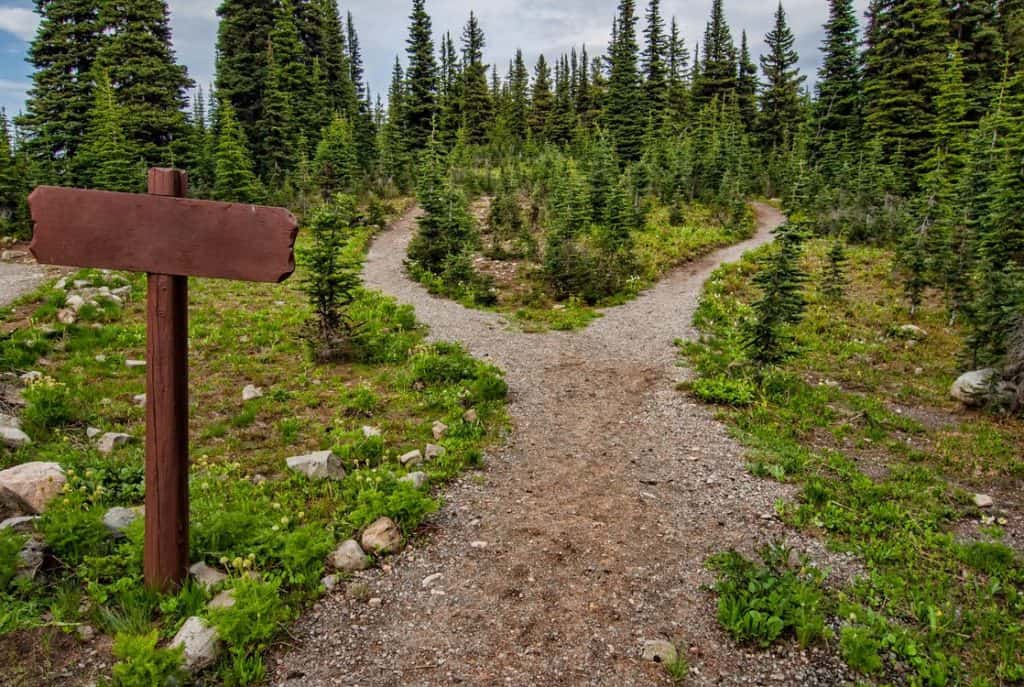 Bridging the gap between two of America's largest MTB centers, the Kokopelli Trail is not for the faint of heart. It runs straight through Colorado and Utah and is home to some of the most mesmerizing scenes of Southwestern wilderness.
Dotted with campsites and spurs, the trail has mostly trekked in three segments of 150 miles each. It winds through mountains and steep ascents and is not for the amateur bikepacker. You can partake in many tours that will provide you with support and transport, such as the Bikerpelli Tour.
What makes this bikepacking trail so unique to the area is its bizarre biodiversity. You'll be sure to get a glimpse of mammalian life in the forests. And the grand vistas will only add to the luxury experience. Plan on bring a camera for some epic pictures.
If you want to avoid the hot summer heat, plan your trip between March and October. Break up your trip across several days, and pack a lot of water along with your bikepacking gear.
8. Socal Desert Ramble, San Diego to San Bernandino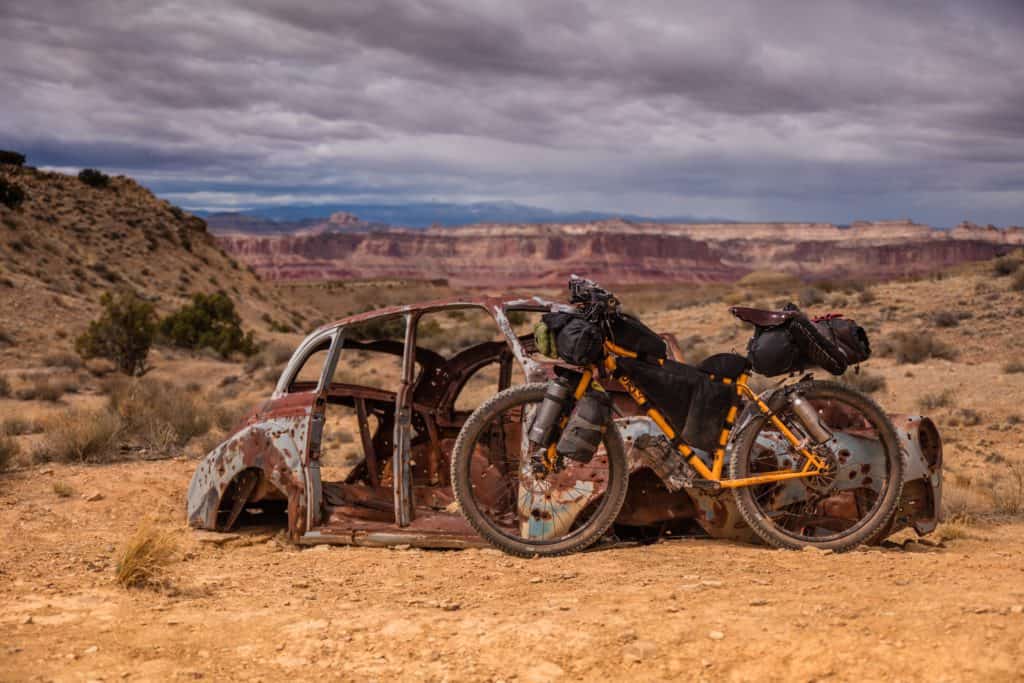 For bikepackers that like to take risks, the SoCal Desert Ramble packs both adversity and cultural significance. Situated along the coastal lines of San Diego, this route takes you through stretches of blazing hot sands and desert dirt tracks. It starts near the coast of San Diego and makes its way through to Southern California, where it mixes with the vast deserts and sandy trails.
If you decide to traverse the entire route, you're in for a ride. Expanses of gleaming deserts will welcome you in the Anza-Borrego State Park, followed by the cool breeze of the upcountry Salton Sea. And if you make it through those two remote trails, you'll be greeted by the Slab City community, followed by the musical city of Pioneer Town.
With a length of 497 miles and a total climb of 30,000 feet, the SoCal Desert Ramble is a great choice for professionals and amateurs. It's best to visit these bikepacking trails in the fall, spring, or winter, as the area becomes impossible to traverse in the summer.
9. Idaho Smoke 'N' Fire 400, Idaho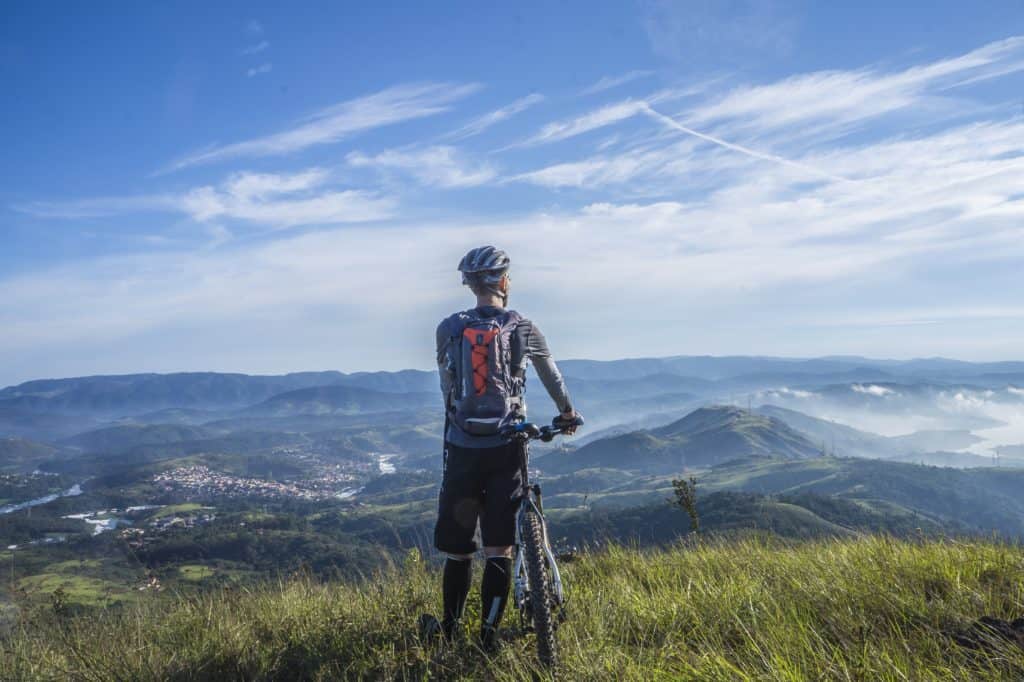 Oftentimes considered as the most challenging route, the Smoke 'n' Fire trail takes you on a detour through central Idaho. The road winds through and around mountains near Boise and requires a staunch resolve to climb.
While the road mostly sticks to gravel and dirt, you do get some smooth trails that shoot straight through local forests. It's 15% singletrack, meaning newbies will have a tougher time trying to traverse these bikepacking trails.
Starting at Boise, this track takes you through Lucky Peak, followed by Black Creeks Road and Danskin's. Following that, you'll head down to the Prairie, from where you'll ascend straight up the Trinity Mountains.
There's a lot to see and do here. However, the road is quite scarce in terms of community and population. Prairie will be the first community you'll see along the way, and Pine and Featherville are the only other two towns.
The Smoke 'n' Fire trail is bizarre and loved by those who want to take risks. It's not easy to climb, and since the location is remote, pre-plan your food and accommodation.
10. Oregon Outback, Oregon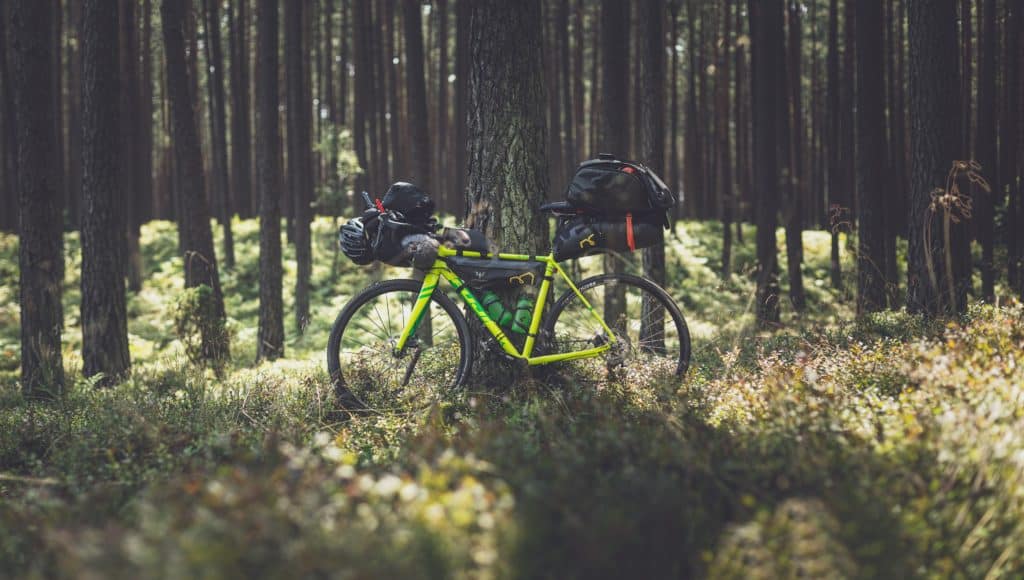 Another bikepacking trail in Oregon, the Oregon Outback gives you a taste of Northwest American topography. Starting off at Klamath Falls, the road heads towards the Columbia River in the north, running straight through the very center of the state.
From Klamath Falls, the road is mostly straight, with little to no traffic for up to 360 miles. At the very end of the route, you'll get to see the junction between the two rivers, the Deschutes and the Columbia River.
This trail is famous for taking a toll on its riders. Isolation from society, scarcity of water, and long winding routes; the Oregon Outback is nothing for the soft-hearted. So be sure to have everything ready in your bikepacking bags like the Moosetreks Bike Frame Bag.
But it's not entirely secluded. In fact, you'll happen upon many bikers much like yourself. And some of them will even be riding for the Oregon Outback race.
Final Word
While many people relish in traversing through bikepacking trails, it's definitely not the easiest. And what's even harder is finding the right trail you can manage and plan. After all, not all trails will have accommodation and food served to you on the platter.
We took a look through some of America's most famed routes, including the longest bikepacking trails in the entire world.
Now, this is where you come in. Find out the right trail depending on your skills and physical capacity. And pre-plan your trip starting today!
Below is a Pinterest friendly photo… so you can pin it to your Mountain Bike Board!