Mountain bike rides through cross-country tracks make for a delightful afternoon adventure. When a mountain bike trail offers more than just a ride, you know you've chosen one of the best mountain bike parks.
Mountain bike parks host a variety of activities. Some may include training sessions, restaurants, chairlift rides, and even mountaintop weddings. But what lures bikers towards them is an intricate network of trails they house.
If you're confused about what park you should find…! look no further. We've prepared a list of the 10 best mountain bike parks for you worth a visit. These are scattered all over North America, extending from Texas to British Columbia.
Top 10 Mountain Bike Parks in North America
As mountain biking continues to grow in popularity, these bike parks will too. This list will grow but for now enjoy and add these to your list to visit on your next adventure.
1. Highland Mountain Bike Park, NH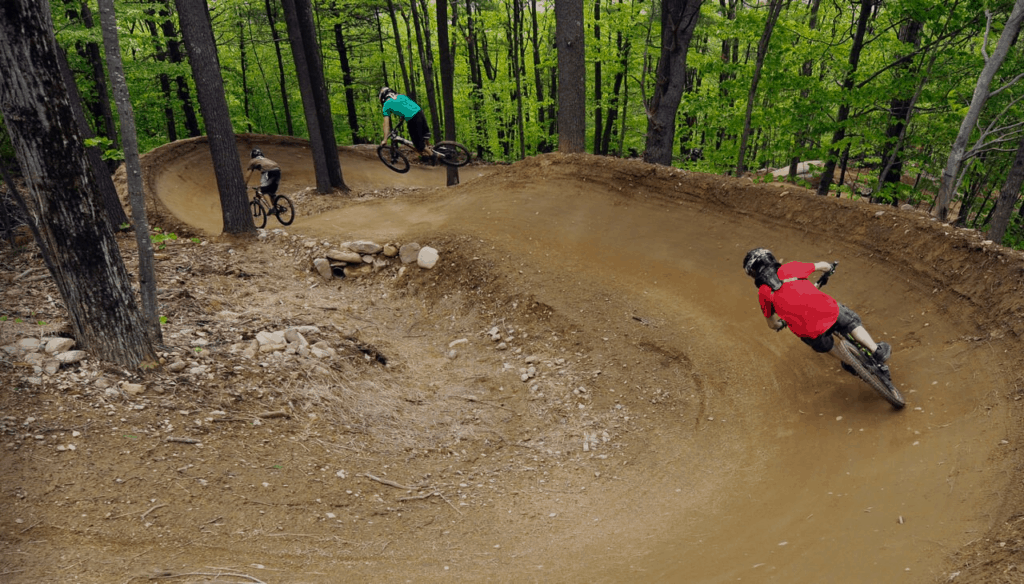 Want to visit one of America's most well-kept Mountain Bike Parks? Pay a visit to the Highland mountain bike Park in New Hampshire. It has one of the Northeast's most maintained and preserved natural bike park.
Starting as a ski resort, the park gradually transformed into the mountain bike trail we know today. The ski area was remodeled as a common point for tourists and mountain bikers in 2006 by Mark Hayes. And ever since, it has been operating without any failure.
This Highland Park offers two main attractions: the Find Your Ride bike training lesson, and the Highland Training Center. The Find Your Ride lesson not only trains young racers but also offers rental equipment. And if you are lucky enough, you can get a lift ride to the Highland Training Center.
Both these facilities and the main trail are frequented by professional mountain bike racers. The Highlands is a great place for pro riders to hone their skills, as the network of trails is vast and expansive.
Another thing that brings riders to this magnificent area is the sheer level of preserved natural beauty. A dexterous crew of dedicated workers strives each year to keep the park well-maintained.
2. Spider Mountain Bike Park, TX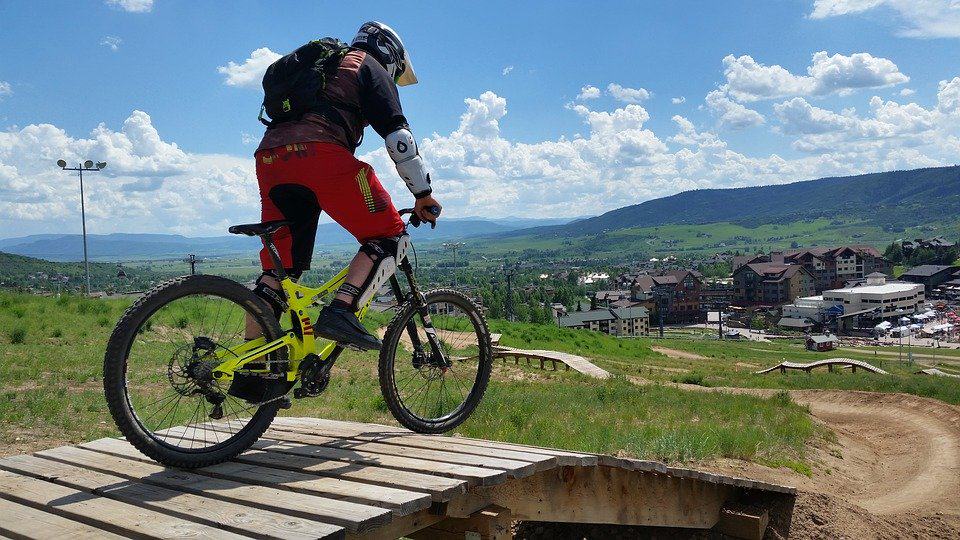 Situated in the Spider Mountain of Texas, this bike park thrives a year-round trail for racers from all over the country. Since its conception two years ago, Spider Mountain Bike Park has expanded the infrastructure of the area.
The Spider Mountain Bike Park offers several attractions and events to participate around the year. Recently, it has inaugurated a new lift service that will drop bikers at the summit of Spider Mountain.
Along with that, the trails are a sight to see. They offer a variety of tracks both for novices and the experienced riders. Itsy Bitsy is a great place to start for the newer riders, and even families can have fun there. For a more thrilling ride, try the Stinger trail, which is the steepest and most challenging of all.
This bike park overlooks the mighty Lake Buchanan where you can detour to cool off. You can also get boats and skis on the rental when you're visiting in the winter. There's plenty to do there even in terms of mountain biking, so don't miss out.
3. Thunder Mountain Bike Park, MA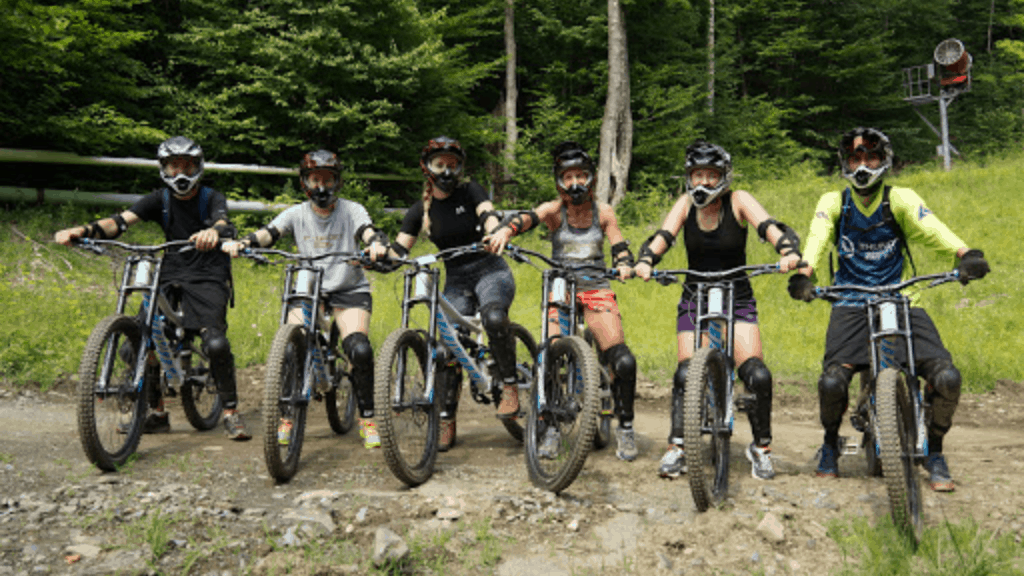 Taking a heartfelt trip through the Thunder Mountain Bike Park makes for a great day's vacation. While relatively new and awaiting many improvements, this park has been phenomenal ever since its opening.
It was recently inaugurated, designed, and implemented by a team of trained professionals. This park's trails offer lift-served rides through the grassy hills. Since its development by the Gravity Logic team, it has gained a top ranking in its first year.
The architects and designers have done an exceptional job. The trails use lifts and the natural force of gravity to keep bikers entertained for hours. Bikers will find the trails easy to maneuver yet thrilling to conquer.
You are required to wear protective gear like the Fox Racing Launch PRO D3O Knee Guards and a full face helmet like the Troy Lee Designs D3 Full-Face Downhill Helmet.
The park hosts several cross-country trails as well. Each of these is bejeweled with stunning beauty and spectacular infrastructure. This park features trails for all sorts of riders, be they are amateurs or experts. The expert track, known as the Fort Hill, has garnered so much attention in recent years. And it's the site for training and practicing for many professional MTBs.
4. Mammoth Mountain Bike Park, CA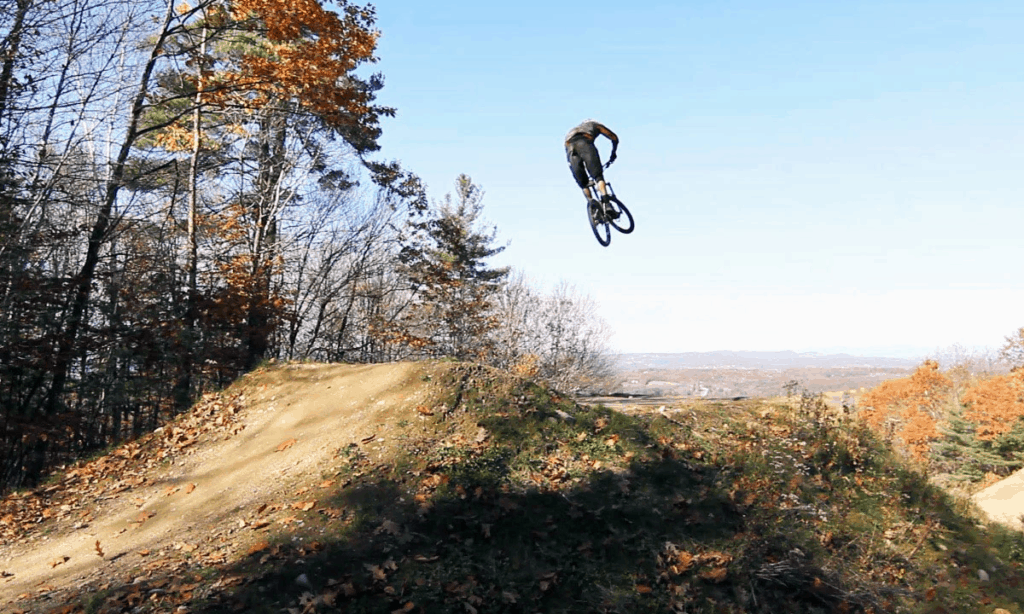 Are regular mountain bike trails too short for you? Perhaps, you'll interest yourself in the West's largest network of MTB trails. The Mammoth MTB Park houses numerous cross-country tracks that stretch for up to 80 miles.
Mammoth has a long history, being established as one of the oldest and finest mountain bike parks in the entire country. This trail has a network of 3,000 feet of downhill tracks, each overlooking the most mind-blowing scenery ever sported in mountain biking history.
The dirt trails are dotted with Jeffrey Pines and intersect at various points. The most popular of these is the Discovery Zone, where both amateur and professional trails meet and diverge out from. Mammoth's bike trails are known to be family-friendly and considered a worthwhile excursion for families on vacation.
It is here that beginners and experts unite for information exchange and socialization. Seven new tracks have been added to the area, as well as many pit stops and lodging quarters.
Furthermore, if you visit there at the right time, you can witness a host of Enduro races, and get to partake in some too. It's a great place to visit with your family or friends, and brings together all types of mountain bike racers, from beginners to experts.
5. Northstar Mountain Biking Park, CA
Northstar Resort houses are one of California's greatest and oldest biking resorts. The Northstar resort is one of the biggest bike parks in Northern California. It consists of lift-served bike rides with extreme downhill tracks and the most breathtaking views in all of Tahoe.
The bike park offers a seamless network of trails and downhill tracks for all types of bikers to enjoy. It appeals to all beginners, professional, and experienced riders. In its most recent marketing strategy, it has mounted GoPro cameras all along the trails to document your indelible moments.
GoPro has a one-of-a-kind challenge for beginners and expert MTB riders. Biking enthusiasts can now take a detour through GoPro's challenging trails and film themselves for the whole world to see. Currently, the feature is under development.
The Northstar resort is a must-visit for those residing in or near California. It's got plenty of sights to see as well as miles of trails to follow. The best part is the continuous adjustments to the park and converging various trails together.
6. Killington Mountain Bike Park, VT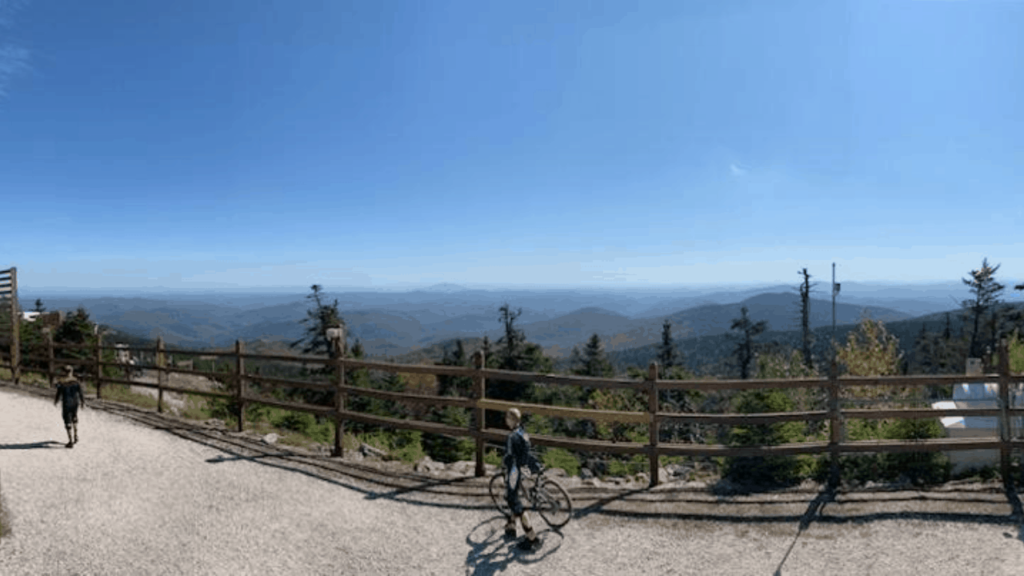 For bikers in Vermont, Killington Mountain Bike Park has some fantastic natural dirt trails to offer. It is the largest ski resort within the East Coast. Killington consists of a web of downhill tracks and cross-country mountain bike trails.
It's one of the largest mountain bike trails in all of Vermont, with a network of both cross-country and downhill dirt tracks. It's also known for its two jump trails, which were designed in coordination with the Gravity Logic team. So you know that the design and implementation is spot on.
Most of the trails here appeal to more experienced riders. However, recent additions to the trail network are now inviting even novice riders. It even caters to those looking for all-mountain riding. With an elevation as high as 4,241 feet, Killington Mountain Bike Park stands as one of the best parks for downhill biking.
At the top of the lifts you will find a set of tools if needed but it's always a good idea to have your own. A bike tool like the Mini 16 in 1 Multi Tool can come in handy along with a repair kit like the DAWAY A35 Bike Repair Kit.
For beginners, it's recommended to start at the Snowshed Lift. There you will be able to hone your skills and master the art of MTB. It's a great opportunity for those who want a serene and social environment for starting with MTB.
7. Blue Mountain Biking Park, PA
Blue Mountain Biking Park is the family-friendly mountain bike Park that doubles the perks of vacation. It's operational throughout the year, best revered for its empty scenery and cozy snowy winters. In the summers, it doubles as a luxurious mountain resort full of activities and mountain biking.
What's more…! Blue Mountain offers over 27 downhill trails to ride. And if you don't bring your bike, you get to rent one. Special lodging and chairlift services make scenic accommodation all the more immersive.
This is by far the most social and community-driven biking park, where you meet with other mountain bikers. The tracks are mostly downhill, fed by gravity, and to conquer the undulating roads.
The resort also offers a pub and grill with lots of music and entertainment. There's a lot to do there, so be sure not to go alone. It's not a good place for cross-country biking though.
If you're the type to spectate and not partake, you'll love the Enduro Cups held here. There's the Maxxis Eastern States Cup as well as the Mid-Atlantic Super Series Enduro Race. These competitions are more for expert bikers than the amateur ones. But simply spectating can motivate you and your friends.
8. Whistler Bike Park, BC
British Columbia is home to some of the state's best and most renowned biking parks. One such park, the Whistler Bike Park, has gained eminence for being the largest and oldest in the region. The trails here are mostly alpine, with a total vertical drop of an incredible 5,000 feet.
Whistler Park started as a series of fire roads in 1992. But in early 2000, the park took off on a project to become the state's biggest mountain biking trails. This track has a lot to offer for virtually every type of biker. They have recently added the Blue Velvet Trail that stands as a great intermediate track for bikers.
They've also appended the Top of the World trail that takes bikers to the very top of the mountain. This is what has resulted in the ridiculously high elevation. For beginners, Whistler's bike park offers two new trails: EZ Does It, and Lowe A-Line. Both have gone through major changes in the past, and keep the newbies entertained.
The terrain has a lot to offer, riddled with slabs of granite and jagged rocks. The area also hosts the Crankworx Whistler event, as well as a series of gift shops and fine dining restaurants.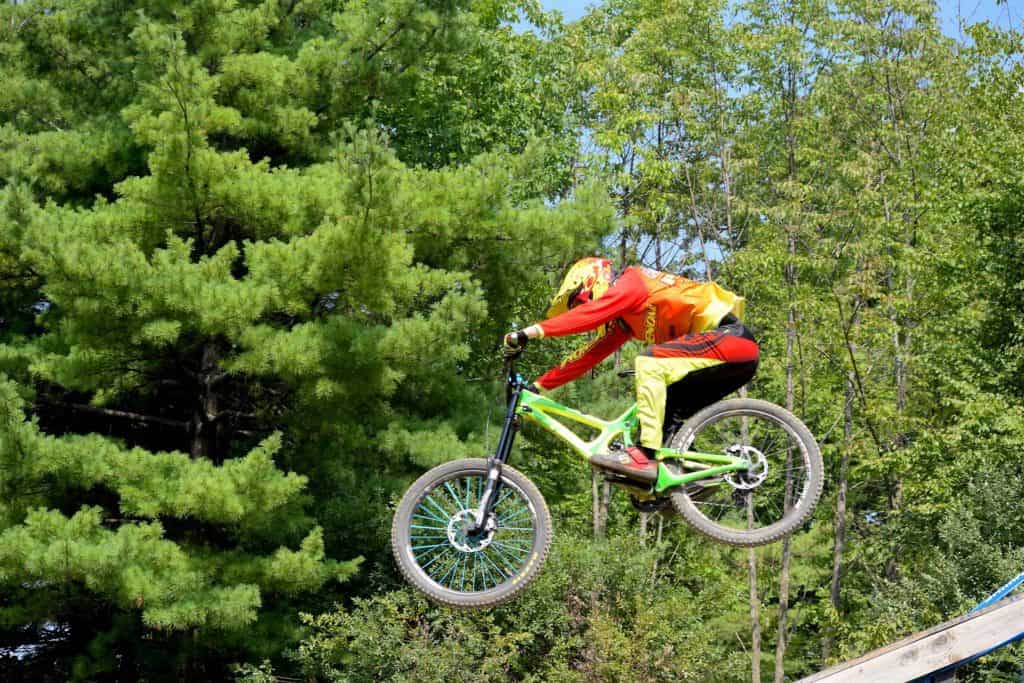 9. Keystone Bike Park, CO
For a more thrilling experience, join thousands of bikers in Colorado's world-famed Keystone Bike Park. This park is one of the US's largest parks, with over 34 trails and intertwining drops and berms.
The Keystone Bike Park features a progressive terrain. Each trail gets subsequently harder and more challenging. So by the time you're done on the beginner trails, you'll be well on your way to more adventures.
Don't trust your biking skills enough? Don't worry. The Keystone Bike Academy offers a full-fledged training course for newbies. It also houses camps and accommodation for children as well as adults. So anyone can begin MTB riding on the Keystone tracks.
A good full suspension bike will be best or any quality Enduro/Downhill bike.
One of this park's most monumental achievements is the special wooden feature dubbed as the Holy Diver. It's a steep and spiral downhill track that looks like a wooden bridge.
Beyond the park, you can front between the two main villages. The resort offers bike rentals as well as some decent lodging.
10. Sun Peaks Bike Park, BC
Another bike park hailing from British Columbia is a more scenic and straightforward trail. Situated in the Sun Peaks Resort, this bike park is home to one of the nation's most gorgeous and exhilarating MTB trails.
A traditional lift-service system takes riders to the very summit of the mountains, with an incredible height of 2,000 feet. Underneath, you get to witness the marriage of nature with impeccable human infrastructure.
Punctuated with drops, jumps, and impossible turns, Sun Peaks picks up in Whistler's legacy. This bike park also hosts the BC Downhill Cup as well as the Peaks Pedal Fest. So there's a lot to do besides biking.
There's about 65 kilometers of dirt trails to ride along, as well as a convenient jump park. Tufts of wildflower and black bears enlighten the scenery. It's a great place for travelers and those looking for a family-friendly resort. The trail is quite engaging and keeps riders on their edge.
Final Thoughts
There's nothing more thrilling than a day full of adventure and electrifying your favorite MTB trail. From Pennsylvania to the coasts of California, there's an array of mountain bike parks to choose from.
We summarized the 10 best mountain bike parks. We chose these based upon their diversity as well as how well-known and highly rated they are. When choosing the right mountain bike park , be sure to keep accommodation as well as nighttime activities in mind. After all, the destination is just as important as the journey.
Below is a Pinterest friendly photo… so you can pin it to your Mountain Bike Board!