When it comes to riding a trail you need to focus on the trail itself. It has nothing to do with how many people visit the place and how many of them have it on their favorite list. You can explore many mountain bike trails in Arkansas. Most of them require intermediate to advanced mountain bike skills so you are bound to create some special memories there.
The state, especially its northwestern side is a Mountain bikers mecca. This region is very active and has great weather. The trails here are managed by passionate cyclists and local communities. And the trails here continue to grow. This is what makes mountain biking in Arkansas a top destination!
Top 10 Mountain Bike Trails In Arkansas
In this post we wanted to look at the top mountain bikes trails available in Arkansas. This is by no means the complete list of every mountain bike trail the state has to offer, but there should be something for everyone. Regardless of your skill level, Arkansas offers something for everyone to improve their skill.
To simplify the matter of choosing which trails to ride, we have developed this list of the best mountain bike trails in Arkansas.
So let's start!
1. Upper Buffalo Headwaters Mountain Bike Trails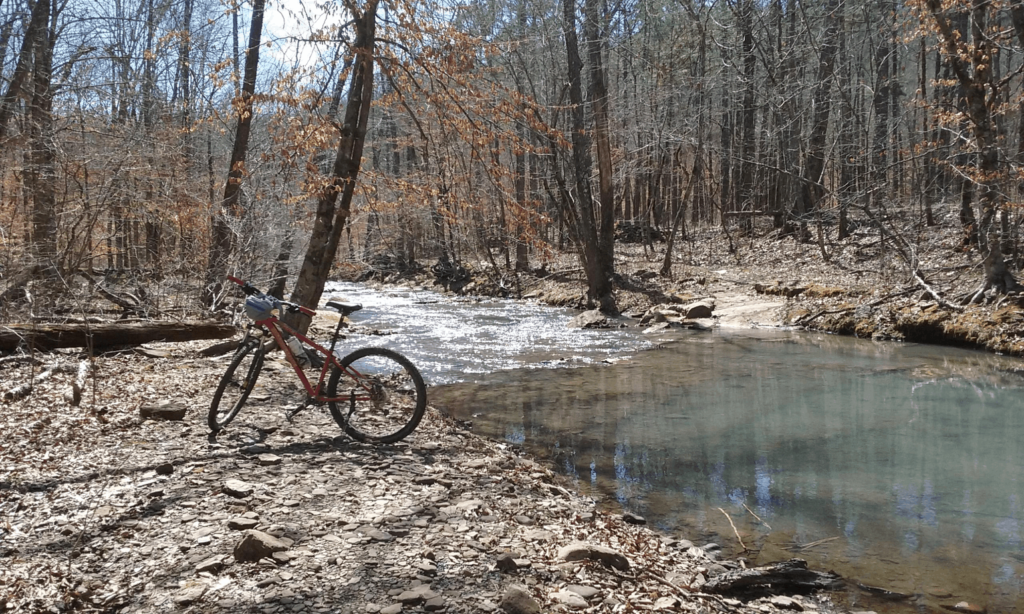 This trail reaches 40 miles and is one of the IMBA Epics from the state of Arkansas. This trail goes deep into the Ozark forest and it has all the adventure you need while mountain biking in Arkansas. There are some tight singletrack ribbons as well as some long climbs.
You will also find some longer descends, creek crossings, rock gardens and so much more. There is nothing that will push you to the limits when it comes to your mountain bike skills. The trail here has intermediate difficulty level and there are easier and harder sections available in a mix.
If you feel that the mileage is too much for you then you can easily trim it down. And you need to bring your camera with you for these trails because the scenes are exceptional. The steep cliffs are exquisite and the sweeping vistas are Instagram-worthy. There are crystal clear waterfalls and plenty of wildlife to enjoy as well. All of this is waiting for you in the old hardwood forests.
2. The Back 40 Mountain Bike Trails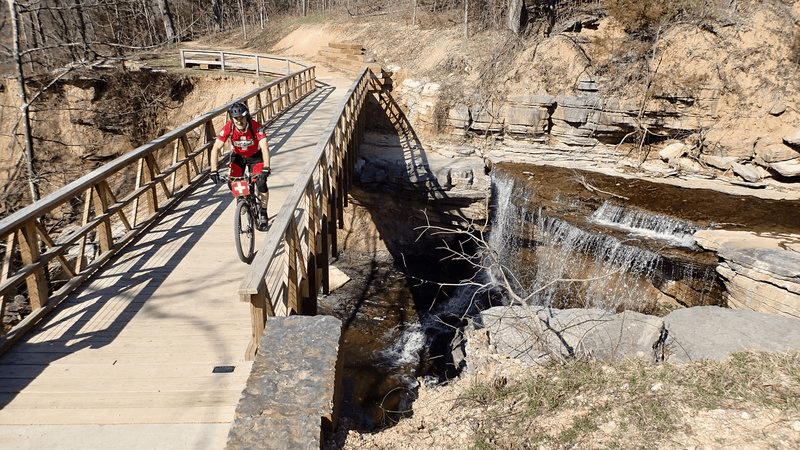 As unusual as it sounds, the Back 40 trail stretches over 22 miles and offers a difficulty level right on the midpoint. If you only have time to ride one mountain bike trail in the state of Arkansas then you need to choose the Back 40. This is one that makes mountain biking in Arkansas a top destination.
It is a trail developed by mountain bikers for mountain bikers. The reason why this trail is so amazing is that it has a lot of variation in scenes, as well as terrains. You can go through a hanging bridge. This bridge has been developed within a bluff and all of a sudden you will find streams of water.
Waterfalls are spread across the trails and you will find jump rollers, rail berms, rock gardens and so much more. Ascends and descends are there too. So at the Back 40, you pretty much have everything to enjoy.
3. Mountain Biking Lake Leatherwood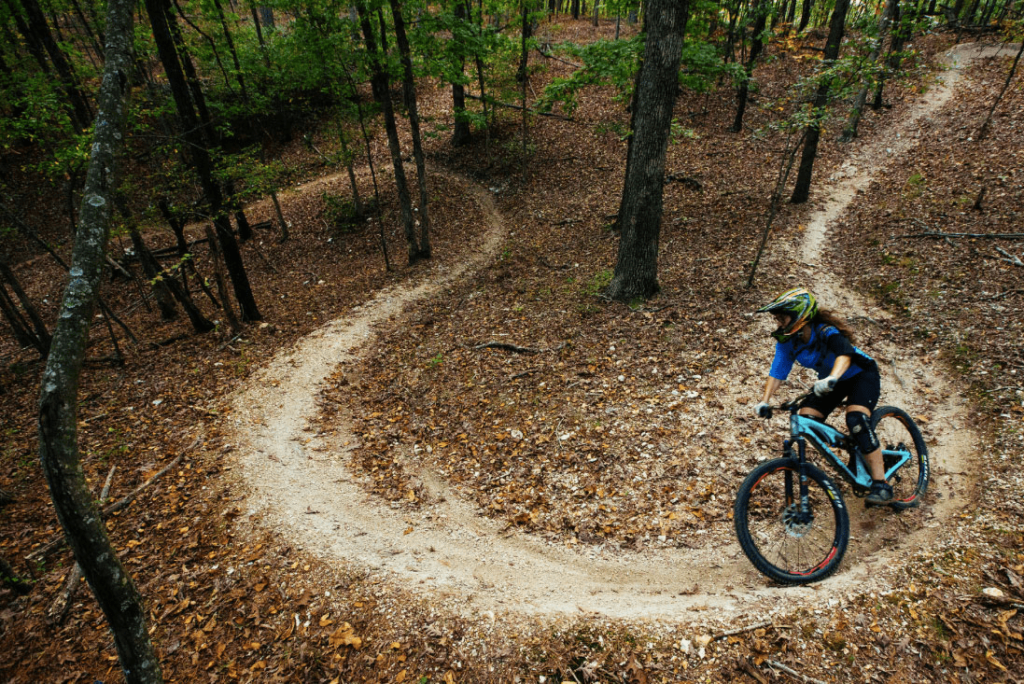 If you prefer to go for long trails then Lake Leatherwood is going to be like a treat to you. These trails span across the region with more than 25 miles. You will find a range in difficulty from beginner to advanced level. So anyone can join in and have fun on these trails.
If you want to test your climbing skills then you need to visit Lake Leatherwood. The climbs here are technical and punchy due to the diverse terrain. These trails will put your biking skills to a challenge. When you visit the place make sure that you visit MIner's Rock as well.
Ascend is tough here. But the rocks formations are unusual and will make your ride worth it. Also, keep a sharp lookout for those bald eagles flying around. It is a real fun place for the mountain bikers who prefer versatility in their rides.
4. Mt. Kessler Mountain Bike Trails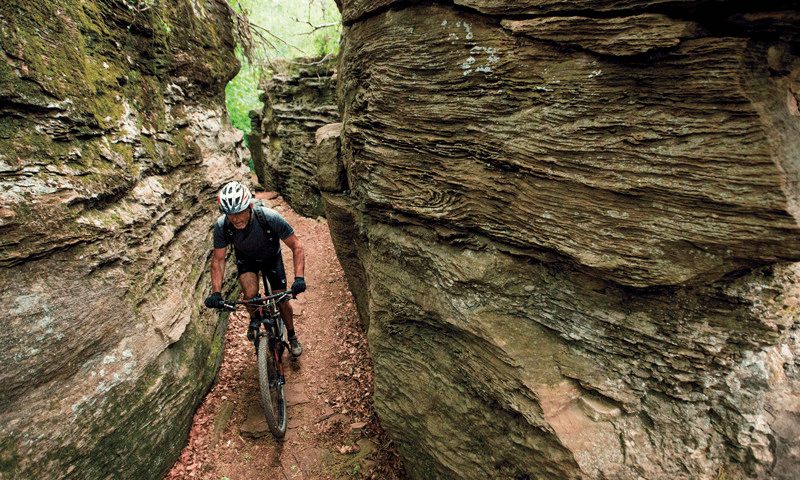 If you are an experienced mountain biker and want to ride a trail that offers medium to hard difficulty level then the trails of Mt. Kessler are the right option for you. It is only 7 miles long but it has so much to offer. Located in Fayetteville, it is a Bronze-level trail recognized by the IMBA.
You can ride a very tight singletrack here and the rock gardens are extremely challenging. The ride goes through giant boulders and you will be riding under the shade of an old-grown woodland with steep bluffs that are covered with moss.
Make sure you have a good helmet like the GIRO Source MIPS Helmet and pads like the G-Form Pro X2 Knee pads. Keep yourself protected and more focused on a good ride.
The place is also close to town but you will not find any urban noise around. Don't forget to go through those brief canyon slots around the Rock City region. The views are out of this world.
5. Mountain Biking Lake Atalanta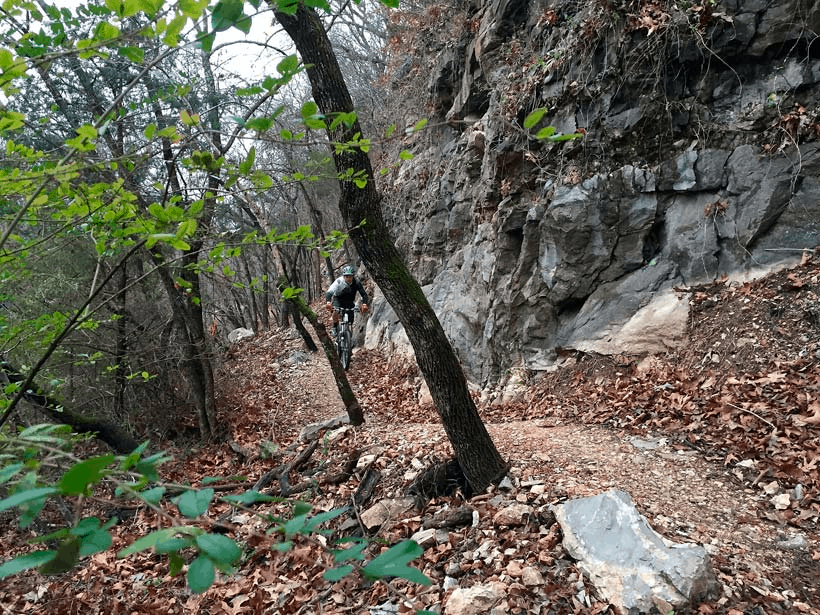 One of the most favorite trails in this region is the Lake Atalanta. This trail spans over 10 miles. If you are looking for a mix of easy and intermediate trails then go for this section because there is plenty here for you to enjoy.
The closest town to this region is Rogers and hence Lake Atalanta is a local favorite. Being close to town means that you can find some urban amenities here but there is plenty of the wild as well and the scenic beauty you will get from this region is extraordinary.
The beautiful views of the Ozark forest will be along with you throughout the trail and you won't get enough of them. The turns and the paths you will find here are all well-bermed and of course, you will find some interesting wooden features too.
Many of the trails develop a fork and riders of different skill sets can go together, get separated, and then join back again. Therefore, you are not going to get too far off from your group.
6. The Hidden Diversity Bike Trails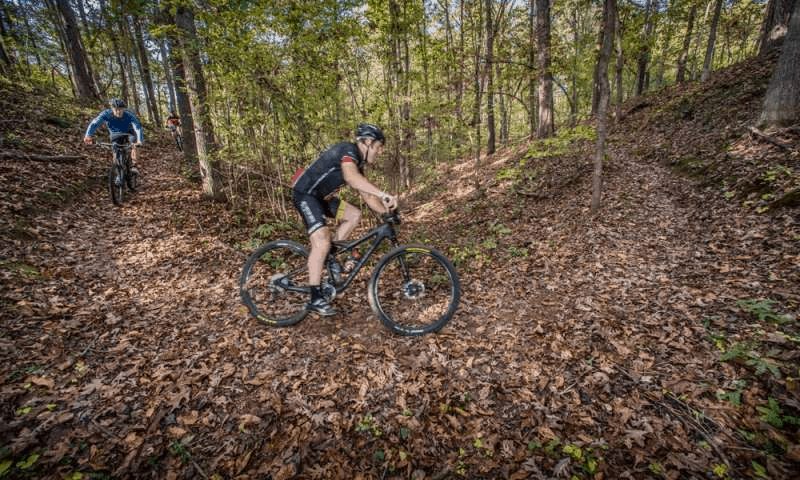 These trails are 24 miles long and they are extremely smooth and quick. The place is deeply housed in a pine forest and it is different in view if you compare it with the Ozark-view of Rogers. If you find other trails to be a bit too muddy then you need to go for this one.
It is a top choice for single speed bikes as well as moderate riders. If you prefer to push your cornering skills along with the flow and don't want to tangle up in technical trails where you have to bash and huck then Hidden Diversity is the right place for you.
You'll be very busy controlling the free-flowing speed of your bike that you might not notice the scenes at times. But of course, you can pull over and cherish Mother Nature and then get back to what you were doing.
7. Mountain Biking Blowing Springs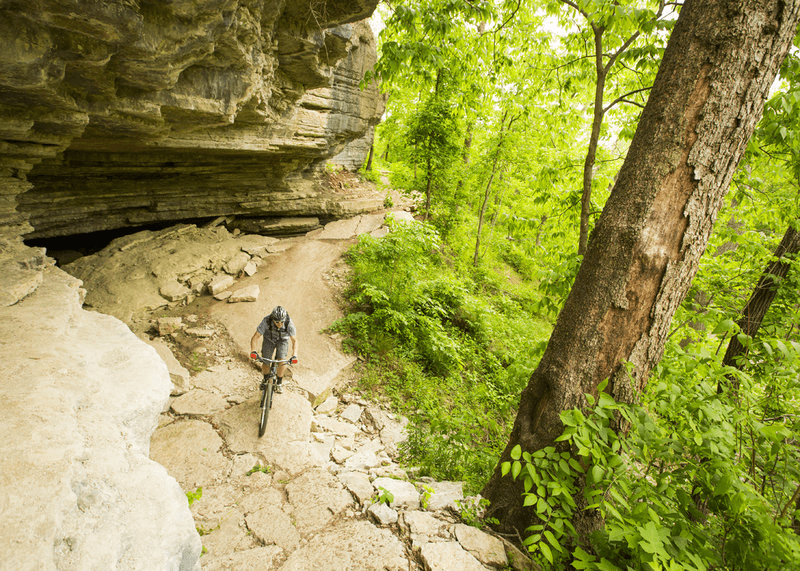 The Blowing Springs trail span across 6 miles and the best part about it is that it ranges in difficulty from easy to advance. The trails here are easily accessible from the Back 40 and the Slaughter Pen.
This region has one of the best views of all the mountain bike trails of Arkansas and the ride itself is very stellar. It is suitable for all kinds of riders ranging in their skill set as well as age group. Hence it is the best place to visit for families.  You can begin with your kids and head off to the expert trails while your kids can enjoy the much simpler tracks.
Multiple cliff lines are exposed and you will never get enough of the natural springs of this region. Of course, you'll find that constant breeze flowing through the terrain for which this place gets its name.
8. Biking Coler Mountain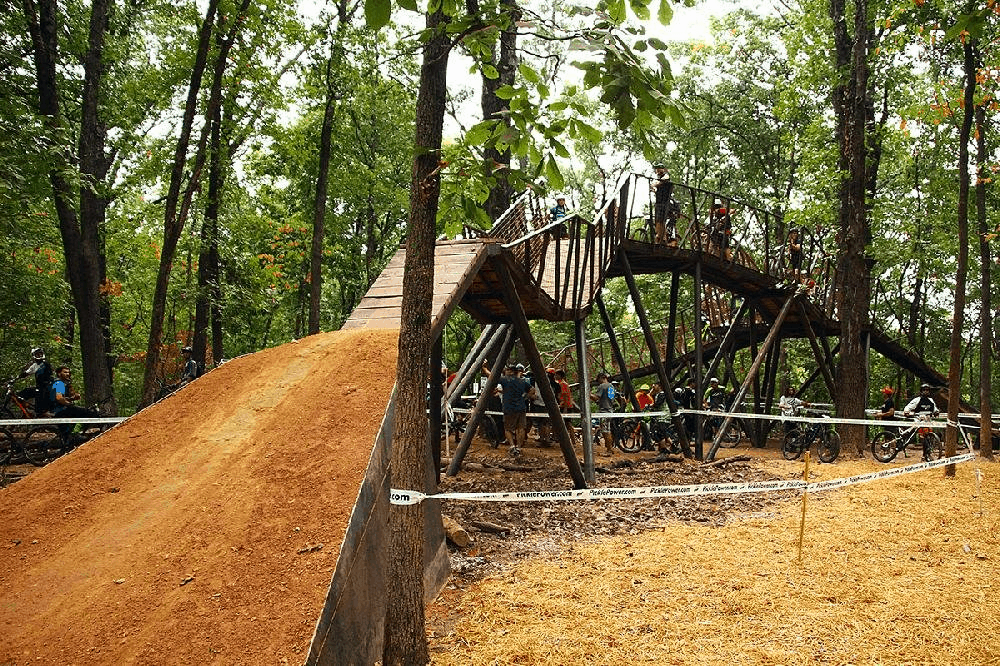 This trail is not very long and only lasts for 6 miles but in those 6 miles, you will find plenty. The trail is an absolute joy-ride for anyone having different levels of skills. No matter where you stand with your skill set, you will find Coler Mountain a suitable choice for you.
The design of this trail is splendid and it starts from the Hub which is an intersection right at the center and the highest point. As you can see, where things are going to go from here! At the Hub, you can gather with the riders, enjoy your time, and then choose a trail downhill. You will meet again at the bottom and then choose your route back up again.
Different riders with ranging mountain bike skills can choose different routes. You can find casual greens, rolling routes, 12 feet drops, and lush woodlands. Riding the Coler Mountain is so much fun that you will keep coming back for more.
9. Slaughter Pen Mountain Bike Trails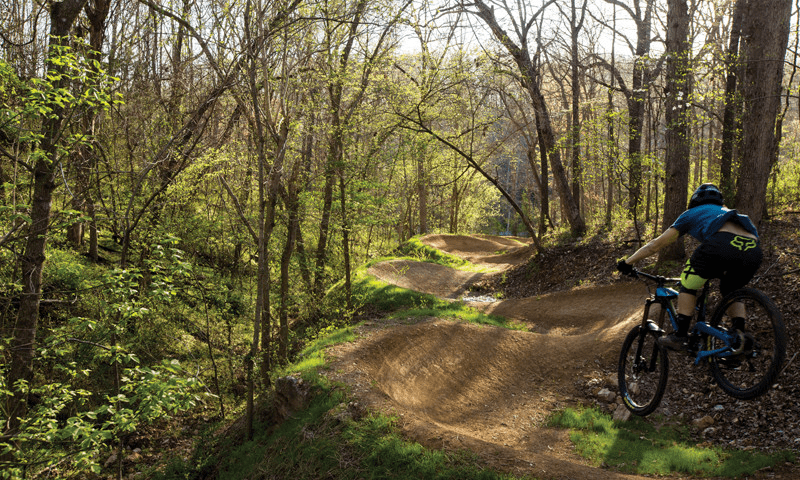 For many mountain bikers from Arkansas, the Slaughter Pen is the best place for trail riding. The trails here are over 20 miles long and they also range in difficulty level from novice to expert. The trail system is situated in Bentonville. This place has a Silver-level in the list of IMBA and it is one of only eleven across the globe.
This place is a result of constant effort and frequent hard work of the management and the community. The urban singletrack spreads out over three different stages and spans across miles.
Every skill level will be enough to explore here and throughout the tails, you will also find optional tracks with jumps, drops, wall, and log rides. There are bypasses available for the riders who are not looking to aggressively ride the trail and are there to have fun by just enjoying the views.
For some downhill runs you can also go for the free ride area and it features tabletops and big drops. This region is close to Blowing Springs and Lake Bella Vista as well.
10. Railyard Mountain Bike Trails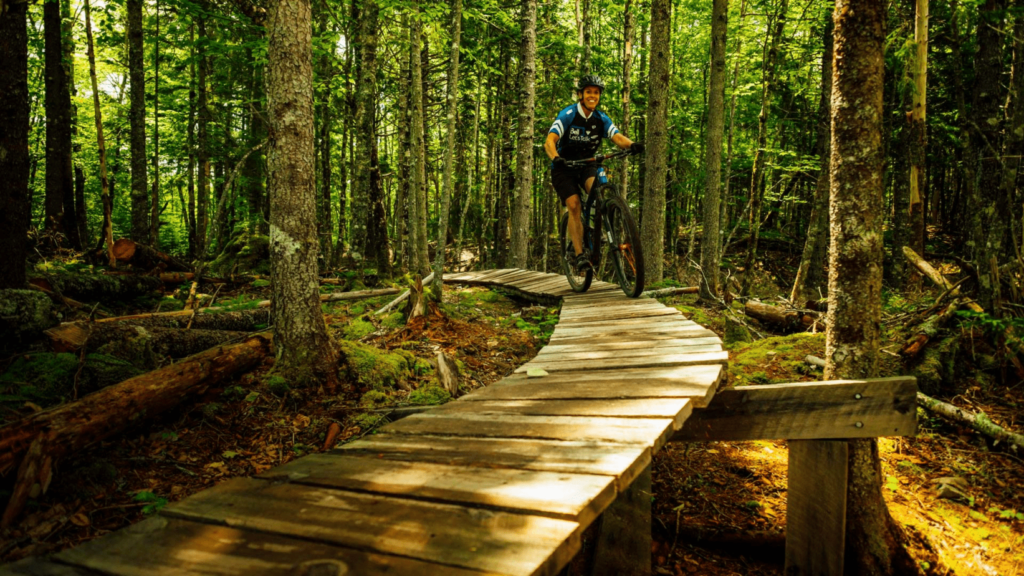 Another one of the great choices if you are looking for an urban trail. The local favorite Railyard features top-class terrain with obstacles and jumps and it is located right in downtown Rogers. No matter what skills you have and what you age is, you will have plenty of fun here on this trail.
You can huck, wall ride, and jump all you want. Shred all your heart out on this professionally built trail with crisscrossing hindrances. Railyard is the best option for anyone who wants to start with mountain bike sport. If you are a pro then you can sharpen your skills further on these trails.
The trail is linked with over 40 miles of paved tracks for road bikes like Vilano R2 Commuter Aluminum Road Bike or a hybrid bike like the Schwinn GTX Hybrid Bike. But using bikes like Diamondback Overdrive with larger wheels and short-reach will work here too on downhills.  These paths go through a ton and eventually reach the trail system of Atlanta. There is plenty for you to enjoy when it comes to panoramic views at the Railyard.
Some Honorary Mentions
Arkansas has a long list of mountain bike trails and it is one of the heavens for the riders in the country. Therefore, we are going to list down some of the best mountain bike trails in Arkansas that didn't make the above list.
Iron Mountain (Arkadelphia).
Northwoods (Hot Springs).
Cedar Glades (Hot Springs).
The Lovit (Mt. Ida).
Spadra Creek (Clarksville).
Enders Fault (Greenbrier).
The Womble (Mt. Ida).
Lercher 15 (Searcy).
Sweet Spot (Russellville).
Choo Choo Area (Bentonville)
Lake Ouachita (Mt. Ida).
Monument (Rogers).
Fitzgerald Mountain (Springdale).
Syllamo (Mountain View).
Final Words
The list of the best mountain bike trails in Arkansas will continue to evolve over time. It is because more and more miles are adding on into an already huge network of mountain bike trails. The state has made it to the list of Epic trails by IMBA and in the coming years more are on the way.
The state is a heaven for the mountain bikers because there is so much on offer. You can enjoy the scenic view, it tests your skills on those two wheels. And if you are looking to go at rapid speeds on paved tracks then you will find plenty of such urban trails as well.
There is a bit of everything for everyone. It is because the state has a community of passionate mountain bikers who are making all the efforts to extend these paths and bring in more mountain bike enthusiasts from all across the globe. Arkansas is one of the best places for mountain biking in the US and just got even better with the incentive to move there.
Now, Northwest Arkansas will pay new residents $10,000 to move to the area. Thanks to its low cost of living, outdoor activities and a per-capita income that's 14% higher than the national average. What a deal to look into!
Below is a Pinterest friendly photo… so you can pin it to your Mountain Bike Board!