We all know Florida as "The Sunshine State." Beaches are the most popular tourist attractions here along with the world's best-known theme parks, including Universal Studios and Disney. But what if we tell you that Florida also has some of the best mountain bike trails you will find in the entire country?
This state has a vibrant mountain bike community and also boasts thousands of miles of mountain bike trails both for novices and experts from all around the globe. The IMBA (International Mountain Biking Association) has rated two trails from this state among its best-rated mountain bike trails. And these are the Alafia River State Park and the Santos Trailhead.
Criteria For A Mountain Bike Trail To Be "Epic"
Here are the five criteria that the MTB trails have to meet to be "Epic."
Demanding and mostly singletrack in its natural environment.
Total backcountry experience in a remote set up.
Physically and technically challenging.
Over 80% singletrack.
Minimum 20 miles long.
We have picked the top 10 mountain bike trails in Florida for your next MTB adventure.
Florida's Top Mountain Bike Trails
The state of Florida has unique ecosystems and topography. And for this, categorizing the state's MTB trails is very difficult. However, we've focused on the overall trail length, its difficulty, and ease of access to rank them.
1. Santos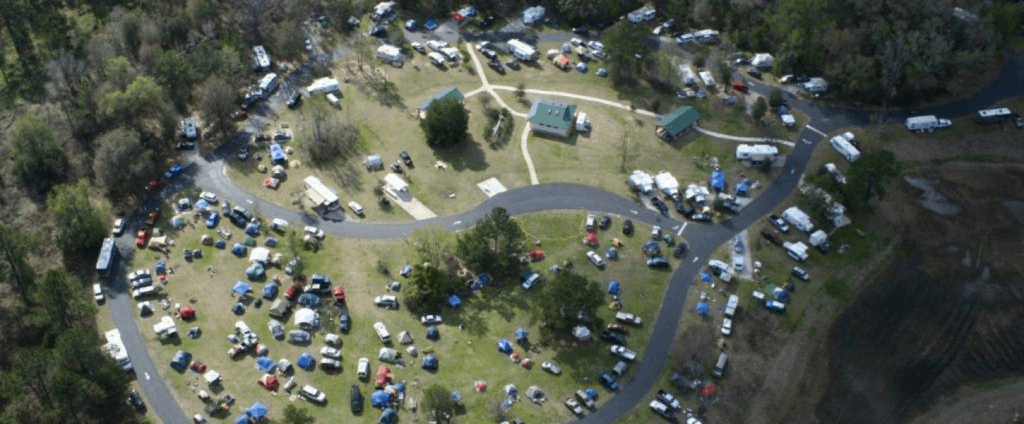 These are the best mountain bike trails in Florida, according to IMBA. The difficulty level here for the trails range from novice to intermediate with hints of very challenging paths. The available distance of trails in this region is more than 85 miles. There are different types of bike shops available in these regions, and you have good access to local markets as well. You need to have a quality mountain bike to ride this trail, and there is nothing better than the Diamondback Overdrive mountain bike to start with.
Without any doubt, Santos is the central hub of mountain biking within the state of Florida, and it is arguably one of the best in the East Coast region. No matter what level of MTB skill set you are at, Santos has something there for you. There is a jump section right at the Vortex. You will find miles of single-track trail, and this place is full of scenic beauty as well. As an MTB adventurer, you cannot ask for more.
2. Withlacoochee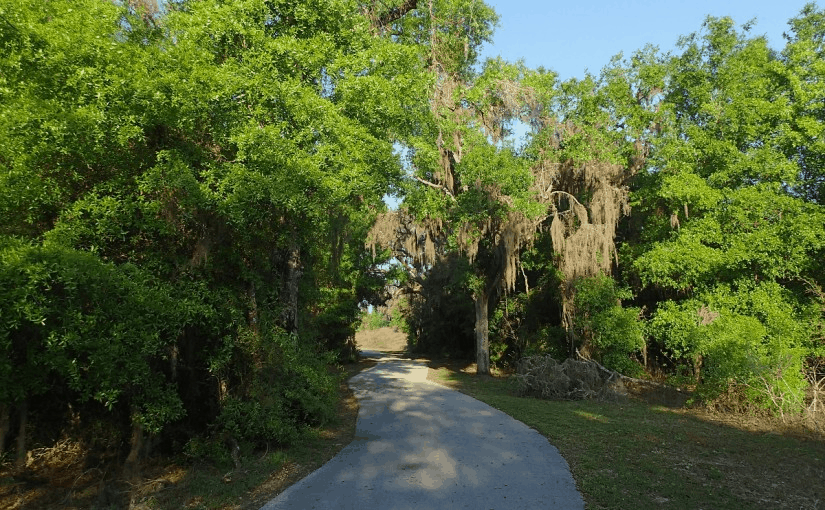 The Withlacoochee lies close to the city of Brooksville, and it has a difficulty level of intermediate with various trails suitable for beginners as well as experts. The state forest features more than 50 miles of bike trails and also has some bike shops available in the vicinity.
Riders can also enjoy beer and food from the local markets. There is a camping site nearby, and you can also access a paved trail for road riding. A road bike like the Schwinn Fastback Tourney would be better for this section is the. It is not going to be very technically tough on you, but the sheer mileage you can get from your tour is outstanding.
The heights can reach up to 2200 feet; the region can sneak up on you. This place has a lot to offer. There are sandy trails with cabbage palm, and single tracks covered with pines. It is a top destination for families as well as kneepad-wearing hardcore.
3. Balm Boyette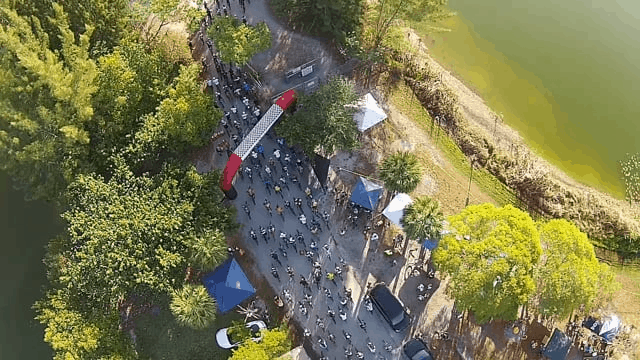 Closely situated to Ocala, the Balm Boyette has difficulty levels ranging from novice to expert. You can explore more than 38 miles of trails on your MTB. It is probably better than what Alafia has to offer, but the lack of big signs and a parking lot has halted his way to fame.
Alafia is further down the road, and if you are planning to visit the trails there, we would recommend that you spend a day here as well. This place is one of the best mountain bike trails in Florida because of its available bike shops and local markets.
There is plenty to be found in this region, and the food here tastes great too. Furthermore, there is a huge loop that spans over 12 miles, and it can get you one the way. There are some beautiful views along the way, and the weather here is very nice and soothing.
4. T. Mabry Carlton Jr. Memorial Reserve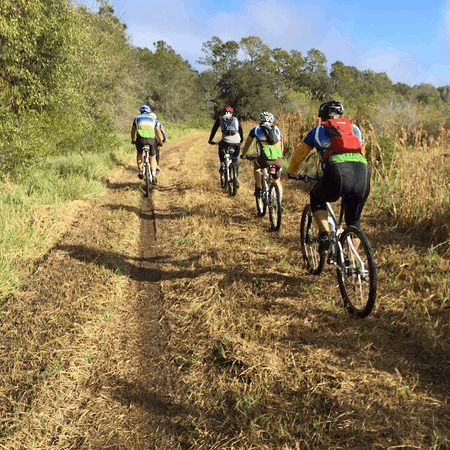 The mountain bike trail spans over 33 miles and is located close to Venice. The difficulty of the trails here varies from novice to intermediate. Nothing is challenging that you will find on these trails. So if you are looking for a challenge, then you need to look somewhere else.
Many bike shops and local restaurants are present in this region as well. This soft sand covered trail has a fast hardback, and scrub brush will test your skills on the sharp turns. But if you are a very experienced MTBer, then it might not suit your taste.
The beautiful mountain views and river beds with thick forests in this region will make your outing perfect. Sarasota County is doing full justice to this place by growing its exposure to the masses across the nation.
5. San Felasco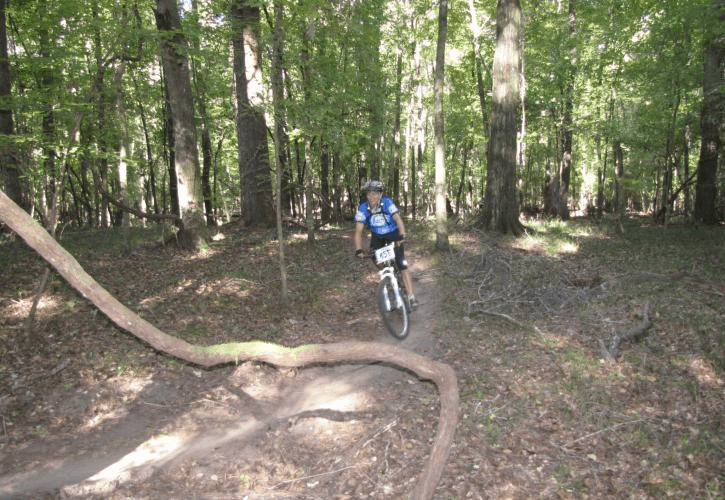 The closest city to this MTB trail is Alachua and the trail carries different levels of expertise from beginner to expert. There are over 25 miles of trails available in this region, and you also have access to the locks, shops and food points. Bike shops are readily available as well, and you can stop and take a break during your adventure for a fresh start.
It is not the most technical of the trails in this state, but you have access to some of the best cross country trails in the southeast region of the state. This park is a great place for families who prefer to ride through the woods and have a look at the old sights of Florida.
The trails do have some belly dropping and air catching sections that require some technical skills to access. But if you are an experienced rider, then you might not have any trouble over them. The air in this area is very fresh, and you will feel very energetic during your ride.
6. Timberlake Mountain Bike Trails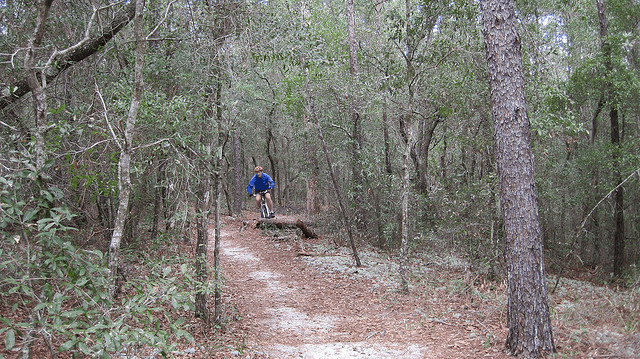 Here's another one of the best mountain bike trails in Florida with over 20 miles of single track! The closest city to this trail is Fort Walton Beach, and the trail ranges in technicality from novice to expert. You can find plenty of bike shops in the vicinity, and several local beers and food points are easy to access.
It is one of the best sights in the state because it is situated close to the Eglin Air Force Base. The local riders have properly maintained the singletrack. But you will require a recreational license to have access to this trail system.
You will find different types of paths on these trails. The peaks and troughs of this trail system are something that you will remember for a long time to come. Some of the turns on this trail system will surely test your MTB skills on those sharp turns.
7. Kathryn Abby Hanna Park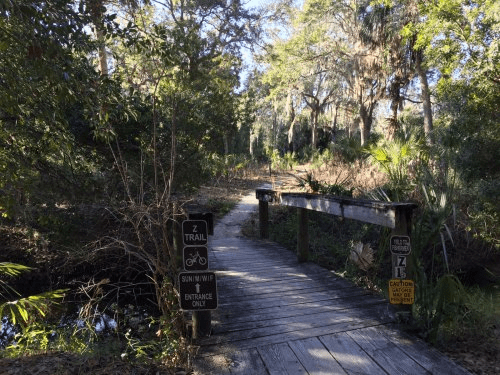 This MTB trail is right next to Jacksonville and has different types of paths curved for riders with a range of skills. Whether you are a beginner or an expert MTB rider, the trail will have something on offer, and there are more than 20 miles of it on offer.
This trail system is managed by Jacksonville Parks & Recreation, and they have done a fabulous job. For a traveling family, these parks have every amenity that you can think of. And if you are accompanied by someone who doesn't ride, then there are various other activities to do besides riding.
There is a small entry fee, and with these fees from the visitors, the park management maintains this entire trail system and the park itself. You won't find much elevation here, but there are many switchbacks and plenty of sand throwing a challenge to even the most experienced MTBers.
8. Alafia River State Park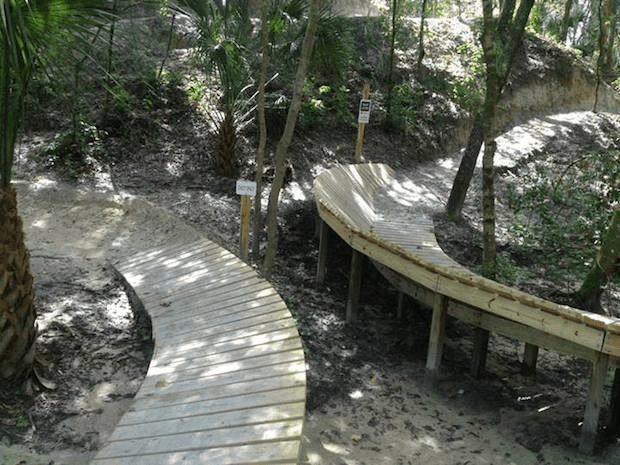 We talked about Alafia a few times earlier, and it is one of the best mountain bike trails in Florida. It has over more than 20 miles of trails available for access, and the closest city to this park is Lithia. The trails here can range in difficulty level from novice to expert, and there are several bike repair and maintenance shops available in the area. 
The trail system available here is full of twists and turns. Shaded with trees, you will find some rocky and rooted patches, and there are long miles of different kinds of terrains. You can find a rental place and a bike shop right on the spot.
One of the best features of this trail system is that it has effortless access to parking. The community in this region is very tight. Therefore, if you are looking to unleash the MTB dragon inside you, then you need to access the trails on weekdays throughout the year. Generally, it is a technical trail system, but the single track has something on offer for everyone.
9. Orlando Wetlands Park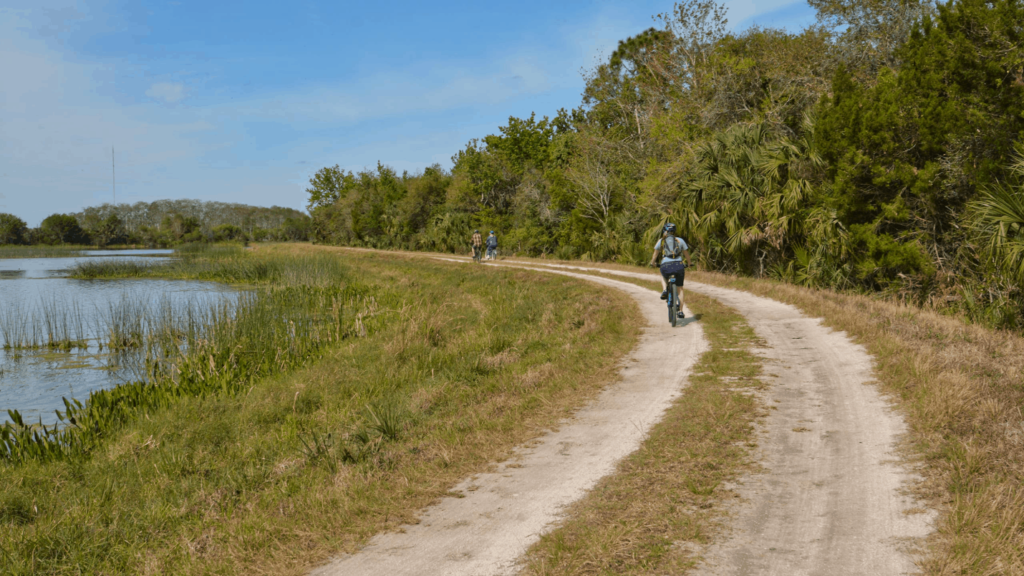 It is one of the best mountain bike trails in Florida with not many trail miles, but the experience is going to be incredible. The closest city to this region is Christmas, and this trail system is not very difficult. Therefore, if you have just started with your MTB adventurers, then it is the right choice for you to consider.
It is a perfect place for you to bring in your family and get them to ride the MTB. The Wetlands Park is maintained by Orlando City Parks & Recreation, and they have done a pretty nice job until now. This critter-rich region will be a great place for you to experience Nature hands on.
As far as the technicality goes, there is not much you will find here, but it is a good choice to start your MTB training and lace up your boots for the tougher trails out there. The locality is very friendly, and you can find some good food and beer around.
10. Lake Overstreet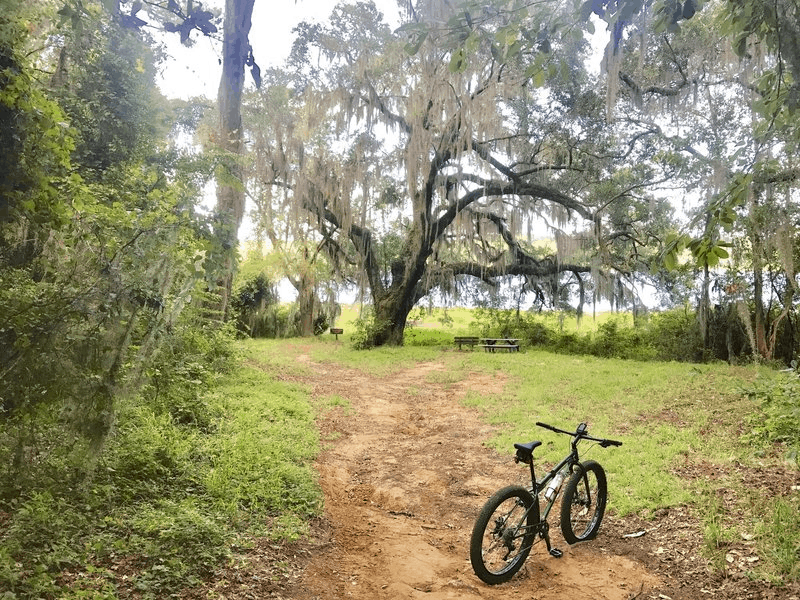 Here's another one of the Florida MTB trails that tops out at 18 miles and is very easy to handle. The closest city to this region is Tallahassee, and there are a good number of shops and errands you can do around it.
If you are new to mountain biking, then this is another great place to start. The technicality associated with riding the trail is almost ignorable. There are two distance trails available in this region: the trail at Lake Overstreet and the trail in the RedBug.
You can access both these trails directly from the Alfred Maclay State Park. Both these trails are looped together for excellent riding experience. Both these trails are more beautiful than technical. You can gaze upon the state's most beautiful gardens and have a great family time here.
Some Honorable Mentions
The famous mountain bike trails in Florida will suffice if you haven't visited the state for this purpose. But there are several other mountain bike trails in Florida that we would like to mention here. And these are:
UWF MTB Trails (Pensacola).
Tom Brown Park (Tallahassee).
Fort Clinch (Fernandina Beach).
Little Big Econ (Geneva).
Jimmy Cotton's (Fort Meade).
Loyce Harpe/Carter Rd (Mulberry).
Chuck Lennon (Deland).
Malabar Scrub (Malabar).
Grapefruit (Palm Bay).
Halpatiokee (Stuart).
Caloosahatchee (Alva).
Boldly Go (Venice).
Fort Pierce (Fort Pierce).
Camp Murphy (Hobe Sound).
Oleta (Bal Harbour).
Amelia Earhart (Miami).
Markham (Weston).
Final Words
The state of Florida is not the first name that comes to mind when we talk about mountain biking. But that doesn't mean the state has nothing to offer to its mountain bike community. There are different trails available throughout the state, and they vary in technical difficulty.
You won't find difficult trails in this state. However, Florida does have two of the "Epic" MTB trails recognized by the IMBA. Santos and Alafia. You will have a lot of fun riding them when you do get a chance.
Below is a Pinterest friendly photo… so you can pin it to your Mountain Bike Board!