Are you searching for the best mountain bike trails in Michigan but don't know where to start? Don't worry; you have come to the right place.
In this post, we'll be sharing with you our list of the best mountain bike trails in Michigan.
Mountain biking has significantly grown in popularity when we look at it in the past couple of decades. It is the case across all states, and Michigan is no different either. The MTBers are now exploring the trails that were once frequently used by the cross country skiers and hikers.
Whether you are new to the MTB world or are a seasoned veteran, you'll find a trail in Michigan that meets all your requirements and preferences. Definitely check out trail 10 at the end.
Top 10 Mountain Bike Trails In Michigan
Here are the top 10 mountain bikes trails available in the great state of Michigan. This is by no means the complete list of every mountain bike trail the state has to offer, but we highlighted trails to accommodate every level of rider. Regardless of your skill level, Michigan offers something for everyone to get out and enjoy.
So read on to find which are the best ones to visit in the Michigan state!
1. The Big M Bike Trails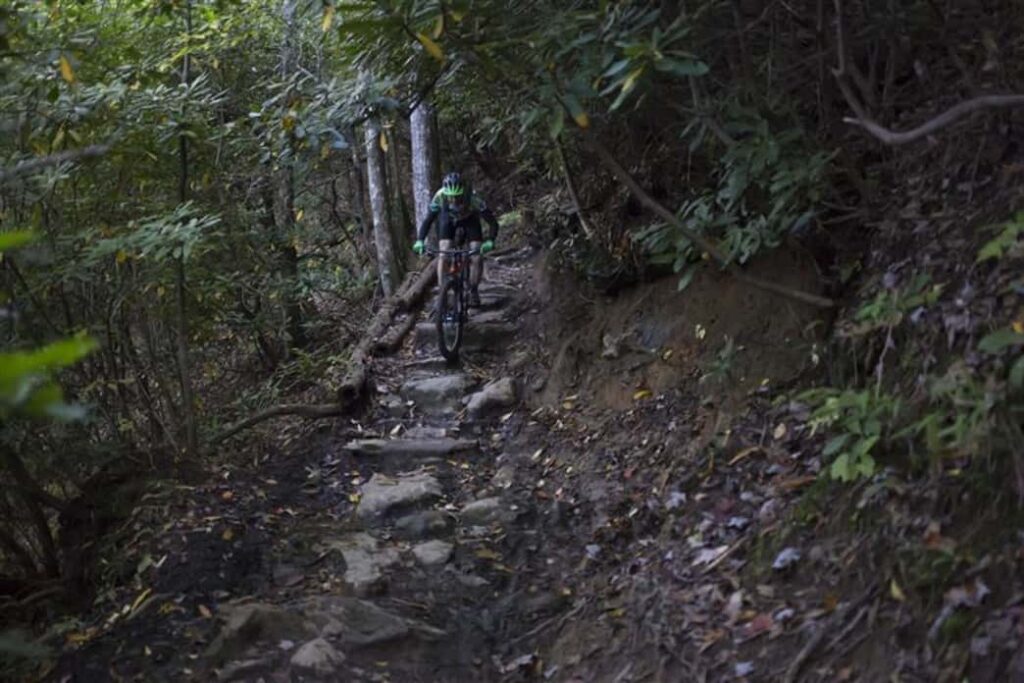 The Big M is one of the most beautiful mountain bike trails in Michigan. This trail system is over 33 miles long and comprises double, single, and cross country routes. If you are looking for a long day of mountain bike riding that features several loops, the Big M will serve you well.
These trails go through the National Forest (Manistee). They have everything ranging from thrilling downhill to fully-sustained flat paths. You will find multiple challenging paths here for uphill riding too. The peak goes for the top of Capper's Mountain, and you will get a range of 360-degree views boasting lakes and wilderness.
One of the trails on this route is called the Catamount. And it is the best in terms of variety and is also the grandest of the six terrains. If you are looking for some easy loops, then you can find them on the Family routes here in these trails.
2. Glacial Hills Bellaire Mountain Bike Trails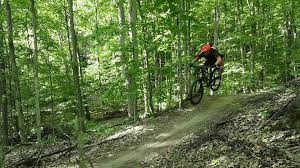 If you are looking for a fun ride over a trail that is well maintained and stretches across an area of over 31 miles, then you don't need to look any further. These are one of the best mountain bike trails in Michigan made for all kinds of riders with different experience levels.
You won't find many trails maintained better than the Glacial Hills. You will have to deal with several changes in elevation. Your ride on these trails will include sharp turns, edgy twists, and awe-inspiring views.
Many loops on these routes can reach up to 400 feet right above the trailheads. Some of them even provide you with numerous troughs and peaks. On average, a single trail takes about a couple of miles for climbing 300 feet purely because it features five different downhill route sections. One of the best fat bikes to run these routes is the Mongoose Argus Trail Aeels.
Family Loop is the flattest trail, which is also known as the Warm-up Loop. The Rolling Hills is the route better suited for the intermediates. The Outside is the most difficult one of them all, and you will find several fast descents that will cover over 12 to 20 miles.
3. Copper Harbor Mountain Bike Trails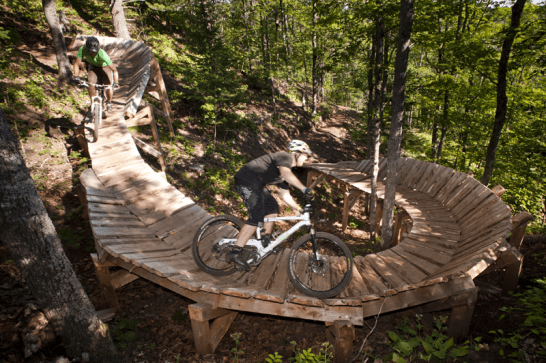 Copper Harbor is one of the top destinations for MTBers in the state, and it is one of the best mountain bike trails in Michigan as well. These trails are one of the top-rated in the eastern US and are one of the top 20 across the US rated by National Geographic.
The most popular route in this network is the Danimal, where you can go through some high-quality dirt jumps of advanced levels. On edge, you will find a variety of wooden structures and bridges. These two routes are filled with sharp edges and turns.
The Flying Squirrel route will take you to a downhill ride (less than a mile long). But it will certainly give you some goosebumps with an adrenaline rush. This route also features numerous rock gardens and wooden jumps.
There is another route called the Flow, which starts right from the top of Brockway and features a huge 3-mile downhill ride. Almost all of the routes at Copper Harbor require skills of intermediate levels to advanced levels.
4. White Lake Highland Bike Trails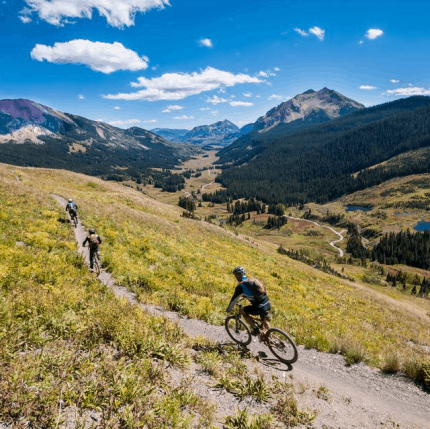 Calling all adventures and skillful mountain bikers! The White Lake Highland is one of the best mountain bike trails in Michigan for its technicality. You want a serious MTB trail ride; you need to visit the Highland. It is aerobically very challenging, and the four loops in this area span across more than 16 miles. The single track here will provide you with several climbs through the ups and downs of forest hills, and of course, you will get the rocky gardens as well.
There are plenty of logs and root jumping you can do on these trails. The water drainage is exceptional at every trail located in the White Lake region. It means that you can conveniently ride your MTB even when it is raining.
You won't find many trails in the state of Michigan to have this feature. There are four loops here: the A Loop, The B Loop, the C Loop, and the D Loop. The A is 3.8 miles long while the B is 9.7 miles long.
And they both are the primary trails in this region. The C is 2.7 miles long while the D is 3.8 miles long. The C adds more rockiness to the B while the D features a grueling climb on Mt. Omich, and you will also get a downhill path with numerous tight twists and turns.
If you ride all four of these loops, you will have to navigate over 2000 feet of elevation, and it will take over 2 hours. This technical trail will bring out the better rider in you.
5. Marquette Mountain Bike Trails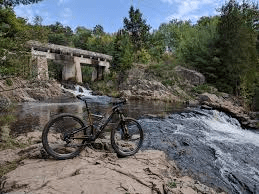 Marquette has approximately 55 miles of MTB trails on offer and is the largest trail network when we consider both the north end and south end of this park. This place has an Epic rating by IMBA along with a bronze-level MTB riding center from the same institute. It is also one of the best mountain bike trails in Michigan, as recognized by USA Today.
In the southern wing of this park, there is a route called the Blue Loop in Noquemanon. This route is one of the most technically challenging descents and climbs over rock gardens. Additionally, the Red Loop descends through a range of different double and single track trails.
Another Loop called the Yellow Loop will provide you with a range of breathtaking views from the Lake Superior as well as the Ski Area of Marquette Mountain. And if you are looking for a screaming 350 feet drop, then you need to ride the Down Dogger.
This place has several trails, and they all require some great technical riding skills. There are plenty of boardwalks, wooden structures as well as a rock garden waiting for you on your way.
6. Grand Island Mountain Bike Trails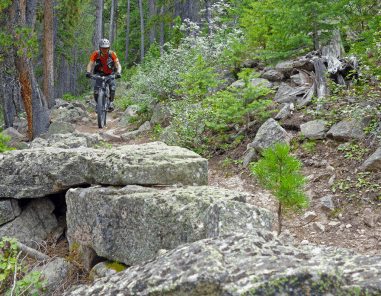 You can access Grand Island via a ferry that you can take from Munising. The Grand Island is as big as Manhattan, and it features some of the best mountain bike trails that you can find in the region of the Midwest.
The MTB trail network here is more than 40 miles in a stretch. And you can find several dirt roads and double tracks to ride here. This area is a great place for camping too. So you can bring in your family to camp here and plan to ride with them on one of the routes available on this island.
One of the best places for you to visit here on your MTB is the Trout Bay. But having an MTB is not the only way to access this area. Therefore, you can visit this place with your family for a picnic or even a beach walk. The area also has a couple of lakes that you can explore on your mountain bike. So, there is so much you can do at the Grand Island.
7. VASA Mountain Bike Trails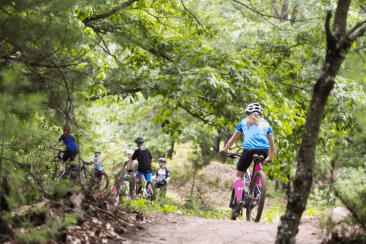 VASA is a well-known place among the MTB community. It is a race where MTBers participate in a point-to-point MTB route (at VASA), and it is called the Iceman Cometh Challenge. This challenge takes place every November. It is one of the country's largest 1-day MTB race that features more than 5000 MTBers.
There are two types of trails available here. One is the 15-mile gentle single track that cuts the cross-country skiing wide open. The other one is the technical one, and it stretches up to 12 miles, and these belong to a separate trailhead.
Both these trails will provide you with some magnificent views of hardwood forests. Plus, sand pockets in these routes will make your uphill climbing very difficult. The most popular routes in this region are the Power Section, the Wall, and Anita's Hill. If you are looking for a thrilling ride and want to explore some unmarked areas, then you can go for the State Forest region, where you will find huge spaces with unmarked paths.
8. Hanson Hills Mountain Bike Trails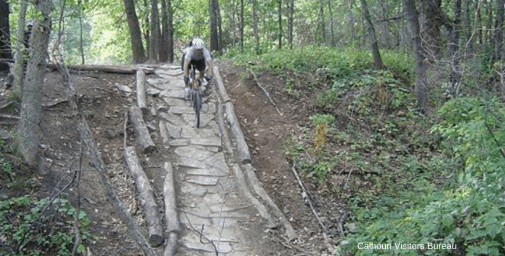 Hanson Hills is home to over 24 miles of mountain bike trails. And the length of the loops ranges from 3 miles up to 11 miles. All of these loops are marked with different color coding.
Most of these loops start pretty flat. Some of them wind around the ponds and their woody banks. After that, you need to brace yourself for some quick and steep descents.
Moving forward, a 1.4 mile-long extension will need some extraordinary technical skills from you. The addition has been made to extend the stretches of the main trail further.
This trail is free of cost to access for the public, but you can make donations on the Hanson Hills website. These donations are used to maintain and extend the trails. And once you visit the palace, you will also notice that the management is doing quite a brilliant job in maintaining this place.
9. Fort Custer Mountain Bike Trails
If you like rhythm and flow then fort custer will be on your list with over 20 miles of singletrack for all levels of riders. The trail system here was developed by SWMMBA (Southwest Michigan Mountain Biking Association).
The ride for most mountain bikers is between the red and green loop with tons of smooth twisty singletrack. One thing to note is there is a fee to get into the park but totally worth it for a great day riding these trails.
10. DTE Energy Mountain Bike Trails
This 20+ mile trail system is a must ride in Michigan. Recently completed with from the waterloo trail the DTE trail with tons of great obstacles and jumps.
The Potomba and IMBA spearheaded this project with the Michigan Department of natural resources in 2015. The first 5+ mile loop of the trail at green lake was completed in 2016 followed by the second loop "the big kame" in 2017. The 3rd and 4th loop "winn" and sugar were completed in 2018 & 2019.
Most that ride here love it and it's highly recommended. This video gives you a great inside look at the trail's here.
Some Honorable Mentions
Choosing the best 8 from a long list of some quality names was very tough. However, we would like to present to you a list of some of the best MTB trails as our honorable mentions.
They are not on the list of top 8 doesn't mean they are no good. All of these trails have their positives and negatives, and they will test your skills out there. The best part is most of them are recreational parks and reserves, so you can also visit them with your family and have some fun time with the people who are non-MTBers.
Potawatomi (Pinckney).
Peak2Peak (Thompsonville).
Pontiac Lake (Pontiac).
Boyne (Harbor Springs).
Lord of the springs (Middleville).
Merrell (Rockford).
Dunes (Arcadia).The Dump (Marshall).
Lakeshore Park (Novi).
Addison Oaks (Leonard).
Red Bridge (Brethren).
Maple Hill (Kalamazoo).
Valley Spur (Munising).
Conclusion
There is still a long list that we didn't include in our top 8 best mountain bike trails in Michigan. The thing is, there are different types of MTB trails available in this state. And they stretch across wildernesses. Some of them are more developed than others, and some of them require more technical skills from you.
You will find anything, and everything here is the state of Michigan if you are an MTBer. The trail systems available here offer a lot of variety, and you can find several shops surrounding these areas. With the development of MTB trails, more and more riders are coming in. These trails are developing, and you can find more and more bike shops and local markets.
Mountain biking has changed a lot in recent years. And modern MTBers have access to a lot more errands and amenities as compared to the raiders of the past.
So there you go with the top 8 mountain bike trails in Michigan.
Ride on!
Below is a Pinterest friendly photo… so you can pin it to your Mountain Bike Board!