Thunder Mountain Bike Park is another great bike park in Massachusetts. It is located in the Berkshire East (B-East) Mountain Resort and is a progressive bike park by Gravity Logic. The builders are responsible for some of the most thrilling downhill trails in the world.
At Thunder MTB Park all the facilities and amenities are available for the visitors and riders. The park is home to skiing in the winter. While it turns into a mountain bike pit in the summers and attracts a lot of riders from all across the globe. This place is ideal for hiking and camping too. So, there are a lot of activities that occur here throughout the year.
Here's the map of thunder mountain bike park to show you the ropes. And definitely check out the video at the end of this post to see how cool this place is.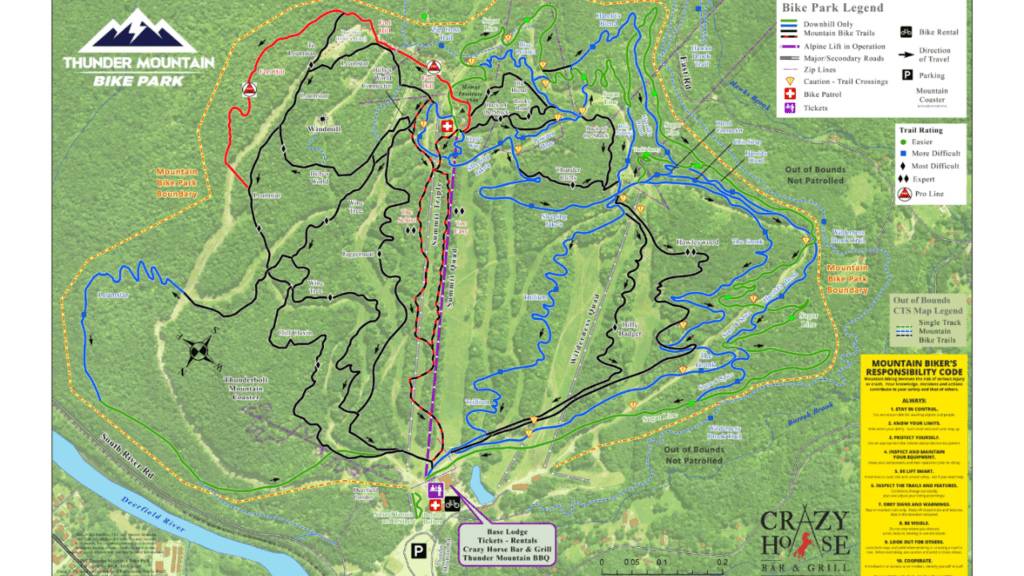 Things That You Must Know Before You Get There
In this section, we will provide you with all the information you must know before you arrive at the stomping ground. This is a beginner's guide that even the most frequent Thunder MTB Park users will find useful.
The Bike Park
Thunder Mountain Bike Park is for gravity downhill riding. You will take a lift up the mountain and start riding down on the several bike trails. These trails range from introductory beginner's level and go all the way up to the pro-line jumping trails.
Of course, you will require the right kind of bike and gear to ride these trails. But if you don't own or have access to downhill mountain biking gear, you can get it from the rental shop.
All riders in the park have to wear protective gear like the Fox Racing Enduro Knee Sleeve while descending from the Thunder Mountain Bike Park . Plus, all the mountain bikes need to have operational rear and front brakes. The park recommends the bikes with a minimum of 26-inch wheel diameter along with disc brakes and safety body armor like the POC back protector. Moreover, you will require a minimum 4-inch shock trip, and to put your seat at its lowest.
It's best to use an Enduro mountain bike or a Downhill mountain bike with plenty of plush suspension and massive brakes. Furthermore, these things are mandatory if you want to enjoy your ride at the Thunder MTB Park, a park that defines mountain biking in Massachusetts.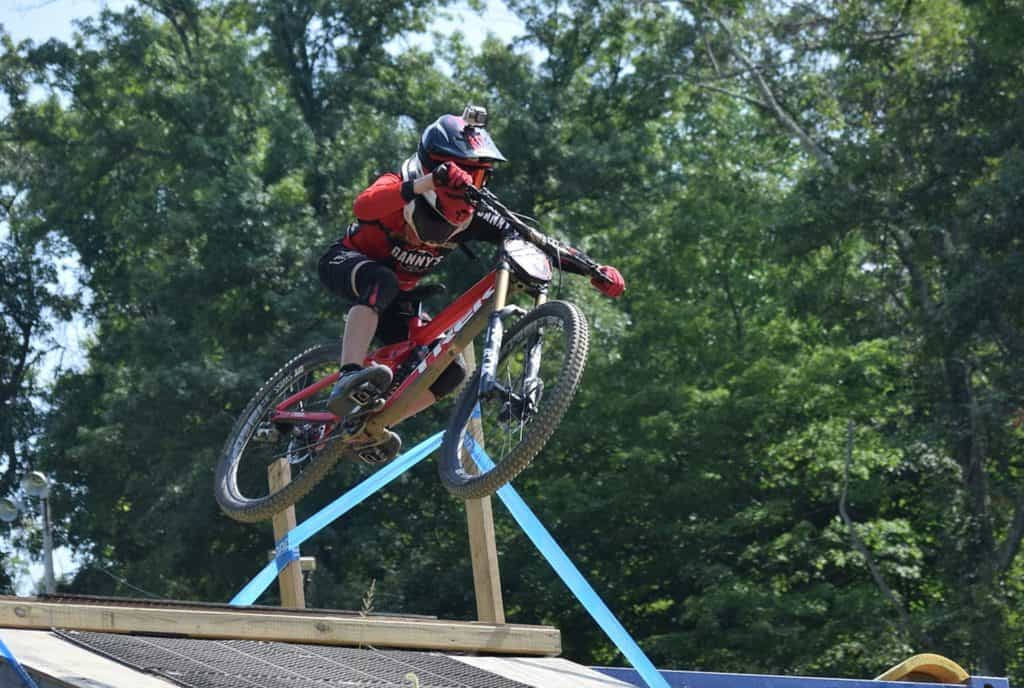 Rules That You Need to Follow
The bike park has a set of rules in place for everyone here and they are meant to follow wholeheartedly. These essentials are:
Knowing your limits.
Staying in control.
Protecting yourself.
Being lift smart.
Inspecting and maintaining your gear.
Inspecting the trails and their features.
Obeying warnings and signs.
Being visible.
Looking out for others.
Cooperating.
Bike Lessons for Beginners
If you are a first-timer, don't feel overwhelmed. The facility here also provides lessons for beginners. It is for those riders who come here to learn different techniques to use these descending trails.
Even if you are an expert rider, these lessons will allow you to hone your skills further to get the most out of your experience at the Thunder Mountain Bike Park. The instructors here are very cooperative. They will gladly answer any of your concerns or queries about riding these downhill trails.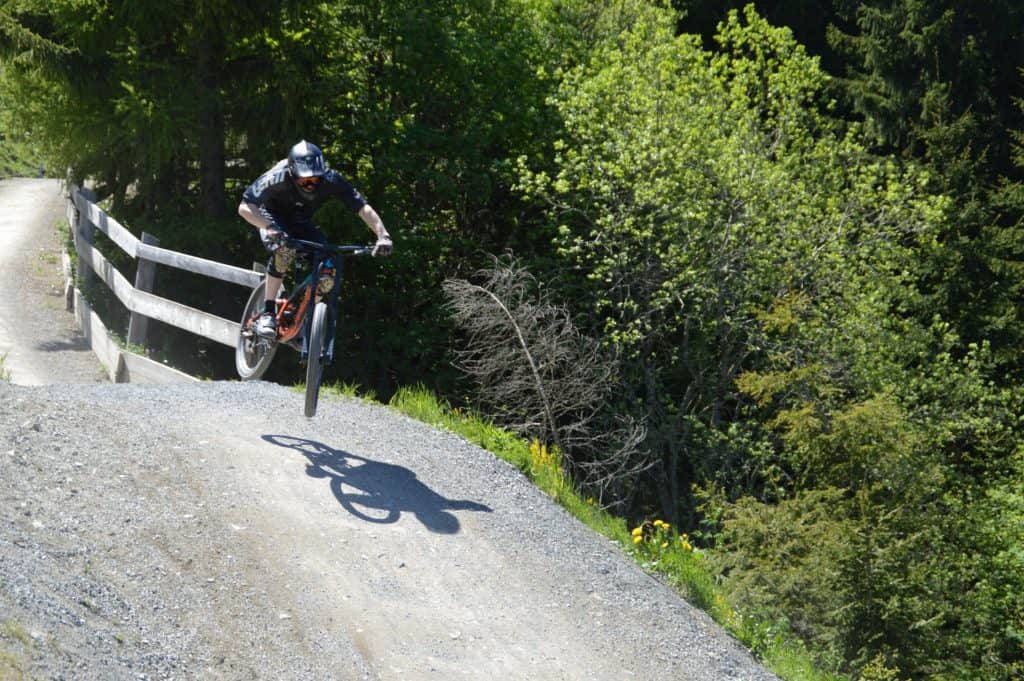 All the equipment is available in the rental shop and we strongly suggest that you take the introductory lesson from one of the park's certified instructors at the bike school here. You can access all these services in the Thunder Mountain 101 Package.
Trail Ratings at the Thunder Mountain Bike Park
The bike park comes with several different trails that have different ratings and are suitable for a variety of riders in terms of their skill set.
There are five different categories of trails according to their ratings and are as below:
1. Beginner
The trails with beginner level rating are gentle in riding. They feature some obstacles including roots, gravel, potholes, bridges, and rocks. To be successful in these trails you only need to have experience in bicycle riding. 30% of the trails are marked with a Green Circle.
2. Intermediate
These trails offer a challenging ride as they feature steep obstacles and slopes. They come with man-made features and objects and are quite narrow. Intermediate trails include roots, jumps, rocks, and various other terrain features. And to ride these trails you need to be a competent MTB rider. 35% of the trails here are marked with a Blue Square.
3. Advanced
Advanced trails are difficult in riding as they come with a mix of loose surfaces, long and steep descents along various natural features and obstacles. The trails with this rating have ramps, jumps, gaps, elevations, rocks, drops, and other terrain features. For these trails, you need to have exceptional mountain bike handling skills. 30% of the trails here are marked with a Black Diamond.
4. Expert
These trails dish out highly difficult bike riding. The elements include large natural and man-made obstacles and jumps with wooden ramps, rock faces, drops, narrow trails, and various other tough terrain variations. These trails are suitable only for expert MTBers with highly professional MTB handling skills. 5% of the trails at the park are marked with a Double Black Diamond.
5. Pro-Line
The trails with this rating are extremely tough to ride as they come with numerous mandatory jumps, elevations, drops, and gaps. There are no user-friendly rides around these trails and these are only suitable for the pros that are at the top of their game.
Safety Measures
The park has a certain set of rules for the riders and hikers and guests. First and foremost is hiking, riding, and guests are not allowed on downhill trails during the operating hours. Hiking, and riding uphill are only allowed on the trails that are specially labeled for only uphill traffic.
Trail features may vary in size and ratings are a mere glimpse of what the trails look like. Therefore, it is your responsibility to inspect various features of the different trails before your set course. These features can also change with maintenance, usage, weather, modifications, and the time of the day and year.
Only one person is allowed on a feature at a time and you cannot use a feature that is closed for some reason. It is not recommended to use a feature that will take you out of your comfort zone until you have learned to ride it well. You can always walk your bike if you think that a trail is beyond your skill level.
Rental Shop
There is a rental shop available for the users of the trails here at the Thunder Mountain Bike Park. Anything and everything associated with mountain biking is available here at the shop. If you don't own a mountain bike you can go for the one that you like from the shop.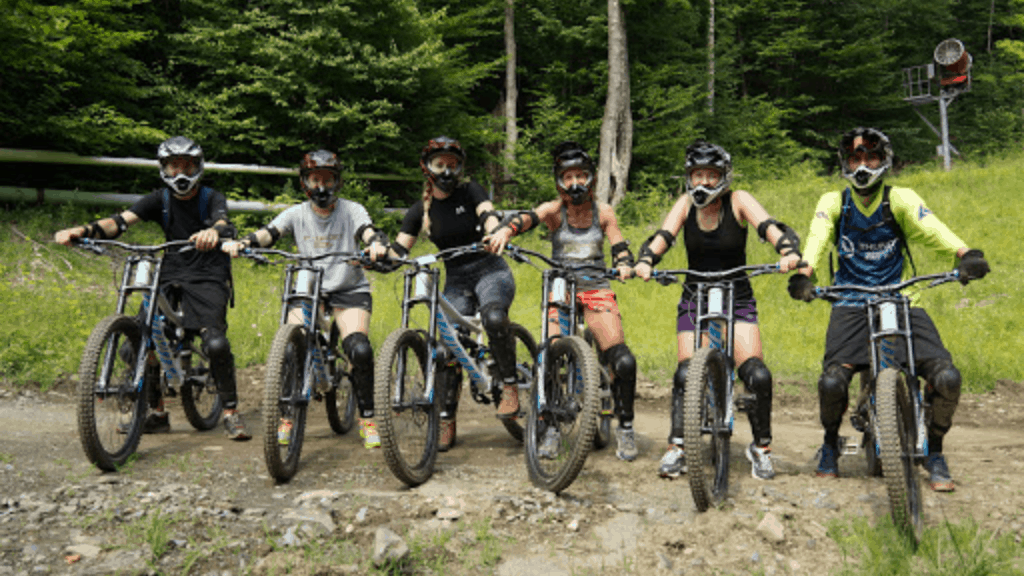 These bikes are according to the requirements of these trails with a plush suspension system on both ends of the bike. They also come with powerful disc brakes to put you in control of your ride.
If you already own one, you can get a bike technician to work on it and make it according to the trails that you are going to ride here. You can always fine-tune a bike according to your riding style, skill set, and body weight.
And don't forget to use protective gear at all times. No matter what your skill level is, there is a reason why most riders use armor. Even if you are riding with caution and at a slow speed, there is always a chance of crashing. Therefore, you need to protect yourself from scrapes, cuts and wear those pads and full-face helmets.
Various Amenities
The Thunder Mountain Bike Park is present in the Berkshire East Mountain Resort. And as we have mentioned previously, this area sees a lot of activity throughout the year. It's a great place for family fun not only for mountain biking but a range of other activities as well.
In the winters, the ski resort is active where families can have fun in the snow. Skiing, snowboarding, and snow tubing are among the most popular activities in this area during this time.
Alongside the Thunder Mountain Bike Park, you can also have fun doing white water rafting, riding a mountain coaster, lodging, and camping. There is an aerial adventure park here in the area as well and this place also hosts various canopy tours. 
Solar and wind energy fully power the resort. It is the first ski area in the globe to run on 100% renewable energy on-site. The resort is right in the center of the beautiful mountains of Western Massachusetts with awe-inspiring views that you can experience from the trails. There is so much to offer at the Thunder Mountain Bike Park.
Check out how gnarly this park really is.
Final Word
The Thunder Mountain Bike Park has some outstanding mountain bike trails in Massachusetts. It is a place where you can learn the ABCs of mountain biking and advance your skills step by step by going through the lessons.
If you are a perfect rider, the park has some incomparable trails on offer that will take your breath away with different obstacles and features. Groups and families are all welcome and everyone can join in without any shame. Learn the art of mountain biking from the hamsters of the game at the bike school. You don't need to have your MTB to ride the trails here.
There is a rental shop that will provide you with a mountain bike of your choice suitable for the trails along with all the protective gear. There is so much more at this park besides mountain biking as well.
So, plan your visit today!
Below is a Pinterest friendly photo… so you can pin it to your Mountain Bike Board!