The State of Vermont has some of the most spectacular mountain bike trails in the Eastern parts of the country. Whether you are looking for double or singletracks or you want downhill riding through the forests. Mountain biking in Vermont involves gravel roads and old logging trails. There is something for every type of rider, irrespective of your skill level.
If you are new or experienced, you will find mountain biking in Vermont to be an experience never to forget.
Top 10 Mountain Bike Trails In Vermont
Below, we have a look at the top mountain bikes trails in Vermont. This is by no means the complete list of every mountain bike trail the state has to offer, but these are the most prestigious people know Vermont for. Vermont has some of the greenest and most beautiful bike trails in the country.
Here are the 10 best mountain bike trails in Vermont.
1.   Vermont Kingdom Trails
If you are looking for the best mountain biking in Vermont, Kingdom Trails is the place where you need to be. It is a network of trails that extends to over 110 miles and is an Intermediate level.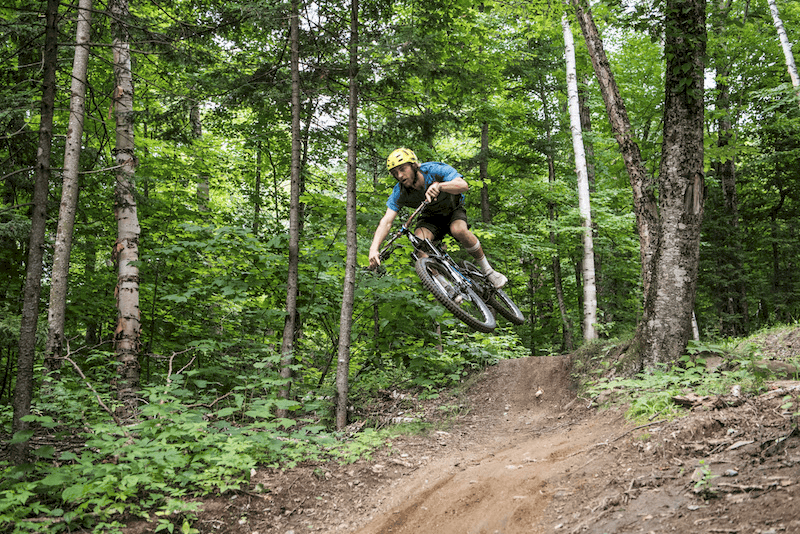 This is singletrack like no other as it features a well-developed trail system that has proper landmarks. There are various obstacles and downhills you will have to tackle. The sheer length of this trail will get the better of you and a sense of achievement will be felt when you are finally done with this trail system.
You will definitely need a good hydration pack like the CamelBak M.U.L.E to stay hydrated and hold some extra supplies.
And the beautiful views of the mountains and pine forests will be along the way. Mother nature won't disappoint you on mountain biking Kingdom Trails. There are various rest areas available along the track where you can have respite for a couple of moments and continue your journey. Along the way, you will also find some bike shops. So if you need a quick repair, help is always nearby.
2.   Saxon Hill Mountain Bike Trails
Mountain biking in Vermont gets pretty good with this 20-mile long trail and is rated intermediate for its skill level. Usually, you have to go up the hill right by the water tower. And from there you can continue to the logging trail. You may go to the right at the top of the hill where there are old footings of a radio tower.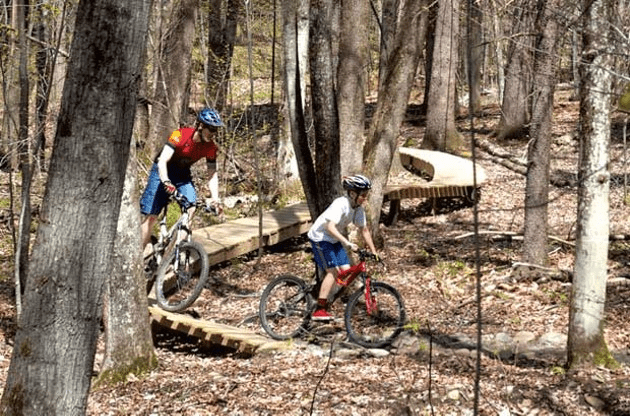 You can cruise down from the far side and head back on the double track. Take your right and you will be on the singletrack. If you go to your left, you can get lost. You will have to work your way from there. If you are not looking forward to navigation, you should stay on your right and of course, don't get lost.
This trail is rated for night riding and if you are riding a fat bike like Mongoose Dolomite, you can get some grooming along the way as well. There are a couple of bike shops and you can take some assistance from them if you require.
3.   Green Mountain Trails
This is a 20 miles long trail network and has been rated intermediate for skill level. The climb here is pretty forgiving and you will find a very nice panoramic view at the top.
But that's not all…!
Along the way you can also use a good service at the pitstop and fill your tummy before you start grinding your muscles again.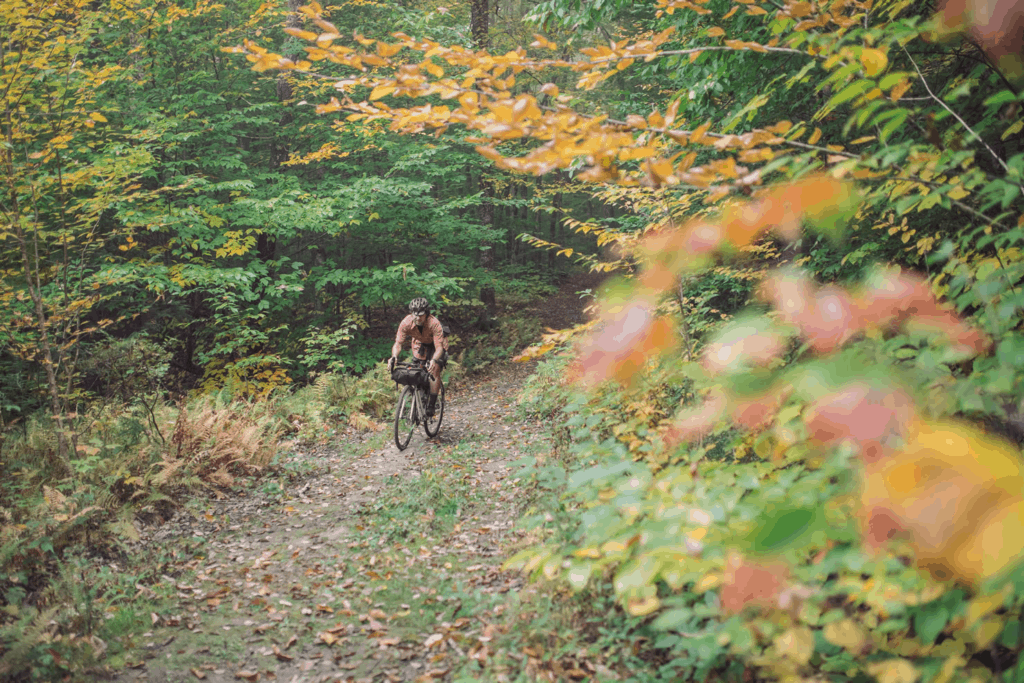 There are some rocks and boulders along the way to keep you on your toe during your ride. The passages through the trees become more buff in the summertime because there is a very little amount of moisture in the air. So at that time, riding at higher speeds and is going to test your skills.
The must-ride trails you can find here are Bubba if you are looking to give your skills a proper test. Luvin' It, Noodles, and Fusters are good for an overall fun ride.
4.   Blueberry Lake Mountain Bike Trails
This is a short five-mile-long mountain bike trail and is also rated intermediate for mountain bike skills. But there are only a few slightly tough corners on your way. If you are looking for a beginner-friendly track, there is no better option than this one. You might end up improving your skills slightly.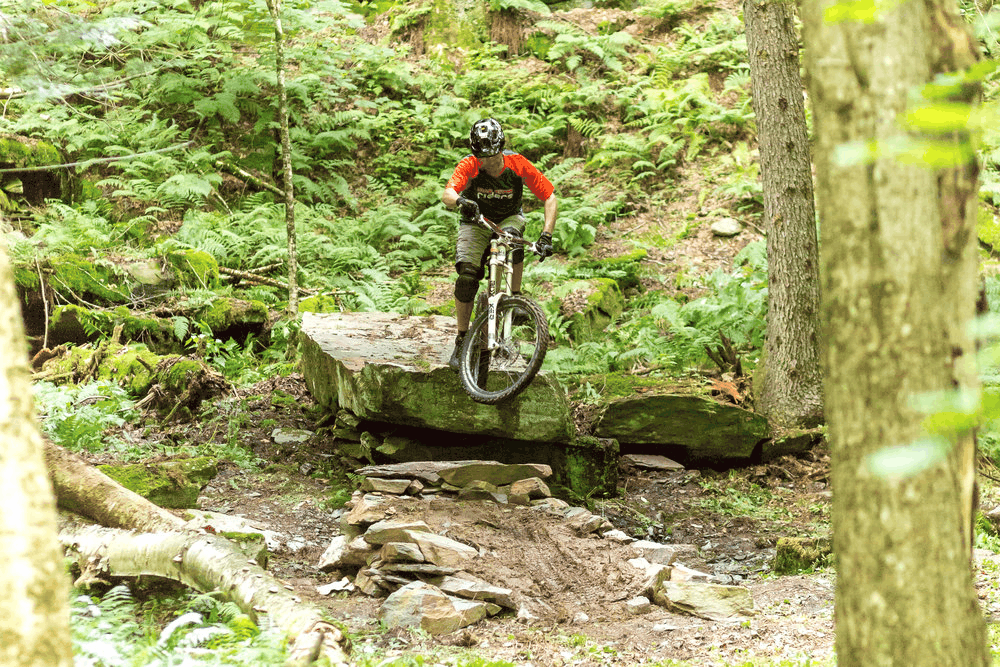 As it is a small trail you won't find many facilities along the way. But you are also not running more than 5 miles here so you can easily live without any amenities. One of the best features of this trail is you won't have to deal with any mud even after a heavy downpour.
But the entire trail is not full of easy-going turns. Some skinny runs can get pretty slinky and for that, it is rated an intermediate trail. There are some corners where you will have to slow down while others will want you to zip over them. In simple words, this little trail has so much on offer.
5.   Biking Killington Mountain
The singletrack here at Killington Mountain is rated Advanced and is 30 miles long. But there are some patches where you won't find any difficulty at all and some are truly jaw-dropping. Most downhill riders come here to enjoy some of the best downhill trails around while mountain biking in Vermont.
You will need a Downhill bike like the Santa Cruz V10 Carbon 29 S or an Enduro style bike like the Yeti SB165 Turq 2. If not, renting a bike at the mountain is a great idea.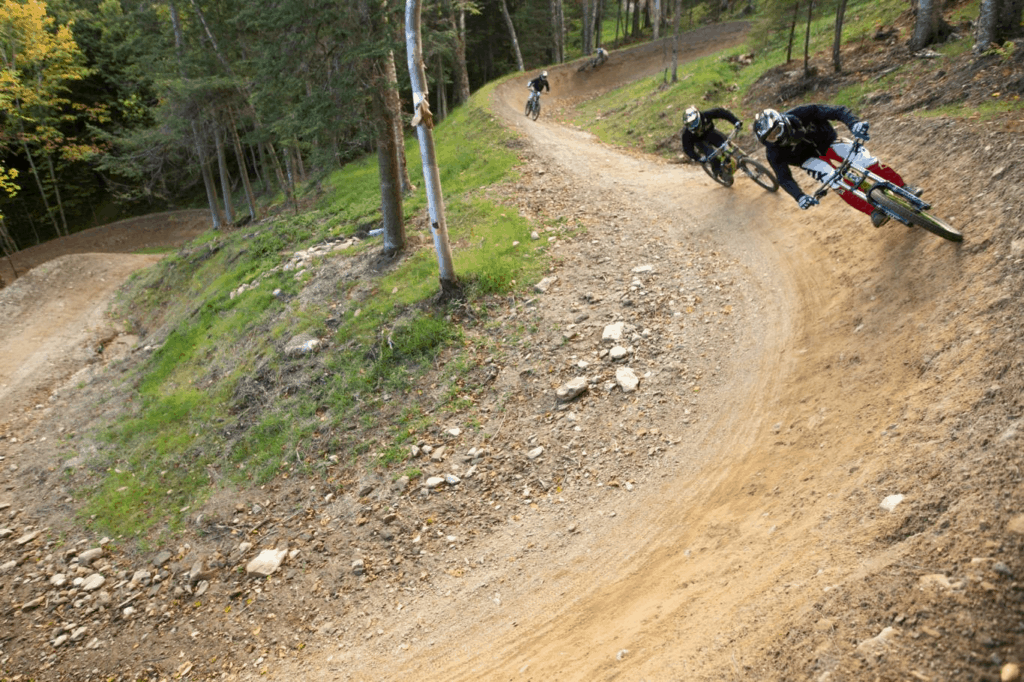 Right from flowy downhill to epic singletrack you will find everything here. The resort is present in the Green Mountain and is accessible through the lift. It has some natural terrains in the northeastern section of the country. By far, Killington is one of the best-kept secrets in Vermont.
As this trail is long and your muscles will take a toll, you can also use different restrooms, lift service, or climb on your own. There is a bike shop as well to keep your ride properly maintained while you are in the middle of the trail. 
6.   Mountain Biking Mt. Snow
Mountain biking in Vermont gets real with Mt. Snow. This Advanced rated mountain bike trail is 30 miles long. And despite being among the tough ones to ride, this trail doesn't get much publicity. It is a very popular ski-resort and you can go mountain biking during the summer.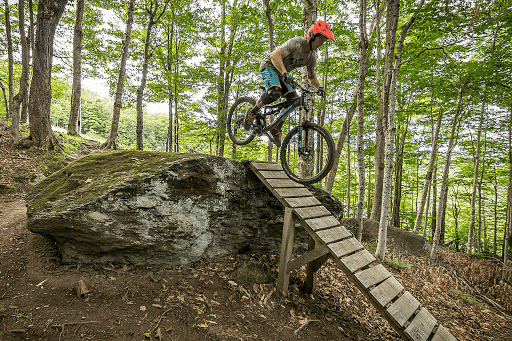 Maybe it doesn't get much publicity because when the weather gets wet here the trail becomes pretty muddy and almost like cake frosting. You will have a pretty tough time handling your bike. And if you are here for the first time, prepare yourself for a bit of crashing.
When you reach there, we recommend you to leave the chair lift and ride your way to the summit and then down. And when you are done you will feel spent. It is one of the best mountain bike trails in Vermont.
7.   Pine Hill Park Trails
Pine Hill is only 15 miles long intermediate ride for mountain biking skills. But the soundtrack has eye-catching and unique scenery. So don't forget to take your camera with you on this trip.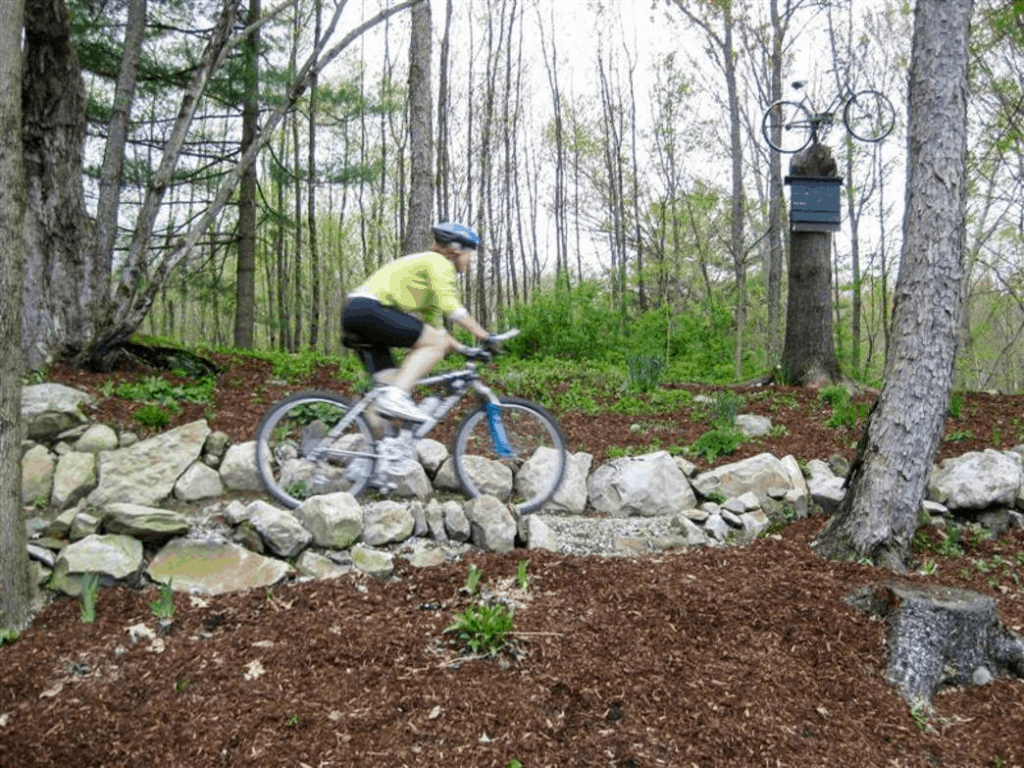 This area also features a double track and several brief but powerful climbs along with many downhills. This trail is certainly made for all types of bike riders with diverse levels of skills. These trails are constantly upgraded and built by volunteers. They continue to add signage and markings for the riders.
The best trails you can find here are the Jersey Turnpike, Lonely Rock, 999 as well as the Svelte Tiger. This place also has a bike shop if you need some quick repairs. And if you like riding through the trees, these are the trails you need to consider.
8.   Ascutney Trails
Here's another intermediate level trail that is 10 miles long. This singletrack is right over the mountain so you will have to do a lot of climbing. That might be a bit of a lung-buster for you. But if you are looking for some good downhill fun, prepare yourself to ride the Ascutney Trails.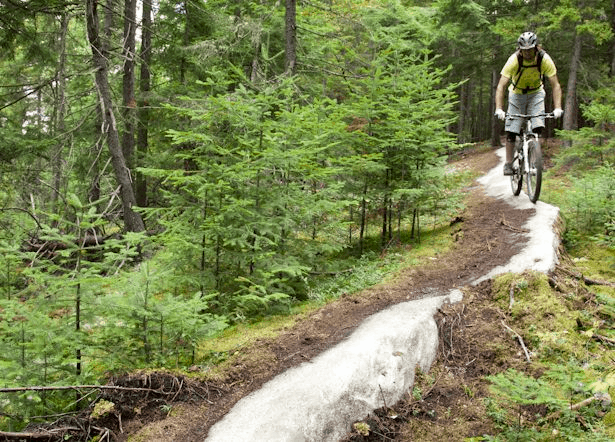 This place has so many passages right through the trees and the trails and pretty rushy. You are going downhill so your control over speed and balance will have to go through some tests.
Riding through the ski tow side will be pretty decent. But if you go to the other side and run the town forest side right over the coaching lane, you are truly enjoying what these trails have to offer.
This is a rock garden galore here and some technical death sections as well. You will find the trail meets a steep fall line and some smooth flowy runs. Make sure you buy a map if you are looking to explore these trails properly.
9. Perry Hill Mountain Bike Trails
The singletrack trail in Waterbury is about 15 miles long and is an intermediate level for mountain bike skills. You might haven't heard of this name before. The only reason seems to be feasible is, it has three outstanding looped trails and you will have to go around 3000 feet of climbing if you do all three of them.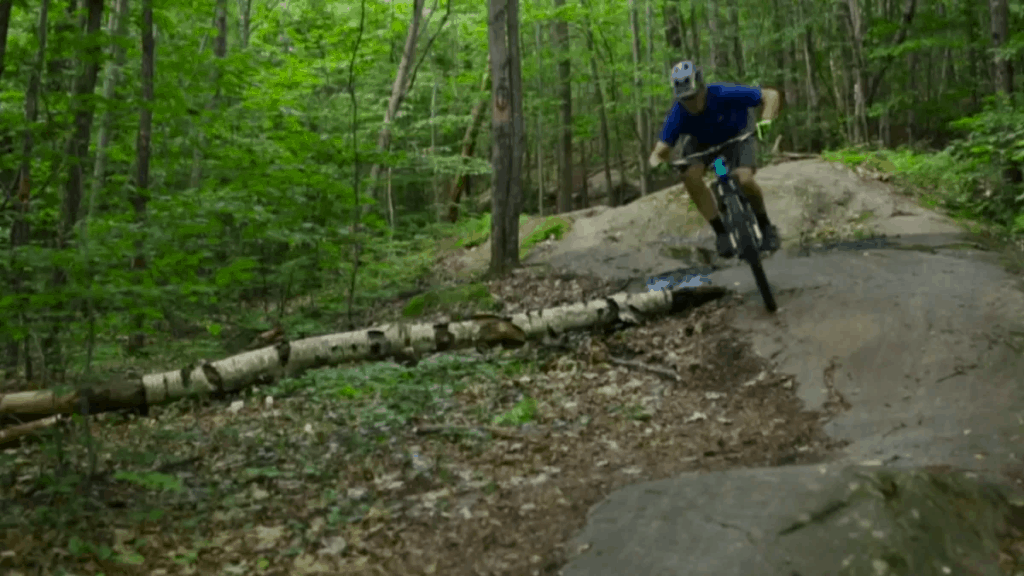 Hence, you need to take your water bottle with you on this one. The trails here are properly maintained and the drainage system is great. So in case it pours, you don't have to wait for too long and deal with a lot of mud and puddles.
This trail system is one of the tightest and windiest trails. At some points, you will have to suck your gut in and turn sideways to make it through some of those narrow tree passages. So your skills will be tested here, but not for a longer duration.
10. Carse Hills
The brisk and brief Carse Hills has an Intermediate level and is only 5 miles long. There are big climbs of epic singletrack you will on this trail. You can view the Hinesburg town Forest at its full glory from here. And if you are looking for some challenging rides, you need to come here to the Carse Hills.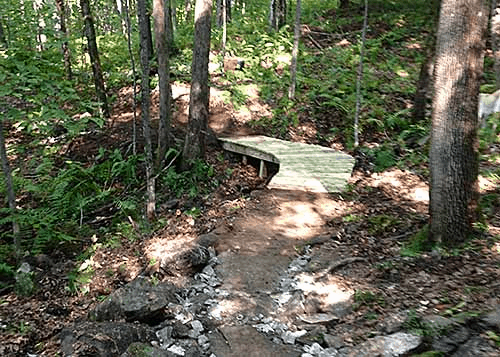 There are some sweet trails with gnarly features. You will have a feeling that you are either going up or down on this trail system. Henry's Highlands is one of the best trails in this system. In one direction you will have to climb right through the switchbacks. And in the other direction, there is a high flowing downhill with lots of speedy berms. 
Always keep yourself protected when you're out riding with a good helmet like the Bell Nomad MIPS Helmet and pads like the Fox racing Enduro knee sleeve.
Conclusion
There are so many options and you will find a trail in Vermont that suits your needs. If you are looking for mountain biking in VT, you won't be disappointed. The state is rich in views and great trails for a range of different MTBers. You must gather some great memories and look forward to revisiting the place.
The state has a variety of trails suitable for a range of different mountain bike riders. The picturesque views, the testing trails, the gullible weather, it's Vermont and it's calling you, right now!
Below is a Pinterest friendly photo… so you can pin it to your Mountain Bike Board!