Virginia is making a name for itself. Not just as the best place to go mountain biking in the east, but as one of the best places to go mountain biking anywhere. From technical ridgeline trails to fast-flowing forest singletrack, mountain bike trails in Virginia offer it all.
There are short, fast trails, epic long-distance trails and everything in between. Roanoke claims to be the mountain bike capital of the east and it's easy to see why when you look at how many trails are nearby.
But there are incredible trails all across the state and a growing mountain bike scene wherever you look. We've put together this list of the best mountain bike trails in Virginia to help you get started.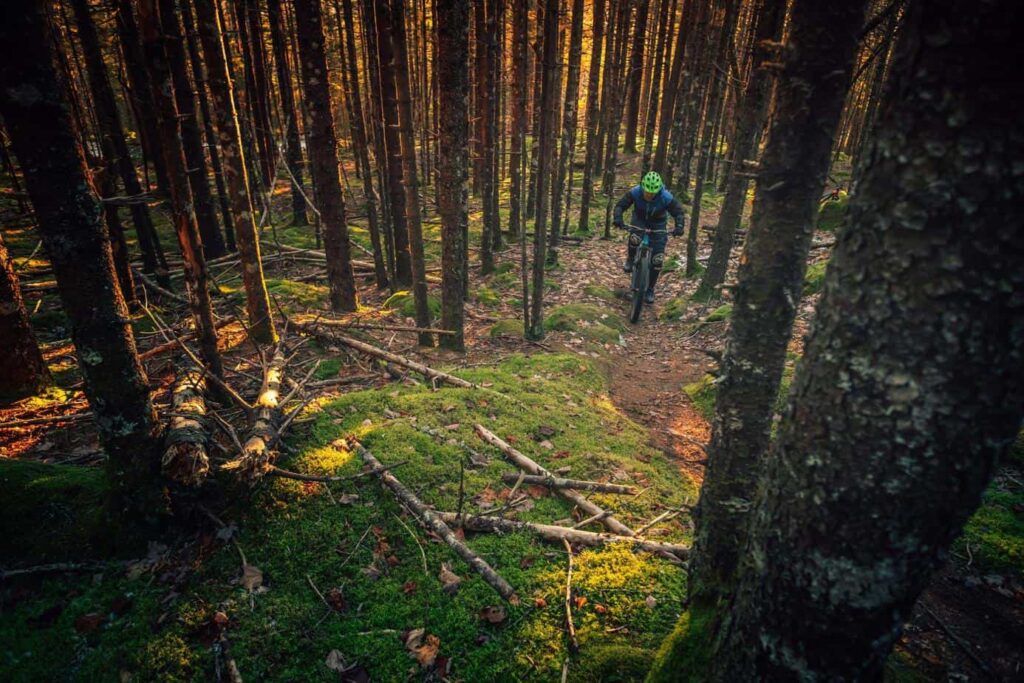 1. Carvins Cove
Carvins Cove is a legendary destination among Virginia's mountain bikers. There's no way that a list of the best mountain bike trails in Virginia could exist without it featuring.
There are more than 60 miles of trails at Carvins Cove. They range from fast-flowing, singletrack descents, steep climbs and epic downhill sections. Then, of course, there is a whole network of fire roads for exploring.
The Gamut takes in all the trails in the area and has become something of a challenge for mountain bikers. Get competitive with your friends and see who can complete it in one day and who can get the fastest time.
Carvins Cove is only ten miles from Roanoke. With plenty of other trails nearby, it's easy to see why this is one of the best destinations for a weekend of mountain biking.
2. Douthat IMBA Epic Trail
Having the IMBA accreditation of being an 'epic' trail should tell you just how good this one is. IMBA (International Mountain Bicycling Association) has a strict criteria for what constitutes 'epic'. That usually means demanding, technically and physically challenging singletrack that gives a proper back-country mountain biking experience. In other words, this is a real trail for real mountain bikers.
At just short of 19 miles, this isn't the longest trail on the list of epics. But, what it lacks in distance it makes up for in elevation with some steep climbs and incredible descents.
Remember, this is mountain biking in the wild, so there are no facilities at this one. Just you, your bike, your buddies and the trails.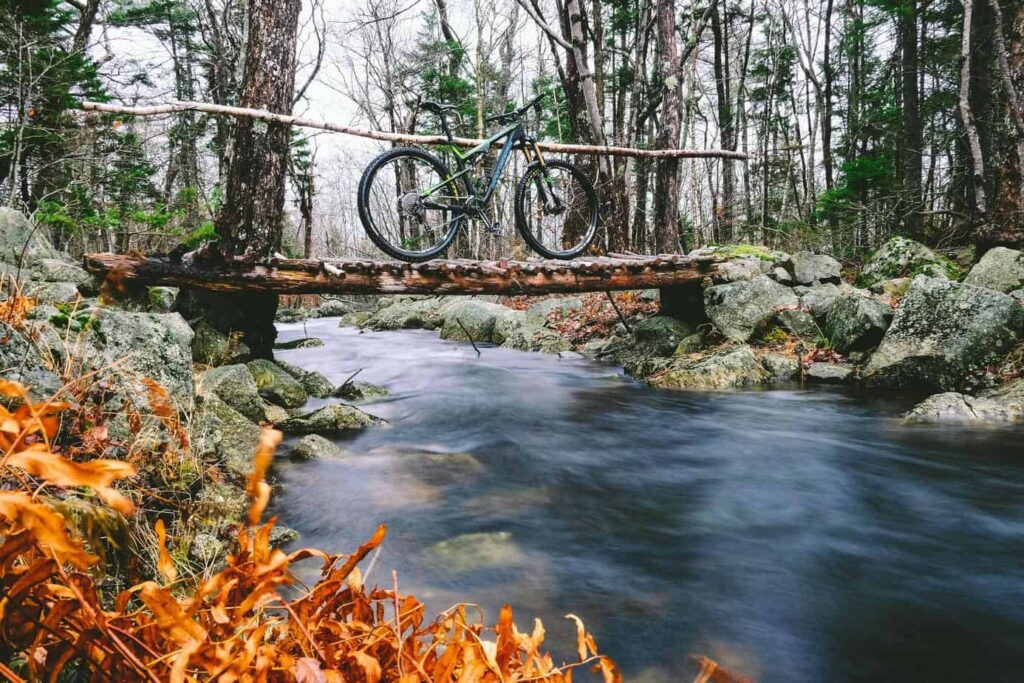 3. Mill Mountain Park
Mill Mountain is loved by mountain bikers for its proximity to downtown Roanoke. The park is easily identified as being the hill with the Roanoke Star sitting on top.
Although the trails here are short, they still pack a punch and there are multiple options for steep climbs and flowing singletrack descents.
The Mill Mountain Full-Pull trail is the one you want to tackle. This route covers all the trails on Mill Mountain and sees you exploring much of the 500 acres of parkland that overlooks Roanoke.
It's here where Roanoke's growing mountain bike scene really began. These much loved trails are a 'must-ride' if you're in the area. Afterwards, you can head off to tackle some of the bigger, more challenging trails nearby.
4. Dragon's Back – North Mountain Trail
With a name like Dragon's Back, you know this is going to be an awesome trail. This is a ridge ride along North Mountain and, of course, it has to make the list of best mountain bike trails in Virginia.
This is a tough one and it's one for advanced mountain bikers only. It features rocky, technical riding across jagged ridgelines, and as you'd expect, there's a lot of steep climbs and treacherous descents.
Some sections may even see you carrying your bike to get past the worst of the rocks. But that extra effort is rewarded with a long, fast downhill section as you head back down the mountain.
5. Western Slope Trail – Massanutten
Massanutten is a ski resort through the winter months but for the rest of the year it is home to some pretty incredible mountain biking trails.
The great thing about Massanutten being a ski resort is that the lifts operate for mountain bikers all summer. That means you can skip the long, hard climbs and save all of your energy for the downhill runs.
There are trails to suit all abilities here, including lift access to the beginner and intermediate trails. But if you're a confident rider you can head up the mountain and experience the trails that are putting Massanutten on the map for mountain biking in Virginia.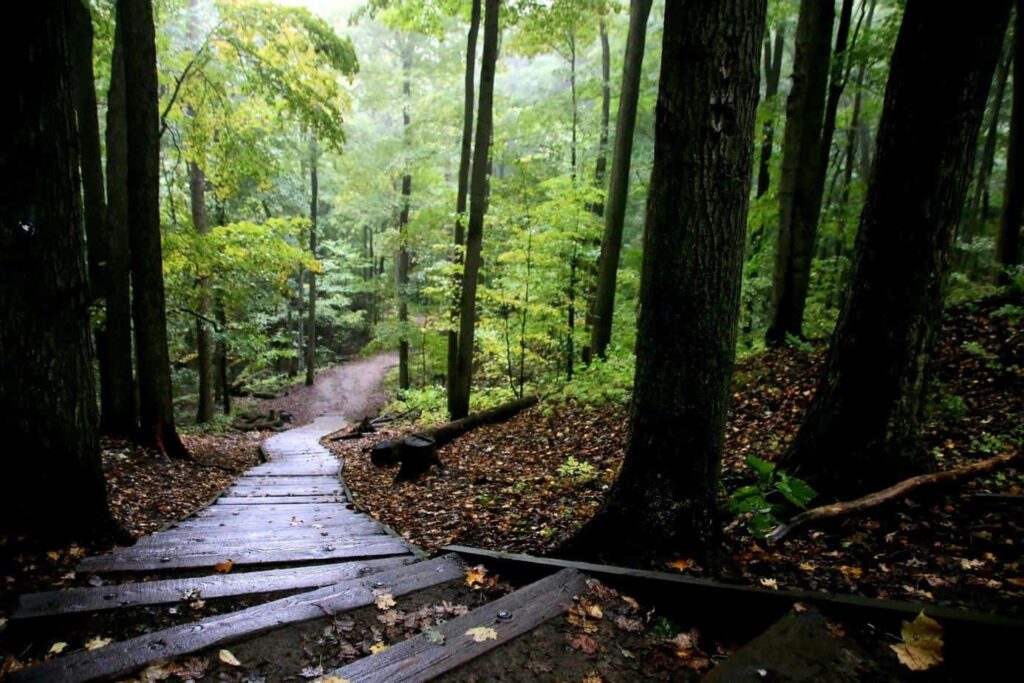 6. Sherando Lake Advanced Loop
Expect to get wet feet as you cross the many creeks that make up the Sherado Loop Trail, but you'll soon forget about it as you hit smooth descents, technical rock gardens and perfect singletrack. At over 19 miles long, this is a trail that will give you a great workout and take you across varying terrain.
Sherando Lake has long been known as a great place to hike, but the mountain biking is pretty special too. It's a popular vacation spot so it's easy to make a weekend of adventure with the nearby hiking trails or a more relaxing day of canoeing on the lake.
7. Virginia Creeper Trail
After all those steep climbs and technical descents, you might be looking for something a little more scenic and relaxing. The Virginia Creeper Trail is a 34 mile trail that was once a railroad built in the 1880s. Nowadays it's a recreational trail that offers some stunning scenery as you pedal along flat and gentle terrain.
The trail passes through charming little towns, over wooden bridges and through beautiful forests. If mountain biking is about getting outside and exploring to you, then this is the trail for you.
You can ride this trail in either direction, but it's better to begin at Whitetop and head towards Abingdon. This way you can benefit from the gentle drop in elevation.
8. Bryce Mountain Bike Park
Bryce Mountain Bike Park is the complete opposite end of the spectrum to a peaceful rail trail. This is all out adrenaline pumping fun.
Expect the fastest of downhill riding, big jumps and gravity defying obstacles. The trails here are all accessed via lifts so there is no need to waste any time or energy pedalling uphills.
Mountain bike purists may not like these kinds of man-made trails, and they really are the opposite of a natural trail, but there is a lot of fun to be had here.
The Bryce Mountain Bike Park offers bike hire and you can also hire an instructor or join group sessions.  It's a perfect place to learn some new skills and techniques.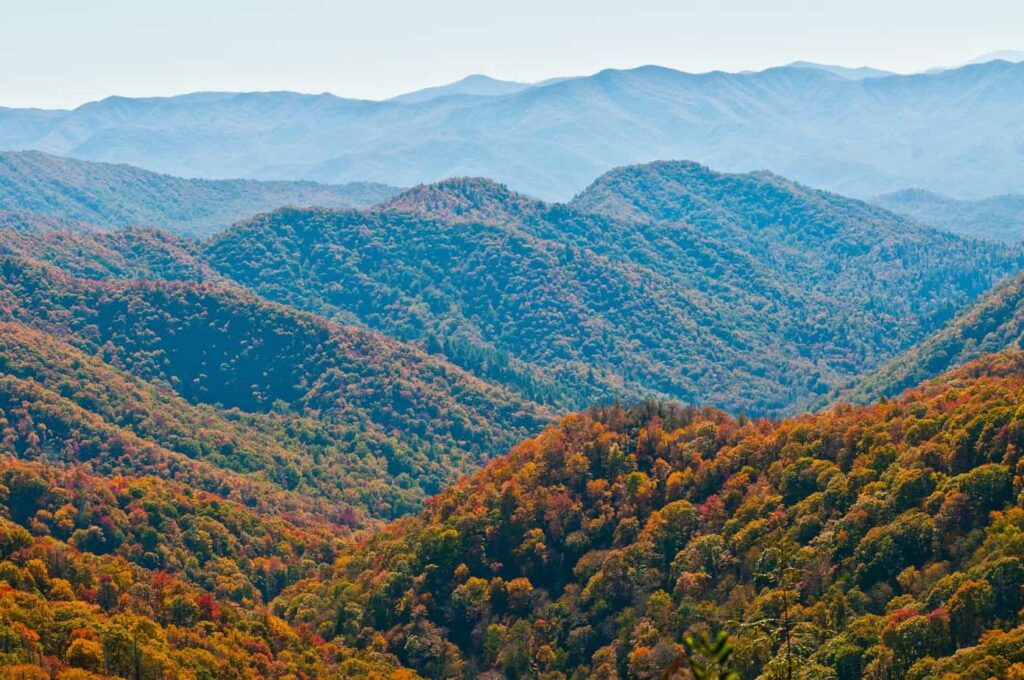 9. Iron Mountain Trail
The Iron Mountain Trail is another to feature some epic ridgeline riding. Located in south western Virginia, near Damascus, the Iron Mountain Trail will take you through oak forests and over rocky ridges. This trail is 20 miles of epic mountain biking with incredible scenery along the way.
The trail crosses sections of what was once the old Appalachian Trail, before the trail was rerouted slightly back in the 1970s.
There are also options to extend this ride by linking together with other routes. The Virginia Creeper Trail, that we mentioned earlier, crosses the trail which makes it very easy to combine the routes for a longer route taking in the mountains and the gentler rail trail.
10. Virginia Mountain Bike Trail
The Virginia Mountain Bike Trail is an incredible 480 mile long trail that spans the Blue Ridge mountains from Strasburg to Damacus. No list of the best mountain bike trails in Virginia would be complete without it.
If you're looking for an epic, off-road trail for the ultimate bikepacking expedition then look no further. This is one trail that should be on every mountain bikers bucket list.
Featuring over 16,000 metres of ascent (that's almost twice the height of Everest), the trail will take you at least 10 days to complete and more than 75% of it is off-road. From the heights of the craggy peaks down to the vast expanses of the rural farming communities, the trail runs through stunning wilderness. This is what mountain biking is all about.
Honorable Trail Mentions
The options really are endless in Virginia and it was tough to narrow this list down to just ten. So here are a few more trails that didn't quite make the top ten but are definitely worth checking out.
Pandapas Pond
Liberty Mountain Trail
Patterson Creek Trail
Whiterock Tower Trail
Dody Ridge
Explore Park
Final Words
It's easy to understand why the mountain biking community in Virginia is so proud of their trails. There are endless options for adventures on two wheels, from short rides from downtown Roanoke to epic, multi-day expeditions across the Appalachians.
There really is something for every kind of rider here. From gentle rail trails to the most technical of rock gardens, it's a place to ride again and again as your skills and confidence improve.
While other parts of the country have hit their mountain biking peak, Virginia is still growing and developing. The trail networks and popularity are only set to improve over the coming years. And that's why you should make plans to head there soon while you can beat the crowds and enjoy the trails all to yourself.
Below is a Pinterest friendly photo… so you can pin it to your Mountain Bike Board!