The State of Colorado has so many different places for mountain biking of different skill sets. Whether you just started to ride a mountain bike or improving your skills on trails, mountain biking in Colorado has something in store for you.
From the front range to the western slope, you will find some of the best mountain bike trails in Colorado that will stun you with captivating panoramic views of nature. There are so many of them, so finding the best mountain bike trails in Colorado was a hard nut to crack.
Top 11 Mountain Bike Trails In Colorado
Here some of the top mountain bikes trails available in the rocky state of Colorado. This is by no means the complete list of every mountain bike trail the state has to offer, but we highlighted trails to accommodate every level of rider. Regardless of your skill level, Colorado offers great trails to get started and become an experienced rider.
Here's the best Mountain Bike Trails In Colorado.
1.   Colorado Trail Mountain Biking
Mountain biking in Colorado cannot be completed without the Colorado Trail. This Trail is by far the best around the world. It has outstanding singletracks and the views are mesmerizing. The lung-busting elevation this trial has to offer is bested by none other. The entire trail system here is 535 miles long and is rated intermediate to expert.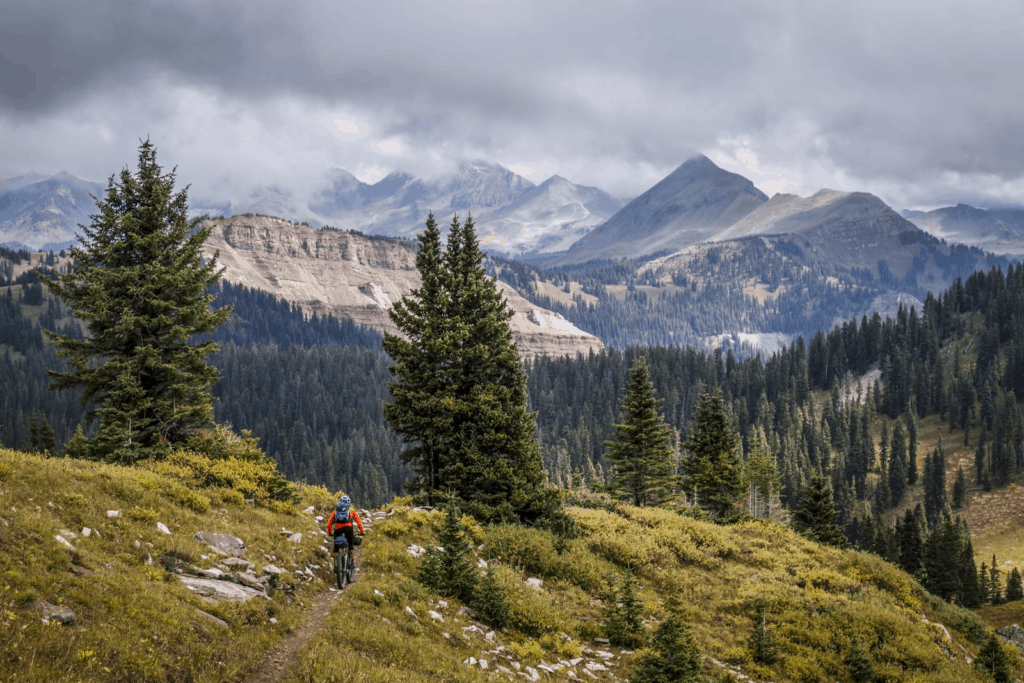 Some sections of these trails are off the hook for Mountain bikers and you will have to detour each of six designated areas of wilderness. Several day trip routes connect these trails. There are 27 different trails here and most of them test your skills as an expert mountain biker.
But that's not all…!
These trails have some exquisite views as well. The sunset from the cliffs, the highs and lows are so beguiling that you get ready for a heart-thumping ride through these trails. It will truly be an experience you will never forget.
2.   Peaks Trail Mountain Biking
If you are thinking about Mountain biking in Breckenridge, Peaks Trail is a good start. The length of this trail is 9 miles and is rated intermediate. But if you are looking for some sensational pine views, you don't need to look any further.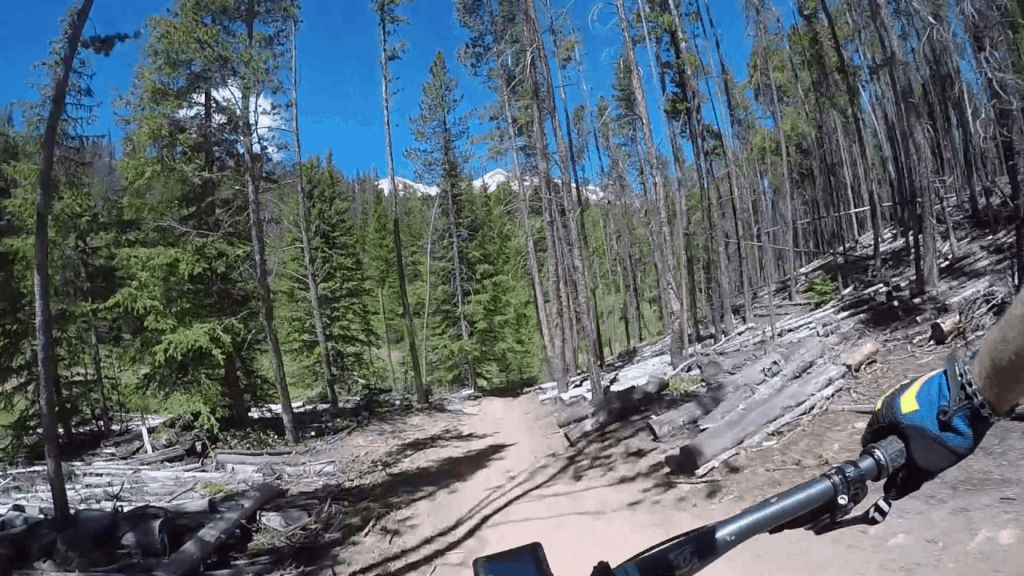 Mountain Biking Breckenridge has so much to offer and this trail is one of them. There are so many rocks climbs, roots, and some killer downhills as well. Some sections will allow you to ride at a thrilling speed so you will have to be careful of the other bikers and hikers.
Make sure you have the right protective equipment like the GIRO Fixture MIPS helmet and the FOX racing Knee sleeve.
This trail is entirely cut out of aspen and pine trees. You can enjoy numerous incredible and enticing views from the surrounding mountains. The aerobic level might be a bit higher for some of you, especially if you are coming from an area closer to the sea level.
For mountain biking Nishiki Colorado is a good place. The trailhead starts from 9600 feet at the beginning and goes all the way up to 10,500 feet. Breckenridge Mountain Biking is special if you like riding on cliffs and enjoy stunning views from there. If you love mountain biking Nishiki, this trail is a good choice for you.
3. North Fruita Desert Mountain Bike Trails
Mountain Biking in Fruita Colorado is one of the best experiences if you are looking for some skillful trails with great views. It will enable you to embark on a journey to experience a vast trail network that is interconnected at different points.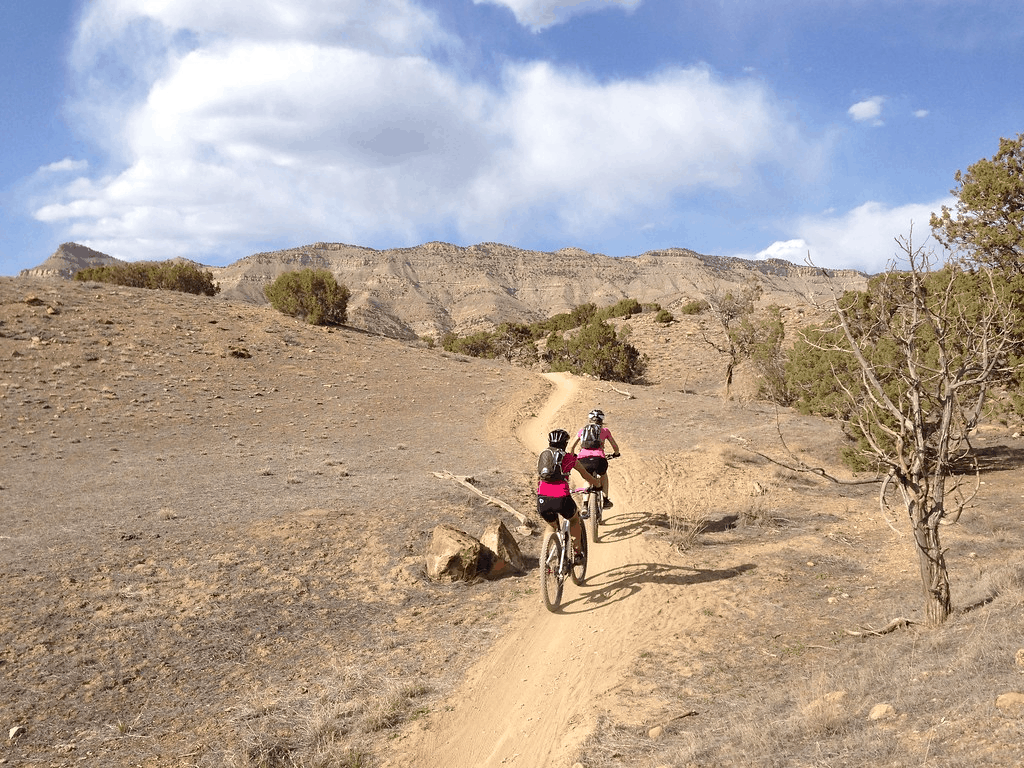 Mountain Biking Fruita is suitable for hardtails as well as full suspension. Still, most of the trails go up and down from various livestock pastures. The trail system is 40 miles long and is rated for intermediate skill set.
Some of them also go right along the Book Cliffs and offer the most spectacular panoramic landscapes, you can come across in this state. No matter what trails are you running in Fruita, these have indubitably put the place on the map.
4.   Kokopelli Area Mountain Bike Trails
Mountain Biking Fruita is incomplete if you don't visit the Kokopelli Area trails. This area is the best collection of quality trail systems in Colorado or even in the southwest section of the country.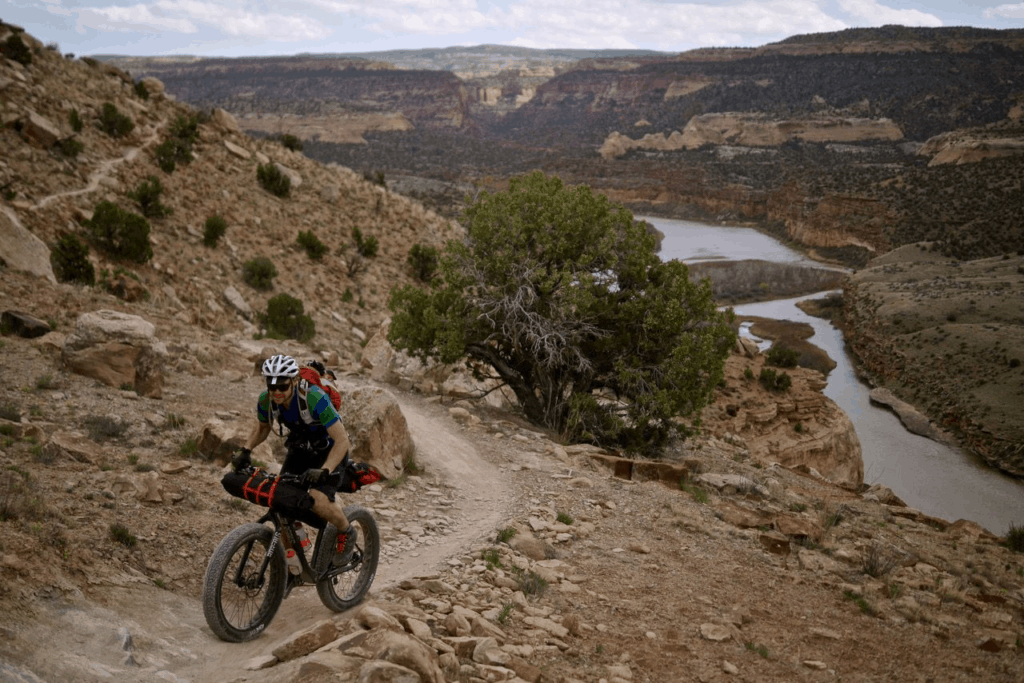 The trails system features miles of quality singletrack paired with some breathtaking views. And you can run most of the trails in either direction excluding the Rustlers and Horsethief Bench.
These trails range in difficulty level from super simple to super-technical. But you are in for loads of fun when you ride the Kokopelli. The network of trails is 40 miles long and rated intermediate.
If you are the one who prefers to ride but never forgets to take the pictures along the way, the Kokopelli is the right option for you. You will have a significant amount of chance to hone your skills on this trail.
5. Monarch Crest Mountain Bike Trails
The most difficult mountain bike trail in Colorado is the Monarchs Crest. The Monarch Crest has the best quality shuttle rides in entire Colorado and there is a good reason for it as well. It has more than 30 miles of trails and most of them are single track. Of all the trails in the state, this one has the best scenery. It is 35 miles long and is rated, expert.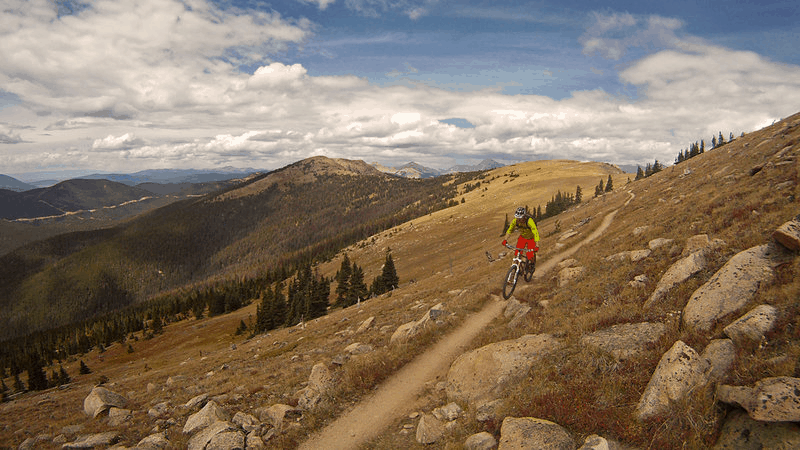 With the help of a shuttle, you will reach right at the top of a 2300 feet point with most of it is over 11,000 feet above sea level and you can descend from over 6000 feet. The beginning of the trails is not that technical at all. You will reach about 12,000 feet and the first major descent will begin from a fire road right to the Marshal Pass which is about 10 miles long.
From there onwards you have the option of continuing your route downwards or going for a climb at different points throughout the trail. However, you need to be watchful of any thunderstorms in the area that could effect shuttle services that are only open during July and August.
6.   Elk Park Mountain Bike Trails
This 11-mile long trail is rated expert and is one of the best in Colorado Springs, because of its unique characteristics. There are not only a lot of rocks and boulders but some spectacular mountain views as well.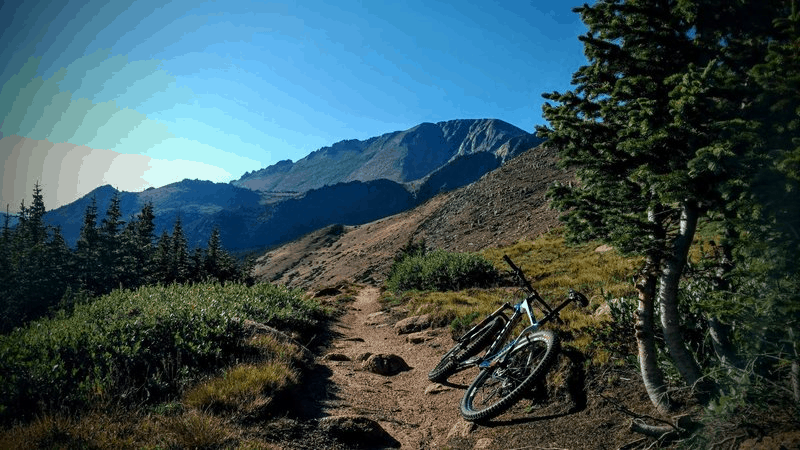 There is a great downhill along the way that has very few spots where you have to walk your bike. The trail is very well marked. There are some local bike shops as well on the way if you want to drop off your bike for some repairs before you ride the trail.
Purchase a good helmet like the Bell Super 3R MIPS Adult Mountain Bike Helmet for extra protection.
A network of trails is also connected with it. You can go downhill and reach Barr Trail on your left. And from there you can go down and cut left to take Bob's Road to head out for the pipelines trail. Nature will be all-gracious on you with its mesmerizing views all along your way.
7. Falcon Trail Mountain Biking
Mountain biking in Colorado Springs is indeed the best experience of life.
Here is another trail for you to explore…!
The Falcon Trail is one of the best trails because it is marked all the way.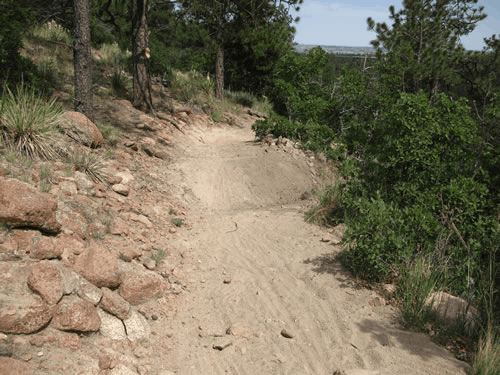 The singletrack loop goes through the grounds right around the United States Air Force Academy. There are some steep sections on offer, but you will see several road crossings as well.
You can find some shops around the area to get your bike repair or buy some fluids along the way to keep yourself hydrated at all times.  The sun shines pretty strongly in this area so fluids are your friends on this trail.
8. Buffalo Creek Mountain Bike Trails
Buffalo Creek is 14 miles long and has an intermediate/difficulty level rating. You may have high expectations and it will not disappoint you at all. The climb on the creek goes pretty steady which is an advantage to your ride.
A good hydration pack like the Osprey Raptor 10 Hydration Backpack will be clutch to stay hydrated and keep extra gear.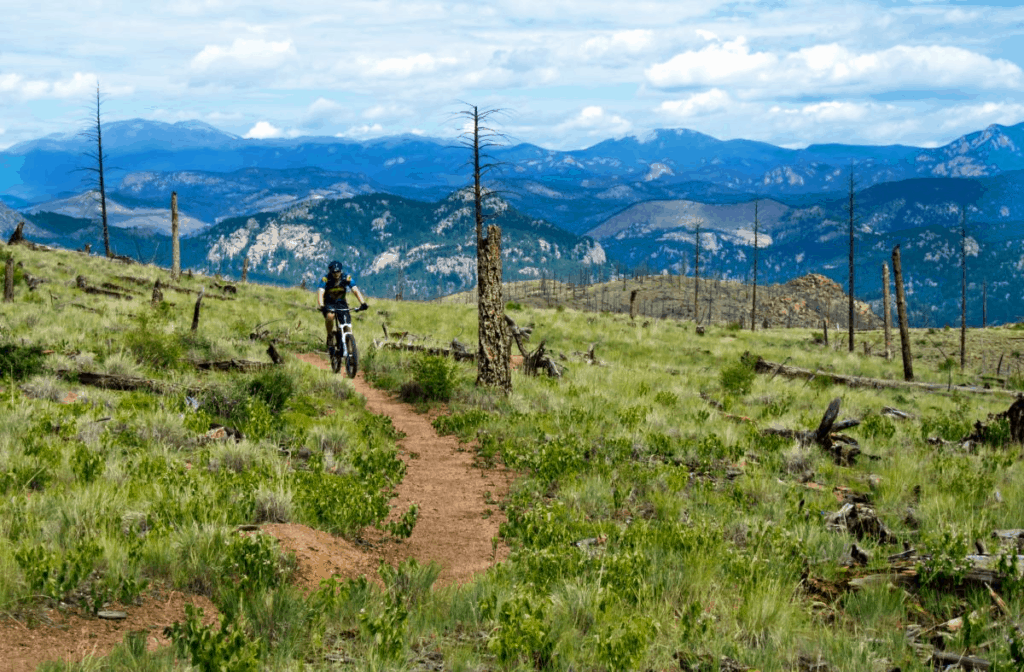 From here Baldy trails will take you right through some burnt sections of the forest. The downhill you will find on these trails is pretty amazing, the Charlier's Cutoff in particular.
You will find plenty of slick rock sections and some hairy turns along the way. The sections called Sandy Wash have nicely banked yet sharp turns and you will find some technical sections as well. When you get down and stare back, you will be flabbergasted to see how much downhill you were able to get out of the trial with just a little climb.
9. Doctor Park Mountain Bike Trails
This trail has some awesome downhill sections and you can ride it in a loop. You can also use a shuttle service if you are not fond of riding eight miles up the road. Most people who visit here for mountain biking, park right at the bottom and take a shuttle, reach to the top and then start riding downhill.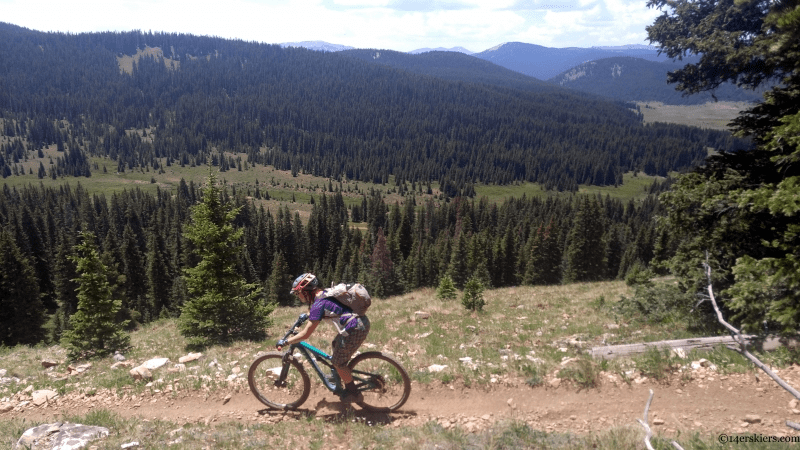 Some areas of this trail are root-infested and have puddles if there has been some rain recently. You will have to prepare yourself to grunt and grind through your way. And of course, some of the cows and horses in the area will further worsen the conditions if they have recently used the track to pass through.
However, the area is really fun to ride as you can ride double or singletrack here. This trail is quick, flowy, and with a lot of variety. Some of the drop-offs are pretty severe and you will have to bring your A-game while riding through those sections.
10. Trail 401 Mountain Bike Trails
When the trails are thrilling, the ride becomes a joy and when you have the views as well, nothing will ever top that. Trail 401 is all about thrilling and narrow single tracks and enchanting views.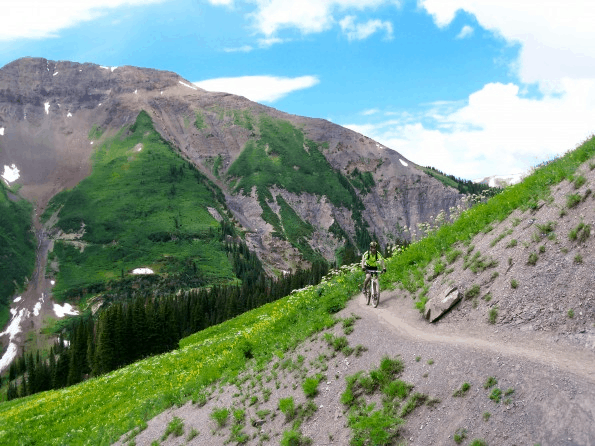 You can begin by climbing around 4.5 miles going towards Schofield Pass. From here you can turn right on to Trail 401. Of course, you can climb a bit more and see the best spectacular views the State of Colorado has to offer.
By the end of the Easter, you will be gazing upon Maroon Bells and begin your ride through the aspen groves and wildflowers. There are a couple of more steady climbs on your way and a long downhill that will lead you straight to your car. But you don't need to be in a hurry.
Just enjoy the views.
11. Hall Ranch Mountain Bike Trails
If you are looking for some advanced mountain bike trails in Colorado, go for the Hall Ranch in Lyons. This 9-mile long trail will put your skills to a good test. You will begin with a climb and follow the Butterbush Trail up the trail and find some rough singletracks.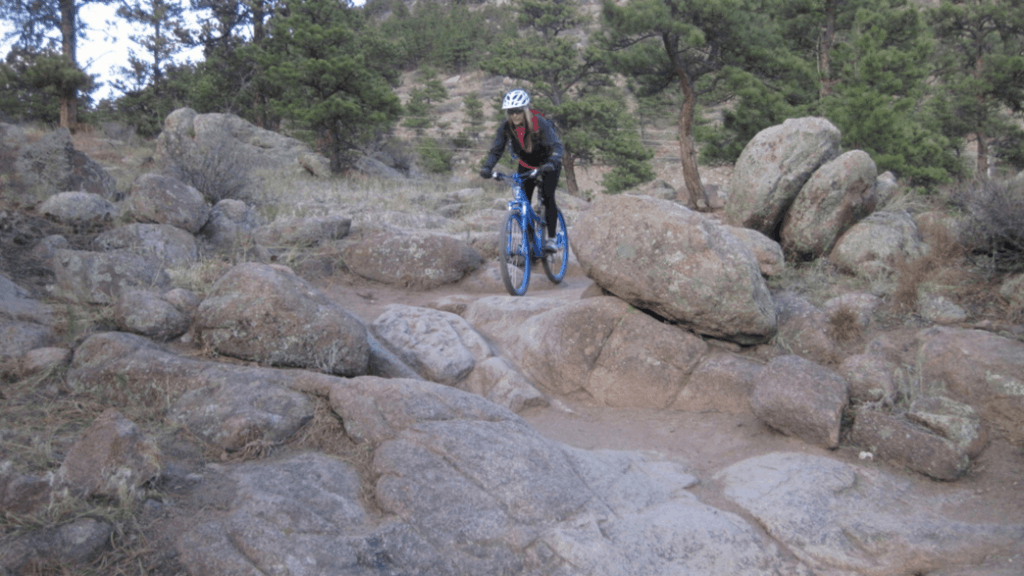 Going uphill for about a mile you will head down the valley and right into the field on the other side. And from here, the trails become technically difficult in some sections. Make sure you keep a close eye on those speed-slowing ditches.
Plan to wear some good pads like the Demon D3O Hyper Knee/Shin Pads and the Fox Racing Enduro Elbow Sleeve.
The views are pretty nice here as well but nothing out of the ordinary. You will have to technically defeat it with your skills, which is not that easy. There are some sharp turns along with roots and rocks on your way.
Conclusion
Mountain biking in Colorado is outstanding. You have a huge list of trails that are full of obstacles where you can ride. They all have their unique characteristics as well. We had a hard time developing this list of the best mountain biking trails in Colorado.
But it's great if you are looking for some fun trails. Whether you want to go downhill or ride some technical features, Colorado has so much to offer.
Want some family fun on mountain bikes, visit Colorado. Need some thrilling rides, go to Colorado. Want to get your skills tested, ride the trails of Colorado.
And of course, right along your way, you can always have a look at some jaw-dropping landscapes that you might have never witnessed.
Below is a Pinterest friendly photo… so you can pin it to your Mountain Bike Board!