Utah is one of the mountain bike hubs within the US and there are miles upon miles of trails you can find here. From mountain biking in Moab's Slickrock trails to the buffed MTB trails of the state's Northern side, there are some of the best mountain bike trails in Utah for every type of Mountain Biker.
Looking for bone-jangling rocky paths … you got them here! Interested in a far more approachable terrain … no problem Utah! Exciting riding is spread all across the state. If you have a work trip or a family weekend planned for this state, then you will get plenty of easy access to these bike trails. And this way you can truly enjoy what this beautiful state has to offer
For your convenience, we have developed a list of the best mountain bike trails in Utah. And this list is based upon the fun factor that a trail has to offer to a range of different MTBers, no extremities here!
Top 4 Mountain Bike Trails In Utah
Below, we have opted to highlight 4 of the top mountain bikes trails in Utah. This is by no means the complete list of every mountain bike trail the state has to offer, but these are the most prestigious people know Utah for. Most of these trails are not for a beginner and are trails you need to work your way up to riding.
1. Mountain Biking Moab
Utah is well known for its snow but mountain biking Moab has the best mountain bike trails in Utah and across the US. The terrain of this place, its tracks, the climate, and the passionate community make this place the best in the world.
Mountain biking in Moab is extraordinary. More than 900 miles of MTB trails are available here. The majority of these trails are for novices and intermediates. All of them are well tucked into a desert town. The community here maintains these trails regularly. The looks of these trails are astounding as if you're riding on an entirely different planet (Mars in particular).
But the technical difficulty of some of the routes that you can find here in Moab makes it stand out from the rest of the MTB destinations throughout the globe. Mountain biking in Utah Moab is an experience of a lifetime. The terrain available here crushes your bike and jangles your bone. Moreover, you have to consider the climate too. Bring a lot of water to handle the heat here. Some of the most popular routes that you can find here are:
The Whole Enchilada in Moab
This trail spans more than 34 miles and has a drop of over 8000 feet. For the technical, it is a very tasty ride. The route makes its way to the beautiful Colorado River through the La Sal Mountains. Some of the riders will tell you that this trail has replaced the Slickrock, the signature ride of Moab. But that's highly subjective to the state.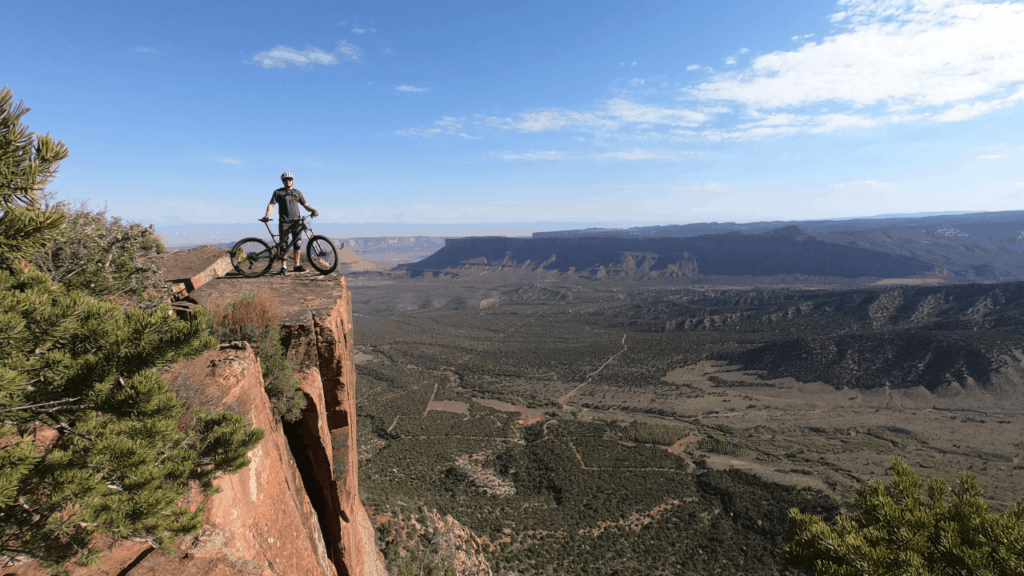 Captain Ahab Bike Trail
This trail is located in Amassa and is accessible through HyMasa. It is a highly technically demanding trail and it has enough downhill that will make you go for another round. This trail also has a lot of rocky peaks and troughs.
Slickrock Mountain Bike Trail
This trail puts Moab on top of the MTB map. The red sandstone that you will find here is unmatchable and gives you the looks as if you are riding on Mars. This sandstone also gets along very well with MTB tires and you will probably give it a shot to trending vertically up the wall. The terrain is ten and a half miles long and it is technically and physically challenging. So don't forget to bring loads and loads of water. 
2. Park City Mountain Bike Trails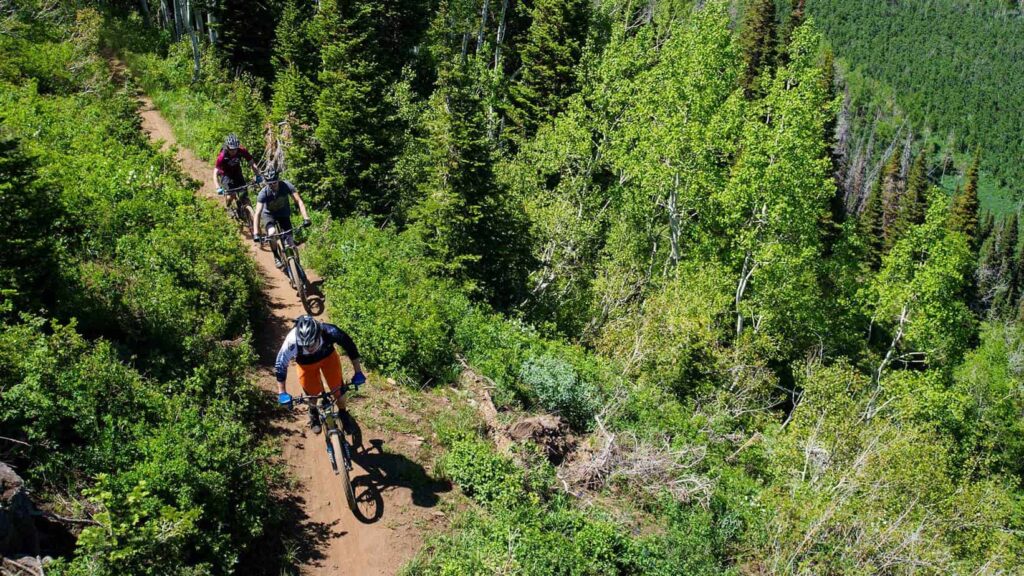 Park City has so many ups and downs in its trails and it is also the largest mountain resort in the country. There are several downhill-only and uphill-only tracks you will have to put your skills and courage to a test. The best mountain bikes on these trails are the cross country bike for the uphill sections, an Enduro bike for the downhill, or fat bikes like the Mongoose Argus Trail Bike . The routes here are lift-served and you have some breathtaking views on offer.
You can either choose a single trail or you can connect with others for loop riding all day. It is the first MTB destination to reach the Gold standard among IMBA's ranks. And it is one of the only six to be at this standard at the time across the globe.
Mountain biking in Park City Utah is a wonderful experience. There are over 400 miles of MTB trails here available to the public while over 300 of them are single-track. The regular season begins in May. And if you're interested in lift-powered Mountain bike parks then there are so many you can find here and they begin their operation in June.
But wait until the mid of July if you are looking to do high-altitude mountain biking on the routes like Wasatch Crest. It is because you still might experience some snow in the region. Therefore, you need to let the real summer season kick in. The best routes to do on these include the following:
Wasatch Crest Mountain Bike Trail
The high altitude that Wasatch Crest has to offer makes it stand out of the crowd. This ride is suitable for trained MTBers. There are several peaks and troughs here on this twelve and a half-mile long trail. This trail is designed to test you physically. In certain sections, this trail will require intermediate to advanced skill levels for the rider.
Armstrong Bike Trail
One of the newest trails in the Park City region is the Armstrong trail and it only goes uphill. The trail is four miles long and you will find it to be a very useful trail to access Spiro and Mid Mountain. You might not find it to be too technical but it does require some physical fitness to complete it.
Mid Mountain Trail
This 21.9-mile trail (singletrack) will make you do a lot of riding through the sloping forests. It is present over 8000 feet above sea level. Therefore, you need to get well relaxed and used to the conditions here before you get to your ride.
Mountain Biking Deer Valley
Mountain Biking Deer Valley might be at the top of the list for some. Deer Valley itself has almost 70 miles of trails with some flow trails designed by Gravity Logic. They have 3 chair lifts to give you access to the entire park.
Mountain biking Deer Valley also gives you access to the over 400 miles of trails within Park City. They have great mountain bike classes to teach kids or anyone looking to learn how to mountain bike.
3. Mountain Biking St. George & Hurricane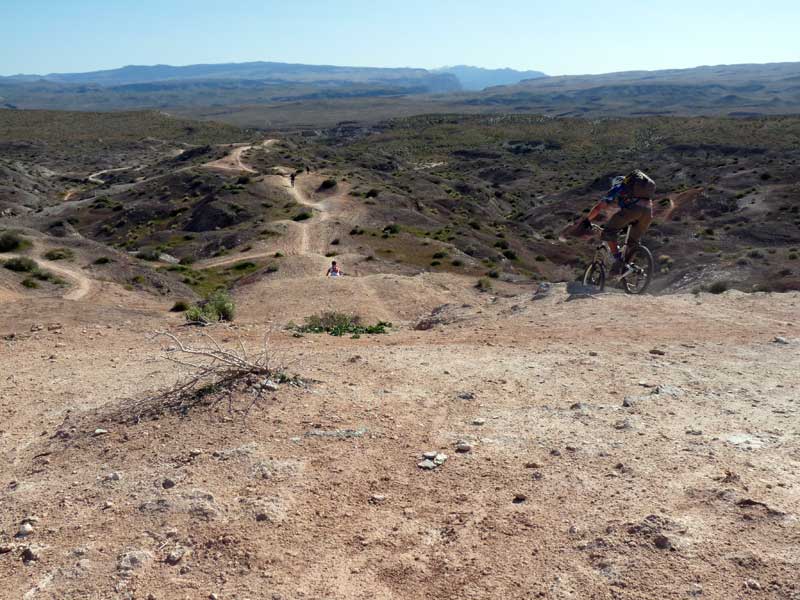 These mountain bike trails are located in the southern region of the state of Utah. Therefore, it is a bit isolated from the likes of Moab or Park City. This place is a whole cluster of small towns with some of the marvelous trails to ride.
The "blink-and-you-miss" towns that we are talking about here are Vegas, Zion, and the likes. Several riders mention that they couldn't find such a town when they were on the trail. Mountain biking in St. George is loads of fun. Hurricane and St. George Utah is only about 20 miles apart and they have made a name for themselves due to the marvelous MTB routes that they have to offer.
The trail linked systems of both these places are magnificent and the Rim Loop of Hurricane is IMBA's Epic. The trails famous for creating an adrenaline rush are:
The Big Loop (Gooseberry Mesa)
The Big Loop is 13 miles long and was built almost a couple of decades ago. The MTB community here maintains it and does a very good job. There is a lot of Slickrock that you will find here. These single-tracks also have plenty of mesmerizing views on offer. Make sure that you bring a lot of water with you because you won't find much in this region.
West Loop (Little Creek Mesa)
It is very hard to find a trailhead of the West Loop and the terrain is almost as difficult. But when you do find it, everything pays off. It has an open single-track and Slickrock and you also get to enjoy the views of the National Park of Zion. As the terrain is very technical here, you need to be experienced and sound in your skills to ride it.
The Hurricane Rim Loop
Here is another one for the Epic list of IMBA! The Hurricane Rim Loops over 24 miles long and it joins three different trail systems including the JEM Trail, the Goulds Rim, and of course the Hurricane Rim.
4. Cedar City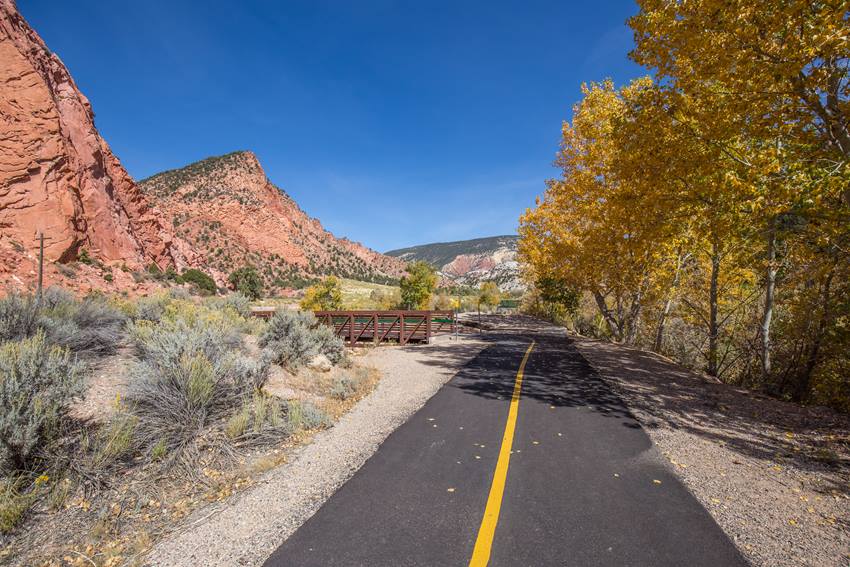 Cedar City is also among the top-ranked places in Utah for high-quality mountain biking. This region is not very well known for its trails but that doesn't mean it has nothing to offer. There are different types of trails available here requiring different skills.
The place has more than 50 miles of mountain biking trails. And there are so many routes available for you to explore. The views are exceptional and the rides require different levels of experience. You can ride different trails here. This place is very popular among the locals as well as the students of Southern Utah University. The most thrilling trails are:
Lichen It Bike Trail
It is one of the easier trails that you can find in this region and it is about three miles long. The best thing about this trail is that it is open years around. This beautiful trail features a lot of Juniper trees. If you're new to mountain biking then this is the ideal trail for you to consider. The rate of climb that you will see here is very consistent and you won't find any rocks or dips either.
Lava Flow Bike Trail
Another good trail in this region is the Lava Flow and it is best suited for the intermediate to advanced MTBers. It is one of the best mountain bike trails in Utah because it is technically demanding. It is on the list of many MTBers who like to ride rough. The trail is the continuation of the Lichen It trail and as soon as the trail changes, you will run into plenty of rocks and various slabs of granite, sandstone, and technical rock.  It will take you to an altitude of 6550 feet and then drops about 7000 feet just within 1.8 miles.
Coal Creek
The Coal Creek is another one for beginners in this area and it is open year-round. It has a paved trail and it serves to be the perfect start for anyone new to the world of MTB. Therefore, it's a good choice for road bikes or hybrids like the Schwinn GTX 2.0 Comfort Adult Hybrid Bike. Families and friends can have a lot of fun here. The trail passes through a couple of community parks as well.
Other Best Mountain Bike Trails in Utah
There are several other mountain bike trails that you can find in the state of Utah. We can't mention them all in details overhear but we would like to list them down as our honorable mentions,
Casto Canyon (Bryce Canyon).
Mt. Blowhard (Brian Head).
Thor's Hideout (Thunderbird Gardens).
Bike Park (Brian Head).
Bunker Creek (Brian Head).
Quarry Trail (Little Cottonwood).
Bonneville Shoreline (Salt Lake).
Red Canyon (Panguitch).
Rush Trail (Draper).
Wheeler Creek (Ogden).
Conclusion
Mountain Biking in Utah is truly an extraordinary experience. Places like Moab, Park City, and St. George as well as others have so much to offer. Almost 3500 miles of mountain bike trails are available and they continue to grow each year.
Park City was the first one to achieve Gold standard in the lists of IMBA (International Mountain Bicycling Association). And then there is the Salt Lake, St. George as well as Hurricane. There are so many different types of trails available to ride in this state. And the best thing is that most of the trails in the southern end of the state are available to ride throughout all seasons.
Now you know which the best mountain bike trails in Utah are and your to-do list is here. So it's time to grab a MTB because you've got your work cut out!
Below is a Pinterest friendly photo… so you can pin it to your Mountain Bike Board!