Mountain bike trails in North Carolina give you some great choices. On the one end they have trails like the ones located around the town of Brevard. Bike magazine waxes lyrical about these tracks and refers to them as "America's best-kept secret."
On the other end they have the luxury of living close to the Pisgah National Forest and DuPont State Recreational Forest. The former offers between 200 and 1000 miles of technical riding and a spiraling 440-acre trail network and skills' park. You can also hire guides, glamping, and coaching services here.
The latter, meanwhile, offers 100 miles of everything from granite-slick rock with eye-catching views to machine-built flow trails. Then there is the hospitality industry that is located on the foot of these trails. It saves you from the trouble of bringing edibles from home by serving barbecue, beer, and coffee.
Top 5 Mountain Bike Trails In North Carolina
Below we focus on the top mountain bikes trails available in North Carolina. This is by no means the complete list of every mountain bike trail the state has to offer, but there should be something for everyone. Regardless of your skill level, North Carolina offers something for everyone to improve their skill.
Read on to know more about the best mountain bike trails in North Carolina:
1.  Pisgah National Forest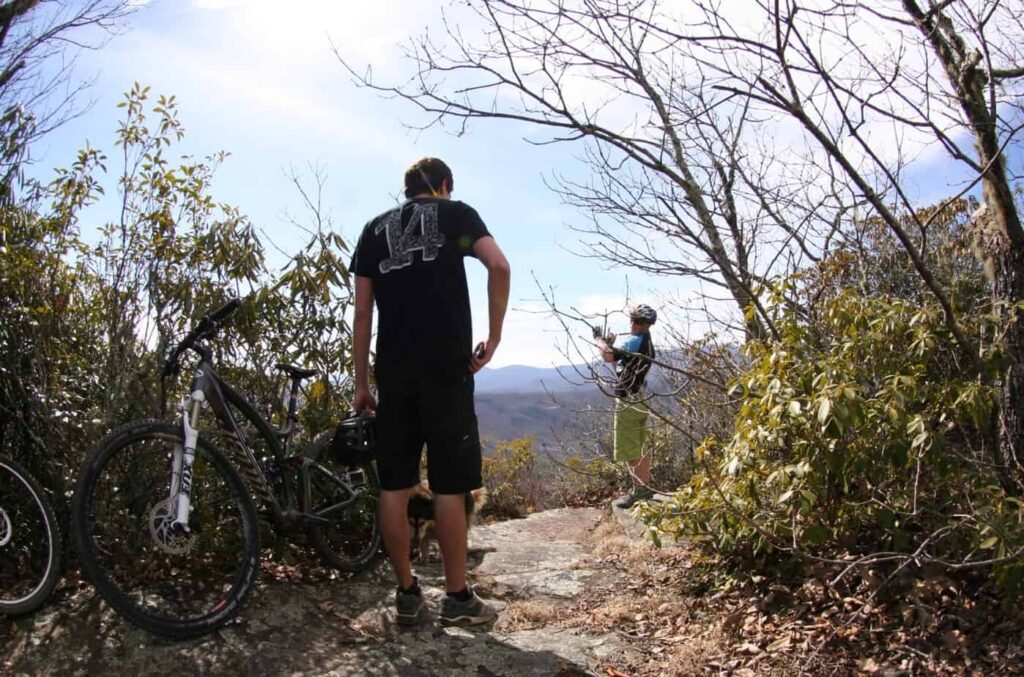 The Pisgah National Forest is home to the most famous mountain bike destinations in the United States. It consists of over 500,000 acres of wild forest with tracks that will rattle your bones and test your bike to its limits. Most of the best mountain bike trails in North Carolina are here.
You don't have to remain on your bike all the time to enjoy this trail. It offers an almost endless array of activities that you can enjoy off the bike as well. The Appalachian ranger district, for instance, leads you to the tallest mountain east of Mississippi off your bike.
Having said that, it is its mountain bike trails that serve as the major attraction of the Pisgah National Forest. They are the reason why thousands of mountain bikers from across the world descend on this site every year. Here are some of the best among them:
Kitsuma
These bike trails in North Carolina are a must-ride for those of you who want to induce extra thrill to your mountain biking experience. It requires you to undertake some bone-jangling climbs and sweetens the deal by providing a backdrop of Mount Mitchell at all times.
Climbing to the top of this track isn't the most challenging thing you'd do on the day. It would be the gravity-defying descent that would get the best out of you. You'll have to show steely nerves to navigate steep rocky areas and flowy sections on your way back to earth.
Green's Lick
This mountain bike trail is the living example of a roller-coaster ride. It lures you in with a downhill jump line on Deer Lake Lodge before asking you to toughen up on the four-mile ascent up Wolf Branch. You then climb for four miles before a five-mile descent starts.
You have to be careful on the final section of this trail. The steepness of the descent is such that your bike would touch the 30+mph mark without you even knowing it. That is why we recommend that you should be aware of your surroundings while trekking.
Black Mountain Loop
Hoping to discover a mountain bike trail that receives less traffic? The Black Mountain Loop might just be right for you. It is a 12.7km long track that features a high forest setting and has some sure-fire climbs with an elevation gain of 752metres.
Pack up the right equipment when you're riding these trails. A good hydration pack like the CamelBak M.U.L.E. will be important for supplies as well as water. You can fit a DAWAY A35 Bike Repair Kit in your hydration pack if any hiccups come up.
Humans aren't the only species allowed on this track. The people who look after the Black Mountain Loop have also given permission to dogs. But you'd have to put your furry friend on the leash to make sure they don't disturb other mountain bikers, runners, and hikers on the track.
Bennet Gap Loop
Here is another mountain bike trail that will leave you breathless at the end. It kicks things off with a 3.5m gravel road climb that will put your pedaling abilities to the test. More than 50% of the route is in the form of singletrack. This means you won't have to worry about riders coming from the opposite direction.
Once you have climbed 1,086metres to reach the apex of this trail, the downhill would begin. It would be one of the steepest you have ever encountered. That is why we recommend that only advanced or advanced-intermediate riders should embark upon this trail.
2.  DuPont State Recreational Forest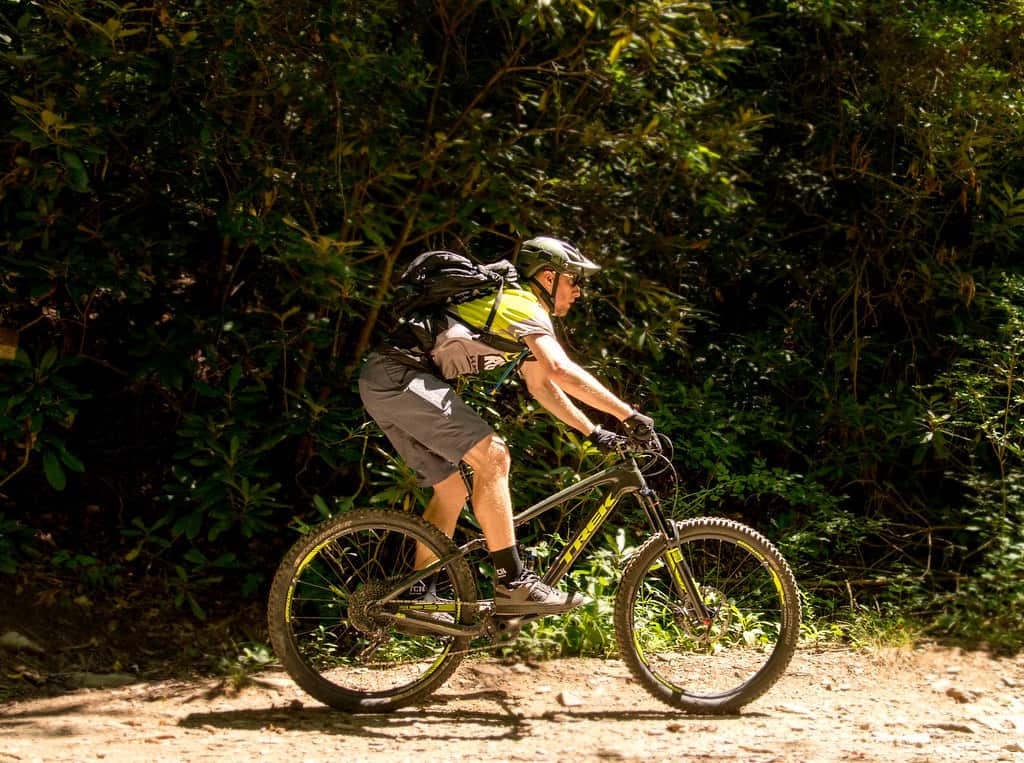 Located southeast of the town of Brevard, the DuPont State Recreational Forest is hidden within the Blue Ridge Mountains. It covers an area of 10,400 acres and offers mountain bikers around 100 miles of trails of all difficulty levels. That isn't where the good news end.
Most of the trails you'd see in the forest offer the experience you might already have come face to face in the southern Appalachians. Some – like Slickrock – buck the trend by giving you the background as well as the experience you won't usually find in these parts.
When you plan a trip to these trails, make sure you have a quality mountain bike like the Diamondback Release 27.5 or the SAVADECK Carbon Fiber Mountain Bike.
You won't have any trouble finding your way to the best possible trail. The DSRF comprises of five main parking areas and each of them has designated guiding facilities. You'll also come face to face with information boards that offer a calendar of upcoming events and a good map.
Some of the best mountain bike trails in the DuPont State Recreational Forest include:
Triple Falls Trail
The Triple Falls Trail provides you with the best of both worlds. Covering less than a mile on this track will get you on the foot of the incredibly scenic 3-step waterfalls. It's your choice whether you want to stay here and enjoy the move or move ahead. We recommend the latter option.
Provided you decide to leave the waterfalls behind, following the river will lead you to the base of High Falls. Continue on this journey and soon the whole of the DSNF will be in your view from an incredibly scenic point at the tip of this mountain bike trail.
Wintergreen Falls Trail
The Wintergreen Falls Trail is for those of you who are looking forward to an easy day. It is a 5km long trail that will require you less than 2 hours to conquer it. The trail's relative easiness makes it heavily trafficked and, therefore, a must-visit for first-time riders.
One thing you must be prepared for while using this trail is seeing horses. The people who maintain this track allow both them as well as dogs to use this route. But the path is so wide that there's little chance of them coming face-to-face with your bike.
3.  Nantahala National Forest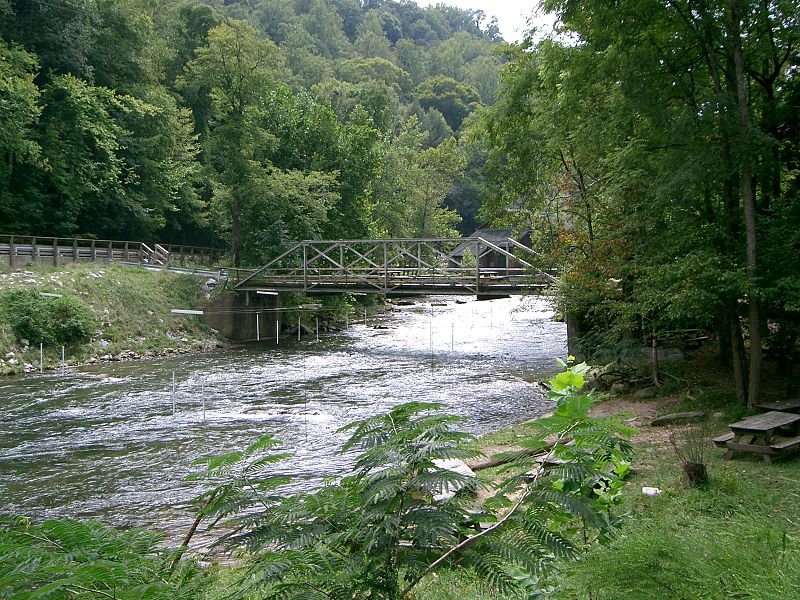 Nantahala River by Nimur (CC BY-SA 3.0)
The Nantahala National Forest is located in the Southwestern mountains of North Carolina. It covers almost 1,345,000 acres and is sandwiched between the Pisgah National Forest and the Great Smoky Mountains. This forest also owns the distinction of being the largest in North Carolina.
Those of you who take an interest in linguistics might be pleased to note the meaning of Nantahala. This word originates from the Cherokee language and describes "land of the noonday sun." You'd find conditions depicting the exact same scene in the Nantahala River Gorge.
Here are some of the must-visit mountain bike trails in this area:
Tsali Recreation Area
One of the most famous mountain biking destinations in the US, the Tsali Recreation Area contains four excellent loops. It is located at the foot of the Great Smoky Mountains and stretches over nearly 40 miles of trails. The Area includes four major trails and innumerable connector trails.
Panthertown Valley
The Panthertown Valley is one of those unique places that isn't limited to mountain bikers. It is the ideal picnic spot for photographers, ecologists, waterfall seekers, and equestrians. It comprises a network of mountain biking trails that lead you to the most scenic destinations within this Forest Service Land.
4.  South Mountains State Park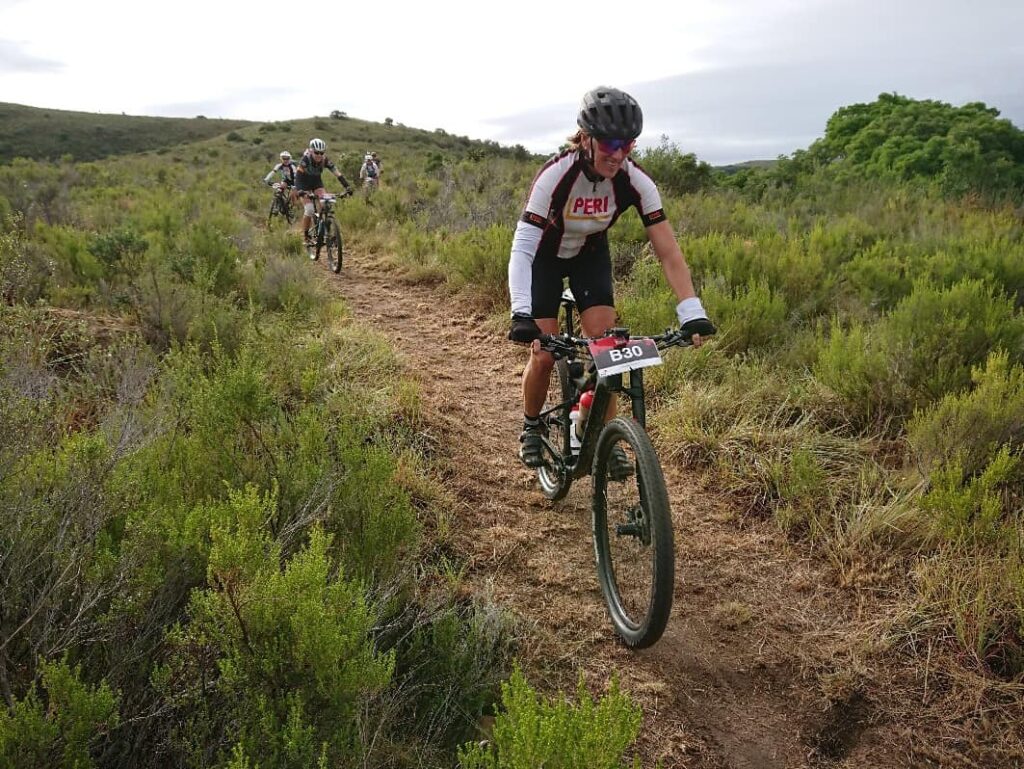 The South Mountains State Park cannot rival those mentioned earlier. It doesn't have the same variety of trails and nor does it cover a vast area. That is good news for those of you who want to test the limits of your bike in silence. As you won't find anyone but enthusiastic mountain bikers in this State Park.
That is mainly because mountain biking in this Park is almost entirely on gravel roads. The doubletrack is extremely rocky and therefore deters all but the over-enthusiastic riders. Similar is the case with the high-speed descents that will put your bike's brakes to their ultimate test.
Some of the must-visit mountain bike trails in the SMSP include:
Official Loop
The Official Loop is one of those trails that don't give you a warning of what's coming next. Its first 6 miles comprise of a gut-busting climb that will ignite a fire in your legs. The first 14 of the 18 miles of this loop consist of forest/gravel roads. The remainder, meanwhile, is smooth pavement.
5.  Dark Mountain Trails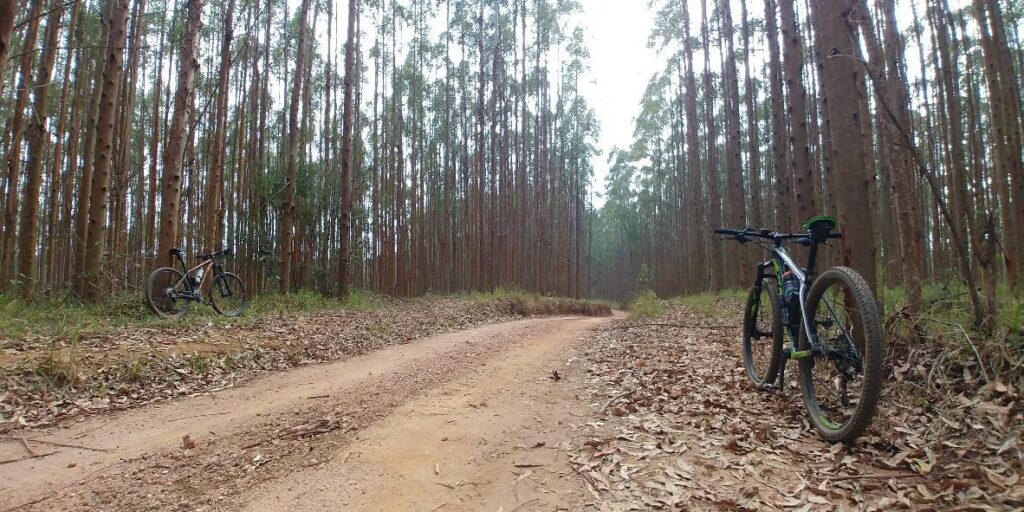 This area isn't as well known among mountain bikers as those mentioned above. That's mainly because some part of it is still in the building phase. But that doesn't mean that you should delete it from the list of trails you must visit.
The consortium building this trail has readied the first phase of the multi-use trail. It consists of over 6 miles and can be used by hikers, photographers, and equestrians. You'd find one loop after another of singletrack trail, with poplars and pines in the background.
Conclusion
As we stated at the start of this article, those of you who are living in North Carolina have access to some of the most sought-after mountain bike trails across the country. The variety that they offer makes these trails as appetizing to amateur riders as they are to the over-enthusiastic ones.
Mountain biking in North Carolina will easily become one of your favorite places to ride and might be one of the best trails in the USA. What more can you ask for!
Below is a Pinterest friendly photo… so you can pin it to your Mountain Bike Board!