Mountain biking is one of the best ways to stay in shape and for adrenaline junkies to explore the outdoors. Once you have the best mountain bikes ready for use, you also need a decent trail and in many cases, multiple trails to keep it exciting. If you live in the New Jersey area, the best mountain bike trails in New Jersey could be perfect for you.
We have compiled a detailed list of mountain bike trails that could suit your every need. We have broken them down into skill level, as well as the distance, but for many beginners, the shorter trails might be the best bet to get started. A good mountain bike is what you need to have a better chance of success.
Why New Jersey Is The Perfect Mountain Bike State
Known as the "Garden State", New Jersey offers a variety of different terrains that will suit almost any type of rider. New Jersey has 5 distinct regions. Each features different landscapes and textures to ensure you have a great view at all times. With various topographies for the terrains, it is no secret that New Jersey offers something to every rider, regardless of age and skill level.
7 Best Mountain Bike Trails In New Jersey
Below, we have opted to highlight a couple of the top mountain bikes trails available in New Jersey. This is by no means the complete list of every mountain bike trail the state has to offer, but there should be something for everyone. Regardless of your skill level, New Jersey offers something for everyone to improve their skill.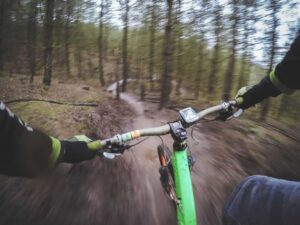 1.      Six Mile Run
Distance: 15-miles
Recommended Rider Skill: Intermediate
Six Mile Run is probably one of the most popular mountain bike trails across the whole of New Jersey. It is located near the town of Franklin, and features more than 3,000 acres of land that you can ride around to explore. The trail features a variety of terrains, which includes farmland and wetlands for a mix up for riders.
Six Mile Run features a wide track, which means that it can be considered a double track. It doesn't only have a single trail for one to follow, although, the main trail is available. You can deviate into any of the subsequent trails if you want to explore a different part or simply riding for leisure. The course features numerous technical sections. Each of these sections offer something new and exhilarating.
Overall, it's a decent course for any intermediate rider and you don't need to have a specific skill level. Yes, the main trail is best-suited for intermediate riders. However, any outdoor enthusiast can enjoy a day out. The Jersey Off-Road Bicycle Association are responsible for taking care of the roads and keeping it in peak condition for riders.
2.      Allaire State Park
Distance: Multiple Tracks
Recommended Rider Skill: Beginner, Intermediate, and Expert
If you also want a beautiful track, the Allaire State Park is one of the most versatile terrains that you can choose. It features multiple tracks for riders of all skill levels. Once you arrive, you will notice various dot indications. Each of these will indicate the difficulty of the track.
A few family routes are available as double, or wide track routes. These routes are great for beginners that want to have some fun with the family. A more advanced intermediate course is also available for some of the better riders. It features a singletrack design, which relies on a few steep climbs and bends for exhilaration.
Lastly, the Allaire State Park offers users the opportunity to explore the expert course. Seasoned riders should have the upperhand in terms of skill on this track. The course doesn't feature a standard track, but it has several jumps and bumps for the terrain. The picturesque terrains could be perfect for anyone to enjoy. However, veteran or expert riders will be able to endure the course.
3.      Hartshorne Wood Park
Distance: 9-miles
Recommended Rider Level: Intermediate
If you are looking for one of the shorter courses to explore, the Hartshorne Woods Park Trail is one of the top options. Located in the city of Middletown, it is one of the shorter courses that appeals to intermediate riders. What it has going for it, is that all the courses are perfectly maintained and you rarely have any issues completing it.
Many riders also mention that the course works best when you have experience with jumps and descents . As one of the best mountain bike trails in New Jersey, it features a state of the art selection of climbs that will lead to a moderate elevation in height. Additionally, the course has some steep drop offs and high jumps for more advanced riders
What makes it such a picturesque location is the selection of wildlife roaming around the area. If you are not a mountain bike enthusiast and you only want to have a look at the terrain, there is ample leisure space. It is a tireless course that can push one to their limits, while providing obstacles for improving one's skill.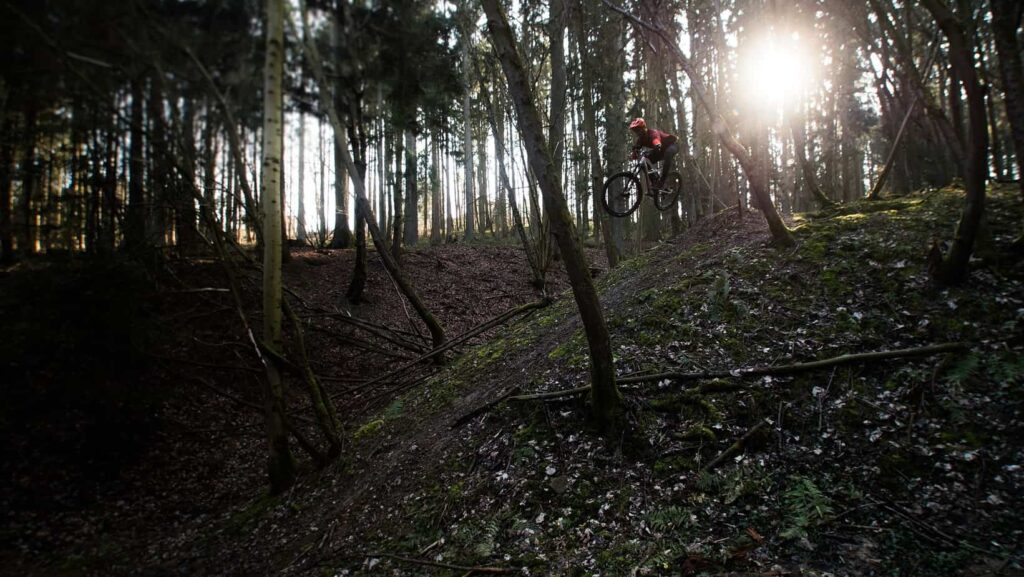 4.      Mountain Creek Bike Park
Distance: 40-miles
Recommended Rider Skill: Intermediate – Expert
The more advanced you become as a rider, the more you will need to test yourself. One of the best ways to do this is to take on one of the toughest and longest mountain bike routes in the state of New Jersey. The terrain offers an East Coast riding experience, since it is located neat the town of Sussex with a variety of different routes.
One could argue that it is possible to climb over 1000-feet in vertical elevation when you start climbing the terrain, but there are many bends and twists. The course is dedicated to bringing an advanced mountain biking experience.However, there are many shorter routes that will satisfy the needs of beginners and intermediate riders.
One of the reasons that Mountain Creek Park stands out is the sheer volume of trails. When compared to the other trails in the region or state, you will not easily find any that has the same number of trails. The course is popular among many riders. One of the main reasons is the location, near the East Coast with a panoramic view.
5.      Clayton Park Fast Loop
Distance: 3.7-miles
Recommended Rider Skill: Advanced
The Clayton Park Fast Loop Trail is one of the trails that looks great. While it starts off going downhill, the route itself has a couple of bends and climbs designed for experts. You will have access to two routes that you can choose from as a beginner. Keep in mind that you need to be an intermediate rider for success on the shorter course.
Multiple jumps are located around the track. However, some of these jumps are optional, which means that those who are not comfortable in the air can avoid them or skip them completely. A few of the dangers are caused by some of the corrosion from rocks, which also mean that the trail has a few dangerous sections to take with caution.
Some great bikes for these trails are the Diamondback Release 27.5 or the Steppenwolf Men's Tundra Carbon Hardtail Mountain Bike.
What makes the terrain even more interesting is that it doubles down as a hiking trail as well. The terrain can work for dogs as well. While it might be a short trail, one of the reasons we have included it on the list is due to the difficulty of the terrain. The terrain will ensure that hardly anyone gets bored of mountain bikes.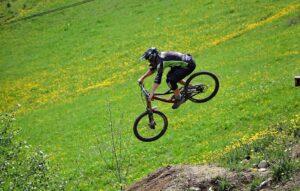 6.      2018 Challenger Mountain Bike Race Track
Distance: 8.2-miles
Recommended Rider Skill: Intermediate
Most mountain bike courses are designed for leisure rides and to give the rider some freedom to explore and do what they want. However, the 2018 Challenger MTB Race Track is a bit more fast paced for riders. Those looking to race against time and put themselves to the test in every aspect of their skill.
While you have a few jumps and descents that could be dangerous for beginners, the trail is safe and cared for around each bend. It offers up to 500-feet of elevation that a rider can bank on. Unfortunately, the track is not openly available for everyone. One has to spend some time registering before taking on the route.
Before you ride trails like these, make sure you invest into some quality gear. A good helmet like the Giro Fixture MIPS Bike Helmet and pads like the Fox Racing Enduro Knee Sleeve can save you from an injury if you take a spill.
You will be rewarded for your efforts and perhaps even get a trophy if you are one of the lucky few to win the competition. It is not for leisure only and we would recommend it to riders that plan to be competitive and improve their skills at a rapid pace.
7.      Chimney Rock
Distance: 10-miles
Recommended Rider Skill: Intermediate
If you are simply looking for a fun trail that will tire you out, while offering a little bit of a challenge, the Chimney Rock Mountain Bike Park is one of the very best to enjoy a fun-filled day out in the woods. It is roughly 10-miles of small obstacles, while also featuring a few tough jumps that you can deal with if you want.
The 10-miles route does not need to be tackled all at once. The trail features 5 loops that you can select from, each of these loops will vary in terms of difficulty, which is often indicated by the color that is placed on them. Some of the shorter 2-mile routes are great for beginners, while offering a select few obstacles that need to be overcome.
If you decide to take a long ride, be prepared with some extra bike supplies like a DAWAY A35 Bike Repair Kit, Energy Chews and extra tubes if you don't have tubeless tires.
Finally, the terrain is made up of beautiful swathes of land and trees that one can enjoy. The only real danger is that you might bump into one of the hikers. It is important to always be vigilant, as not to find yourself colliding with any of the hikers that are also tackling the routes. It is definitely an ideal riding park for everyone in the family.
Wrap-Up
Whether you are a competitive mountain bike rider, or you simply want to have some fun on a day off, Mountain bike trails in New Jersey have something for you. It is the "Garden State" for a reason. The routes are picturesque and cared for, while offering a variety of obstacles and challenges. 
We hope this list gives you some idea's to explore next time your out riding. Enjoy some ride time and remember to be safe!
Below is a Pinterest friendly photo… so you can pin it to your Mountain Bike Board!