Mountain Bike trails in Ohio are a popular tourist destination for biking enthusiasts of all levels. This is probably because some parts of Ohio have wooden forests and rugged hills that offer the perfect environment for mountain biking. In addition, it is dominated by unique courses that are simply perfect for riders of different ability levels.
While some of these trails are open to foot traffic, others are specifically designed for mountain-biking, allowing riders to enjoy fast flowy trails. If you are heading out to Ohio, take some time to enjoy the mountain bike trails in Ohio recommended below.
Some of these trails might not be your top pick but remember we want to include riders of all levels. Everyone starts somewhere and will advance over time.
Top 7 Mountain Bike Trails In Ohio
Here we highlight the top 7 mountain bikes trails in Ohio. This is by no means the complete list of every mountain bike trail the state has to offer, but there should be something for everyone. Regardless of your skill level, Ohio offers something for everyone to improve their skill.
Here are the best Mountain Bike Trails in Ohio:
1. Vultures Knob Mountain Bike Trail
Located in Wooster, Ohio, the Vulture Knob is a 10-mile singletrack trail that is privately owned. This trail is located about 50 miles of Cleveland, 30 miles southwest of Akron, and 90 miles north of Columbus. The course sits on 125 acres of terrain that goes all the way to the Killbuck River.
The trail system has an advanced rating, and it provides riders with a lot of features and options to match their riding needs. So, whether you are looking for newer features or old-school trails, there is something here for everyone. Besides, the bike trail system has one of the most exclusive manmade and most challenging singletrack designs in the state.
The venue has hosted over 110 races including adventure races, cycle cross races, and Xterra train run races. Plus, 12 hour races and 24-hour races as well as the famous annual cross-country races have also been run here.
A good bike for the cross country races would be a hardtail like the Diamondback Overdrive 27.5.
2. Mohican State Park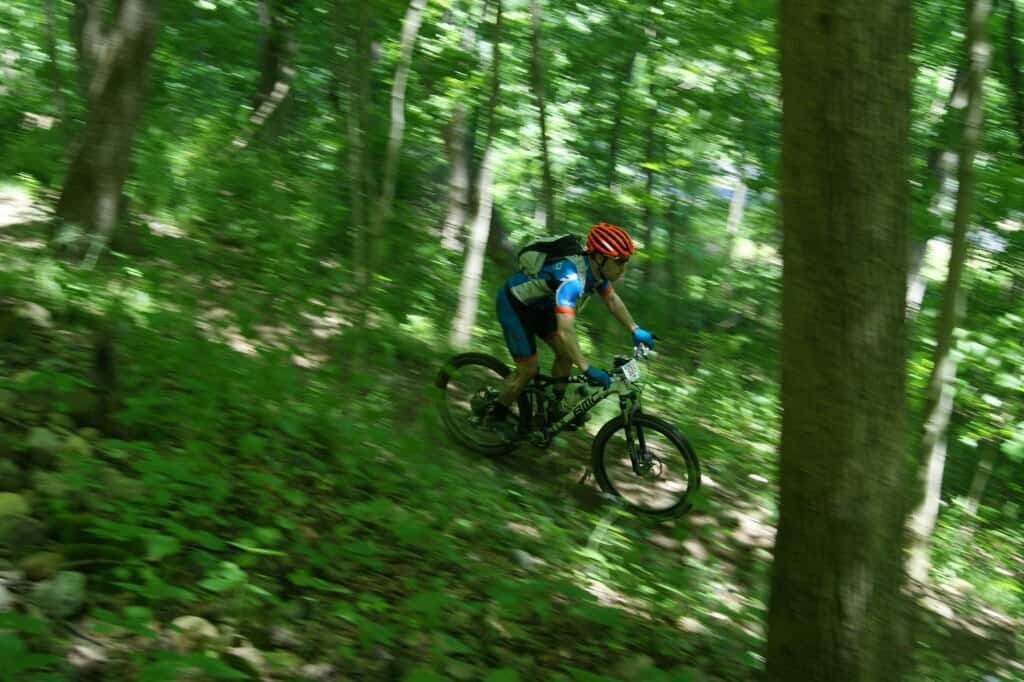 The Mohican State Park MTB Trail is in Loudonville, Ohio and 76 miles northeast of Columbus. With a length of 25.5 miles, this single track is the longest in Ohio. The difficulty rating of this course is intermediate, and riders love it because it provides a perfect blend of difficulty and adventure. You should also expect to make rapid descents and tough climbs as you maneuver through rocks, bridges, and other hindrances.
The first few miles are not easy since you can expect a lot of climbing, after which you will make a rapid descent downhill. You should, however, be careful when making the descents as you will be negotiating various twists and turns.
The first 8 miles of this trail are multidirectional. But after the 8-mile mark, the rest of the trail is one-way traffic (counter-clockwise). Before you pass the 20-mile mark, you will either encounter a climbing or flowing singletrack trail. After the 20-mile mark, you will experience rock gardens and flowy-like trail to keep you on your toes– which are difficult for beginners to tackle.
Full suspension bikes like the Diamondback Catch 1 will be your best bet on these trails to take on the bumps. The suspension is a relief that will keep you riding longer distances.
Finally, after completing the climb, you will cross a wooden bridge that will take you to the other side of the road. Once on the road, locate the trail sign and follow it to complete the last mile of the trail. If you do not want to tackle the entire length of trail, consider taking the road or side trails to cut it short.
The Mohican mountain bike trail is a popular loop that is open to riders, hikers, and horses. For this reason, riders are advised to ride carefully and leave passage for foot traffic.
3. RoyalView Singletrack
Located in Strongsville, Ohio, the RoyalView Singletrack is a popular recreation spot that comprises two courses, the Yellow Trail and the Red Trail. Both trails have a fast singletrack and are relatively flat. They both have the same climb on the uphill as well as the same descend section. The only slight difference is with their difficulty.
The Red Trail is a course with challenging slopes and offers riders an optional "out and back" section. It also features ravines with very scenic river views. Additionally, it has a lollipop spur that features little built stunts.
The Yellow Trail, on the other hand, meanders through young forests of the park. It is a good option for riders who prefer gentle climbs as they take in the stunning views of the creek. Because of the gentle climbs, it is recommended to start the ride from this trail up to where it meets the Red Trail. Once you reach the intersection, cross it, and then take on the Red Trail where you will speed up down a flowy singletrack.
You will then see the Red Trail Spur to the right where the Red trail meets with the Yellow Trail.  The Red trail spur is usually not part of the ride, but it offers more features for those who want a more challenging ride. If you do not want to add length to your ride, continue with the Red Trail up until you reach the road, and then turn right to get to the lower parking area. 
Apart from mountain bike riding, the RoyalView Singletrack park provides a lot of other recreation openings. Head there with your non-rider friend and family and let them have a blast doing activities like boating, fishing, hiking, archery and more.
4. Hampton Hills Tour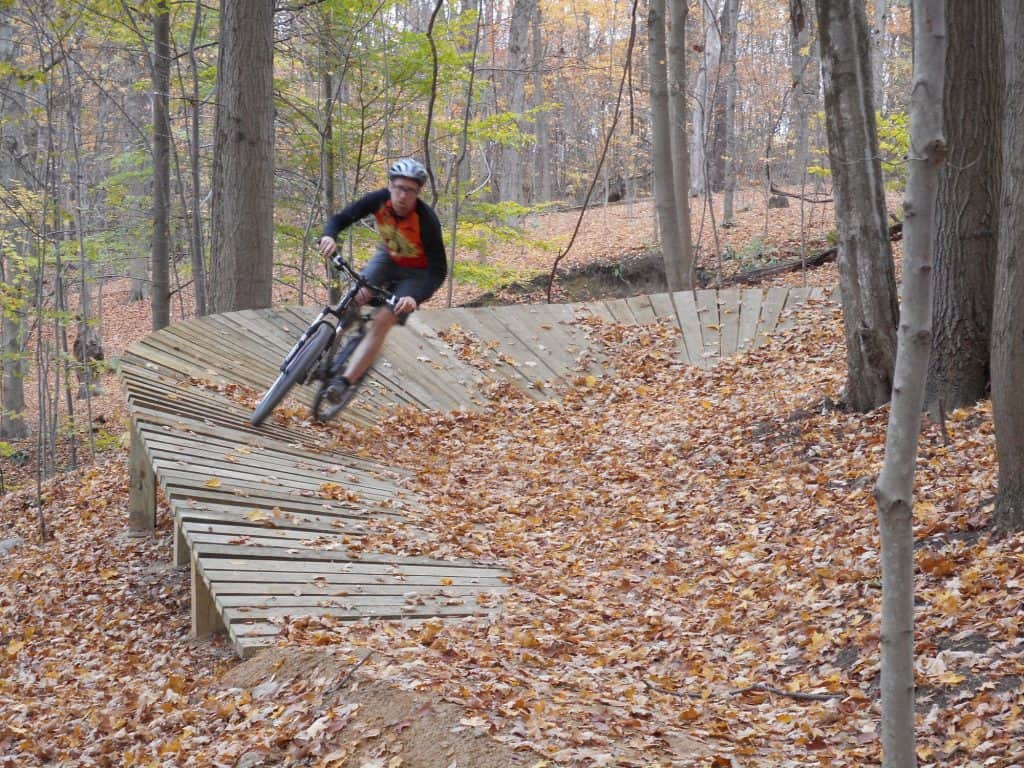 The Hampton Hills Tour offers bike-specific trails that are not only challenging but also incredibly fun. Located in the Cuyahoga Fall, Ohio, this park is an excellent destination for riders to test their skills because of the tough climbs, fast trails, optional features, descent and, tight turns.
It's recommended to wear the right protective gear like the Giro Fixture MIPS Bike Helmet and pads like the Demon D3O Hyper Knee/Shin Mountain Bike Knee Pads.
Besides, the venue does not experience a lot of foot traffic as seen in other trails. This makes it an excellent choice for those who want to ride on fast trails without being too watchful for hikers or horseback riders.
Begin your ride from the large parking lot- and head to the Intermediate Connector that will take you to the woods. Alternatively, you can opt to start on the Green Trail (south trails) that features a flowing singletrack and bridges, which is great for warming up.
As you get deep into the woods, you will encounter a challenging ride. For a fun and entertaining experience, be sure to take on the natural obstacles that include wooden features, beams and twisting singletrack- that will undoubtedly give you a thrilling ride to say the least.
You, however, need to know that there are one-way trails and two-way trails. Thus, follow the signs indicated to avoid bumping into other riders. Also, keep left at around the one-mile mark to hit the huge jump.
However, riders that do not want to hit the latter drop should keep right, and they will experience a steep ride that goes to the woods.
5. Beach Ridge Bike Trail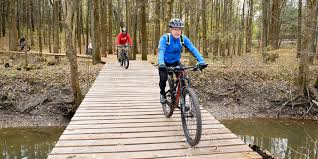 Nestled in the Oak Openings Preserve in Swanton, Ohio, the Beach Ridge Bike trail is another Ohio trail. This 5-mile bike trail has a difficulty rating of beginner or intermediate. This makes it ideal for beginners as well as for families looking to have a good time together.
It is packed with few optional features like wooden boardwalks and bridges that make riding exceptional. The ride follows a clockwise route. However, riders are informed that the direction can change on different days of the week. Hence, it is advisable to check the direction of travel for the day you go riding.
If you want a cut to the first junction, be sure to take the Wabash Cannonball Trail. The trail will take you north to the Hognose Snake Loop, which then leads to the wetlands and the woods. Here, you will encounter the wooden boardwalks and bridges that will help you practice and hone your skills.
Once you reach the Blazing Star Loop, turn north to continue. You will find the Blue Race Loop that goes to the park's western edge. This is ideal for riders that want to add more length to their ride. Go south to the Hognose Snake Loop and enjoy some accelerating speed before completing the ride.
6. Mitchel Memorial Forest
Found in Grandview, Ohio, Mitchel Memorial forest is home to several trails, that accommodate riders, runners, and hikers. Although the system is not that large, the trails offer riders a blast because of the steep terrain and practical features. The trails are designed for riders with intermediate ability, who want to improve their skills.
Remarkably, this forest has stacked loops. This makes it possible for riders to create long rides or short rides, depending on their preference. To start the ride, go to the parking lot and take on the A Loop. While on A Loop, keep left on the bailout point. You will pass a small pond and go down a downhill.
When you reach where B Loop splits, keep left to continue to it. Unlike A Loop, B Loop is a bit technical with a good measure of larger rocks and rock gardens. Continue with the loop until where you will head back to A loop. While on A Loop, turn left for a fun downhill run. Then complete the run where you started- at the parking area.
7. Ray's Indoor Mountain Biking Park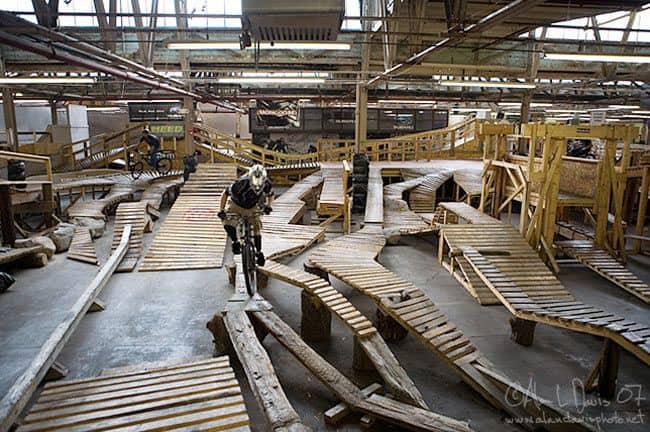 If indoor biking park is your thing, then you should visit the Ray's Indoor mountain biking park. This biking park is located at the city of Cleveland, Ohio and got its name from the founder, Ray Petro. Ray opened the biking park when he was unable to go biking during winter months and this list of mountain bike trails in Ohio wouldn't be complete with out it.
The park was opened in 2004, and it is the first multi-terrain indoor bike park in the world.  It is a haven for riders who want to have a fun and exhilarating riding experience. This is despite the weather being less favorable.
The park features different rooms with mountain biking trails to help riders simulate the real outdoor riding experience. Impressively, the biking trails are designed with natural hindrances like tree roots, dangerous curves. They also comprise of wood labs for that jumping experience. Riders also get to maneuver through mountain peaks.
It is worth noting that Ray's Indoor Mountain Biking park is only open during winter in Ohio. Riders of different riding abilities and ages can take advantage of this period to get a feel of riding indoors.
Conclusion
If you are up for some riding adventures, these mountain bike trails in Ohio make for some exciting experience. These trails are designed to accommodate people of all ages and different abilities.
There are a range of trail options in Ohio for beginners, intermediate as well as advanced riders. Get your gear out and prepare yourself for some leisurely riding in the outskirts of Ohio.
Below is a Pinterest friendly photo… so you can pin it to your Mountain Bike Board!