The State of Minnesota is among the top destinations for tourists with its lush green forests and high glaciated ridges. But this state is also home to some of the best mountain biking trails in the country. There are so many that we had to go through a bit of a tough time creating this list of the 8 best mountain bike trails in Minnesota.
Honing down the list was very difficult, but we're glad we've done it. The trails that we've included in this list vary in attributes. Some of them are adventurous, while others offer breathtaking views. Local authorities, as well as non-profit organizations, make a huge effort every year to take care of these trails and extend them.
No matter what style of riding you prefer, you will find a trail to ride and tell your friends about it. So without further ado, let's explore the list of best mountain bike trails in Minnesota!
Top 8 Mountain Bike Trails In Minnesota
Below, we have highlighted a few of the top mountain bikes trails available in Minnesota. This is by no means the complete list of every mountain bike trail the state has to offer, but there should be something for everyone. Regardless of your skill level, Minnesota offers something for everyone to enjoy and improve their skills.
1. Theodore Wirth Bike Trails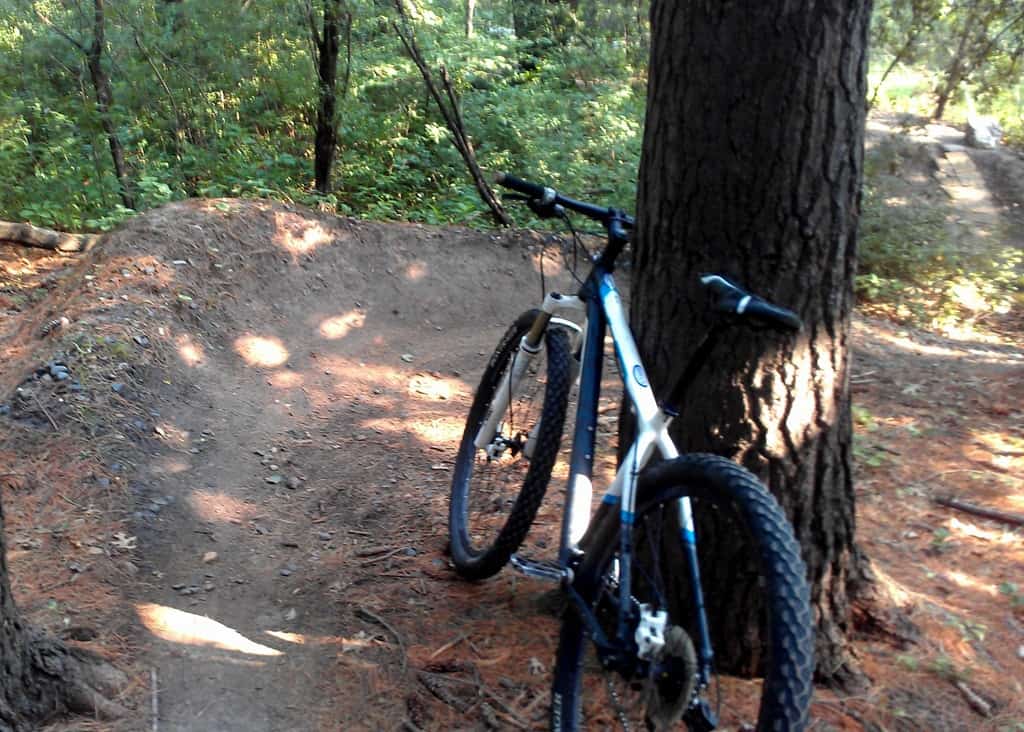 This regional park has some of the best mountain bike trails in Minnesota. The difficulty level of these trails is intermediate, and at some point, it will test your skills. It is located just a couple of miles away from Target Stadium, and it is the largest park system in the state.
Besides the MTB trails, the massive 750-acre land is popular for its good course, and Wirth Lake swimming. The Minneapolis Department of Park & Recreation manages this space together with MORC (Minnesota Off-Road Cyclist). When the trails get wet due to the glacier ridges, it is closed.
The most recommended route on this trail is the Back 40. This 3.5mile-long loop is easy to access from the Par 3 Club House, and you will experience a quick flowing ride on this route. The Brownie Lake trail is the most challenging on this route, and it will feature drops, logs, and a lot of rocks.
2. Lebanon Hills Mountain Bike Trails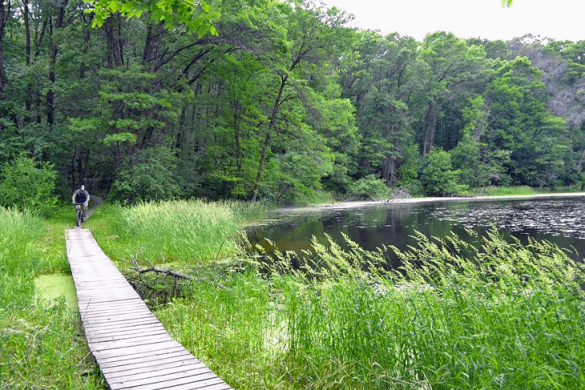 If you are looking to test your skills, then the Lebanon Hills is waiting for you. This place has a separate east and west wing because the area spans over more than 2000 acres of land. Besides mountain biking, this regional park is also home to several other outdoor activities.
The eastern wing is for kayaking, canoeing, and paddleboarding on the O'Brian Lake. There are various other lakes present within the Lebanon Hills. However, if you're interested in some of the best mountain bike trails in Minnesota, then you should head to the west wing.
It is developed and is managed by MORC. This region has more than 12 miles of very well created single track. The best part about these trails is that you can find different types of routes ranging in difficulty level. Black Diamond is one of the friendliest routes you can find here, and it is filled with rocks, drops, and logs.
However, the Red Loop is the route you need to see if you are looking for some difficulty. You will find many hilly contours with beautiful lakeside views. These trails are very well marked and simple to navigate. You won't have any difficulty in carving your way even if it's your first time on one of these trails.
3. Memorial Park Bike Trails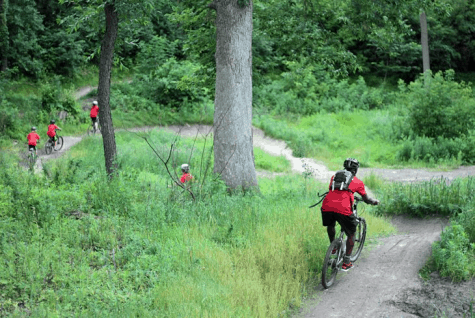 Right on Sorin' Bluff, the Memorial Park is situated on the Mississippi River bank in the southeast corner of the state. Therefore, you will have the advantage of a high vantage point for several views.
When you visit this place, you can park your vehicle right at Sorin's Bluff and start to enjoy nature's view by taking a stroll. There you will also find a 9-hole course for golf and Frisbee and several picnic points. But most of the crown here is for the mountain bike trails of this region. And there are plenty to be found in this area.
The single track available here is one-way, and various routes are different from each other in terms of difficulty. These trails come in and out of the forest and make the ride full of roller-coaster loops. The trail system in this region is entirely maintained by the volunteers of this locality.
4. Murphy Hanrehan Bike Trails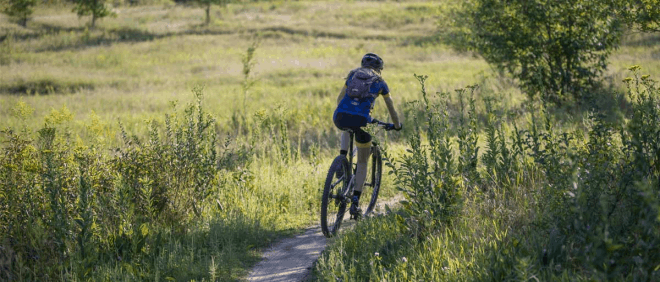 The Park Reserve is a peaceful wilderness in the northwestern end of Scott County. It comprises glacial ridges, lush forest, and hilly terrains. The park has ski areas (cross country) that are among the most challenging within the Twin-City area, and it also features a well-known MTB trail.
If you happen to be a birdwatcher as well, then this park is one of the best places for this activity because most of the vicinity here remains underdeveloped. The National Audubon Society recognizes this park reserve as one of the important bird sites.
Being a nature lover, you will love this place. The trails across these regions span over 10 miles, and they will test your skills with the steady and long uphill climbs. Your legs will start to burn, but you will be heavily rewarded with the scenic beauty of this place.
There are 6.9 miles of skillful trails available for you to ride while the rest of the trail is easy to handle. This route is a local favorite, and if you are looking to enjoy nature in solitude, then be sure to go there early in the morning or on weekdays. All the routes are well marked, and you won't have any trouble finding your way.
5. Cuyuna Lake Bike Trails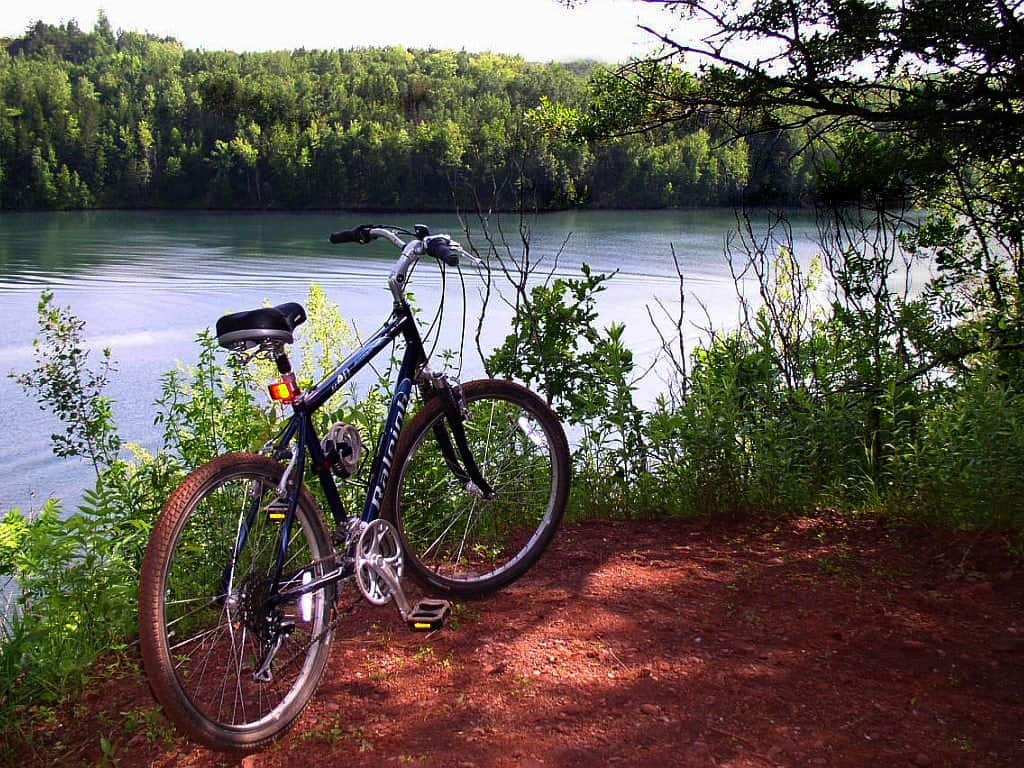 The trails of this place were created on the solid that is rich in minerals. As the solid is rich in minerals, it has a red hue, and your bike tires will have it when you're done riding the trail here.
But red is not the only hue out there. Birch and aspen trees in this locality add turquoise shade in the views as well. The MTB trail here is the newest addition to the family of Cuyuna State Recreational Area.
The authority provides visitors with several other recreational outdoor activities. During the winter season, this area is also very popular for fat biking. One of the best fat bikes to ride on this trail is the Mongoose Dolomite.
This area has a lot to offer, as you will be tested on a 25 miles long trail. The trail itself is very well managed and properly marked at different places. Therefore, you won't have any problem finding your route out here. You'll also have access to the local market where you can do the errands and also get your bike repaired if in case of any trouble.
6. Spirit Mountain Bike Trails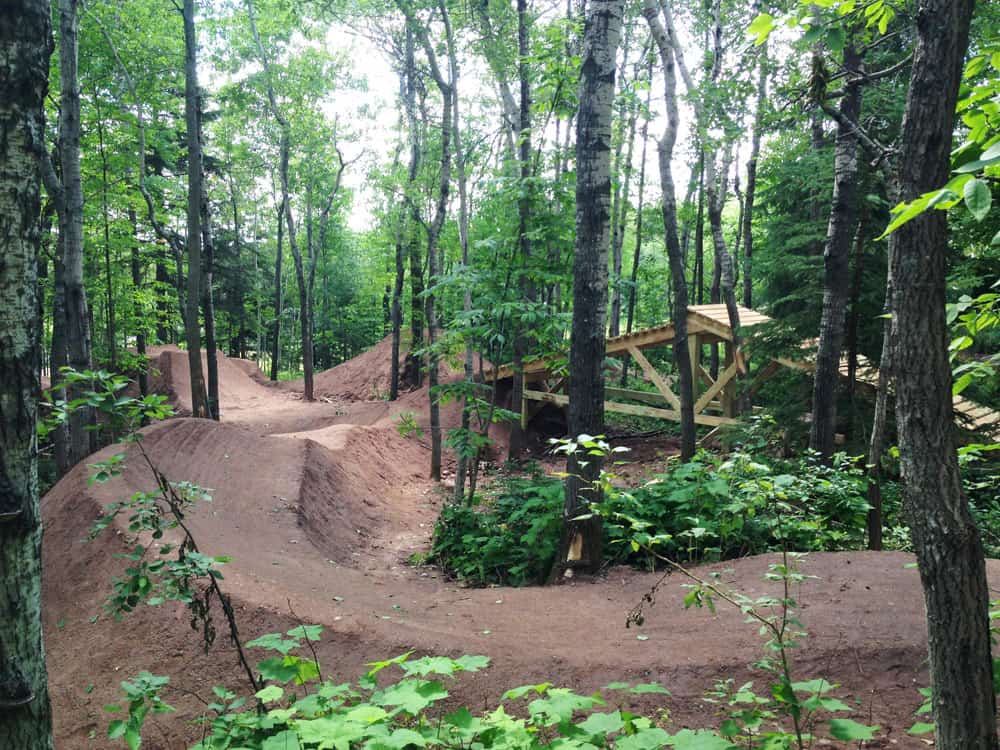 The Spirit Mountain is not the place that gets a regular mention for its mountain bike trails. This area regularly hosts a lot of other events for the visitors ranging from wedding parties, lodging, and a host of other outdoor activities in all seasons.
The ski resort of Spirit Mountain hosts people for four months during the winter season. There is a total of 175 acres of terrain that you can ski with ease. When the ski season is off, the MTB season is on.
The MTB riders here will love the ride down the hill when gravity propels them. With a lift pass, you can choose from a variety of trails. Happy Camper is one of the easiest while the brake testing route of Wrecking Ball is designed for more skilled MTBers.
There are a lot of rentals and shops available in the area. It is one of the best mountain bike trails in Minnesota for downhill riding. It's all about funds at the spirit mountain.
7. Hillside Mountain Bike Trails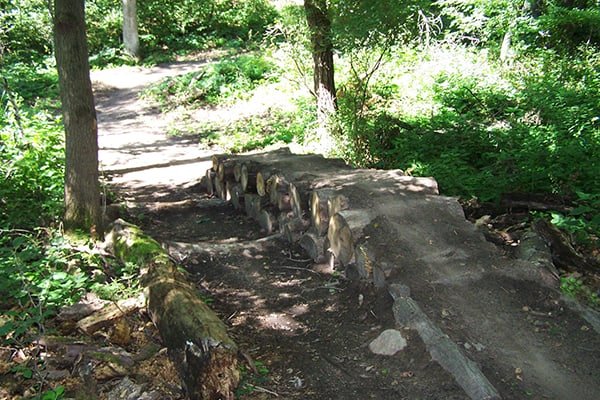 The City Park along the Elk River might only feature a total of six miles of single-track. But it's a true experience rich in mountain biking. And it is only a half-hour drive away from downtown.
You won't find any misleading junctions on the trails, and there are no spur trails either. Your adventure will begin straight from the parking lot and won't finish till you complete your loop. On your route, you can find a range of different non/optional obstacles. These include the likes of banked turns, rock gardens, and log bridges.
The obstacles that you will find here are good enough for any skilled MTBer to test the trail. The trail has been around for more than a couple of decades now. Managed by MORC, these trails are growing rapidly, and the conditions here are getting better for the riders to have some fun. Signage has also been introduced for this trail. And the overall riding experiences are significantly transformed from the past on this serpent of a trail system.
The views are not something that would blow you away, but there are good enough to keep you interested. The locality has local shops as well, and you can get your bike repaired or do your errands if you want to.
8. Elm Creek Mountain Bike Trails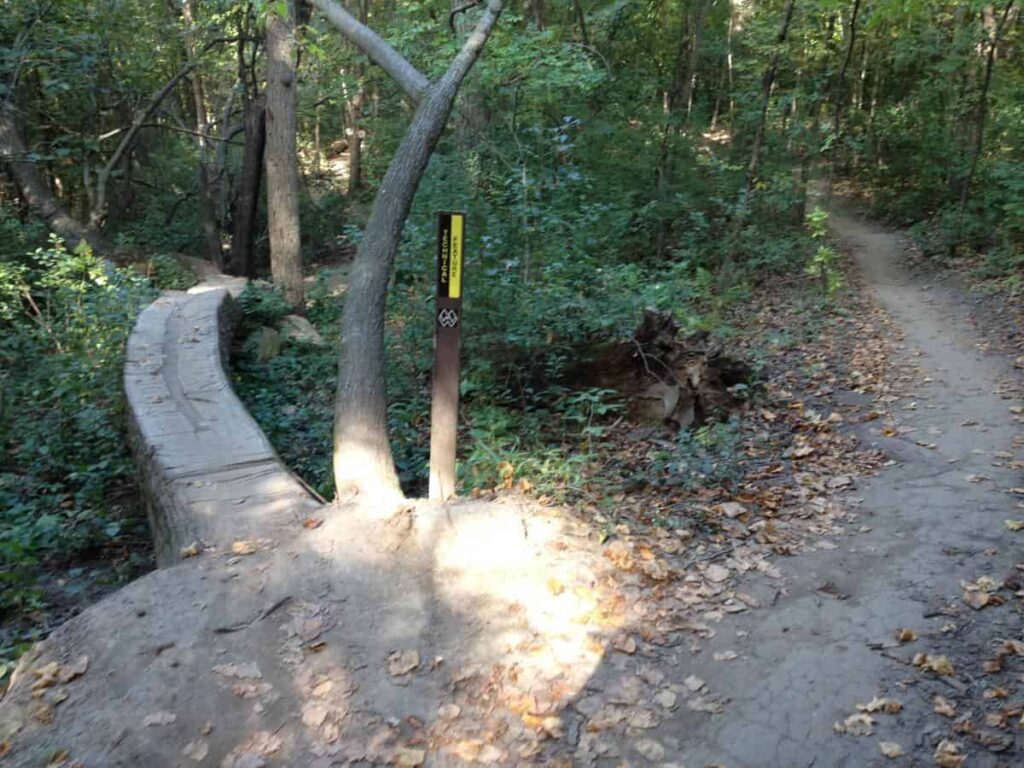 The Park Reserve has more than 4900 acres of area, and it is the largest in the Three Rivers region. It features all the amenities of any outdoor activity. It is a great place to spend your winter as well as summer vacation.
If you are a wildlife watcher, then you have plenty to look forward to in this area. There are different species of eagles, deer, bluebirds, loons, beavers, sandhill cranes, hawks, and trumpeter swans that you can see. This park is very easy to access from the St. Paul metropolitan area on the northwest.
The area has more than 12 miles of trail available, and it technically varies on routes. MTBers with ranging skillsets are all welcome here. The routes begin with a woody path, which is followed by a vast prairie field and lake.
You can enjoy beautiful views along the way in this field and the lake. MORC has taken responsibility for taking care of the trails here, and it has done a fine job so far. The trail route is available to access in the northeastern end of the park. The place is very popular among trail runners, hikers, and mountain bikers. Therefore, it is better to go there early in the day or during the week.
Honorable Mentions
Mountain biking on the trails is not easy if you don't have the right bike at your disposal. The best one to choose is the Diamondback Release 27.5 1 Mountain Bike or the Steppenwolf Men's Tundra Carbon LTD Hardtail Mountain Bike. Since the state of Minnesota has several mountain bike trails, squeezing down the list to top 8 was a heck of a job.
Here are some of the best mountain bike trails in Minnesota that didn't make it to the list, but they need to be in your MTB bucket-list for sure.
Piedmont (Duluth).
Glenwood (Golden Valley).
Home Brew (Proctor).
Brownie Lake (St. Louis Park).
Smorgasbord (Proctor).
Grizzland (Champlin).
Screamer (Crosby).
Lester River (Arnold).
South Loop (Golden Valley).
Minnesota River (Savage).
Hawk Ridge (Arnold).
Freight Train (Maplewood).
Sector 12 (Aurora).
Conclusion
Minnesota has some of the best MTB trails in the US. You can explore different options. The parks are full of mesmerizing views and beautiful wildlife. The MTB support groups and volunteers are also in action to get the trails right in this region. The sport itself has grown significantly and has garnered a lot of fan following in recent years.
These MTB trails don't focus not only on mountain biking; there is so much more you can do in these vast outdoor spaces. It means you can bring along non-MTBers. And with different routes ranging in difficulty levels, different riders with different skill sets can join in. There is something here for everyone!
So there you have it, the best mountain bike trails in Minnesota! There are hundreds of mountain bike trails in Minnesota, and maybe your' favorite didn't make it into this list. But we've made sure that we include the ones that offer the best mix of views, ride experience, and ease of access.
Maybe your list is better than ours! Why not mention it in the comments section below and start the conversation!
Below is a Pinterest friendly photo… so you can pin it to your Mountain Bike Board!