The Lone Star State is known for being one of the warmest states in the US. However, it is also one of the flattest areas, with loads of space for trails and exploring the outdoors. The best mountain bike trails in Houston should allow anyone in the nearby area to enjoy a day out in the sun and take on trails of various difficulties.
In the following article, we will look at some of the best mountain bike trails in Houston. We will go through each of them, providing you with as much information as possible to ensure that you find something comfortable and suited for your skills. With so many open terrains, it can be daunting for many beginners to find the one that meets their needs.
Why Houston Is the Perfect Mountain Biking Spot
Houston is not the most comfortable place for riders when you want good temperatures. However, Houston has many flat areas, which are open and allow riders to choose their path. The state has a warm climate, which means trails will always be available. Many flower and wildlife species can be seen as well.
Top 6 Mountain Bike Trails In Houston
Without holding you with too much senseless information, you might be wanting to look at a few of these trails and perhaps choose one to explore. There are many different mountain bike trails in Houston, but the one that best works for you could put your bike to the test and allow you to explore the baron wilderness for yourself.
1.      Cyprus Creek
Distance: 10-miles
Difficulty: Intermediate
The first trail that comes to mind when thinking of Houston is the infamous Cyprus Creek Trail. The trail features a single track, which is mostly sandy and full of dust. The loose ground can be an issue, but since it is mostly flat, it does not challenge you much in terms of stamina. However, the trail can be quite long when riding through it.
There are numerous obstacles around the course, many of which are loose and will need some careful precision when taking them. The trails have a lot of bridges, which are maintained, and you rarely find broken floorboards on your route. Additionally, it looks stunning and gives you an excellent view of nature around you.
The trail is located a few miles outside of Houston and you will need to drive a fair distance to reach it. Additionally, there are numerous entry points, which means you don't have to start at the same location. We have rated the trail for intermediate riders due to the design and the lack of extreme obstacles or jumps to contend with.
2.      Buffalo Bayou Park
Distance: 4.8-miles
Difficulty: Intermediate
The Buffalo Bayou Park trail is another intermediate trail, which is often heavily trafficked. Due to the popularity of the trail, you will need to contend with many hikers also taking the trail. However, the 4.8-mile distance is not as far as many might expect, but you have a few small obstacles that need to be negotiated.
It is a loop-trail, which means you will start at one location and finish at the same location. However, it is a slow trail with a few uphill bends that need to be taken with great care. However, the trail is also maintained year-round and you won't find any real difficulties getting through some of the obstacles on the route.
With so much traffic, it is best for those with mountain bike skills to take the route. As a beginner, you might find that the traffic is hard to get past. Unfortunately, you won't be riding the trail in just a couple of minutes. It can take an hour to complete, even longer if you have difficulties with some of the obstacles.
3.      Memorial Park Blue Trail
Distance: 1.1-mile
Difficulty: Easy
If you don't want a heavy trail, littered with tons of obstacles, you might want to consider the Memorial Park Blue Trail. It is a short trail of only 1.1-mile, but it has a lot of traffic due to the hikers that also prefer the trail. Since it is relatively short, you might find many people making a day out of the trail and taking their time.
We have rated the trail as easy since there are no real obstacles that pose a lot of danger or risk to the riders. If you want to go for the view, you won't have a lot of elevation to work with. However, there are tons of beautiful flowers that one can enjoy looking at. No real dangers are posed to riders or hikers on this trail.
Time is also of no concern and when the trail is not heavily trafficked, you might find that people can race. Since the trail is a loop, you will end the trail in the same spot that you started. We should also mention that maintenance is done accordingly and you will find that there are often people working on keeping the trail in the best condition.
4.      Sticks 'n Stones Mountain Bike Trail
Distance: 1.3-miles
Difficulty: Intermediate
If you want to do some trail riding in a dry area around Houston, the Sticks 'n Stones Mountain Bike Trail is one of your best options. The trail is singletrack, allowing you to ride from one end to the other. However, it might be just around 1.3-miles, but there are numerous obstacles on the route that could be risky for beginners.
Make sure you have a good helmet like the Giro Fixture MIPS Bike Helmet and some pads like the Demon Hyper X D30 V3 Mountain Bike Knee Pads. You always want to be safe and avoid any possible injury.
The trail itself is mostly flat and you only have a few meters that will need to be climbed. However, the climb is steep, and you could find that it is a bit colder at the top than at the bottom of the hill. We like the trail because it is mostly straight. Yes, you have a few small bends that will need to be negotiated, but nothing too serious.
Short trails can help many riders get into the groove of cycling. The obstacles can be negotiated with care and there are a few jumps for the more advanced riders. Unfortunately, the expert riders will not find it physically demanding. However, it is the perfect trail for training if you are competing.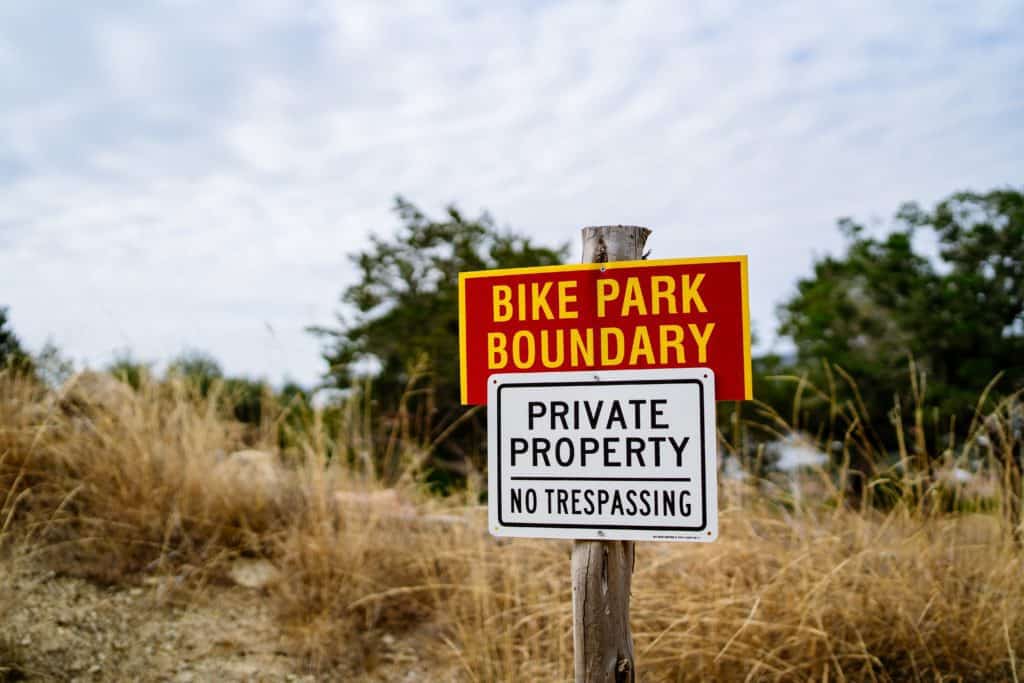 5.      Twisted Metal Mountain Bike Trail
Distance: 4.66-miles
Difficulty: Expert
If you like trail riding and you have a decent mountain bike, you might find that downhill trails are often a good place to test your skill. These trails are not physically demanding, but they require a lot of focus if you want to make it to the end in one piece. The Twisted Metal Mountain Bike Trail is a 4.6-mile downhill trail with many twists and turns.
It is a dangerous trail and your elevation will drop from 1000-meters to around 500-meters, which is quite high. The trail itself does not take you too much time to do. However, it can be very dangerous for most beginners. At the top of the trail, you might need to negotiate a few snow patches, before starting to hit the trees.
Since downhill riding with a mountain bike can be very dangerous, it is often that we recommend an aircraft-grade aluminum frame. These frames are lightweight and will allow you to maneuver the bike more to your liking. The overall sentiment of the trail is for advanced riders or downhill experts to test their skills.
6.      Heights Hike And Bike Trail
Distance: 4.6-miles
Difficulty: Intermediate
It is not often that you would consider a trail that runs through an urban area. However, the Heights Hike And Bike Trail are one of these rare trails that runs through the suburban parts of Houston and gives you a tour of the city. The trail is a single track and you have around 4.6-miles of the trail to work with when riding.
Aside from your standard suburban obstacles, it does not pose a real risk for riders. The trail is mostly straight, with a dogleg that will turn to the right. However, we have considered it an intermediate trail due to all the traffic. Unfortunately, life goes on as normal and you need to contend with what the city throws at you.
The trail is also designed for those who love road bikes. Most of the trail can be done on the city streets, eliminating any real threat to your tires and shocks. Beginners can also enjoy the trail but will have to take it slow to content with the hikers. If you live in Houston, this will be the ideal trail for exploring the city.
Wrap-Up
Houston is one of the best places for those that want freedom and some wide-open spaces. While most of the mountain bike trails in Houston are located outside the city or near memorial parks, it is worth the drive to find them. Houston can be fun for most beginners and experts as well. We would recommend these trails for all riders but would love to see any trails you like.
Below is a Pinterest friendly photo… so you can pin it to your Mountain Bike Board!