Highland Mountain Bike Park is not only one of the best in New Hampshire but in the entire country as well. It is a unique MTB park that has something for everyone. Around 5% of this trail is for beginners, 35% is for moderate riders and 60% is for experts.
This bike park came into being when two MTBers Will Gaudette and Mark Hayes started working on their dream to build a lift-access MTB park in the Northfield region of New Hampshire. They dreamt about this concept on their group rides during idle chatter. And the concept came to life in 2006 when the park was opened for the general public.
Since then, MTB riders have come to this park and enjoy the trails that are built for the riders. This mountain bike park is for MTBing only and nothing else. These are some of the best mountain bike trails in New Hampshire.
Check out the video at the end of this post to see live footage of riding this amazing mountain.
Suitable for All Riders
If you are interested in learning mountain biking and want to ride a trail for the first time, this is the ideal facility to try out. No matter what your skill level is, you will find that Highland mountain bike park has trails suitable according to your skills. And you can work on your skills to improve them further. It's not limited to downhill mountain biking.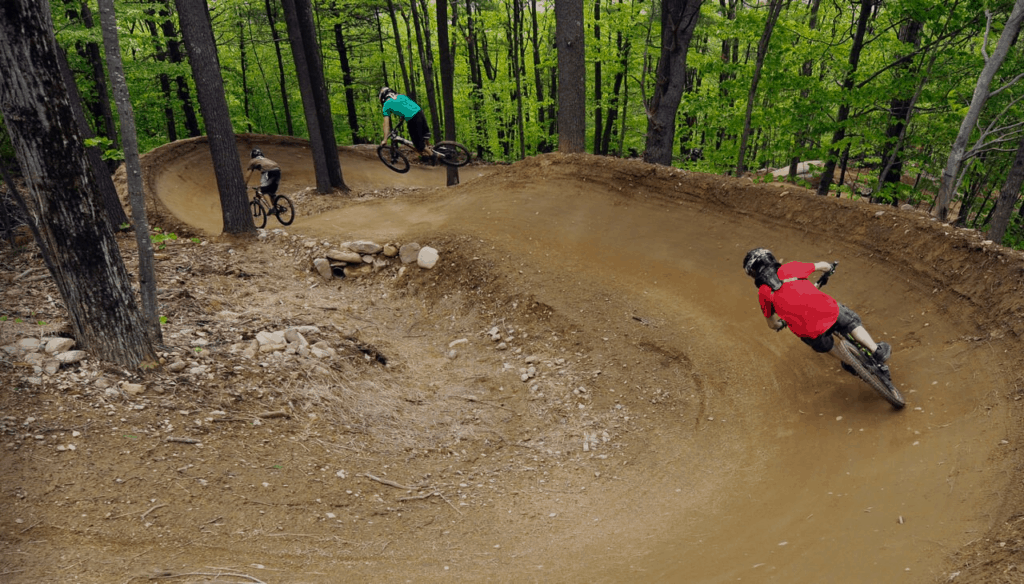 Find Your Ride Package
The Highland Mountain Bike Park has the Find Your Ride package. This package includes a full tour of the mountain under the guidance of an experienced coach. You will also get your MTB kit including your protective gear and helmet for an entire day by Scratch Rental Bike. See our post on the 10 best full face mountain bike helmets.
This package includes a pro tips session and a full guided run only for $99. If you are looking for full camps and coaching programs by certified professionals and celebrity MTBers; Highland Mountain Bike Park is the right place for you.
There are different formats available for the coaching programs. These include; women camps, slopestyle, freeride, and race for kids and beginners. There is the Ayr Academy for adults and youth with week-long camps. Private as well as semi-private coaching lessons are also available.
The Highland Training Center
This training center is around 9100 square feet in size and has a foam pit. You can find indoor jumps and ramps here. If you are looking to improve your skills in performing those aerial tricks, this is the place with the right amount of protection and safety.
This training center provides MTBs for all levels of gravity fanatics at the beginner level. All the sessions take place under high trained professionals of the mountain biking world and you will meet MTB celebrities occasionally as well.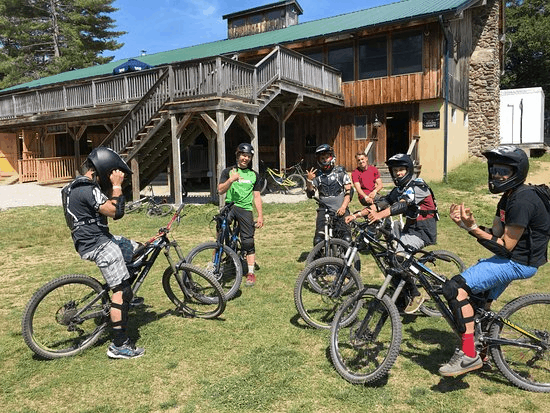 Different Beginner Level Trails
The beginner-level trails you will find at Highland Mountain Bike Park are Meadows Ends, Fancy Feast, and Cat Scratch Fever. All these trails come with flowing features and berms to give you the feel of accomplishment.
Intermediate MTB Riding
But if you are looking for a more conventional New Hampshire trail, head to the intermediate section of the Highland Mountain Bike Park. Shillelagh and Eastern Hemlock is ideally for some twists full of roots.
You will also find some rock sections along with tiny drop aways along the way. But if you are not interested in these trail features then head to NE Style, The Slalom, Hellion, or Happy Hour. These trails have sick jumps and berms with smooth drops.
Advanced Level Riders
For advanced MTBers, the Maiden Voyage and the Threshold are reserved. These trails have gnarly rock sections along with road gaps. There are various wooden features and these trials test your MTB skills for good.
Intermediate and Advanced Level Training
The best part of riding at the Highland Mountain Bike Park is; there are coaching facilities available at all levels. If you are well versed with the beginner level and want to go for the intermediate or expert level skills, there are customized programs according to your requirements. And of course, at the training center, you can try those new skills before you get on the trail.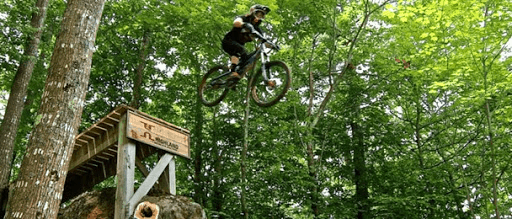 Other Types of Trails at Highland Bike Park
The Highland Mountain Bike Park not only has lift-access trails but also features a pump track and different dirt jump parks. And of course, there is a slopestyle course as well. The MTB park has the Sherwood Forest for dirt jumps and you can work on different skills while riding through these trails.
With this dirt jumbo park, you can move on to your next skill set as you develop through experience. The pump track allows different riders to develop new skills by pumping instead of pedaling the bike.
And right at the end of your progress session, there is the KillieCrankie slopestyle course to host a mega-event; Claymore Challenge. No matter what your MTB riding style is, you will find Highland MTB Park ideally suitable.
Trail-Building at The Highland Bike Park
This mountain bike park has a diverse nature of the terrain, the trail builders here know how to remain consistent in the process by focussing on tiny details. You may ask why they are so successful at it? Because the bunch itself is into mountain biking.
Each member of the crew is passionate about perfection. They have spent thousands of hours creating these trails and polishing the older ones to ensure the best condition. Due to their detailed orientation, these trails at Highland Park are fun to ride.
Safety Measures and Repair Services
Riding in Highland MTB Park is fun because the crew here manages the trails well and understands the importance of safety. Therefore, you will find all your safety equipment for the entire day when you come to ride here. And for different types of riders, there are different equipment sets.
If you are interested in downhill biking or mid-travel riding, Highland MTB park has a wide range of trek bikes to reserve for the day. If not you will need your own downhill or Enduro style bike or plan on renting a bike. You can also go for body armors and full-face helmets to protect yourself on the trails.
The park has a mountain bike shop. It can fully service your bike as its seasoned experts take good care of your bike. They ensure your bike keeps running smoothly. You won't have to spend the whole day waiting for your bike repair. Get into the service shop and back to the trial in no time.
A Place for Spectating Mountain Biking
If you don't want to ride the bike and spectate the professionals only, you can do that too at the Highland Mountain Bike Park. The place holds a host of different family-friendly events and competitions involving gravity cycling.
You can spectate the Claymore Challenge which is a Global Freeride Tour Event. You can also enjoy MTB downhill racing in Gravity East #6. There are Brodwon JumpJam, GS3 Slalom Series, and the Sender Bash. Whether you want to witness the show from the slope side, a lodge, or a deck; there is an event that Highland has up its sleeves.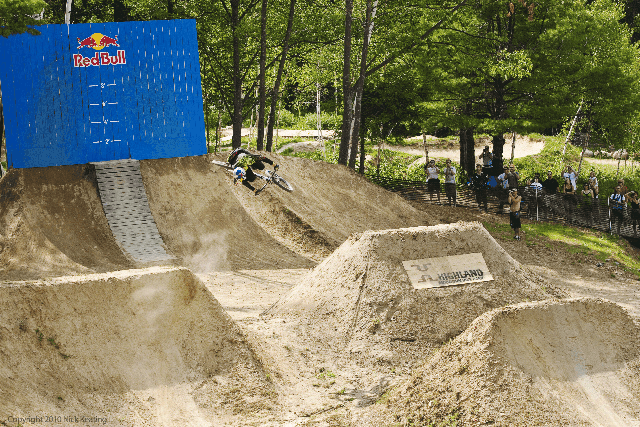 Various Amenities
The main lodge on the upper section has a ticket counter along with the Camp Center. There are various other amenities as well. A bar and a café there is fully equipped with fast speed wireless internet. You can find numerous flat-screen TVs and the seating is quite comfortable too.
Right underneath the deck, you will find first-response patrols. You can also find lockers in the lower lodge section along with retail and bike shops. The staff provides the most memorable gravity cycling experience ever. 
Check this video out on the park.
Final Word
Whether you are a seasoned pro or a novice, you will have the experience of your life at Highland Mountain Bike Park. The park is located in the vicinity of Tilton, New Hampshire right off Route 93.
The best part is, you can plan your visit after going through the Trail Report. The management prepares a regular report for the visitors. So, you don't have to go through any inconvenience when you arrive.
The trails are built by a crew of riders; therefore, management knows what they are doing. And for that riding at the Highland trails is so much fun. This MTB park also holds different coaching sessions and training camps for different types of riders. It ensures the improvement of riders in their skills and up the ante.
Besides the lift-accessed trails, you can enjoy a variety of amenities at the facility here. You will find a full-service bike and retail shop with different safety gears and equipment along with a range of different trek bikes.
If you are looking for some real MTB fun; Highland MTB Park is the right place for you; irrespective of the MTB riding style. Plan your trip here at their site.
To check out some more great bike park see our post on the 10 Best Mountain Bike Parks in North America.
Below is a Pinterest friendly photo… so you can pin it to your Mountain Bike Board!