It might be surprising for a few people but the state of Georgia has some pretty interesting trail networks and systems for a diverse mountain bike rider. Whether you are an experienced rider or a beginner, you will find the best mountain bike trails in Georgia has so much to offer everyone.
There are paved bike trails as well as natural trails available for you to ride. You can go with a traditional mountain bike or a paved bike. They range in length from just a half-mile of off-road experience to over 60 miles of pavement. The versatility Georgia has to offer is mind-blowing.
There are several mountain bike trails in Georgia but if you are looking for the best, here is our list of Top 10 best mountain bike trails in Georgia.
Top 10 Mountain Bike Trails In Georgia
Below, we have opted to highlight 10 of the top mountain bikes trails in Georgia. Georgia has a lot to offer with mountain bike trails and this list hits the top trails for all types of riders. Some of these trails are for beginners while others are for more experienced riders.  Regardless of your skill level, Georgia offers great trails to get started and become an experienced rider.
1.   Allatoona Creek, Acworth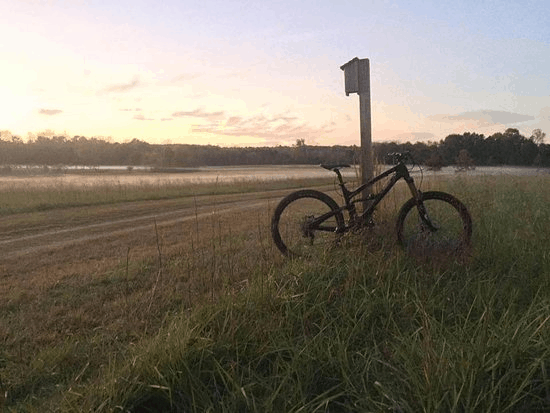 Mo Flow
The Allatoona Creek in Acworth is a wonderful trail in the western parts of Georgia and features a quarter-mile downhill ride which is popularly known as the Mo Flow. It is an expert-rated ride and fully packed with berms, rollers, and jumps. But, this mountain bike trail is suitable for almost every kind of rider. More advanced riders can enjoy this trail to test their skills and have fun with the air time. If you are a rider with intermediate skills, you can cruise along this trail pretty novels too.
Whippersnapper
The Whippersnapper is another trail, you can find here and is expert-rated. It is more of a controversial one because most people question it to be considered as a trail or not due to its half-mile length. But MTBers don't care about the length of the trail if it is testing enough. And the Whippersnapper will test you with its technical features that will bring the best out of you.
Voodoo
Another trail at the Creek is the Voodoo which is a demanding 3-mile trail that has not been maintained pretty well. So you will have that primitive feel when you ride it. This twisty trail comes with several rock and log features and you will also have fun on the creek crossing. Various fast-flowing segments in this trail will test your speed and skills. You will reach this trail right at the top of the Mumbo Jumbo loop which is a 2-mile stretch with breathtaking views.
Rusty Bucket
Allatoona Creek also has the Rusty Bucket which is one and a half-mile-long trail with a beginner rating. So it's a great place for some family fun. It won't be a surprise that you see a preschooler on a balance bike working the trail here. There is no elevation change whatsoever and most of the trail features are trimmed down. If you are a new biker, you may start developing some skills on this trail.
Turtleback
And then there is the Turtleback, which is a 4-mile fast ride jam-packed with great descents and short climbs. This trail uses the spreading terrain very well and doesn't come with many technical obstacles. It's all about the drops and climbs. If you are looking to up the ante from your beginner skills this is the trail on which you need to ride.
2.   Clinton Nature Preserve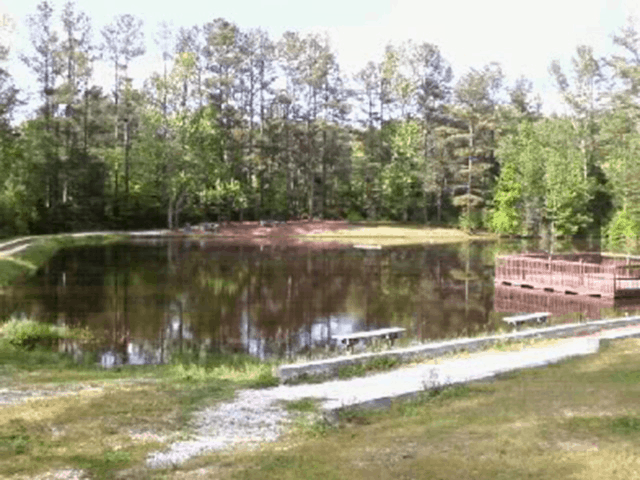 Clinton is among the favorites of the local bikers because of its brisk and crisp track that will challenge you on your bike. The rocky terrain and log rides are sweet and you will also have to tackle a 109-foot descent on this trail. This drop is one of the most technically difficult rides at this sight.
Investing in a good helmet like the Giro Fixture MIPS Helmet and some pads like the Fox Racing Launch D3O Knee Guard will be wise for safety.
3.   Mt. Tabor Park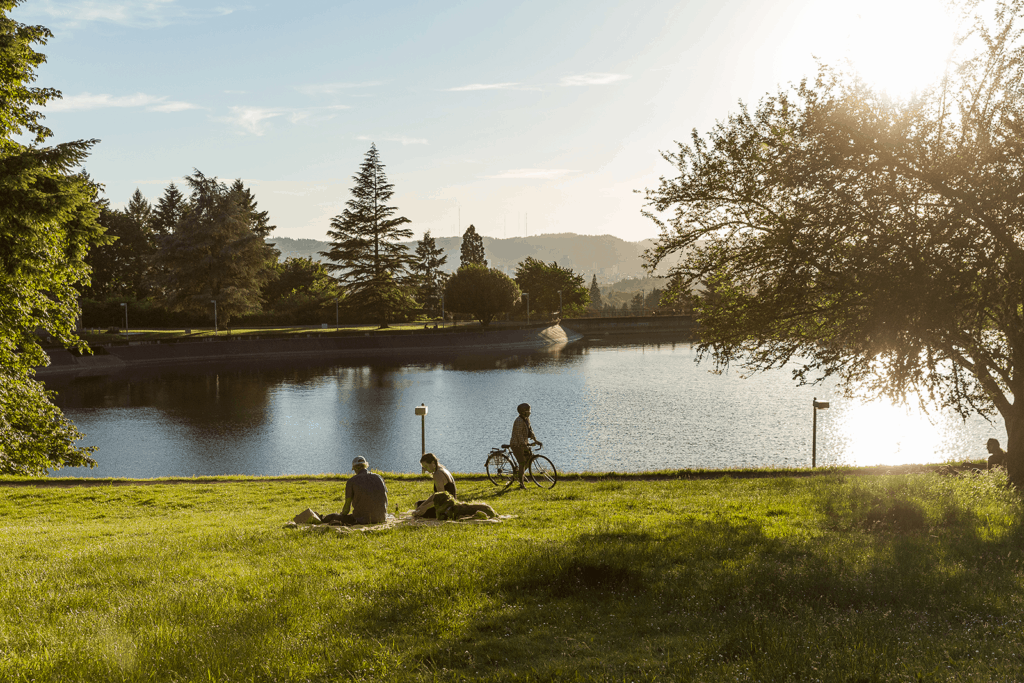 This trail system features stacked and shorter loops that are suitable for beginners. The longer loops are better suited for the experts. If you are looking to just ride through the pines without much to worry, Pine Pong should be your trail.
However, the Rocks of Doom will test the more technically advanced riders with its 1.7mile-long ride through the rock garden that will take you to the Booger which is the most difficult part of the trail.
4.   Albany (Chehaw)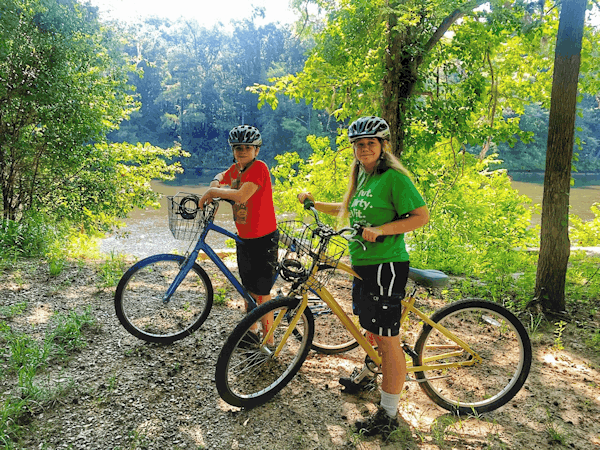 If you are looking for some family mountain bike fun, Albany would be a good choice for you. Here you will see the surrounding nature and have an exceptional outdoor experience.
Non-bikers can enjoy an accredited zoo and disc golfing here. This park has 10 miles of mountain bike trails that will allow you to wind through the natural landscape of the park all along. There is almost no elevation change and the path is welcoming to the new MTB riders.
If you are an advanced rider, you can always choose the opt-in trails. This is a suitable option for overnight adventures too because there are several camping choices available.
5.   Bear Creek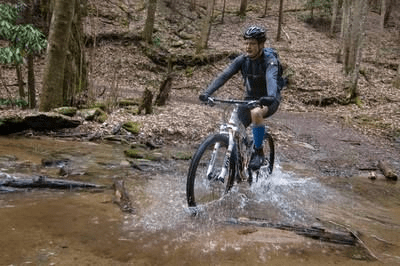 This is where the Blue Ridge mountain biking is at its best. This trail weaves its way right through the shaded valleys and hills that are not very steep. It features a singletrack as well as a doubletrack. The downhill spin is pretty wicked and it will take you back to your starting point. Lower parts of this trail are almost never dry but it's rideable almost throughout the year.
Plan to have a repair kit like the Bicycle Repair Bag and Portable Patches and a good hydration pack like the Osprey Syncro 12 to store equipment in case of a break down.
6.    Chicopee Woods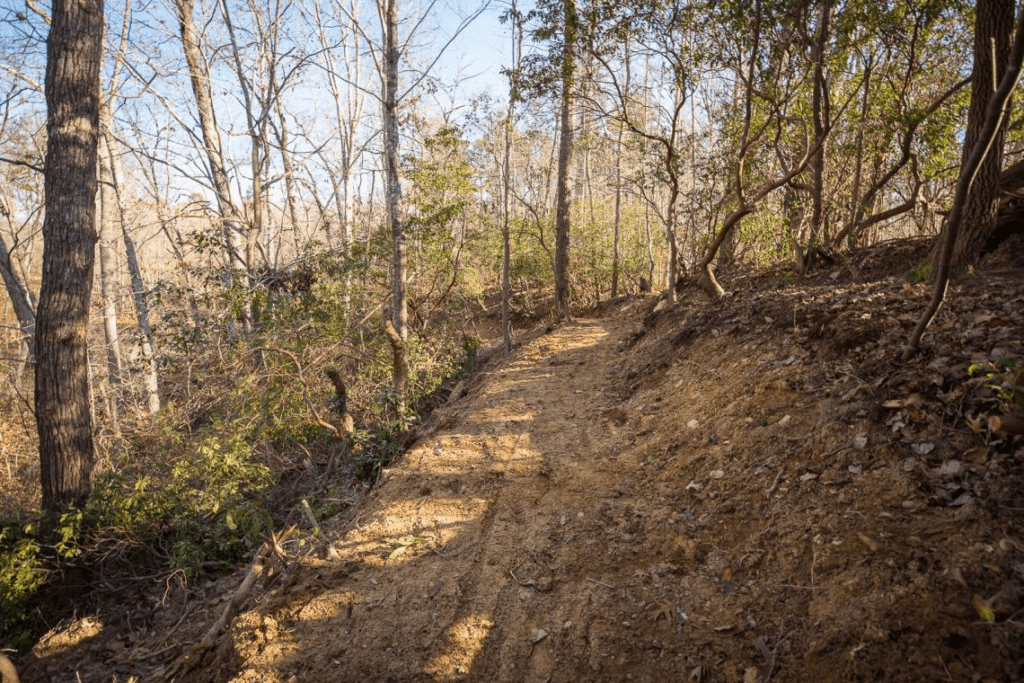 This place features a 21-mile long trail and is primarily a singletrack. There is a beginner-friendly section that is about 2.6 miles long and it is called the Tortoise Loop. This trail is suitable for mountain bikes like the Mason 2 Hardtail Mountain Bike.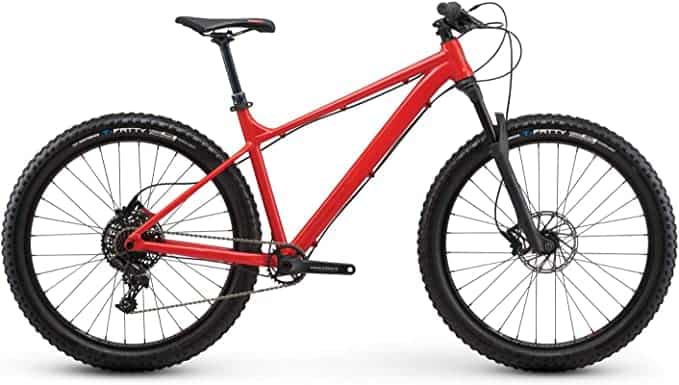 The intermediate section features 14 miles of trails including the Coyote Trail, White Tail Trail, Red Tail Trail and Flying Squirrel Trail. Expert skills are tested at the 4.5-mile long Copperhead Trail. These trails are suitable for a range of different riders with a host of different skills. The trail has some technical features that will test you know how about MTB riding. 
7.   Aska Adventure Trails (Blue Ridge)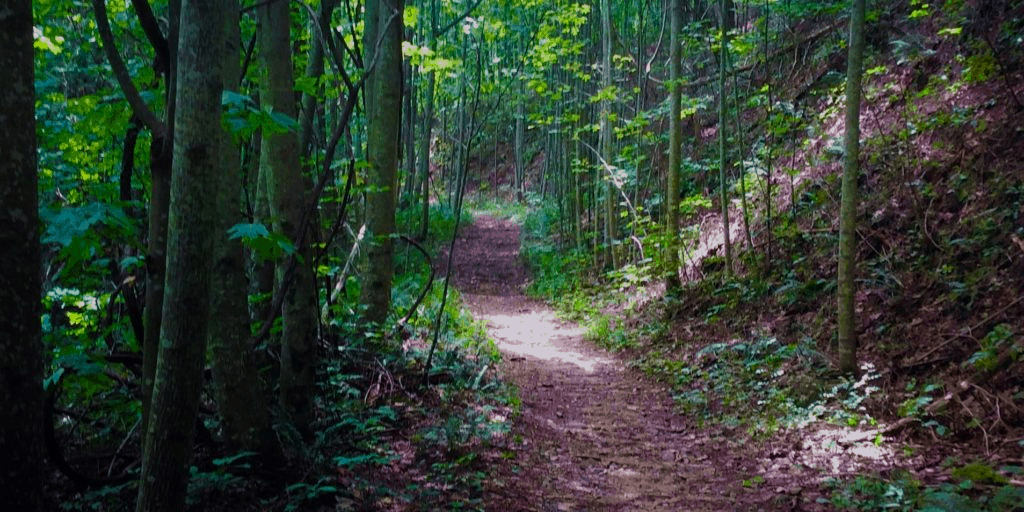 Want to enjoy the wilderness of the northern parts of Georgia, ride this trail. It is a 17-mile long trail that cuts right through the national forest. There are some seriously steep climbs and shivering drops that allow you to go through the lakeshores and stream crossings.
And all alone with the beautiful landscaping of Blue Ridge Mountains. The trail system is divided into different parts. Therefore, you get to experience a variety of technical root and rock systems. Of course, the mesmerizing views of the mountain forest will be there.
8.   Sope Creek (Marietta)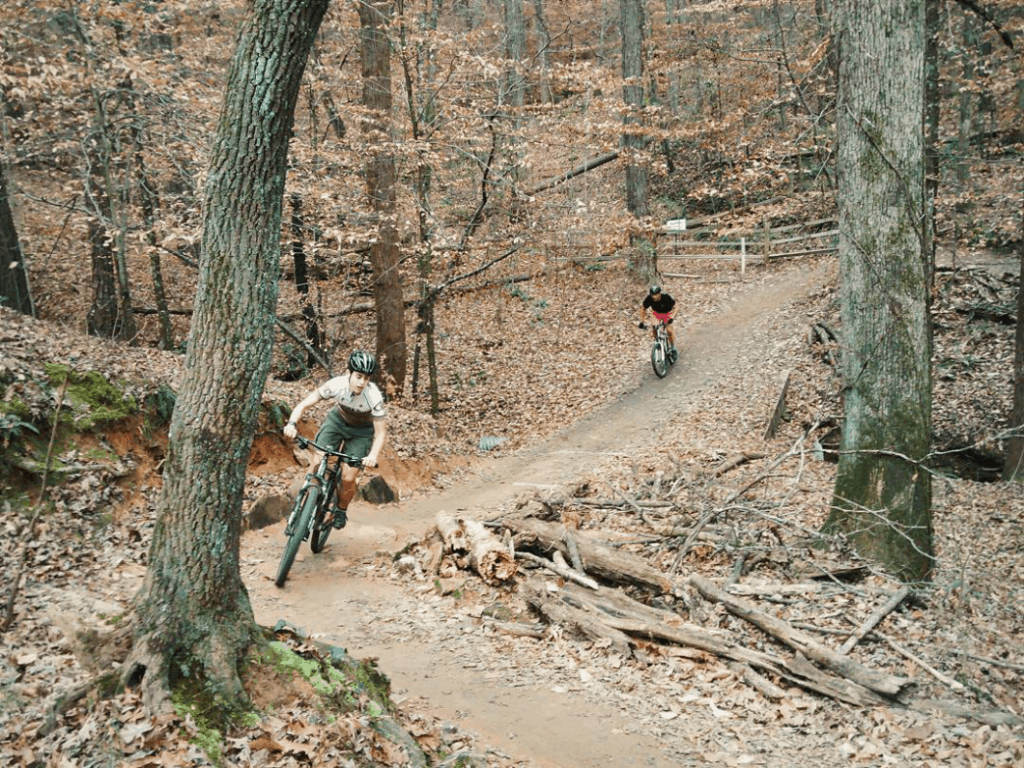 This trail system is present in the Chattahoochee River Recreational Area and is quite popular among the local hikers because of its picturesque scenery. You will find highly impressive ruins of an age-old paper mill in this area as well. This place is not only good for hiking but for biking as well. Hence, you get to choose between riding the double or single track of natural surface paths.
This Place has a well-maintained trail that is shared by bikers and hikers. You will find some challenging climbs here along with some technical features. The beautiful creek views will be along the way and that's why it is quite a favorite among the bikers and hikers of Metro Atlanta.
9.   Blanket Creek Trails (Canton/Woodstock)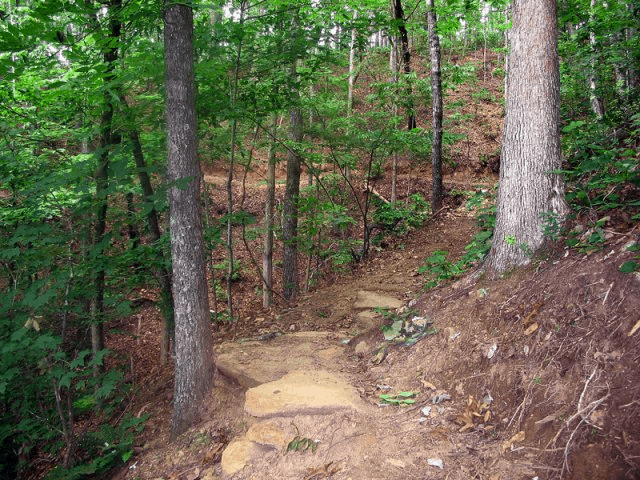 This trail system has been designed for every type of mountain bike rider. There is a training area along with a couple of miles of simple trails serving well as a starting point for the beginners. Advanced riders can use it to warm up.
There are about 15 miles of the mountain bike trail that will carve your way through the wind and trees on the creek as you continue to climb up and down on the rolling elevation of this trail. You will see that the trails in this system range from simple family-friendly rides to spine-tingling parts that are designed for the advanced MTBers.
10.   Silver Comet (Smyrna)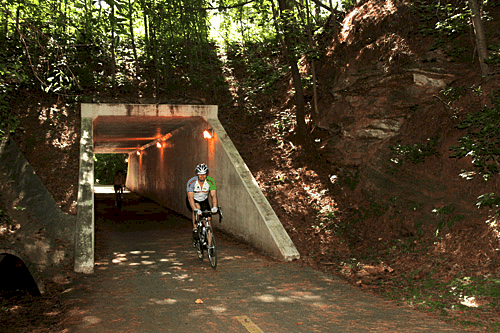 The trail called the Silver Comet is part of the country's longest paved trail for bikes. It is over 60 miles long starting from Smyrna and ending up on the state line between Georgia and Alabama. The trail is named after a train that passed through the railroad section of this area.
It still has several features from the old railway line. As a rider, you can have fun while viewing the small and old town along with the countryside. You will get to see some historic tunnels and trestles along the way as well. But it's not just about the paved trail.
Off-road bikers prefer to charge their way through the 18-mile natural surface straight through the woods. This off-road side trial will challenge intermediate bikers as it comes with some technical features.
Some Honorable Mentions
As we mentioned in the beginning there are several mountain bike trails in Georgia, so making this list was a bit difficult yet tricky.
The state is rich in charming views of the creeks and mountains, as there are beautiful forests with lush pine trees. You will experience being close to nature while riding through the wind. You will also see the old town of Georgia with its beautiful countryside.
Additionally, you can do some shopping and enjoy great food as well. Mountain biking in Georgia has something in store for everyone. Whether you like to ride along with your family or just want to test your technical skills, Georgia has got you covered. 
Therefore, we would like to list down some honorable mentions that didn't make the list but they are still worth a visit.
Dwelling Loop (Woodstock) – 4.0 miles | Intermediate
Pinhoti Trail (Ellijay) – 6.0 miles | Expert
Pinhoti Trail (Dalton) – 100.0 miles | Expert
Flying Squirrel (Oakwood) – 3.2 miles | Intermediate
Van Michael (Woodstock) – 2.5 miles | Intermediate
Five Points (Trenton) – 20.0 miles | Intermediate
Jake Mountain (Dahlonega) – 30.0 miles | Intermediate
White Tail (Oakwood) – 3.2 miles | Intermediate
Yonah Preserve (Cleveland) – 8.0 miles | Beginner
Moss Creek (Dahlonega) – 3.0 miles| Intermediate
South Loop (Woodstock) – 2.8 miles | Intermediate
Dauset Trails (Jackson) – 17.0 miles | Intermediate
Paynes Creek (Hartwell) – 10.0 miles | Beginner
Stanley Gap (Blue Ridge) – 10.0 miles | Intermediate
Black Branch (Dahlonega) – 2.2 miles | Intermediate
Turner Creek (Dhlonnega) – 6.0 miles | Intermediate
Steeplechase (Conyers) – 5.0 miles | Intermediate
Mason's Bluff (Acworth) – 2.0 miles | Intermediate
Hickory Nut (Helen) – 19.0 miles | Intermediate
Advanced Loop (Dacula) – 3.0 miles | Expert
Final Word
The mountain bike trails in Georgia are breathtaking with their beautiful mountain forest and historic background. You can see the hints of wilderness, and development with both new and old accents.
Rich in green and rocky paths, these trails are best suited for all kinds of riders with different MTB bike skills. Georgia is a great palace for family fun as well as riding some heart-pounding descents.
Several trails that you will find here are suitable for experts, intermediate, and beginners. No one goes empty-handed! Find the backcountry and through those big ridges and push your limits as much as you want.
You will always keep coming back for more. While exploring the mountain bike trails in Georgia, you will notice that this palace is so condensed with these trail systems you will never have enough of it.
You can do paved road biking and off-road mountain biking on a range of different trails. And while you are riding the natural views are always there for you to take a break and relax.
Below is a Pinterest friendly photo… so you can pin it to your Mountain Bike Board!