The US has no shortage of mountain bike trails across its different states. Some of them have been visited frequently by the riders throughout the years. Still, many trails remain on the waiting lists for many to be explored.
A lot of credit goes to the groups of mountain bikers who visit different places around the globe, build new bike trails, and improve on the current ones. It is due to their efforts; mountain biking is growing rapidly as a recreational activity and a sport.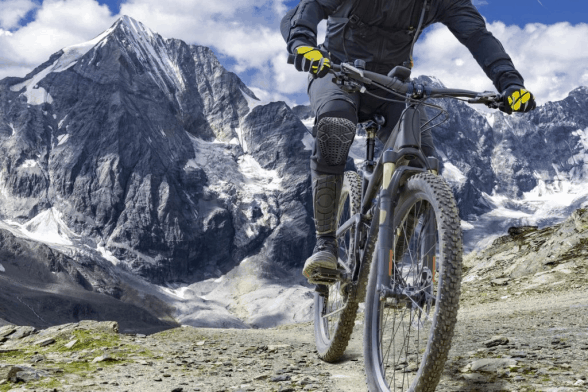 10 Best Mountain Bike Trails In the USA
Now, there are tens of thousands of quality sights with breathtaking views and awesome trails. Narrowing the list to "10 best" was a very eschewing job. In this list, you will come across some trails that you might have visited or heard of. Some of them might be completely new to you. Most of these trails are Intermediate to expert level and should not be attempted as a new mountain biker.
In case you're wondering, here are the Top 10 mountain bike trails in the USA in no particular order.
1. Mountain Biking Moab Trails (Utah)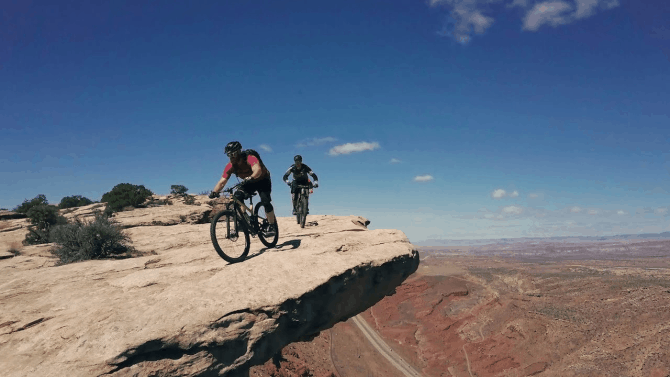 Heading the list of top 10 must-see mountain bike trails in the USA is Moab. This town is old school because it's one of the oldest MTB destinations across the globe. The trails here put this place on the map, and the number of singletracks is increased with time. Each year additional miles are added to the singletrack, and the new trails are far better than their older counterparts.
The globally renowned Slickrock ride is there with the incredible views of the desert. The town has several bike shops as well, and you can go for quick repair if you need to. Some of the trails that you must see in Moab are Captain Ahab, Slickrock, and The Whole Enchilada.
2. Biking Crested Butte Trails (Colorado)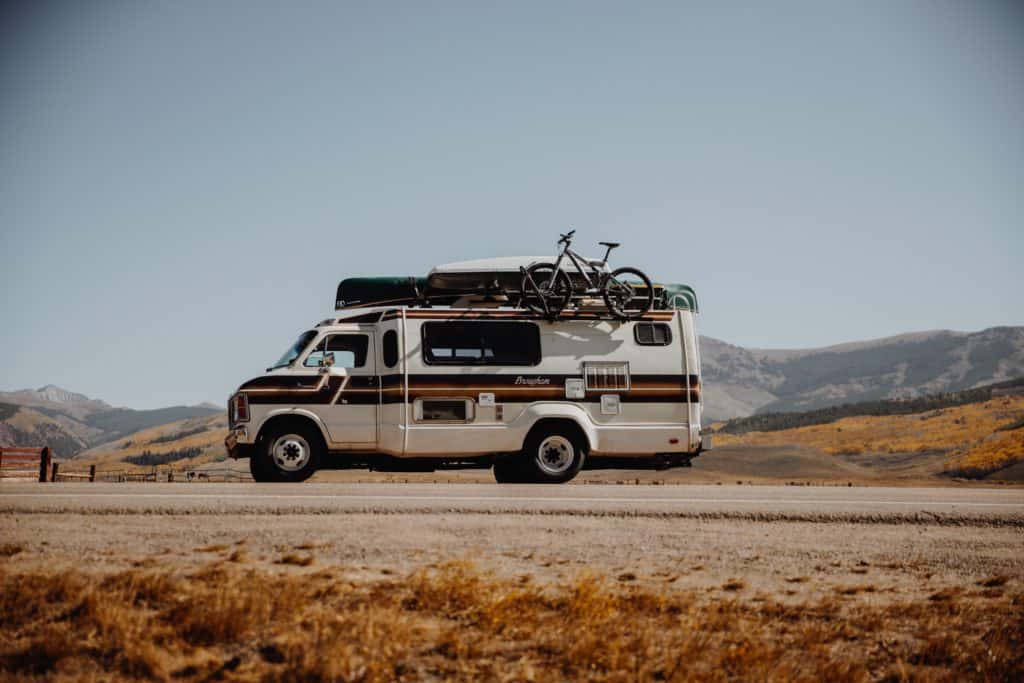 The second on our list of top 10 must-ride mountain bike trails in the USA is Crested Butte. It is known for its good food and beer. And it is also very famous for its alpine trails and picturesque views. This place hasn't added any miles to its overall trail system in the past 36 months. But the network continues to grow. There are more than 750 miles of MTB trails in this town, and some places take more than a decade to reach this number.
Some of the most enthralling trails in this town are the Doctor Park, Trail 401 and the Deadmans. The views available here are astounding with great valleys covered with green grass and flowers. The mountains look stunning, and you'll have the experience of a lifetime here.
3. Mountain Biking Park City Trails (Utah)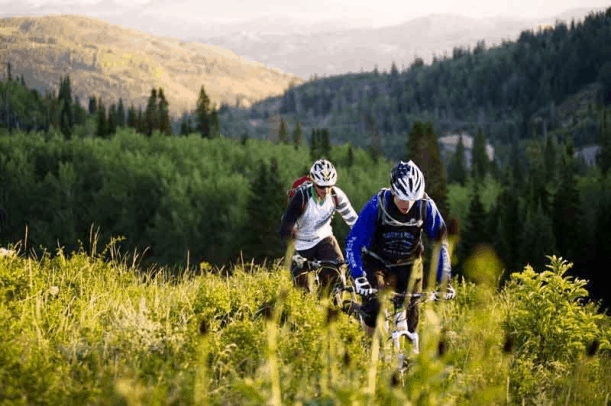 Utah makes another appearance on this list of top 10 must-see mountain bike trails in the USA. It goes to show that the state has a huge network of trails for the MTBers to enjoy. But Park City is no ordinary place to ride your MTB. It is the first IMBA Gold Standard Center for MTB riders. Other places have joined in the ranks too, but Park City has gone down in history to do it for the first time.
A massive network of trails is available here to explore, and they are all directly accessible from the downtown. Most of these trails are enduro MTB territories. Still, if you are looking for some downhill experience, then you need to go for the Deer Valley and the Canyons. If you are looking for enduro gear, then you will comfortably find it at the local shops.
Park City has continued to grow its trails and has also introduced private resorts like the ones that we have just mentioned. These resorts are there to develop more singletracks for MTBers. The must-see trails in this locality are The Mid-Mountain, Wasatch Crest, and the Old Town Area.
4. Grand Valley Mountain Bike Trails (Colorado)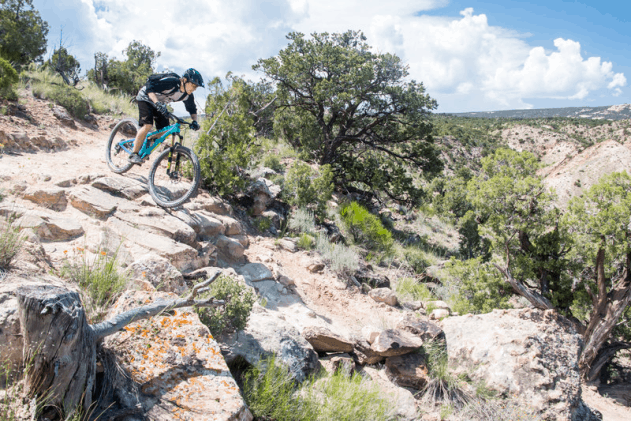 The Western Slope in the state of Colorado has a geographic region called the Grand Valley. This region comprises the towns of Palisade, Loma, Fruita and Grand Junction. It has been among the top ranks of MTB trails, and they have been adding more and more miles every year. The MTB facilities available here have significantly increased, and this has boosted local tourism. The MTB infrastructure of this area includes several micro-breweries and restaurants.
There is the Powderhorn ski-resort close to the locality as well in the Grand Mesa. The ski resort might not be top-notch in its services as compared to other resorts in the state, but it has opened a couple of new MTB trails for downhill riding. You'll need a decent quality downhill mountain bike for these trails.  And the plans include more of these trails. Some of the must-see trails in this region are 18 Road, Lunch Loops, and Kokopelli-Area.
5. Mountain Biking Brevard Trails (North Carolina)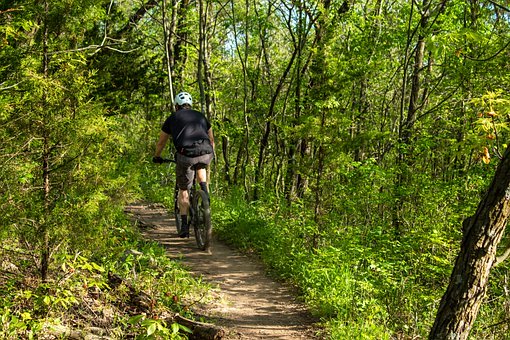 It is one of the top mountain bike trails on the east coast that goes head to head with any of the top MTB trails front the west coast. Brevard is the home to many miles of single backcountry tracks. The singletrack available here is one of the most technical you'll find anywhere in the country.
This town is packed with the Appalachian Mountain range and its gorgeous views. Moreover, it has a better MTB infrastructure where you'll find plenty of bike shops, guides, rentals, and everything.
Food around the area is superb, and it has unique southern hints associated with it. Large scale breweries like New Belgium Sierra Nevada and Oskar Blues have also entered this locality.
6. Mountain Biking Sedona Trails (Arizona)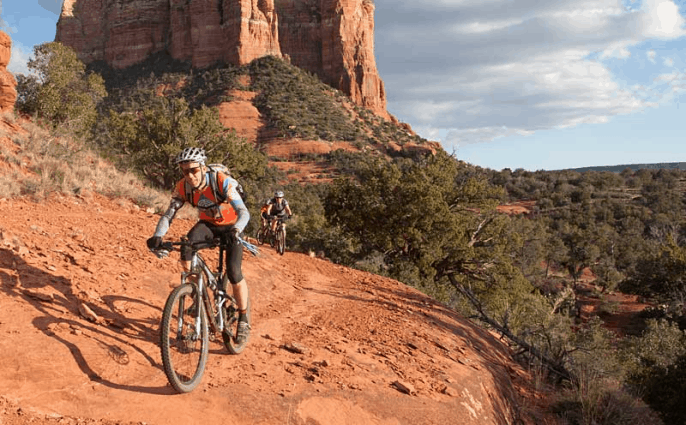 You might not find a lot of trails here, especially if you compare it with the entries on this list of top 10 must-see mountain bike trails in the USA. But Sedona is not about the quantity of the trails but their quality. Being an MTB rider, you will have to deal with some technical challenges riding these trails, and of course, you get those jaw-dropping mountain views along the way.
Sedona has been well known for its red rock landscapes and those mystical vortexes. The trail goes around as well as through a ton. And you will find plenty of entertainment along the way. Sedona could have set itself secure with those picture-worthy red rock views. However, it has grown its trails significantly over the years and also builds new singletracks every year. The must-see trails here include the Hogs, the Hangover, and the Hiline.
7. Bend Mountain Bike Trails (Oregon)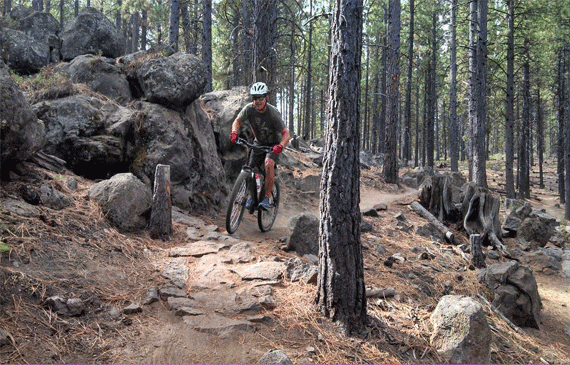 Bend has its conventional moon-dust environment, and some MTBers are not very fond of it. But the region has some ongoing developments and trail extensions. And with all the plans this town has become one of the top destinations for MTBers in the country.
The single track in this region keeps getting more miles, and the trails are accessible from the town. There are tons of bike shops to access, and the market is quite developed here. Just a few years back. The Mt. Bachelor MTB Park also opened, and it already has a lot to offer to MTBers.
There are several micro-breweries in the town and the area surrounding it. And you can have a nice cold beer at the end of your riding day. The hottest places for MTBers in this region are North Fork, Phil's Area, and Tiddlywinks.
8. Sun Valley Mountain Bike Trails (Idaho)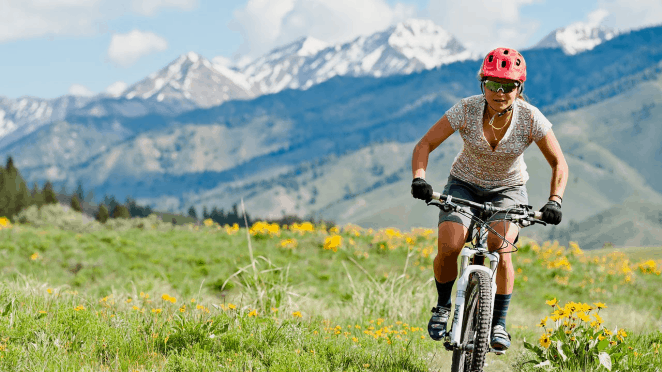 This place has seen some losses to its trail access. But riding close to the town of Ketchum and the nearby Sun Valley has become better over time. There are over 400 miles of single track available for the riders, and if you count in the surrounding areas, then you get more than 700 miles. That is quite a lot of mileage, but this area is seeing a lot of development in downhill resorts and traditional trail riding.
Besides that, Sun Valley has a very well established infrastructure as well due to its long history of downhill skiing. There are several restaurants as well as bike shops in the region, and you have access to three different breweries. The must-see trails in this area are the Imperial Gulch, Fox Creek, Adam's Gulch, and Chocolate Gulch.
9. Downieville Mountain Bike Trails (California)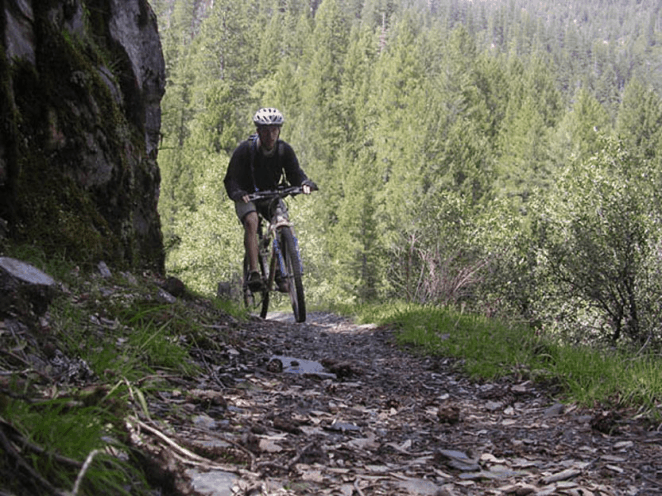 California is the home of mountain biking, and as the state is so big, screening down all those trails to pick the best one is pretty daunting. Therefore, if we just had to pick one, then Downieville is one of the top regions for this sport. You get a chance to explore the Downieville Classic, which is a downhill trail. But Mills Peak doesn't get the press that it deserves.
The fragrant pine paths seem to go on forever, and the trail is made for the MTBers. Beautiful scenery and riding thrills, you get both of them in plenty. The local market has developed a lot in recent years, and you can reach multiple bike shops and restaurants after a tiring day.
10. Mountain Biking Taos (New Mexico)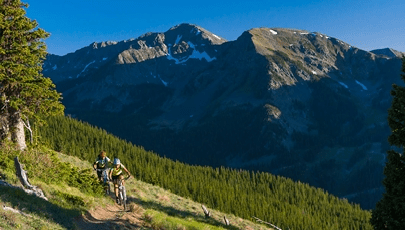 Last but not the least on our list of top 10 must-see mountain bike trails in the USA, is Taos. Most people have an image of desert vista and cacti when they think about New Mexico. But if we talk about Taos, the terrain is camera-capturing, beautiful, and diverse. The MTB infrastructure of this area is well developed, and you can access the trail from within the town quite comfortably.
The terrains of this region go through alpine meadows to the rocky shale along the aspen groves. There is so much on the offer here, not only for MTBers but for hikers too. And the best trail that you need to visit is the South Boundary. This area portrays an image opposite of what most people think about New Mexico.
Other Honorary Mentions In the USA
As we mentioned in the beginning, the USA is too big, and it has so many trails that narrowing down our list of top 10 must-see mountain bike trails in the USA was tough. Therefore, here are a few more sites that every trail-lover should visit at least once in a lifetime.
East Burke (Vermont)
Vermont is not that big, but it does have more than 1000 miles of bike trails. It ranges from chunky rocks to buff ribbons. These trails will put the technical expertise of any MTBer. The Kingdom Trails is among the top trails in the North American region, and it has over 150 miles of trails featuring Tap 'n Die which is a fun but really quick downhill ride
Shenandoah Valley (Virginia)
This valley is in the Blue Ridge mountain range and is not very famous for its trails. But it is something that you shouldn't miss at all. You have to reach the place with a 5-mile climb straight up, and then you have to ride downhill for 7 miles with scenic pleasures and technical testing. The climb up to Torry Ridge is something that you will remember for a long time to come.
Lake Tahoe (Nevada & California)
If you are looking for an expensive adventure, then you should visit Lake Tahoe. It is North America's largest alpine lake and is also among the clearest across the globe. This area is well-known for its mountain biking trails, especially the Tahoe Rim. A lot of development plans are on the way for this region, and you'll get a lot more trail-riding in the years to come.
Wydaho (Wyoming & Idaho)
This region comprises Jackson (Wyoming) and Victor (Idaho) along with the surrounding area, such as the Jackson Hole Resort, Driggs, Teton Mountains, and the Grand Targhee. This area is one of the hotbeds for downhill riding and skiing in the country. The snow here is deep, and the mountain range is steep. Mill Creek, Game Creek, and Cache Creek are some of the best trail options here to explore.
The region has proximity to Yellowstone as well, and it has been a series of summer attractions for many. But within a few years, mountain biking in this region has become very popular, and new trails are increasing in mileage. Therefore, the region has amassed a great following of MTBers.
Final Words
Mountain biking had a few cult followers back in the day. But with time, the sport has picked up pace as more and more enthusiasts are joining in. Most people love it because they get to see so many different places with heavenly scenic beauty. Others prefer it because it allows them to stay fit and also enjoy a bit of an adventure.
No matter what your reason is, if you are looking to do some mountain biking, then you need to visit a decent trail. It will allow you to have the best of both worlds: enjoy the postcard scenes and do some mountain biking. Fortunately, the US has so many of these trails.
We provided you with our top 10 mountain bike trails in the USA. Some of them are quite famous, while others are hidden gems. It's up to you how you rank them on your wish list.
Below is a Pinterest friendly photo… so you can pin it to your Mountain Bike Board!